Happy Monday everyone and how are you all today? Welcome to another jam-packed week here at Boho HQ.  We have lots of lovely wedding pretty to share with you this week, starting off with this rather wonderful wedding from Marianne Chua. Tracey the beautiful bride is a regular reader of the blog, so it's lovely to see that she drew quite a bit of inspiration from the yellow gingham pages here. Tracey and Kevin decided on a quirky 1930s vintage Cinema for the reception with a local village hall for the reception. Taking on a Festival theme for the reception the whole day is full of lots fo fun, music,  laughter and some wonderful handmade touches. Such a gorgeous day that I know you are going to enjoy!
'It was a music festival vibe for the reception with a vintage cinema wedding! It was relaxed, quirky, fun, very emotional and a secret from our guests until they arrived!'
Tracey and Kevin were married on 6th September 2014 at The Little Theatre Cinema, St Michael's Place in Bath. The reception was at New Oriel Hall, Bath. 'Finding the cinema was a happy accident Kevin came across it online and immediately knew this had to be the ceremony venue, it looked romantic, quirky and opened up lots of possibilities, as soon as we were standing in the foyer I thought so too. The cinema is full of vintage 1930's charm; we thought it would be amazing to be married here. Bath is beautiful in of itself, the Georgian architecture and the honey coloured Bath stone just seemed perfect for rich atmospheric wedding shots. By coincidence we found a beautiful village hall, just ten minutes away, we could hire as a blank canvas and make our own. From that point it all began falling into place. We had a total of 80 wedding guests. From proposal to wedding it took fifteen months to plan. Once we had the main elements, the venues, catering and transport we took a step back; we did it in bursts, when inspiration hit, it came together organically, Kevin would come up with an idea, I would add to it and vice versa, it was fun'
How they met
We met at a mutual friends birthday night out and have been together for 13 years.
The Proposal
As guests at a friend's wedding, we were asked, tactfully (not) why we hadn't taken the plunge, we couldn't answer! It made us think. The next day at home I said "shall we get married then"? Kev said" Ok then let's!"
Kev surprised me by formally and publicly proposing at a Saint Vincent gig.

How did you allocate your budget
We had spreadsheets to keep track of our budget. Once we'd confirmed the cost of the set pieces i.e. the venues, catering and transport (to take guests to Bath and between venues), we started to allocate for suppliers and decoration. We tried to be cost-effective where possible and moved any savings we made from one area to another, we found we agreed from the start on what was important to include and what we could happily leave out.
How did you choose your photographer
After a lot of research we found Marianne our photographer online; we wanted her fun alternative documentary style. A Skype meeting with Marianne confirmed our choice, luckily she liked us too.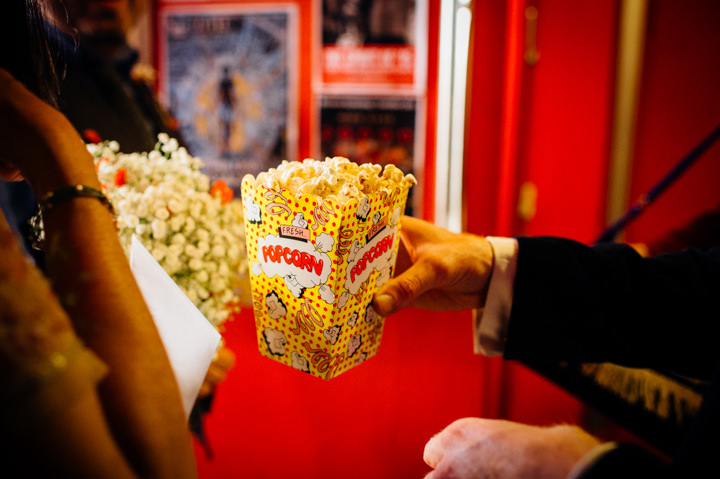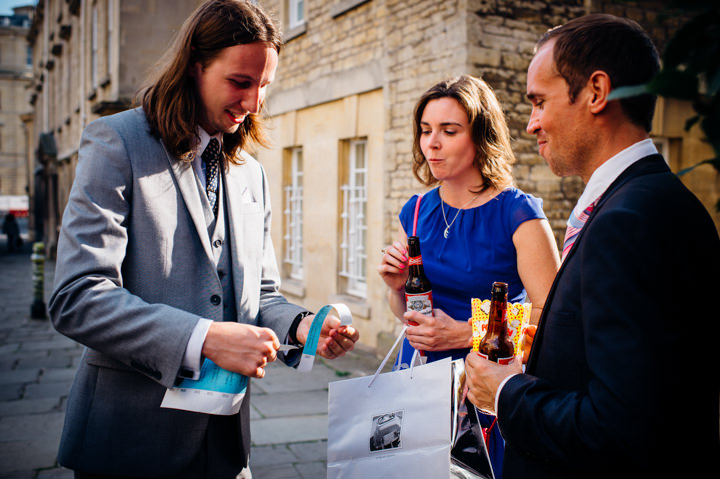 The Dress
My dress was on sale in Warehouse, I found a pretty sequin bolero from eBay. (I became obsessed with finding a sequined bolero after seeing Regine of "Arcade Fire" wearing one at Hyde Park!)
Accessories, sliver tiny brushed heart earrings, silver & green leather bracelet with heart & lock charms, champagne tulle bird cage veil and Lazy Daisies hair Slides were all from Etsy Shoes were by Irregularchoices.com and a bit of a talking point!
The Suit and Bridesmaids
No suit, we were aiming for a relaxed style so we bought a waist coat, tie, brogues and a feather twine wrapped rustic boutonniere (from Esty.com) which finished off the look.
No bridesmaids but a sharp suited best man (Top Shop) with boutonniere. (I added some Gypsophila to the guys boutonnieres to link them to my bouquet and make them pop a bit more.)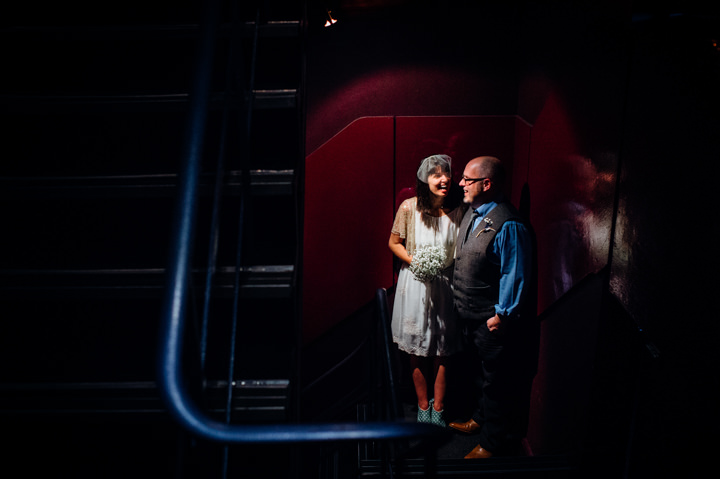 Theme or Colour Scheme
We had a "music festival" theme for the reception and an eclectic colour scheme. One guest commented "it's a cross between Glastonbury and the Great British bake off!"
Flowers
We went down to Bath with a bucket full of flowers from Sainsbury's, (the branch in our home town had greater variety so we bought them there in the morning) Sun flowers placed along the balcony of the hall, Gerberas, Roses, Dianthus Barbathus, Daises and Gypsophila for the informal centerpieces dotted around the hall. I bought six stems of large-headed Gypsophila from a florist in town to make my bouquet after seeing a tutorial by Campbell's Flowers on Boho-weddings.com… thank you.
Decoration
Daniel my son and our best man did all the fantastic art work for the reception, the chalk boards, table plan, signage, guest tree and portraits. We had a white gazebo for the" dance tent" and decorated it with sun flower garlands, fairy lights and a disco glitter ball. We lit incense in the foyer, set lanterns on tables and loose arrangements of flowers in pink bottles. Festoon & fairy lights were hung all along the edge of the hall with bunting across the beams.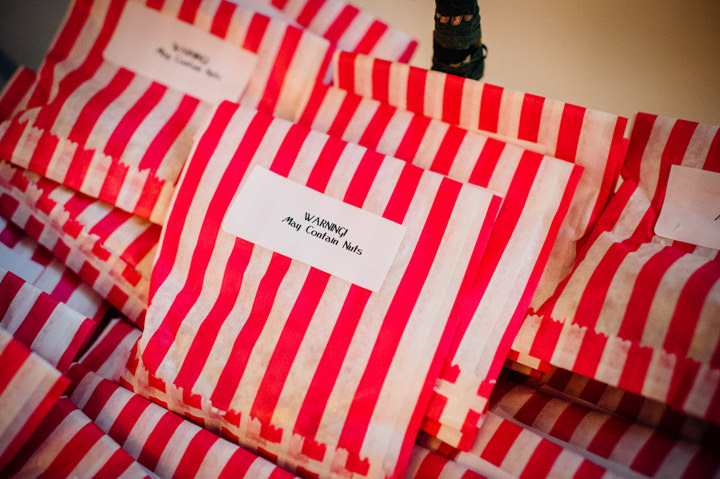 Food
It was a late afternoon wedding; guests were served cold Budweiser and warm Popcorn at the Cinema. In the evening a festival van served up festival fish and chunky chips (I'm a pescetarian and we thought most people would like fish and chips but there were other options too including a vegetarian pie ) mushy peas, buttered Oat rolls, Curry Sauce, teas and coffees. Plates of tray bake cakes: Fresh Lemon Drizzle, Orange Chocolate & Cranberry, Chocolate Brownie and Cherry Almond were brought out throughout the night; we had pink and white marshmallows. There were Jugs of Pimms, bags of saluted cashew nuts and a Tequila wedding toast.
Wedding Cake
We thought a simple wedding cake would be perfect after seeing images on pinterest.com/bohoweddings Naked cakes . I sent a few of the pins to Sarah, (who we met at a vintage fair) Sarah made us a three tiered sponge cake with homemade raspberry jam and butter cream icing filling all dusted with icing sugar. We bought cute bride and groom toppers and a bunting sign for decoration from Ginger Ray vintage at Amazon.
Entertainment
At the ceremony our favourite songs and alternative quirky images played on screen (which we produced ourselves), we also screened a cinematic music video "Queen of Hearts" (after getting the video licence from their New York based record company).
At the reception we our favourite "Anti-Folk" indie band "Quiet Marauder" who performed all their own original material. The disco play list we also put together ourselves premixed to make it seamless and runoff our lap top.
Buy or DIY your Stationery
A mixture of both, we set up our own website Our Big Day Out", (as we named it) for RSVP's and general information in the months prior. We designed and printed save the date gig style posters for nearer the date. The cinema issued tickets to our guests with our names on and the date on arrival outside, which an usher would then tear as they made their way inside. There were also framed posters on the wall outside with our names and the date on. We ordered Tracey & Kev's "festival" wristbands to give out for the reception and we designed and printed personalised welcome menus for the reception. We designed and ordered the CD cover for discs we gave each guest as a wedding favour.
Personal or Handmade Touches
– The reception hall was a dry hire so we sourced, negotiated, planned and put together everything that you would maybe take for granted in say a hotel reception. E.g. tables, chairs, glass wear, napkins, catering, licences, ice for the Pimms, hiring a mobile bar etc..
– We decorated the hall ourselves the morning of the wedding including the gazebo "Dance Tent" which was our idea as an alternative to hiring a dance floor as the hall didn't have one. It was budget friendly when compared to the cost of hiring a dance floor and it also served as a place for the band to play and was a decoration in and of itself.
– We designed & printed the personalised invites & welcome menus.
– We burnt a disc of our own song choices for the ceremony playlist and as a guest favour & designed the CD cover.
– Order of ceremony on screen visuals & visuals for the ceremony playlist – by Kevin (Groom)
– Disco playlist by Kevin (Groom & former DJ)
– "Guest tree" poster for finger prints by Daniel (Best man)
– "Gorillaz" band style Bride & Groom "portraits" by Daniel (Best man )
– Table plan, table name frames by Daniel (Best man)
– Festival signage by Daniel (Best man)
– Flowers for the reception and bridal bouquet by Tracey (Bride)
– Bridal makeup and hair by Tracey (Bride)
– Paper pompoms by Tracey (Bride)
– We bagged nuts the night before and labelled them, "may contain nuts"!
Special Moments
Our vows together, the readings and lovely moving speech by Daniel, everyone's reaction to Dan's speech, so proud! The shower of confetti falling on us from the balcony at the cinema; I forgot that was going to happen! The moment we walked into the hall to warm applause, then sitting at the top table together, looking down the room at friends and family in the hall and thinking that it was amazing. Dancing with (perhaps too much!) abandon together to "Quiet Marauder" we had a blast!!
Advice to other couples
Wedding Blogs of Real weddings are endlessly inspirational.
The small DIY personal touches went down a treat! We can tell because they have all popped up on Facebook!
We found it useful to take time out away from the planning process; it gave us pause for thought and enabled us to refresh elements, add new ones and remove others and the small details make a big difference e.g. the width of the banqueting tables sourced to be slightly narrower than the norm made them more sociable and gave guests plenty of room in the hall.
Even though it was very relaxed and informal I think structure helps; we gave everyone plenty of information on the day e.g. the order of service up on screen in the cinema, signage for timings of speeches etc…..We kept all the traditional wedding rituals in because people love a wedding!
We thought we might keep checking on things on the day but thankfully we didn't, we were really in the moment, I think everyone says it but it's true, let go "be in the moment" and enjoy!
Biggest surprise
Everyone did the conga!
Supplier Shout Outs
Photographer – www.mariannechua.com
Guests said Marianne was fun and we thought she was so easy and lovely to around.
Pre- wedding photography by Kevin Pick (Groom) beautiful shots of our detail.
Wedding Cake – Sarah Thomas
The tray bakes and wedding cake were delicious and exactly what we wanted, Sarah was so very helpful, accommodating and reliable.
Entertainment – www.quietmarauder.co.uk
"Quite Marauder" "anti folk-lo-fi utensil percussion", they were quirky, original, energetic, authentic, we love them.
PA System – www.fizzievents.co.uk
Big thanks to Seth, Adam and Sam at Fizzie.
Fish and chips, tea and coffees – www.fwcatering.co.uk
Very reliable and professional, lovely food, the vegetarian pie was a big hit.
Mobile bar and glassware – www.blasteventhire.co.uk
On time and reliable, all the things you absolutely need.
Banqueting tables and table cloths – www.celebrationevenhire.co.uk
Thankfully set up and broke down the tables for us. This was much appreciated when we were clearing up Sunday morning!
Coach – www.crestacoaches.co.uk
All on time, which was crucial.
Beer and tequila – www.waitrose.com
A very friendly and helpful when we rang the Bath store to confirm the delivery date and time (ordered online)
Fairy lights – www.Homebase.co.uk
We rushed out to get even more the night before the wedding.
Flowers – www.sainsburys.co.uk
Suppliers for decoration – Amazon and Ebay chalk board pens, floristry tape, pearl headed pins, incense, doilies, candy stripe bags etc.
Pinterest – www.pinterest.com
Proved very handy to create a mood board.
Accessories – www.esty.com/uk
Reception Venue – www.neworielhall.org.uk
A restored Victorian School, beautiful inside and out.
Ceremony Venue – www.picturehouses.co.uk/cinema/The_Little/
The Manager Thomas and staff were friendly, helpful and relaxed which all helps with the inevitable nerves we enjoyed our time at the cinema on the run up to and our wedding day.
For more information on Marianne's work please go to:
www.mariannechua.com
www.mariannechua.com/blog/
FACEBOOK
[email protected]