Today's wedding is full of spring goodness and gorgeous colours, courtesy of Marianne Chua. Aimi and Chris held their beautiful barn wedding in March, so not long ago at all! They chose a beautiful spring day and were so lucky with the weather! This Suffolk location is absolutely stunning and certainly had the wow factor that Aimi and Chris were looking for. Full of loads of handmade and DIY touches they really managed to make the wedding their own by adding lots of personal touches. From the decoration to the entertainment, the outfits to the flowers, the day is just gorgeous!
Our wedding day was full to the brim with love and laughter. It was so special in every way, we have memories from the day that will last a lifetime.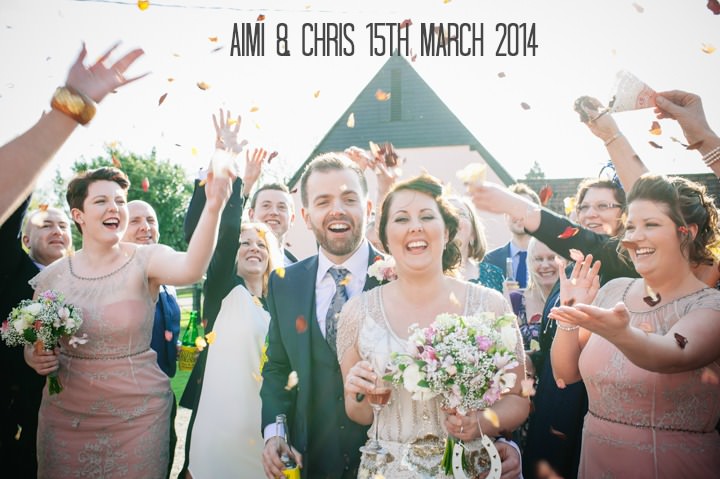 Aimi and Chris were married at Smeetham Hall Barns in Suffolk on 15th March. In just over a year they had planned their big day and tied the knot in front of their closest family and friends. "The venue made us both say a big WOW when we arrived to view the barn, we just knew it was perfect for us plus the location was ideal as it so close to home."
How they met
We have been together 5 years. We met on a night out through a mutual friend who I work with and who Chris went to school with. It was fate.
The proposal
Chris proposed to me on our first night in Thailand. We went for an evening walk on the beach and Chris got down on one knee and popped the special question, I forgot to say yes so there was quite a pause and in that time a wave had hit Chris soaking him haha, then we both laughed and I said Yes about 3 times.
How did you allocate your budget?
We booked and allocated our budget to the big important things early on such as the dress (even though that was way over budget!) , venue, catering and then all the little details of the day we did ourselves but it helped getting lots of things from charity shops.
Why did you choose your photographer?
We met Marianne Chua our photographer at my sister's wedding and we loved her so much we booked her immediately.
The dress and accessories
Jenny Packham everything – Eden dress, hair clip and shoes!
The suit and bridesmaids
Chris bought his suit from Moss Bros we always knew we wanted navy blue. And for my bridesmaids their dresses were from Phase Eight and our little flower girls dress is by Ted Baker from Debenhams.
Theme or colour scheme
We just wanted spring colours. Our bridesmaid dresses we picked turned out to be pink so we used that colour mainly but we also had greens,blues and yellows in our bunting and flowers.
The flowers
Lots of natural spring flowers – freesias, gypsophila, tulips, daffodils. We had our bouquets and button holes made professionally for us. All the decoration flowers were done by us which we put into jars all decorated by us too.
The decoration
Button hearts made from vintage buttons, doily bunting, pom poms, and photos of us.
The food and the wedding cake
To start we ate Bruschetta topped with Roasted Mediterranean Vegetables & Goats Cheese, Our main was a BBQ all different meats silver served to the table and a selection or sides placed on the table for guests to help themselves. For dessert our lovely guests baked a variety of cakes served along ice cream from an ice cream cart we hired. We drank pink fizz, pink lemonade and had an old tin bath full of beers. With help from one of the best men we made homemade raspberry vodka, we placed a bottle on each table to be drank out of vintage liqueur glasses during the speeches All worked perfectly as it was a warm sunny day.
We didn't have a formal wedding cake as we already had lots of cakes.
The entertainment
We hired a 1950's jukebox, it was great we asked our guests to send us their favourite party song, favourite love song and a song from a memorable moment spent with Chris or me back with their invites and we had all their song choices in the jukebox. We also hired a photobooth for the evening which was a MASSIVE hit with the guests.
Buy or DIY your stationery?
I made the day invites, the table plan and the menu cards. The evening invites and table names were bought. We also had Polaroid pictures made for all our day guests which were on the tables to show guests where they were sitting.
Personal or handmade touches
We basically did everything ourselves – made the favours for the ladies – onion chutney and cut out the decoration for those from a table-cloth we found in a charity shop. Collected all the tea cups, saucers, cake plates and cake stands from charity shops, bought our liquor glasses from an antique shop, made the decoration for our card suitcase, made the print outs and design for our time capsule, decorated 100 jam jars and bottles with lace ribbon and twine. Cut up fence posts for the Polaroid photos and table names for the tables. Made lace bunting for outside, Put both our ceremony readings in fancy frames – one was called 'A Good Wedding Cake' so put that one on the cake table and the other was called Don't Cry For Me which is a deceased father's dedication to his daughter on her wedding day, we had this next to a candle which was burning all day.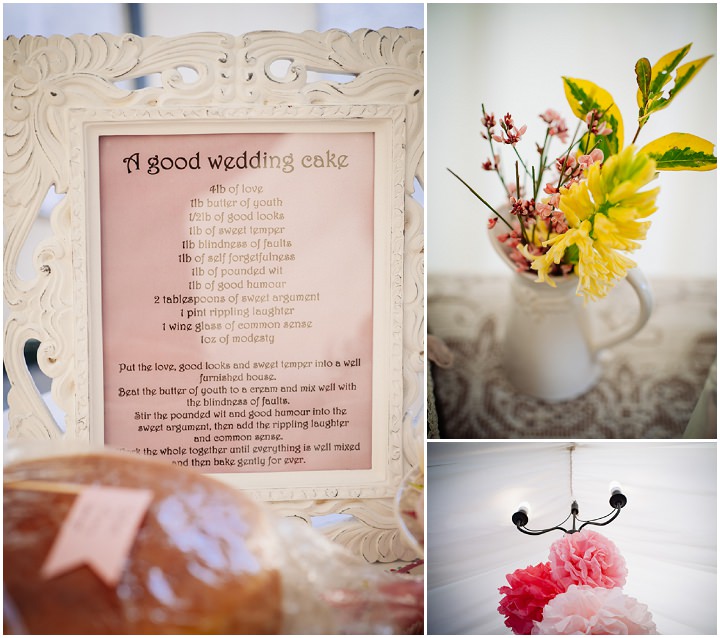 Special moments
Aimi's most special moment was seeing Chris for the first time on the day and giving each other the biggest smile ever.
Chris loved having all our close family and friends together in the same room to share our day.
Advice for other couples
Be super organised, and you can never have too many lists. We delegated some of the DIY things out to our wedding party. Also make sure you concentrate on what you would like from your day instead of getting lost in what you think your guests will like.
We also used lots of local suppliers which helped with costs and it's just nice to do.
Biggest surprise
Being presented with a signed photo of from Peter Andre – the best men organised it as when Chris and I met, Chris had the song 'mysterious girl' playing in his car and it's been an ongoing joke ever since.
The maid of honour did a surprise speech for me (which was so special) as unfortunately my dad is no longer with us and she wanted to say a few special words.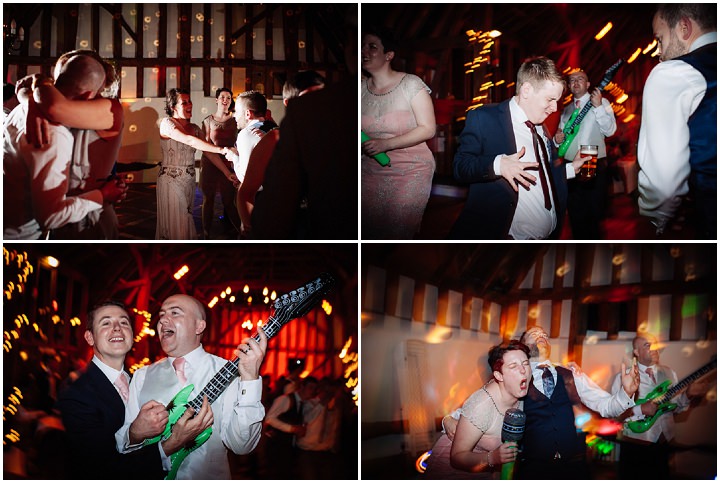 Supplier Shout Outs:
For more information on Marianne's work, please go to:
www.mariannechua.com
www.mariannechua.com/blog
[email protected]
FACEBOOK
@savethemarianne
I'm based in London but love to travel all over the world in the name of weddings! I shoot weddings in a quirky, fun documentary style, with an emphasis on real natural joy and laughter.