Happy Friday everyone, I do hope you have all had a good week! I have been really looking forward to the weekend, hopefully the weather will be kind to us and the sun will shine. It is our local village carnival this weekend, Dexter is in the parade and I am helping out on one of the stalls, so it should be a fun packed day, then tomorrow we have his best friends birthday party. Today we have a first class wedding to finish off the week, with Kate and Jesse's modern East London wedding courtesy of Sasha Weddings. The whole wedding looks amazing, simplistic but full of amazing greenery and beautiful touches. A wonderful venue that really let them go to town with the decor and personal DIY details and then the most awesome band, who kept everyone dancing all night long! Fantasic! Pop back later to the blog as I will be sharing my 10 year wedding anniversary photos shoot that happened while I was out in Ibiza last month.
Our wedding day was relaxed, fun and everything we had hoped for.  It was full of laughter, music, great food & some amazing dance moves!
Kate and Jesse were married on Saturday 23rd March 2019 at Core Clapton, East London. 'We really wanted a local wedding, close to where we live.  East London has been the backdrop for so many of our milestones, it felt right to get married there too.  As soon as we walked into Core Clapton, we loved it – it was a huge blank space with amazing natural light and enough room to have a drinks reception downstairs.  The venue had only just got their wedding license, so we could have the ceremony there too.  We were the first legal wedding to take place there! We had 110 for the day with an extra 40 in the evening. We started planning pretty much as soon as we got engaged, so roughly 8 months.'
How they met
We've been together 3 and a half years.  We met when we were working in offices next door to each other in Central London.  Everyone working around there would socialise in the evenings and we gone on brilliantly straight away.
How did you allocate your budget?
The most important thing to us was that everyone was well fed and entertained, so a lot of the budget went on food and catering staff.  We also made sure there was enough aside for a band as we wanted to get everyone up dancing as soon as possible!
Where did you splurge and where did you save?
We definitely splurged on the dress and the suit!  We saved money on stationery as we did it either paperless or created it ourselves.  We also sourced all the wine & beer ourselves from a supermarket instead of hiring in a bar or going through a wine company, which meant we could have a free bar without paying a fortune.
How did you choose your photographer? 
We wanted a relaxed, documentary style photographer who didn't make anything feel forced or over-edited.  Sasha's previous work was beautiful & natural.  It was important to us to have a photographer who blends into the day and observes it rather than taking over as I've seen others do in the past! Sasha did an amazing job of managing to be everywhere and get every moment without us even being aware of the camera.  The results are natural and unposed – just what we wanted.
The dress
My dress was Justin Alexander and I loved it the second I put it on, despite it being the complete opposite of what I'd gone in intending to buy!  Thanks goodness the wonderful staff in Angelica Bridal talked me into trying it on – they really know what they're doing! My shoes were Kurt Geiger and my earrings were from Etsy.
The suit and bridesmaids 
Jesse's suit was made to measure from Beggar's Run in Shoreditch – it looked brilliant.  We wanted the bridesmaids and groomsmen (and women) to feel comfortable, so we gave everyone a basic colour palate of jewel tones for the bridesmaids, and brown or blue suits for the grooms-team and told everyone to just buy something they really liked and would wear again afterwards.  We really weren't bothered about having everyone match!
Theme or colour scheme
The venue is a beautiful white canvas, so we wanted to make the most of the backdrop and just add tonnes of greenery and small white flowers to compliment it.  We had touches of deep purple/red in the flowers too, to match the bridesmaids jewel tone dresses.
Flowers
Our flowers were one of my favourite details about the day.  We gave our florist, Laura, a very loose brief – lots of greenery with some white flowers and accents of deep red/purple for my (HUGE) bouquet, the button holes, the wedding arch and the venue flowers.  The bridesmaids had greenery bouquets and also greenery for the pew ends & table runners. I sent Laura some pictures from Pinterest and she really did the rest! Laura completely knocked it out of the park with the most elegant, simple designs – we were both absolutely stunned & delighted by everything she did.  Jesse's sister also had the brilliant idea during the room turnaround to repurpose the wedding arch & the bouquets to make a gorgeous DJ booth!  We had green & black hellebores, red ranunculi, white genista and tonnes of different types of greenery.
Decoration
The venue is spectacular on it's own and we wanted to make the most of that, so aside from the flowers, we just had some simple festoon lighting and pillar candles in clear vases around the edges.  We hired rustic wooden tables & chairs.  We also had a copper arch decorated with flowers that we got married under, and some huge white vases on plinths filled with more beautiful flower arrangements.
Food
We wanted the relaxed, social theme to continue with the food, so we had an Indian menu served feasting style on all the tables. I'm vegan but Jesse eats meat, so Indian food was a great way to please everyone – we compromised on one vegan and one meat curry, with dhal, raita and chapattis to accompany (all vegan too).  We got SO many compliments on the food!  Our caterer, Lou, brought in the most friendly, helpful and warm staff to help guide us through the day too– as everything was DIY, we relied on the caterers for a huge amount, including getting the venue set up, and we'd have been lost without them!  They seamlessly turned the room around from the ceremony to dinner while everyone was having some drinks downstairs and keep everybody fed and watered with huge smiles on their faces the whole day.  In the evening we ordered 35 massive pizzas from HomeSlice Shoreditch, which were perfect! They disappeared in minutes and kept everyone dancing all night.
Wedding cake
We ordered 3 cakes (chocolate peanut butter, strawberries & cream and carrot cake) plus lots of cupcakes from a great vegan bakery in south London called Ms. Cupcake. We were worried we'd got too many, but it was almost all gone by the end of the night!
Entertainment
Music is really important to Jesse, so we always knew we would want a live band, as well as a DJ.  I heard a band called Oliver Darling & The Living Legends in a blues club in London about 3 years ago, and they were so great that they had everyone in the place dancing on the tables!  Just after we got engaged, we sent them an email on a whim to see if they were available and might do a wedding and they said yes! They were so relaxed and got everyone on the dance floor FAST.
Who supplied the stationery? 
We identified early on that stationery really wasn't a priority for us – we just found a nice design on Paperless Post and used that website for all our invitations.  It was really handy for contacting all the guests and tracking RSVPs as well.
Personal touches
We're very lucky to have some super talented friends offer their services as wedding gifts. Jesse's brother-in-law is a brilliant DJ and offered to take over after the band, my wonderful new sister-in-law works in design and helped put together the look for the greenery & flowers with the florist and one friend is a talented jewellery designer who made our rings.  I wrote all the place cards myself and Jesse designed the table plan & signs.  The personal touches of the day came from so many of our family and friends being involved in bringing it together – from family helping the florist to put together meters and meters of greenery table runners, to groomsmen ordering taxis and bridesmaids cutting rosemary sprigs for the place settings.  The venue is DIY, so the evening before was a manic and exciting few hours of our amazing bridesmaids, grooms-team and family helping us dress the venue – putting up lighting, setting up the sound, putting all the furniture out, setting up the bar and bringing all the booze over!  It was truly a team effort and that evening felt very special too.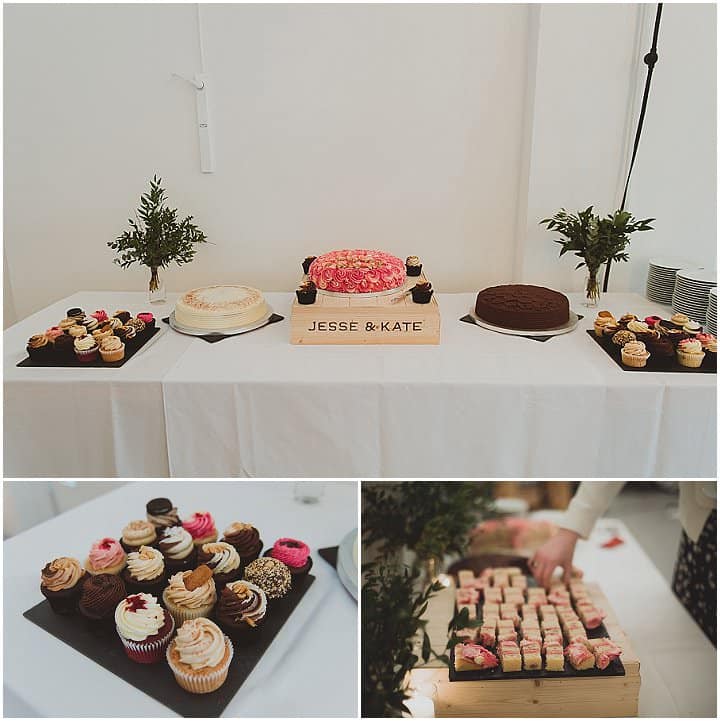 Special moments
We agreed that our favourite moment was being introduced as Mr & Mrs when we walked back into the room for dinner.  Everyone stood up and cheered while we walked through,  and it was the first moment when the joy of having everyone we loved together in one place really hit us. I also found Jesse's speech really beautiful and emotional – it was one of the highlights of the day for me.
Advice for other couples
Let go of your expectations and enjoy it!  It really doesn't have to be as stressful as you think- it will be the most wonderful and special day, regardless of what people wear, how the timings runs or who doesn't want to sit next to who at dinner.  In the planning stage, we deliberately tried to be flexible with our ideas so if  something wasn't feasible, we weren't too disappointed and could find a better way.  I was so pleased with how much we enjoyed planning it together – even in the moments when it did feel a bit more stressful, it reminded me of what a great team we are.
Biggest surprise
How well everything went!  We'd been braced for the hiccups that everyone warns you will happen, but by some miracle, the day sailed by without any major problems. The speeches were also all brilliant and beautiful.
 Supplier Shout Outs
FOR MORE INFORMATION ON SASHA'S WORK GO TO:
sashaweddings.co.uk / sashaweddings.co.uk/blog /  [email protected] / FACEBOOK / INSTAGRAM /  PINTEREST/