This afternoon we are addressing Coronavirus and how it is currently affecting the wedding world. The whole world has been struck by this and everyone is affected in one way or another. The wedding world has been hit hard, brides and grooms getting married over the next few months are now panicked, anxious and not sure what to do. If this is you then please do not panic, things will be OK. Yes your wedding may not go ahead as planned but there is always Plan B. It will happen and when it does it will be even sweeter and well worth the wait. We need to ride this storm together and figure out the best plan to keep the wedding world running and your dream wedding happening.
Italy is one of the countries worst affected at the moment and such a popular place for weddings. I featured a beautiful wedding this morning, and will continue to share weddings from all across the world, because there is always next year, the year after and hopefully later on in this year.
I had an email from Chiara from Matrimonio 5 Sensi a wedding planner in Italy, keen for me to spread the word that Italy is still open for business and not to cancel your Italian wedding. I will leave her to tell you more and to give you some sound advice on the current situation.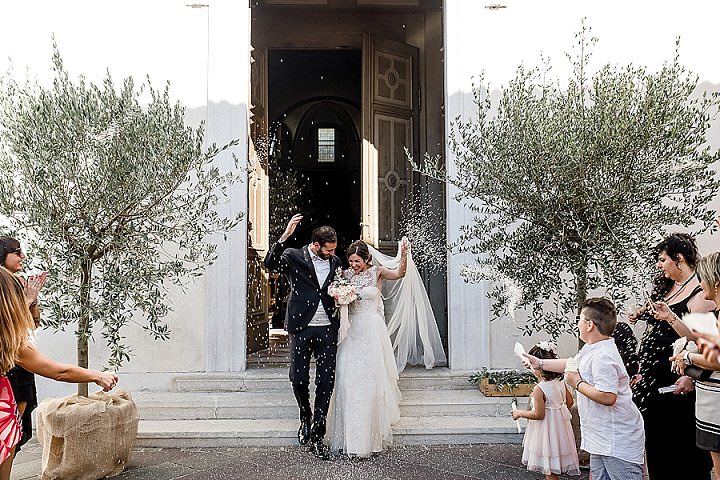 "I'm Chiara Gori, owner of "Matrimonio 5 Sensi". We are an italian agency specialised in engaging weddings and events. Due to the recent COVID-19 outbreak, many weddings are now at risk. That is why I wrote this article to answer some the couples' questions and to give a few solutions for those who can't or don't want to postpone their weddings. I hope you may appreciate it.'
Love in the time of coronavirus
The recent coronavirus emergency left so many brides and grooms wondering how to deal with marriage in the red zones. Some people choose to postpone the event to a later date and some want to carry on. 
CANCEL OR MOVE THE DATE OF MARRIAGE IN A RED ZONE?
It 's pretty obvious, but for safety I prefer to remark it, if all married couples at this time were to cancel and demand their advance money back, the entire wedding industry would be devastated. It would mean the closure of entire companies, so this really is the last resort for anyone.
Let's talk about the pros and cons of moving the date of the wedding. If you have no urgency to get married, moving the date of the wedding is the best choice to make everyone feel more relaxed and safe (you, your guests and your suppliers). Of course, choosing another date, may mean entail losing some suppliers that already have it booked, but hopefully you'll have all the time to find a solution that fits everyone's needs, alternatively you can ask your wedding planner to find a suitable solution.
This really is the best option. You may not ant to but you have to remember you WILL get married, things may seem bad now but once you have a new date arranged and the suppliers on board with it, you will be fine.
There's no other way to say it, the current situation is not the best , so what can you do? First of all, I think that this may be an excellent opportunity to rediscover the true meaning of your couple's relationship and the reasons why you are getting married. I am not here to be your couple therapist, it is not my job, I'm just saying it can be a good opportunity to learn and grow together.
My job is to organize exciting events. So, is this possible to do this in the time of coronavirus? 
Of course it is!
WHAT TO DO IF YOU DO NOT WANT TO POSTPONE THE WEDDING
If on the date of your wedding the state of emergency and related restrictions will still be in effect, opting for a technologically enhanced, very intimate wedding would be a winning move.
Obviously duration and logistics would have to be completely reviewed, but in the meantime, here are six ideas.
LIVE CEREMONY. Ask your photographer to take an additional assistant to take care of the live footage. Create an online video room where all your friends and family can connect to follow your union. Moreover, in this way, the readings can be read by your relatives even from home.
SYMBOLIC OUTDOOR CEREMONY. Instead of a civil ceremony in the city hall, you can choose to host an outdoor ceremony in a place where you can observe the safety distances. The couple's signatures and other formalities can be completed at a later date.
FAR BUT CLOSE TO THE HEART. Let your guests send you their photos, frame them and put them on the chairs around you. Want to go the extra mile? Ask them to take a selfie while they send you a kiss or make funny faces so that every glance will give you a smile, avoiding a hollow, gloomy effect. Come on, it's a wedding, you ought to be happy!
RECEPTION. Let's face the truth: having your virtual guests spend an hour to watch you eat would not be very interesting, but what if you actually ate together? Speak to your catering service to ask for a cold or an easily re-heatable menu and have a delicious and hearty lunchbox delivered right to your guests' homes. In this way they will be able to experience your same meal at the same time. A last touch for the best result? Have a moderator to administer the live conference to let everybody talk one by one, in order to be together without too much confusion.
GROUP PHOTO. All the guests will send to the photographer their own pics, taken following a few simple rules. It will be his task then to mount them all together to create a beautiful group photo to be printed and framed, then put on display in your house and near your heart.
GUESTBOOK. Ask your guests to take a selfie and print it on a postcard (there are many online services that do this service, but also many photography shops). Behind the postcard they can write a dedication and send it to you to create an original album of the guests.
I hope these six ideas to celebrate a wedding in the quarantined zones may be of use to relieve you of some concerns, but if you need to talk about other ways to improve your wedding experience, feel free to write me at [email protected] and I'll be happy to help.
For more information on "Matrimonio 5 Sensi" go to
www.matrimonio5sensi.com / [email protected] / FACEBOOK / INSTAGRAM / PINTEREST