Hello and welcome to the 2nd beautiful wedding of the year. Today I am taking you to beautiful Italy for the stunning wedding of Chiara and Mirko. This lovely couple are from Rome, but wanted to get married in Le Marche as Mirko spent a lot of his childhood there. They wanted a Celtic ceremony which incorporated a hand fasting ceremony and jumping the broomstick. The whole thing looks amazing, with plenty of nature and rustic touches. The reception is equally stunning, all outside with the most dramatic table setup. Festoon lighting, long tables, beautiful decoration, so gorgeous. All put together with the help of Loving Marche Wedding and captured by Kaba Photo Studio. So so stunning.
The marriage that we have always imagined has turned into reality, a beautiful fairy tale; the atmosphere, the bond with nature, the ceremony was perfectly in line with what we were looking for to crown our bond.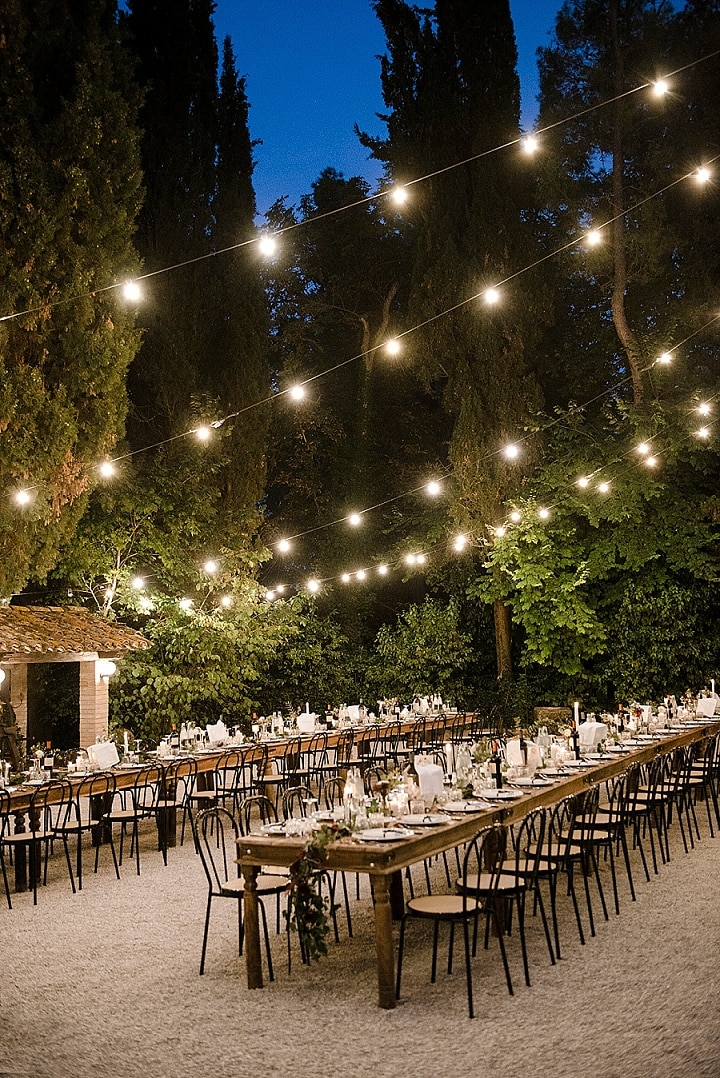 Chiara and Mirko were married on 31st August 2019 at Badia di San Vittore in Le Marche, Itlay. 'We chose to get married there because it was a place dear to Mirko near the places of his childhood, as soon as we saw it all inside us we fell in love, it was perfect for our ceremony .. so romantic, intimate and suggestive. So hidden from the roar of the world! We had 90 guests more or less, We've chosen the location the October before so we need one year, more or less, to plan everything. We live in Rome and it was a bit difficult to plan any faster.'
How they met 
Our roads crossed each other on a train, between the many journeys to go to work or to university, until destiny put a hand in it and we had the opportunity to write and get to know each other. We've been together for five years.
The proposal
He made me a proposal on a rainy afternoon near the Lake Trevignano Romano (Roma) giving me a ring and telling me that he wanted to spend the rest of his life with me.
How did you allocate your budget?
For the budget we contacted many supplies and then decided those that suited us thebest. We have done without the florist and thanks to the help of Nadia from Loving Marche Wedding and two of my dear friends we have done the preparation.
How did you choose your photographer?
Nadia told us about them and when we talked to the guys at Kaba photo we saw their shots, they seemed young and passionate about their work and so we chose them.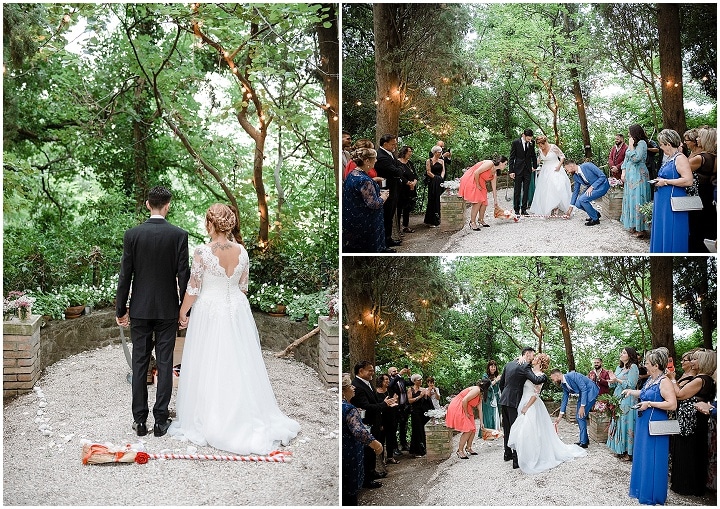 The dress
I bought my dress at the Aquachiara atelier in Rome, the stylist is Gabriella Rio. Mirko's dress by Carlo Pignatelli stylist.
Theme or colour scheme
Ours was a Celtic ceremony – HANDFASTING – so nature played a leading role and then the other predominant colour was the burgundy.
Flowers 
I love Burgundy colour and we had small bouquets in different small glasses bottles with a mix of: wax flowers, 3 kinds of eucalyptus, burgundy dahlias and red astilbe.
Decoration
We had a wooden wedding table seating plan, we had black candleholders and forest green satin ribbons to tie the menu in style with the Celtic ritual; we had an open-air living room in the garden with two sage green sofas, a Persian rug and wooden boxes decorated with wooden bases for large black candles and a large basket of gisophila.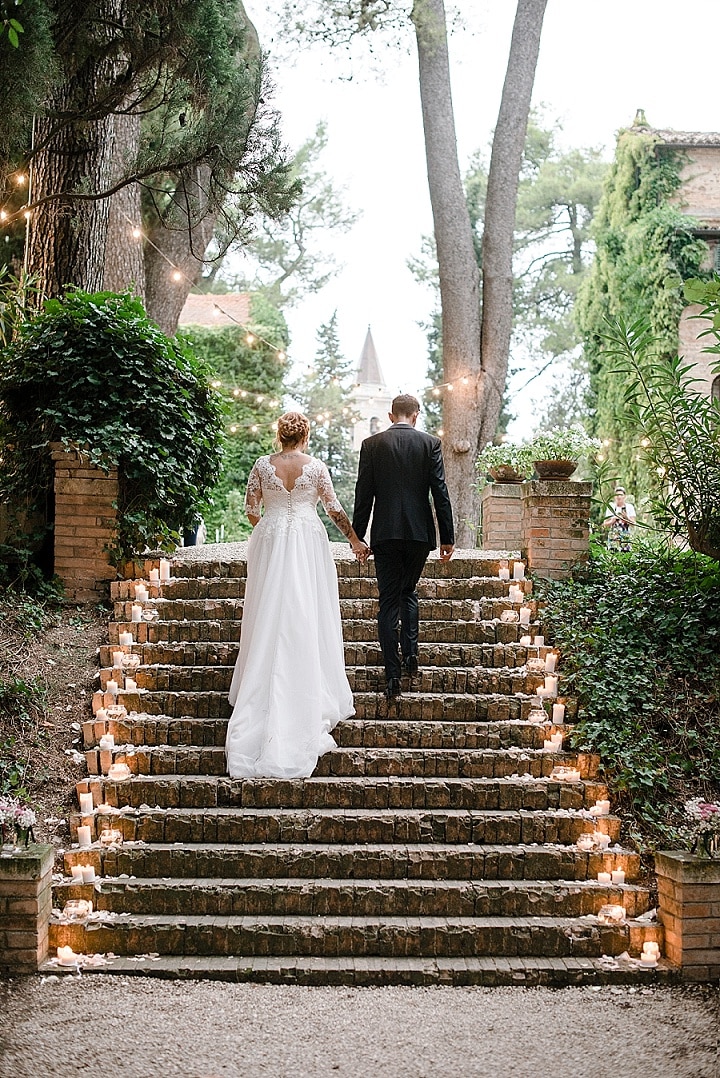 Food 
The menu consisted of meat and fish with a buffet of mixed starters, two first puff pastry with minced pork and truffle and gnocchetti with eggplant, Pachino cherry tomatoes and crispy ham; veal fillet with dried fruit and potato and mushroom pie.
Wedding cake
The cake tasted like chocolate and wild berries, a naked cake decorated by Nadia with succulent plants; it was beautiful and delicious!
Entertainment
The Emian Duo have played at our wedding, the children have instead been with an animator. The Emian Duo are fantastic, they play celtic music and instruments wearing characteristic costumes; they play for the celebration too.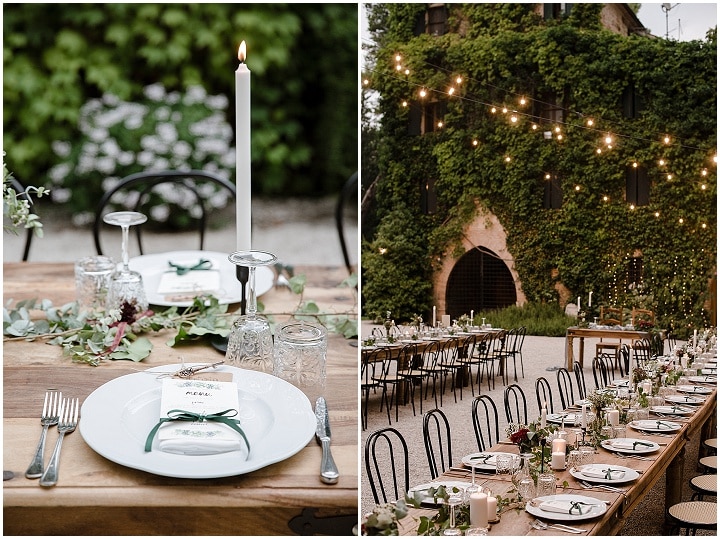 Who supplied the stationery?
Nadia recommended a graphic designer that made wedding stationery with burgundy flowers and green leaves and foliage.
Personal touches
I contributed to the setting up of the location, tables etc. together with Nadia and two of my friends. The location provides 3 rooms and one was mine where I had my "getting ready" – we had our symbolic wedding in the secret garden of that location and in this way, I was able to live the wedding setting in first person as a guest
Special moments 
Surely the ceremony was very exciting, some moments with the ribbons around our hands, the exchange of rings and promises will surely remain in our hearts as special moments. But also the whole ceremony the long tables the laughter of friends and relatives.
Advice for other couples
One piece of advice I can give is to take everything with serenity there may be unexpected events and things that will not go as we wanted, but everything will be resolved, it is your day and you must live it to the full.
Biggest surprise 
I didn't think that everything could reflect what we had imagined, we wanted a fairy tale immersed in nature with our dearest friends and the right atmosphere and so it was.
Supplier Shout Outs
[jprel]