Happy Friday everyone and may I say thank goodness this is the last day of January! I don't know about you but this month seems to have been going on for 876 days!! So today is a good day as it is pay day for lots of people and we can finally get some kind of normality back! It's been a jam packed week on the blog with lots of amazing weddings as well as many informative wedding articles, so I hope I have kept you busy with all the wedding goodness I have been sharing with you? I am SO ready for  the weekend, what about you?  Moving on to today's rather glam and super stylish wedding. It is the turn of Tyler and Adam who were married on 10th November at The Norwood in New York. Their day looks amazing, filled with super stylish touches, a colour palette of Navy, Burgundy and Copper and a loose Art Nouveau theme. Tyler is a graphic designer, so he created the rather delightful invitations. These, along with the cake, have to be my favourite parts of the wedding decor, they both look amazing. Phillipvn Photography was there to capture the day for us.
A FUN fancy house party where creativity and imagination carried everyone away.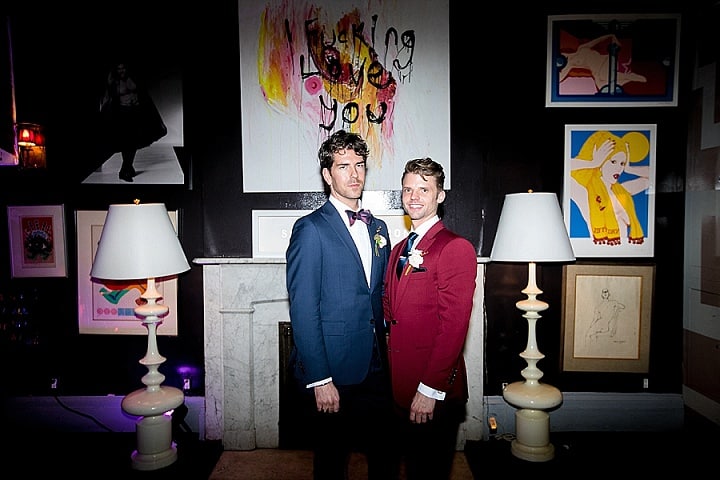 How they met 
Met in New York through the dating website OkCupid in 2013.
Adam: I had made a rule with myself to only date one guy at a time. Tyler messaged me while I was out on a date with someone else, so I was sad not to respond, but was going to stick to my rule. The other guy ended up being too hung over for our second date, so I messaged Tyler back and never went on a date with anyone else again.
Tyler: I had been on a string of dates with guys that weren't feeling right to me. When I first saw Adam on OKCupid, he stood out like none other. I really had a magical feeling about it when I messaged him.  I got his phone number and asked him on a date. We met in person on a Sunday afternoon in Union Square. We ended up spending a long time getting to know each other on a park bench, and I was reassured when he accepted a further invitation to dinner. By the end of our date, we walked back to the train station and had our first sweet kiss.
The proposal
Adam: On Valentine's Day, Tyler floated the idea of going to London and Paris – he had never been out of the country and I had been dying to see those cities. We went to The Louvre, enjoyed ourselves outside of a café for an unending Parisian lunch, and then walked over to the Luxembourg Gardens. We found a place to sit on the edge of the fountain. Tyler started talking about how we should start planning or lives together and asked me to marry him. He pulled out a ring box with rings for each of us and I said yes. It was such a beautiful setting-weather and all…and quite unexpected. It really took a while to sink in.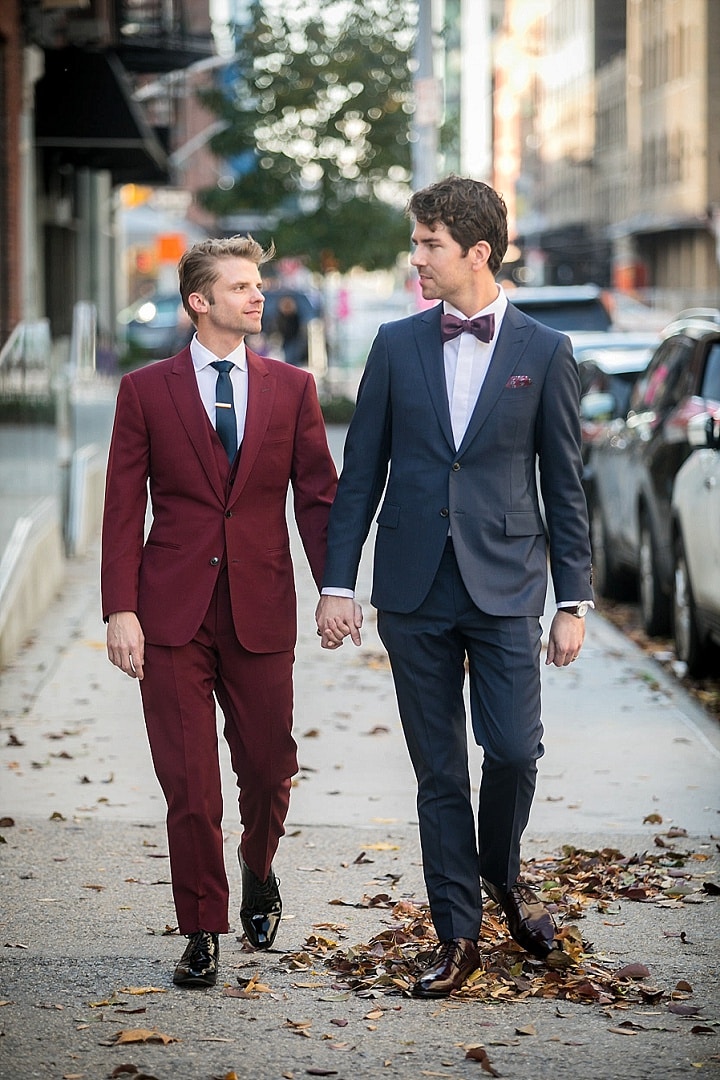 The Outfits
Adam: I wore a custom burgundy three piece suit from Alan David with a white tuxedo shirt and a navy tie. I had patent black shoes and socks with peacocks on them. My cufflinks were pink geodes created by his friend and former client, SPIVEY.
Tyler: I wore a custom navy suit and white tuxedo shirt by Black Lapel. And to coordinate with Adam, I wore a burgundy bow tie, paisley pocket square, and shoes. As far as jewellery, I wore my father's college class ring, my maternal grandfather's cufflinks, and a silver engraved bracelet which was a surprise gift from Adam on the morning of our wedding.
Theme or colour scheme 
Adam: We did not have any set theme really, we wanted the whole experience to feel consistent, but not forced. We both love the Art Nouveau movement, so you will find our invitations reflected that, but otherwise, we chose things we liked and focused on creating and facilitating a mood. Our colour palette was Navy, Burgundy and Copper—Our suits were probably the biggest players here, but the florals were all in copper vessels with a reddish palette, we had a guest "book" that was navy and copper, and little signs on navy as well. Our cake was also navy, copper and ivory.
Flowers 
Adam: I was inspired by fall in New York, our palette and a certain moodiness we wanted to create. We wanted them to be beautiful, but not "pretty" pretty. The flowers were consistent throughout all the arrangements with buckeye belle peonies, burgundy spray roses, burgundy scabiosa, white anemonies, purple asantira, chocolate cosmos, Queen Anne's lace, scabiosa pods, eucalyptus pods, vanilla cream petite roses and some found fall foliage.
Decoration
Adam: We didn't bring in a whole lot. For the dinner, we had our centrepieces, name cards and menus that served as programs for the evening. The tables and settings were beautiful as they were.
Who supplied the stationery? 
Tyler: Since I'm a graphic designer, this was a very personal project for me. Inspired by the Art Nouveau style, I created a custom monogram, combining the "E" and "B" of our last names. The invitations were on navy card stock, blind embossed with our design and stamped with copper foil. Our notecards and RSVP cards were letterpress printed. I worked with Coeur Noir, an amazing specialty printer in Brooklyn.
Special Moments
Adam: The whole night was incredible, but having friends contribute their talent throughout the night was probably the most memorable. Everyone who performed is so talented and they all did an incredible job. They were all planned to also help transition the evening and set the tone for each section of the wedding, so it was really cool to see the energy shift in response to each of them.
Advice for other couples 
Adam: Since we paid for it all ourselves, we made it 100% our own and the originality and sheer joy of the day was felt by and contributed to by all of our guests. We had no drama and had it be a day of exactly what we wanted. We would say to not let tradition or other people's wishes get in your way of making your day your own. People go to so many weddings, but that's not a reason to bore them; your own take will be enjoyed by guests and you'll be glad you did it your way.
Supplier Shout Outs
For more information on Phillipvn Photography