I hear a lot of people saying that they are doing their own flowers for their wedding day, which if you are green fingered and have a huge love of flowers is fair enough! However, making the decision to create your own bridal bouquets and flower decorations isn't one to be taken lightly. I always advise couples to hire a professional when it comes to planning a wedding, whether it be the photography or catering, entertainment or the flowers. Although, if you have a creative streak, or a huge love of flowers, or you simply don't have the budget, then you may want to get your secateurs out and give it a go yourself.  . With that in mind, I have invited Grace Michaels, Co-Founder of Barn Florist Online, a leading wholesale flower and foliage provider to the blog. She is here to tell us a few do's and don'ts and a few things you need to consider when creating your own wedding flowers.
DIY Wedding Flowers The Do's and Don'ts and What to be Aware of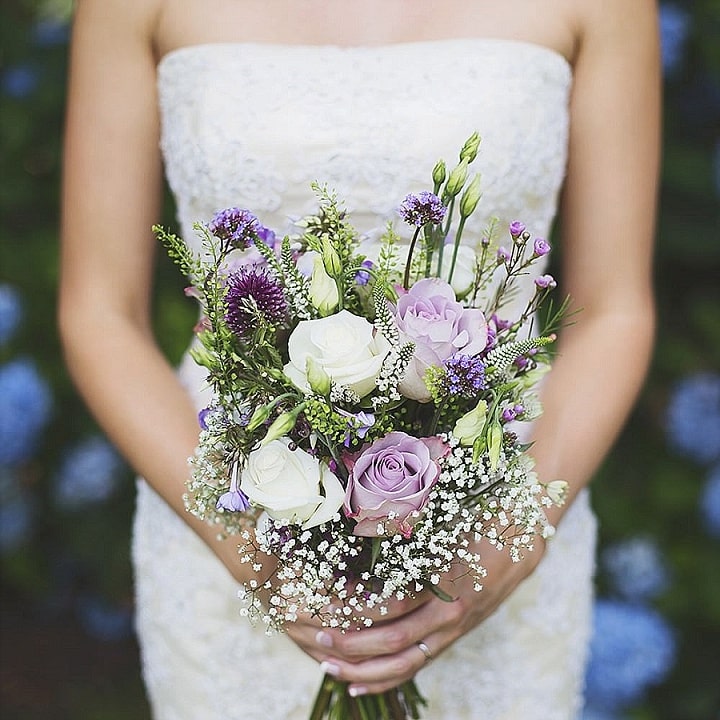 Summer Wedding bouquet using Memory Lane and Akito Roses, Lisianthus, Veronica, Gypsophila, purple Phlox, purple Wax Flower, Thalaspi. Floristry By Grace Michaels, Barn Florist.
I'll pass you over to Grace so she can tell you more
Doing your own flowers is great way to save money, have fun, and get creative but don't undervalue the skills of a florist. If you're unsure, why not find a florist to make your bridal bouquets and leave yourself with the venue flowers.
Before you start
Ask yourself if you will have the time and space to work with your flowers on the final two days leading up to your wedding day. Task in willing helpers and assign them with their flowery duties. Organise buckets, secateurs and somewhere cool to store your flowers.
Before you start selecting your flowers choose your containers and vases, workout how many items you are making. Consider flowers for table centre pieces and place settings, arch ways, foliage garlands for mantelpieces, beams and staircases, pew ends, chair decorations, plus extra vases around the venue.
Once you have settled on the colour scheme and the style of your wedding you are ready to begin your flower search. The colour of your bridesmaid's dresses may also determine the colour of your flower choices.
Garland of Soft Ruscus, peach Hypericum Berries, Rose David Austin Juliette
Creating your style
Consider the shape of your flowers. You might want tall flowers to add height, while you might need some to trail, big blooms for impact and smaller flowers to add texture and interest.
Study images of flower designs, ask yourself what you like about them. Different styles of wedding flowers are created using a certain combination of flower shapes. For example, if you love a rustic, country style choose a combination of 8-10 varieties of small bloomed garden flowers such as spray roses, astrantia, astilbe, or veronica plus filler flowers such as babies breath and chamomile daisies, combine with delicate grasses, thalaspi and foliage to give a relaxed and natural look.
Work out if you are using pastels or bold colours.
When choosing the colour of your flowers avoid being too specific with matching colours, instead try to achieve an effect.
Silver leaf, flowering mint
Spray Rose Pink Bubbles
Pale blue Tweedia, Oxypetalum
White Wax Flower
Greens and Leaves
Foliage is really important to carry a theme around a venue; it also sets the shape of your designs and is the backdrop for your flowers. If you are unsure of the quantities you need, then having too much foliage is not a bad thing. Leftover foliage can be easily used around a venue.
Handling your flowers
The majority of flowers are reliable and robust, but keep things simple for yourself by choosing flowers that are easy to work with, check with your supplier before you finalise your order, ask if you've chosen something that can be problematic to work with, some flowers such as garden roses and peonies will need special care, this is known as 'Conditioning'. In many situations this means tidying and cutting the stems before putting them in water. Order more than you need and be prepared to have to put in some work to get your flowers looking perfect, removing bruised petals, broken stems and excess foliage.
More Information about the Barn Florist
The Barn Florist web shop has been designed with the DIY bride in-mind. Discover an inspiring range of fresh cut flowers and foliage, set out on an easy to use shopping platform, with advanced search facilities to help narrow down your list of DIY wedding flowers. Search wholesale flowers by colour, style, shape and season. Start creating your Wishlist today.
www.barnflorist.co.uk / FACEBOOK / INSTAGRAM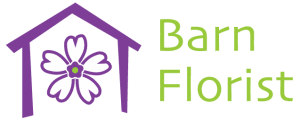 this is a sponsored post