Happy Friday everyone! Have you made it to the end of the week in one piece? I don't know about you, but this month really does seem to be going on forever! It's always the case with January, but this year it seems longer than ever! This Saturday I am taking Dexter to the theatre, which we are both really looking forward to and Sunday we are meeting up with his cousins. What about you? Do you have a list of wedding planning jobs to get done? Or are you giving yourself the weekend off?
This week on the blog I have been focusing on destination weddings. We have been to some beautiful locations so far: Tuscany, Ibiza, Texas, Crete and today we are heading off to Croatia. Having visited Croatia last summer I can say it is one of the most beautiful places I have been to, perfect for a destination wedding. Tom and Bond are both from the UK but decided to get married in Croatia after falling in love with the place on a trip in 2016. The whole day is gorgeous, the location, the dress, the decor, all very classic and understated. Robert Pljuscec did a wonderful job of capturing the day for us.
'A whole lot of fun'
Tom and Bond were married on 10th June 2019. They held the ceremony at St Marks with the reception at Bonj Les Bains on the island of Hvarin in Croatia, they had 62 guests and it took 12 months to plan.
The proposal
On an island off the coast of Cambodia. I made our names out of candles with a heart around a table on the sea shore, it was totally private, I took her by surprise, she didn't have a clue.
How did you allocate your budget?
We just weren't stupid and did things within our means.
Where did you splurge and where did you save?
We splurged on the venue for the reception and hen saved on using our own music and taking artificial flowers over to Croatia.

How did you choose your photographer?
We found Robert Pljuscec by looking online for Croatian photographers and having good conversations with him. It was a good choice, we made the right decision.
The dress 
Bond bought her dress from a designer in the UK. She wore ear rings which belonged to her Nan.
The suit and bridesmaids
Suits were linen and tailored to fit. Dresses were all ASOS.

Theme or colour scheme
Lavender and sage but not everywhere.
Flowers 
Rustic meadow flowers with hawthorn berries and roses.
Food 
3 course meal vegetarian and meat option, no wedding cake.
Entertainment
Sax player and my own music.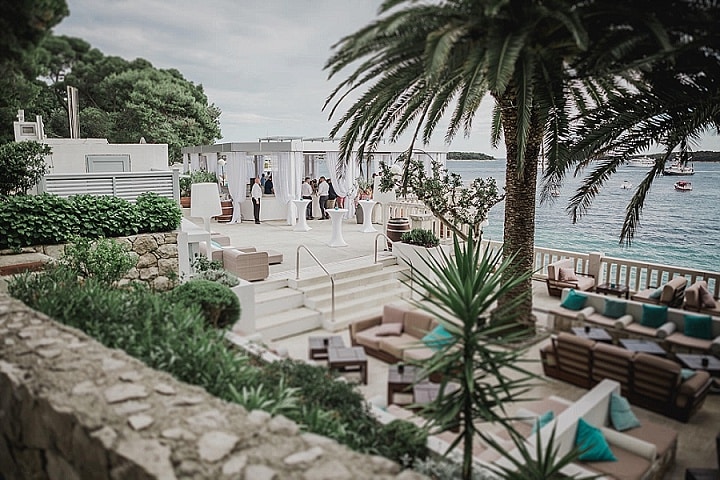 Personal touches
Mints with our date and names on. A sprig of lavender next to cutlery and fans on the seats at the ceremony.
Advice for other couples
Take a step back and realise how lucky you are.
Biggest surprise
My Gran lasting the distance and staying until the end. Which was amazing.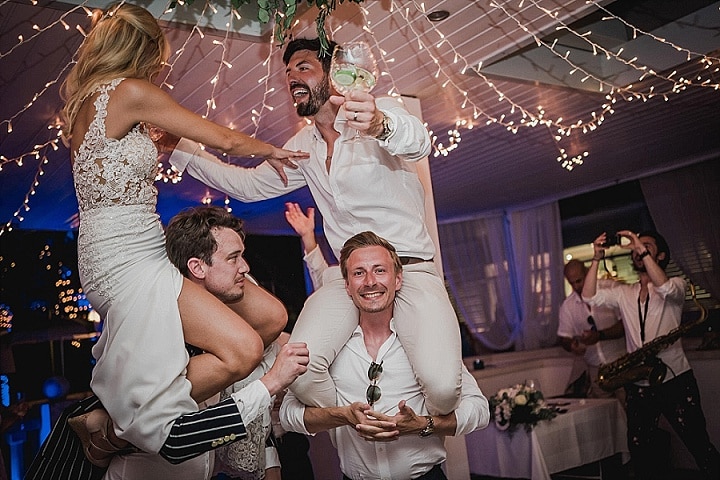 For more information on Robert Pljuscec go to 
www.robertpljuscec.com /  www.robertpljuscec.com/category/blog / [email protected] / +385981611080 / FACEBOOK / INSTAGRAM 

About me – My name is Robert I'm from Zagreb Croatia. I've been a wedding photographer for over 8 years. My style is documentary / unobtrusive and I like to take photos of people when they are natural and in candid situations with available light. Because only then can I tell your true story. I like to observe from a distance and always be ready for the right shot.

[jprel]