Happy Monday everyone, how are you all? Did you have a good weekend? Mine was restful and chilled, spent with my gorgeous family. I'm now ready for a very busy week ahead. It's a busy time here at Boho HQ, so I am starting the week fresh, and 'on it'. I have the most gorgeous wedding to share with you this fine Monday. Llew-Ann and Steve held their beautiful destination wedding in Florence in Tuscany, against the stunning backdrop of Castello del Trebbio. With the help of their amazing wedding planner Wedding In Wonderland they chose a bright and colourful theme and set to work creating a plethora of ribbon ties to bring their vision to life. They mixed the ribbons with plenty of beautiful flowers, all working perfectly against the old stone walls of their stunning venue. I just love the pops of colour that really stand out. We need to see more colour back in weddings, this is really gorgeous. Rosapaola Lucibelli was there to capture the day.
The actual best day of our lives and sharing it with our favourite people in the world. A day truly full of laughter and love!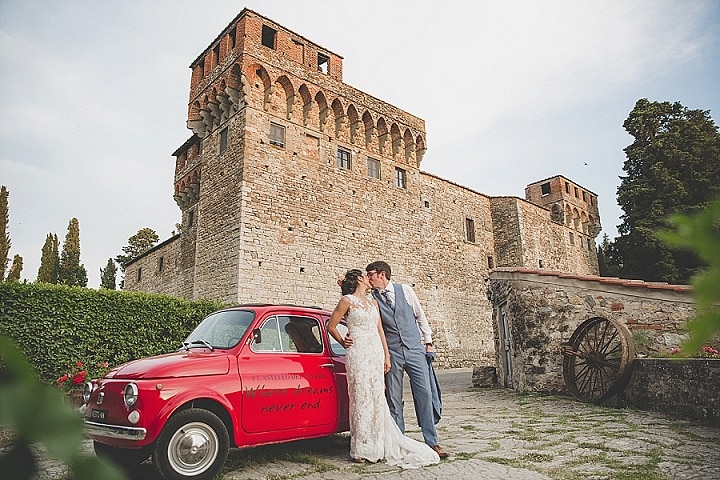 Llew-Ann and Steve were married on 18th June 2019 at Castello Del Trebbio, Pontassieve in Florence, Tuscany. 'Steve is from the UK and I am from Australia so it was always going to be a destination wedding. We love travelling and so we thought it would be great to make our wedding one big holiday that we can enjoy with our closest family and friends. My family and friends were coming from all over the place; Australia, Malaysia, Singapore and the U.S so we definitely wanted somewhere memorable to share with those that came from afar and an adventure for those who lived in Europe, we love Italy, And then we met our Wedding Planner Rosy she really helped us finalise the location!
After looking at a few venues in Tuscany that Rosy presented to us, we decided on Castello Del Trebbio because it could accommodate all guests in one place.  A proper Tuscan dream location! We felt this was a really special place and wanted to be a part of its history! We had 45 guests and it took
about 9 months to plan. This would not have happened as smoothly as it did without the help of our Wedding Planner, Rosy Strati from Wedding In Wonderland.
How they met 
We met in Sydney, Australia where we both worked together way back in 2010. We first spoke to each other at a work lunch and from then on we started just having lunch together just us. Steve makes me laugh a lot. So I was always looking forward to seeing him. We started dating at the start of 2011 and in 2013 we decided to quit our jobs and travel. We did 6 months of SouthEast Asia and then finally landed in the UK where we live now. We haven't stopped travelling and on a trip to Cuba he proposed in November 2017.
The proposal
We had planned a trip to Cuba and I (Steve) knew that this was the time that I was going to propose as soon as we booked it. We were travelling around Cuba and I had planned for us to stay in a resort for a couple of nights on the beach. At sunset we went for a walk and Llew was taking photos on her polaroid camera. Half way along the beach at sunset I took her camera off her and got down on one knee. She looked so angry that I had taken the camera off her as she was trying to capture the perfect sunset but then she realised what was happening and just stood there in shock. Oh and then finally after about 5 minutes she said yes!!
How did you allocate your budget?
We really didn't know how to allocate it at first but our wedding planner Rosy helped and guided us on how to distribute different amounts on the various services which we needed. We had an overall budget and we googled A LOT to see what we could get with our budget and how much we'd have to spend on each.
Where did you splurge and where did you save?
We definitely splurged on venue and the food which was superb, we had a traditional Tuscan menu. We spent wisely on the decoration and worked together with Rosy to create a beautiful scheme which incorporated inexpensive items as ribbons and paper lanterns creating a stunning wow factor in the traditional context of the Castle. We tried to get a lot of things discounted. For example my shoes. Following the design scheme and colour palette that Rosy put together, I did all the stationery myself such as the menus, place names, table names and table chart labels, my mother in law made the
drawstring sachets for the favours. It was a team effort!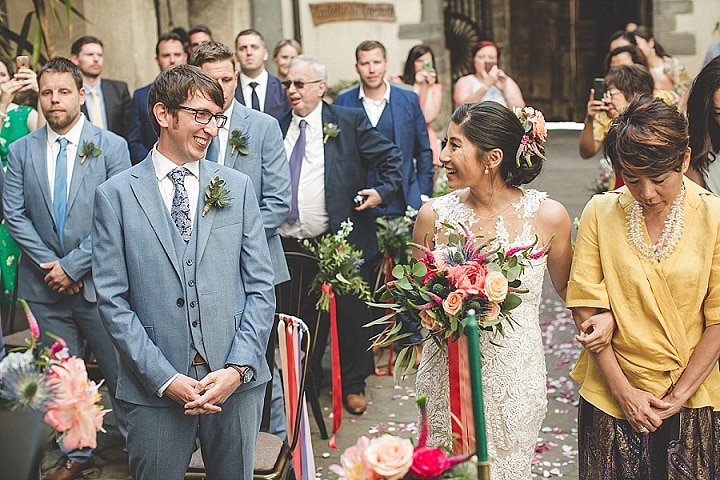 How did you choose your photographer?
Rosy gave us many options within our budget. We really loved Rosapaola Lucibelli's intimate style and how she captured everyone. Not only the posed shots but the candid ones too.
The dress 
My dress was by St. Patrick Studio It was so comfortable. I'm still in love with it as much as the day I bought it. My Shoes were Anna Field Select and my earrings were from my mum. I'm not sure where she got them from.
The suit and bridesmaids
Suit was by Moss Bros. and the Bridesmaid dresses were from ASOS.
Theme or colour scheme
We didn't really restrict ourselves to a set theme or colour. We definitely wanted the event to be colourful and fun because we knew that we wanted everyone to be in holiday mood! As we ended up with a very bright palette Rosy suggested to follow a boho inspiration and we loved it! Our talented florist Elena Mainoldi managed to create such a vivid composition of wild flowers which really reflected this idea and our colourful dream.The whole floral arrangements stood out exceptionally against the classic architecture of the Castle and its row Tuscan materials!
Although there wasn't really a theme we did play on the travel idea a bit. Our table names were places that had special meanings to us. For the favours we put in the little sachets treats from England and Australia. The boys wanted light suits for summer and the girls wore light green so that the colourful
flowers would stand out even more.
Decoration 
We had a very colourful flower and ribbons decoration for the ceremony in the Castle's courtyard, which was perfect against the dark colours of the ancient stones. As we used old monks timber naked tables on the terrace for the dinner, we chose lots of greenery and multicoloured candles to create contrast and match the flowers. The ribbons and the lanterns which decorated the dinner space with fairy lights also matched the flowers. Favour bags doubled up as place names and were also the same colours as the flowers.
Food 
Castello del Trebbio has a fantastic restaurant on site and they took care of the full menu, including the cake. They are a family run estate and locally grow their vegetables and produce organically olive oil, Chianti wine and saffron. The food and the wine were simply amazing. After a rich classic Italian aperitivo buffet we had the following menu at the table:
Starter: – Herbs flavoured courgettes and fresh cheese strudel on toasted almond and summer sprouts puree.
First Courses: – Carnaroli risotto with Il Trebbio saffron and veal marrow, – Buckwheat ' Stracci ' pasta with white rabbit sauce.
Main Course: – Roasted Cinta Senese pork fillet with chestnut honey, fresh chilli and caramelised radish.
Dessert: – Milllefoglie Wedding Cake with Chantilly custard cream and berries and Gelato Selection
Wedding cake
We went with the Italian tradition and had the most famous Italian wedding cake, the ' Millefoglie 'which is layers of soft pastry and Chantilly cream with summer berries, and was so delicious. They made this 45 minutes before they served so it was so fresh and light.
Entertainment
We had an amazing Italian folk band called Men on the Moon throughout the whole day. They played me down the aisle as well as an acoustic set for the Aperitivo and then two hours after the evening meal for the dancing party. They were fantastic!!
Who supplied the stationery?
I did! Designed and printed by moi.
Personal touches
As mentioned above, to save we did a lot of the little decorations ourselves and the stationary. This made the design of the event even more unique and personal. We also had an instax 'photobooth' where we got guests to take pictures and put it in our guestbook. We really liked looking at all these photos after the wedding.
Special moments 
Definitely listening to the celebrant read out our answers to a questionnaire that she sent both of us. We had kept it a secret for ages! The ceremony was perfect. Speeches were also really touching and I just loved that my family came from so far to celebrate with us. I'm not sure if all our guests will ever be in the same country again!
Advice for other couples 
It can all be very daunting when you start but I would say just relax and enjoy the process as it all flies by so quickly. Also if you want to get married in Tuscany have Rosy as a planner and trust her!! She has so much experience and knows so many good local vendors. She has also a very keen eye for detail and really made everything perfect for us!
Biggest surprise
No real surprises, but we just had the most memorable and amazing day. I always thought that weddings were hyped up but our wedding day exceeded all our expectations and was definitely worth the hype!
Supplier Shout Outs