I am lucky enough on the blog to feature so many weddings from all across the world. I do love English weddings but I also love a destination wedding. If you read yesterday's post on destination weddings then you will have a good idea why they are so popular. Léa & Harry are both French and Greek, so decided to share their love of Harry's Greek heritage and show their guests a traditional Greek wedding. They added in a mixture of French touches to make their French guests feel at home and the results are this relaxed, simple and super pretty wedding. To make their day come together they enlisted the help of wedding planner Crete For Love and Andreas Markakis Photography to capture the day for them.
Our wedding was a good mix between French and Greek culture, authentic, simple and just full of love.  The most important for us was to present to our guest the authenticity of the Cretan spirit.
Léa & Harry were married on 20th April 2019 at Cretan Village in Crete. 'Harry came from Crete and we love this island. We wanted an international wedding to share the Greek culture with our guests. We has around 90 French guests and 30 Greek. It took one year to plan, with the help of "Crete for Love", and our amazing wedding planner Stavriani.'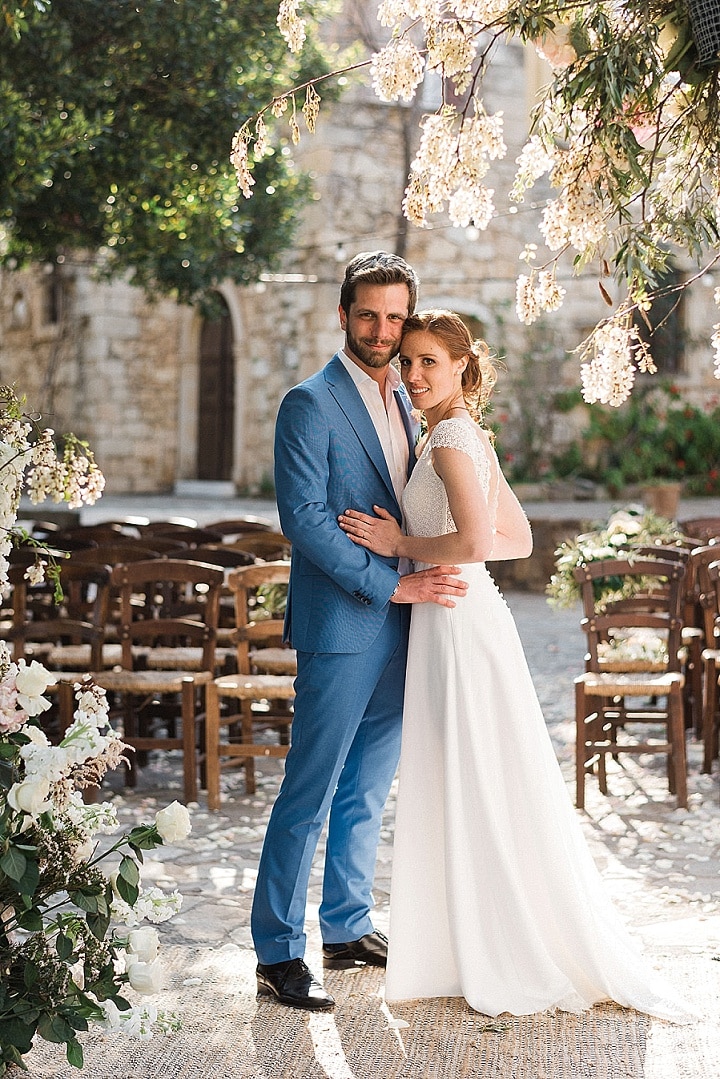 How they met 
We met in a Parisian bar, 6 years ago. Léa was still studying and Harry just starts to work. Each of us was celebrating the end of the week with some friends and at a moment our eyes catch-up and the wonderful story began.
The proposal
It was after a beautiful day in Crete, at the beach, with the sunset, Harry  asked Léa to marry him.
How did you choose your photographer?
It was our wedding planner who told us about Andreas Markakis, we wanted someone who can take pictures and video, with a natural style.
The dress 
My dress was made by an amazing French seamstress (Mariane Careme) who created the dress of my dreams. I bought my shoes in a French shop (la hall). I had hair jewellery, and simple earrings and necklace.
The suit and bridesmaids
The suit came from a French tailor Antony Garcon and was chosen with the father of the groom, Takis Deligiannakis. It was an extraordinary Father and son day as the groom got to choose his suit from the same store as his father had, for his wedding.
For the Bridesmaids we simply asked them to have a blue Greek Dress. They chose the rest by themselves.
How did you allocate your budget?
Our wedding planner helped us very much and we gave her our priorities: a good photographer, a good DJ and Greek food and drinks.
Where did you splurge and where did you save?
Stavriani had a good understanding of ours demands from the start; Thereby we didn't have to think about saving or splurge thanks to her. Everything was really easy.
Theme or colour scheme
The theme was a relaxing Greek wedding without a real colour scheme – just the perfect atmosphere!
Flowers
We had a mix of flowers but Stavriani could give more information about. The result was great.
WP: Harry & Lea wanted to include Cretan herbs and local greenery in their decoration, so the Cretan spirit and atmosphere was enhanced and completed on this part as well! Respecting their wish, we chose quite a few aromatic Cretan herbs and greenery, including olive branches, rosemary, Greek eucalyptus and mountain teas, combining them with seasonal spring flowers in earthy tones. The end result was truly magical, and exceeded the couple's expectations!
Decoration 
The decoration was on the spirit a Cretan wedding but I also think that Stavriani our wedding planner could give more information: WP – Around the ceremony area, we had a large impressive and elegant arch for the ceremony, a beautiful aisle leading to that and rose petal décor in the broader area. Also, the sweetest donkey with a handmade wreath was there to welcome the guests and make pictures with them all, which really was a TOP show-stopper! For the cocktail hour, we made a great use of the different spaces of the venue and created small activities corners with backgammon (very popular in the Greek "kafenio"!), chess and other board games, while clear and green vases, along with a lot of candles, were the main decoration of the dinner tables.
Food
A huge Greek menu with mezze, moussaka, meat, potatoes, without forgetting specialities of lamp ("adikisto") …and lots of Greek desserts.
Entertainment
Greek stand (Greek coffee, traditionally made Cretan wedding bread ("kouloura"), Greek desserts like loukoumades…), a Greek music band for the cocktail hour, a photo booth for throughout the night and a professional group of Greek and Cretan dancers, that took everyone on the dancefloor which stayed full until the early morning hours!
Who supplied the stationery?
As our wedding was both in French and Greek, we created a small booklet in both languages to help our guests understand the flow of the ceremony, even in the cases they didn't speak both languages. In the spirit of our relaxing Greek festivity we did not want to have assigned sitting so we had no place cards / sitting plan, and as the food was so good, we just wanted to let everyone be surprised so we prepared no menus!
Personal touches
We create a photo garland with pictures of us, and the guests wedding favours (small bottles of Greek olive oil and thyme).
Special moments 
Everything, the secular ceremony was really personal, the cocktail was nice as we had time to talk with everyone, the dinner was really good and the party was amazing without forgetting the place of the wedding!
Advice for other couples
If you want to hold a destination wedding, get a good wedding planner like us. It's really helpful and far less stressful.
Biggest surprise 
All the love that our guests gave us!
Supplier Shout Outs
[jprel]