Happy Wednesday everyone and have I got a treat for you today with this totally stunning Texas wedding. Taylor and Derek were married on 6th January 2019 at Dripping Springs in Texas. Their whole wedding is just gorgeous from beginning to end. They took Taylor's love of thrifting and collecting beautiful vintage items and mixed it with Derek's love of brewing craft beer and set it against the stunning white walls of Prospect House.The result is a huge white minimalist building filled with soft tones of reds, oranges and yellows, an abundance of candles and the most beautiful blooms. This is all set off beautifully with Taylor's gorgeous Rue De Seine gown which I am totally in love with. The couple held a very personal first look and vow exchange before tying the knot in front of all of their friends and family in a beautiful outdoor ceremony. The whole wedding looks stunning thanks to Event Designer EPOCH CO+ Events who sent me this amazing wedding and was captured by the amazing Century Tree Productions.
Vintage Boho meets Palm Springs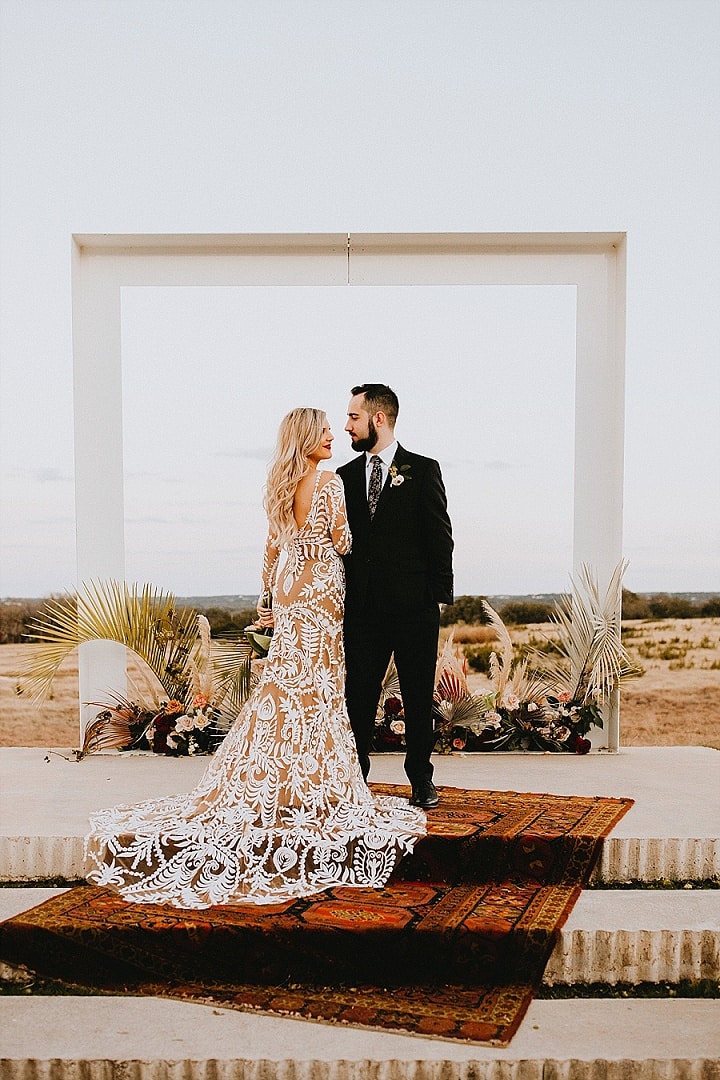 Heather from EPOCH CO+ Events tells us more about the day
Taylor and Derek were by far one of the coolest couples we have ever encountered. It is not too common to come across a groom who eagerly participates in the planning process, so being able to incorporate meaningful details into the wedding day that were special to both the bride and groom was a breath of fresh air.
Taylor has a love for thrifting, and incorporated some fun vintage finds into the wedding day. Her wedding day shoes were AMAZING and an awesome addition to her Rue De Seine gown from The Dress Theory Nashville, which allowed them to have some adventurous moments out in the fields for a private vow exchange. Originally from Florida, we had a touch of palm springs added to the floral details of the event.
Derek is a craft brew fiend who personally brewed a 5 gallon keg of beer, lovingly named "Groom's Cake" – and it tasted perfectly like chocolate cake in the most magnificent way. The guys were able to enjoy some time at a nearby brewery, Jester King, prior to the hustle and bustle of the day. As a nod toward his love of beer, hops and hop vines were seamlessly incorporated into the floral elements, and various bottles of craft beer were carefully transformed into trios of votives to illuminate cocktail tables.
The day was wildly windy, and threw a few details for a loop, but the low lying colourful fronds that lined the ceremony background added a beautiful contrast to the wintry grass fields cascading across the scenery. A deep coloured rug draped across the ceremony steps allowing Taylor's dress and it's details to fully pop. Bridesmaids wore flowing creamy and white gowns from Bella Bridesmaids, which closely resembled greek goddesses. The men wore dapper suits adorned with bouts of hops and greenery.
With a love for music, a single guitarist serenaded guests throughout the ceremony, and a dear friend officiated the meaningful matrimony.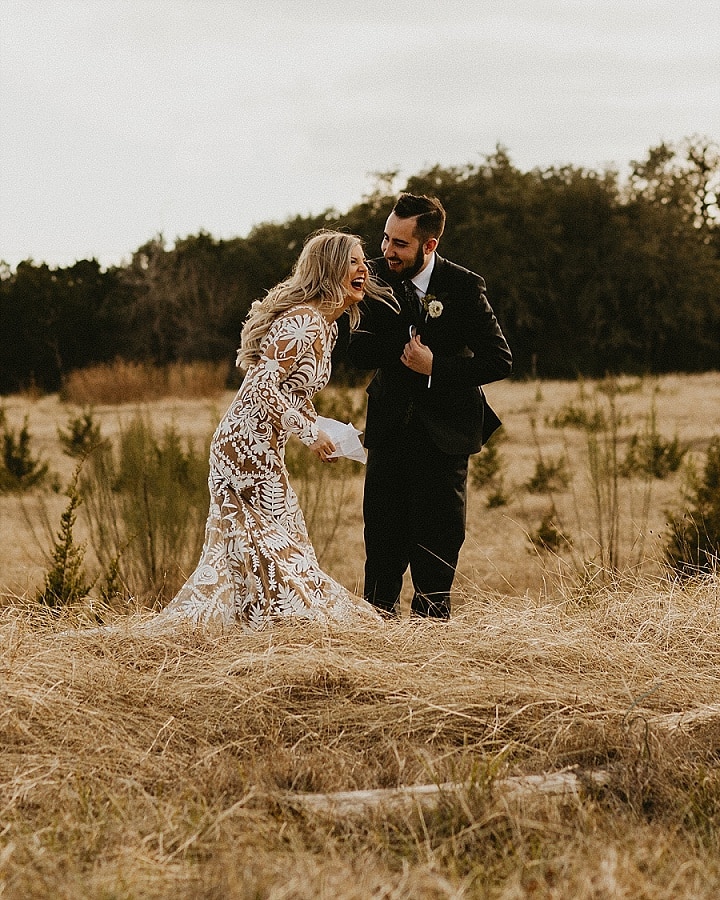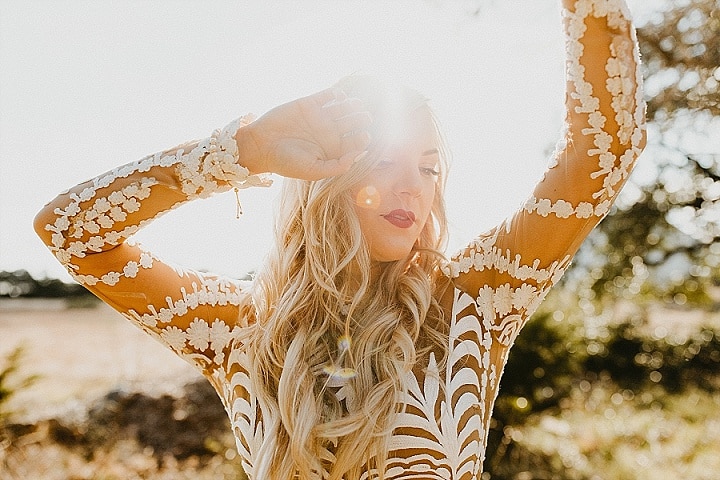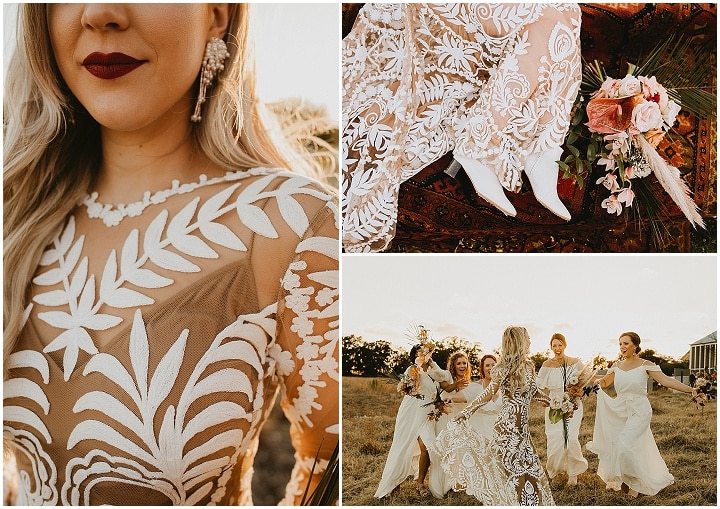 The reception space of Prospect House is stark white, with floor to ceiling windows allowing natural light to pour in through the day time. Going with our bold palm springs vibe, we alternated architectural floral elements by Tersilla Co., with garlands of colourful taper candles that illuminated the reception space after the sun set with colourful candle flames dancing in the air.
Vintage wicker peacock chairs from Vestige Event Rentals were the thrones for the newlyweds set against a vast white wall backdrop where their cake stand was layered perfectly in the background, carrying over the same colourful palm fronds from the ceremony and colourful candlesticks. Sweet Treets Bakery crafted a delicious vegan cake that was devoured by each and every guest without a single slice remaining.
Verde's catered in true Texas fashion, offering up a tasty nacho bar and roasted chicken with a creamy poblano sauce and various medleys for vegans and vegetarians alike.
Once the formalities were over, Century Tree Productions DJ lit the dance floor up with his colourful lighting, confetti canons and electrifying music where everyone gathered until the very last second.
It was a spectacular event, filled with love, laughter and lots of grand memories being created by two families joining as one.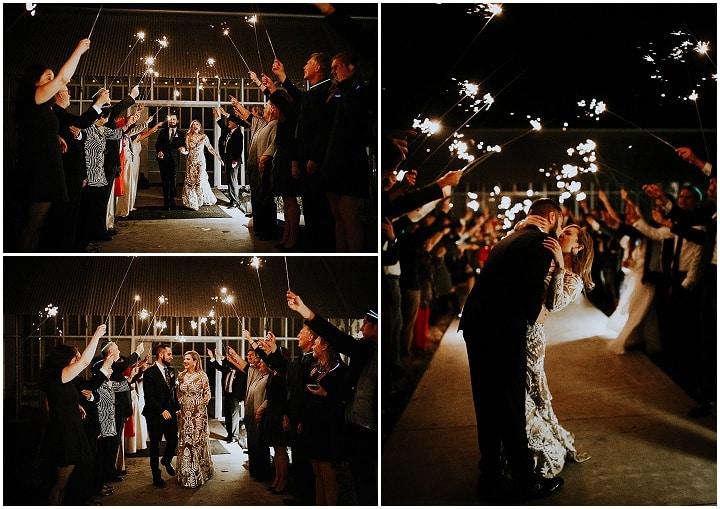 Supplier Shout Outs
[jprel]