If you are a regular to the blog, you will know how much we LOVE Revelry. Back in October, I was delighted to introduce you to their brand new range of Faux Fur Shrugs, well today they are back with a brand new Sugar Almond bridesmaids dress collection. This gorgeous collection of earth-toned boho bridesmaid dresses takes inspiration from the desert and comes in a variety of mix and match styles, as well as 16 new colours. These dresses are perfect for the Boho bride looking for something, soft, floaty and ethereal for their big day. Such a wonderful collection of bridesmaid dresses, that I know you are going to love.
When it comes to the business of making you feel as uniquely beautiful as you truly are, both inside and out, Revelry's show-stopping styles are always the most spectacular choice!
With the colder weather officially here and engagement season right around the corner, we're busy dreaming about all things 2020 weddings. As more and more babes start Pinning and planning for their big days, we're here to help you check off every item on your list. So, when one of our favorite e-commerce boutiques, Revelry, announced their newest, desert-inspired, bridesmaid dress collection, we knew that we just HAD to share.
This female-founded company knows that the key to a cohesive wedding day vibe starts with a combination of beautiful boho styles, earthy hues, and stand out silhouettes that will compliment every babe's unique look. With new brides-to-be and almost-engaged babes planning their days over the holidays, Revelry wanted to create something special, trendy and picture-perfect for all of our favourite gals. Enter: Revelry's new Sugar Almond Collection of bridesmaid dresses.
Inspired by Sedona vibes and desert trends, the 16 new colors of Revelry's Sugar Almond collection boasts warm, Earth hues with major mix-and-match potential. From romantic Rosewood, inspired by the 2019 Pantone Color of the Year, to the MUCH anticipated Mustard, to an Olive straight out of your Pinterest dreams, these new hues are the perfect addition to Revelry's already vast collection of coveted colours. Plus, with 6 new chiffon styles launching as well, there's something for every bride and babe in this dreamy 2020 bridesmaid dress collection.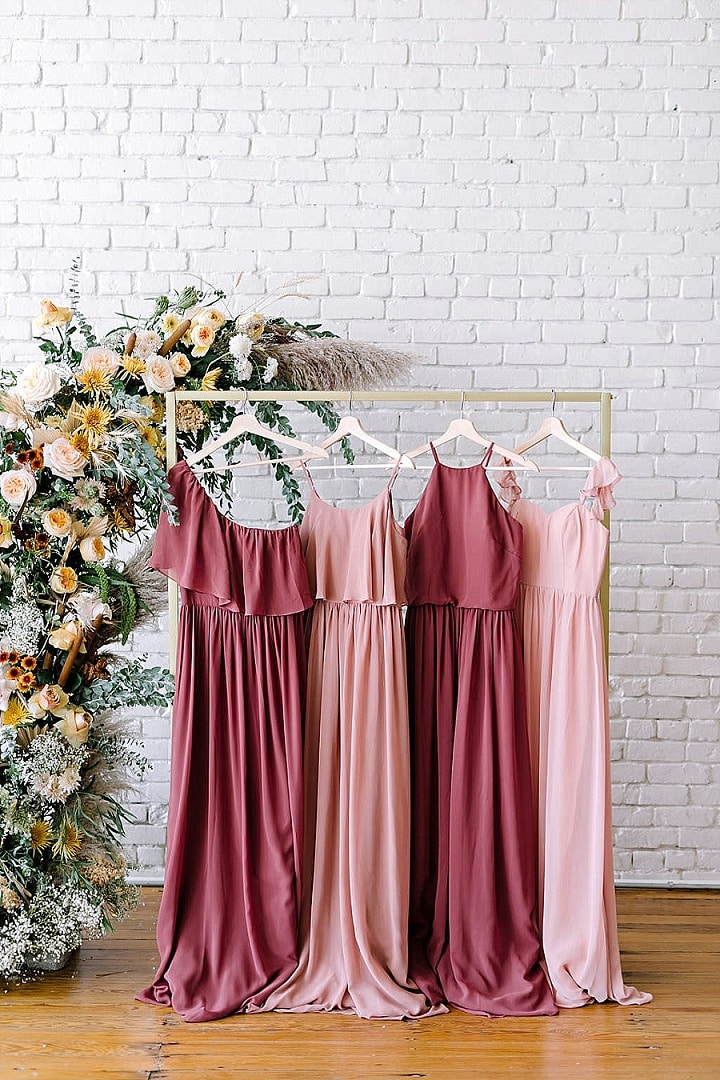 "When designing a new collection, my first inspiration is ALWAYS our customer. What is she looking for that she can't find? What is she inspired by on Pinterest? How can I incorporate styles and colours that make her say, 'Wow, that is EXACTLY what I've been searching for!'? She might not even *know* exactly what she wants, but when she sees the Revelry collection, she knows she found it." –Michelle, Founder of Revelry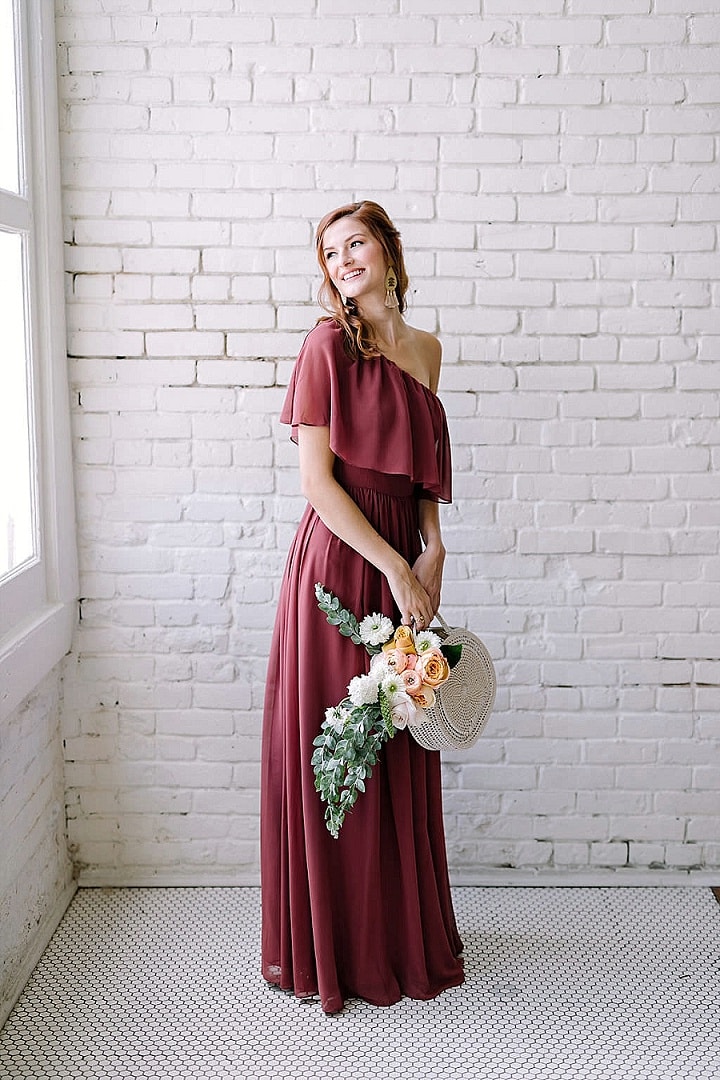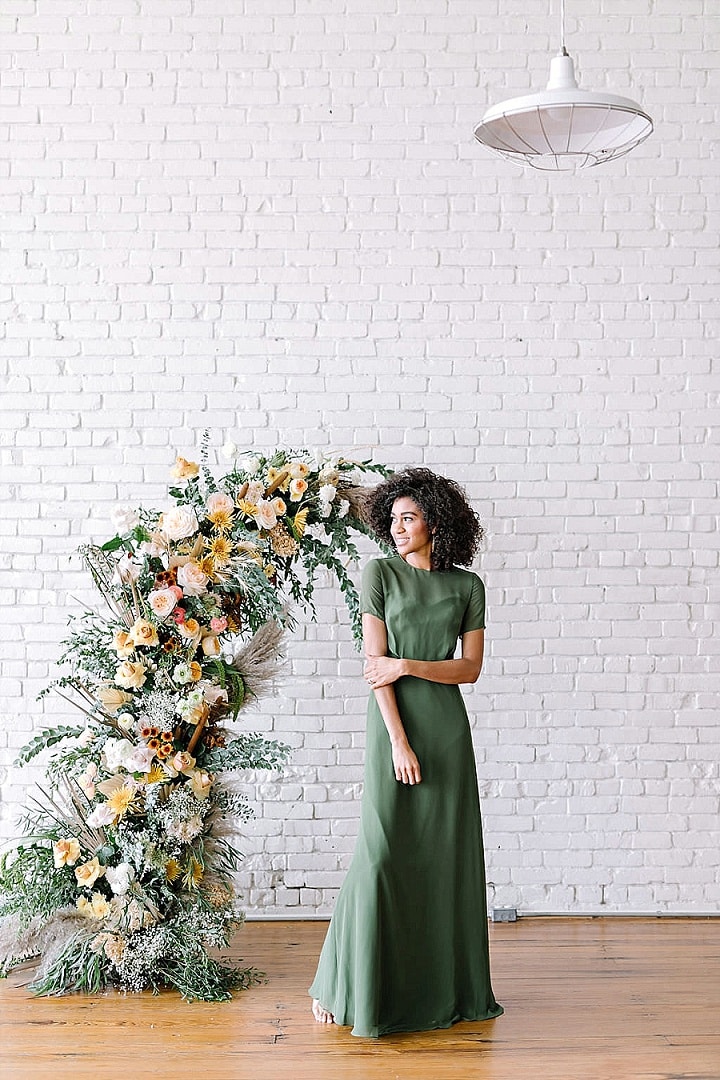 Who are Revelry?
New to Revelry and the idea of an e-commerce boutique? The strictly online bridesmaid dress retailer is headquartered in Austin, Texas and specializes in made-to-order garments that are oh-so-Instagramable! It's not just the sensational styles that have made us fall head-over-heels, however. Revelry has a "try before you buy" option to ensure you find the perfect style and fit for the big day. The Sample Box system allows you to select the styles and sizes of your choice to try on in the comfort of your home! Say "so long" to small fitting rooms and on-the-spot decisions! Whether you're a bride or a bridesbabe, trying on styles you want on your time, in your place, and in your size is truly the new way to shop!
It's not *just* the opportunity to try sensational styles on at home that we love about the revolutionary brand. It's the fact that the founder has made it her mission to make everyone feel included. This ever-evolving line offers sizes 0-32 as well as multiple length options. In addition to Revelry's wide (and we mean wiiiiiiiide) variety of styles, five different high-end fabrics, and an ever-evolving line with something for everybody and every body type, the company has well over 100 colours to choose from and are always adding more. Whether you're dreaming of dusty blues, boho blushes, glittering golds, ethereal Earth tones, or a mix that's uniquely "you," Revelry has just the look you've been lusting over.
FOR MORE INFORMATION ABOUT REVELRY GO TO:
www.shoprevelry.com / FACEBOOK / INSTAGRAM / PINTEREST / TWITTER
THIS IS A SPONSORED POST