Happy Friday everyone, I hope you have had a good week and that you are looking forward to the weekend ahead! I am off to a festival this weekend. It's a local festival in Sheffield called Tramlines it's around 35,000 people going over 3 days, but the best bit is because it's local we can go home to bed and have a shower and our own bed. It's just me and Nik tomorrow and then it's family day on Sunday so Dexter will be joining us. I'm looking forward to seeing Annie Mac, Rag 'N' Bone man and Nile Rodgers!…anyhow, lets crack on with today's wedding. Rachel and Ben have been kind enough to share their wedding with us today and it's a real beauty. They were lucky enough to hold the reception in Ben's parents garden, so the whole day is super personal. They stripped back the decor and opted for foliage only, no flowers and minimal fuss. Rachel looks stunning in her Grace Loves Lace dress, what a gorgeous couple they make! Big thanks to The Vedrines for the beautiful images.
'Nothing fancy. Just love'
Rachel and Ben were married on 25th May 2019 with a ceremony at St Bartholomew's Church, Sproxton, England. Reception at Ben's parents' home, Sproxton in Leicestershire. 'It meant a lot to Ben to get married at home and I fell in love with his parents home the first time I visited when we were young and still just dating. It's a beautiful space in a beautiful part of the world and now all the more special to us. We had 100 guests to the day and 140 in the evening. The day took more organising than expected. I have my own business and manage my own part time hours which really worked to my advantage.
How they met
Ben and me went to school together but our story isn't a 'childhood sweethearts' cliché. We shared very few mutual friends and even fewer chance encounters. It wasn't until many years, and many stories of our own later, that our paths finally crossed again. I think one of the reasons we fell in love is because we both had gone through life a little more. We've been together for more than 5 years now.
The proposal
We were in Montenegro in October 2017 and it was the penultimate day of our trip. We took a boat to a beautiful little fishing village called Morinj. We had lunch at this gorgeous restaurant, Catovica Mlini- which I would HIGHLY recommend, and Ben got down on one knee whilst taking an afternoon stroll. He had thought through the whole thing. Unbeknown to me at the time, Ben was aware of a local tradition where young Montenegrin men, in the past, had to plant olive trees and chestnut trees to be able to marry. He took me for a walk through a beautiful chestnut forest just a couple of days before asking me to marry him in a nod towards this tradition. It was difficult but we kept our exciting news to ourselves for the next 48 hours (- with the exception of my parents!) before returning home to England. It was such a lovely time.
How did you allocate your budget?
We went with what felt right for us.
Where did you splurge and where did you save?
We splurged on our wedding bands. Ben and I lived in New Zealand for a little while and Nelson is the most beautiful boho seaside town on the South Island. We decided upon Nelson based Jens Hansen, makers of the worlds most famous ring (- they actually designed the Ring used in The Lord of The Rings film trilogy!) Ben and me are Tolkien fans, having read many of his books, and Nelson is SUCH a special place for us both- we love the sentimentality of our very special rings.
We saved on transport costs. I walked to the Church with my Dad which was really special.
How did you choose your photographer?
It was an easy decision! As soon as I saw The Vedrines style of photography, I knew I needn't look anywhere else. They give attention to the small, personal things and details that should be captured and remembered in all their subtle glory.
We also had a wonderful team of videographers.
The dress 
My dress was the Mai gown by Grace Loves Lace. As soon as I stepped into their Shoreditch showroom, I knew I wasn't going to need to look any further- and I didn't!  I think I tried on every single dress and could have chosen any of them! I loved every little detail of Mai though, and knew Ben would too. It felt special.
The suit and bridesmaids
Ben did an amazing job of sorting his suit and all the suits of his entourage, 12 in total! I had no idea what style and colours he had gone for, it was such a lovely surprise on the day. The favourite part of his ensemble were his gorgeous Reiss shoes.
I let the Bridesmaids choose their own dress and they opted for a very feminine lovely blush cowl neck full length gown.
Theme or colour scheme
No theme or colour scheme as such. We both just wanted natural and neutral colours.
Flowers
No flowers, all foliage! We had plenty of fern, of course, another nod to beautiful New Zealand.
Decoration
We didn't have any decorations maybe other than a few lights in the trees which looked lovely in the evening.
Food
Canapes, a Salmon appetiser, simple Tomato Soup entrée, Duck main and Crème Brulee for dessert.
Wedding cake
A wedding gift from my wonderful Auntie & Uncle who are huge foodies. It was such a wonderful surprise on the day!
Entertainment
We had a lovely duo perform for us in the evening. We set up a very humble band stand outside where they performed our first dance. It was such a lovely moment.
Personal touches
Having your wedding at home is very personal in itself, its so comfortable and yet completely unique. We feel so lucky to have been able to do what we did. It was a family effort with lots of hard work in the months and weeks leading up to the day. A HUGE thanks must go to Ben's Grandad who was our Chief Groundskeeper.
Our lovely Vicar is a huge fan of Harry Potter and Tolkien, as are Ben and I. It was so fun to hear him add in the odd word or phrase at our ceremony, that only us and other fans would know- like an inside joke!
Special moments
The Ceremony was a complete whirlwind and over far too quickly but my brother read the most beautiful poem for us, Mana by Karlo Milo. The words and meaning are beyond beautiful and the occasion completely caught up with me- it was so emotional.
Seeing Ben for the first time standing the alter with always be one of lifes highlights for me.
Advice for other couples
I asked my husband for his thoughts on this question. A man of few words, he came back to me quite clear…"Do what you want". At risk of reciting an old cliché, I actually think he has a very good point. Do what you want to do guys! And enjoy it all!
Biggest surprise
My youngest brother wrote me the most beautiful letter on the morning of the wedding day. I wasn't expecting it at all. I hadn't read a single word, only the handwriting on the envelope, before I burst into tears.
I think the most wonderful surprise on the day is seeing your family and friends, all those closest to you, supporting you and celebrating with you- it's completely overwhelming.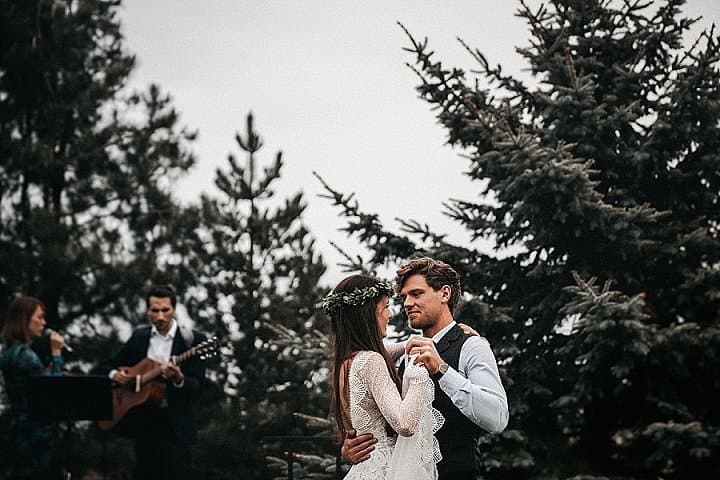 Supplier Shout Outs
For more information on The Vedrines go to
www.thevedrines.com / www.thevedrines.com/le-journal / 07793535257 / FACEBOOK / INSTAGRAM / TWITTER
We are a husband and wife wedding photography duo based in the Midlands. Our work has been described as diverse, real, creative and playful. We keep marriage and love at heart and continually explore different ways to portray this in our photography. We love getting to know our couples before the big day which helps us to capture the true, overall character and individuality of each wedding. We love the in-between bits, the real, meaningful parts of the day which are often left forgotten during staged shoots.