Today's wedding is an international affair, where the bride and groom, Alex and Leo both live in Shanghai, while Leo is originally from Mexico. However they both decided to come back to Leicestershire to get married, to live out Alex's childhood wedding dream. This meant a lot of internet booking, trusting in various friends and family and quite a few DIY projects. With a Bohemian, countryside vibe as their theme, the wedding is filled with rustic details, as well as sunflowers and the bridesmaids all dressed in hues of the same tone. With some gorgeous sunset shots, this wedding is a delight from start to finish, Thanks to Martin Makowski for the images.
The most overwhelming, action packed and fun day of our lives so far. We partied extremely hard and there was a huge amount of love felt that day, for everyone involved.
Alexandra and Leonardo were married on Saturday the 10th September 2016 at St Botolph's Church, Shepshed in Leicestershire, followed by a reception at Cattows Farm, Heather. 'Shepshed is where I (Alex) grew up, it was amazing to have so many different nationalities packed into our small family church. There's a lot of family history connected to St Botolph's. Dating back as far as the 11th century, it is where I, and all the family on my mother's side, were baptised. It's also where my great-great-grandparents, great-grandparents and grandparents got married 65 years ago. My Parents were married there (40 years ago in November 2017), sister (17 years ago in September 2017) As we live in Shanghai, it wasn't easy deciding to get married in England – it made planning tricky. There were 113 guests in the day and around 122 at night, with people travelling from 10 different countries to be there. Between us, we've lived in a total of five different countries to date, so it was pretty amazing to see friends and family from all our walks of life in one room. We slowly started planning in December 2015 as I went back to the UK for two weeks over Christmas to find and book the venue and get a wedding dress. But then we were planning full time from February 2016.'
How they met
It all started in 2005, when we met for the very first time. We both worked at the same place for over a year but our paths never crossed. I'd given my notice to leave, as I was moving to London. During that final week, my boss asked if I wanted to see the main site, that's when I first saw him. I moved to London and stayed there for almost two years before moving back home. As fate would have it, I returned to work for the same company again in late 2007, but this time we ended up working across from each other in the same office! I remember walking into that room for a second time and there he was, with the same cheeky grin… The rest is history.
The Proposal
After 8 years together Leo proposed officially while on holiday in the South of China, on the 10th February 2016. Exactly 7 months to the day that we'd be saying 'I do'. We decided to go to a quiet beach resort, with private beach, away from the main hustle and bustle of Sanya; and rented a beach hut/bed for a day of relaxing, reading and sunbathing. It was the most incredible sunset that evening, truly beautiful. Then I ruined the whole moment by joking that he might propose! Needless to say it he didn't do it right then. We sat down to an amazing secluded candle lit dinner on the beach as the sun set. He then pulled out the most beautiful diamond ring and asked me to marry him. I couldn't have imagined anything more perfect.
How did you allocate your budget?
From the start we set ourselves a manageable budget and stuck to it. Leo is an engineer who loves spreadsheets so he had a firm grip on the whole thing. He did a tonne of research online to understand typical wedding costs and what was achievable for us. And it's a very good job he did! I'm more of an artistic temperament so took charge of the design and theme aspects – but my husband did an amazing job of keeping track and control of the costs when I had crazy ideas!
Where did you splurge and where did you save?
It was very important for us not to be worrying about costs when it came to the photographer, as photographs are very important to both Leo and I. And as the wedding grew closer we also agreed on getting a videographer as well.
To accommodate the splurges we had to shave off costs everywhere we could. By doing small things, like purchasing all the table cloths on amazon and paper napkins from Tesco rather than renting them, we managed to save a fair amount. As I had 10 bridesmaids we couldn't afford to pay for all the dresses either, so I gave them an example of a theme and told them to get something they liked that was similar; or wear something they already had if they wanted.
My bother in law was also a huge help on the day. He has a swanky Audi so kindly agreed to be our chuffer, taking all the wedding party to the church.
We also splurged on a free bar. No Mexican wedding is complete without free flow alcohol; especially Mezcal!"
Why did you choose your photographer?
I work for a magazine and have worked with photographers in the past so this was a big deal for me. Leo also has a keen eye for good photographs. We knew that we didn't want a tonne of group shots, and instead wanted a fly-on-the-wall style shoot so we could see aspects of the day that we would have missed. Again, this is something we did all online searching through endless photographers while in China. I also felt it was important to choose someone from the local area. I knew within the first 3 seconds of visiting a photographer's website whether or not we'd book them. As soon as I saw Martin's images I knew that his was special. We just had to hope that he was available on our date – and lucky for us he was!
It was the same process with our videographer – I wanted a film that was artistic but timeless. Like Martin Makowski, Jason Lynch was also a local guy, both from my dad's home town of Nottingham. (Here's the short film from the day)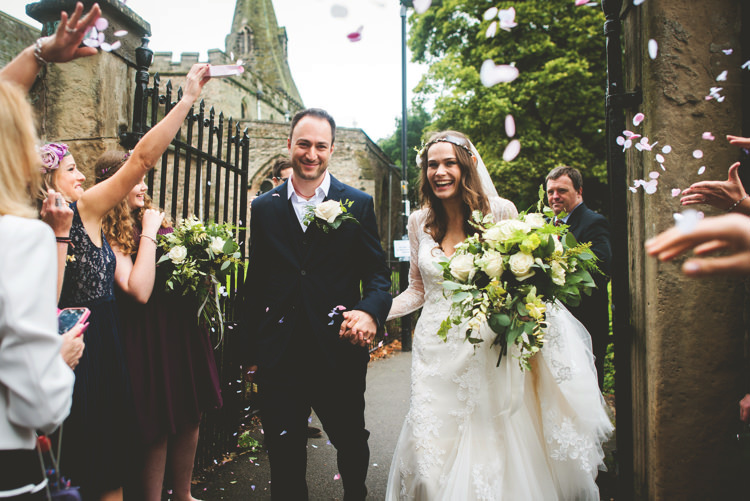 The Dress
I had a lot of problems trying to find a dress. I was torn with going for the typical "princess" style, which I had always liked and imagined, but didn't really fit the theme of our day. My only other chance was to find one in the UK. I had two weeks over Christmas to choose and book the venue, so it was a little hectic as most places were closed over the holiday. I went to Bradgate Brides in Anstey, Leicestershire, who were amazing and super patient with me. I chose my dress on the final day in the UK, I don't know how I didn't see it before! It was called Sandrina by Sottero Midgley, and it had the most elegant layers of detailed fabric and lace along with a perfect low back. To complete the boho look, I designed the open back sleeves and had them custom made in Shanghai.
The flower crown was designed over many emails back and forth with Emma at shopluluinthesky on Esty.co.uk. And it was perfect! She also made the bridesmaid crowns.
The Suit and Bridesmaids
Leo had his navy blue, three piece suit made at the fabric market in Shanghai. He went for a relaxed vibe on the day, with no tie.
As we wanted a relaxed atmosphere, none of the men's suits matched. They all wore something they felt comfortable in; ties were optional.
As I had 10 bridesmaids we couldn't afford to pay for all the dresses, so I gave them an example of a theme and told them to get something they liked that was similar. It worked out really well with everyone in different colours and styles – they looked eclectic and amazing! We didn't see all the dresses together until the day and I was so happy with how it worked out. The flower crowns and bouquets tied them together and they all looked beautiful.
Theme or Colour Scheme
There wasn't really a set theme; it kinda just evolved on its own. It became quite a boho, countryside vibe but with elements from Mexico as well. The beautiful white paper-cutting bunting was supplied by Leo's mum who brought them over with her from Mexico City – they're very traditional at Mexican weddings. We had light brown hessian table squares and ice-breaker cards for the guests on the table. So the colour scheme ended up being around whites, greens, browns – quite rustic and rural.
Flowers
I wanted white roses as these were the first flowers Leo ever gave to me. I was quite relaxed about them really; I just wanted quite loose, wild bouquets. Lucky for me, my auntie and mum generously paid for them and arranged the whole thing while I was away. It was important for my mum to put flowers in the church as well, and I have to say they looked wonderful. The flower crowns were all fake flowers but looked incredible! They'll last longer as well. The bridesmaids and I also had impromptu photo shoot with sunflowers picked from the nearby field – they looked amazing in the pictures and made for extra decoration within the marquee. They're also a sentimental flower for my cousins and auntie, so it was like loved ones that have passed on we're there with us.
Decoration
We had the bunting mentioned above, bridesmaid flowers doubling up as table decorations and some cactuses in pots and funny props on sticks on the tables for photos. As we had a lot of people from all over we wanted to help them get to know each other better, so I made some ice-breaker cards to put on the tables.
We also made the "welcome to our wedding" chalk board sign, menu, cards and bar chalk boards. It was a proper DIY job! The food and bar menus were painted onto black slate tiles.
We had images of loved ones that couldn't be there and funny photos of all our guests from over the years projected on a big screen (by the DJ) – it made a good taking point."
We finished the marquee by decorating all around with fairy-lights; they looked incredible at night. Simple, but very effective.
Food
To keep with our relaxed theme we had a BBQ for the wedding breakfast with desert platters, then curry and paella in the evening. It all went down well, but the paella was the biggest hit! The team at Saffron worked tirelessly to make sure everything ran smoothly on the day. Even though we had a relaxed BBQ for the wedding breakfast, they made everything seem effortless. The venue at Cattows Farm proved a big hit as well with the rustic hay bales rural backdrop. We got some amazing photographs with the sunset, and I had several guests asking me about the caterers and venue after the event
Wedding Cake
We didn't have a big cake. We found this amazing website where we ordered a bunch of smaller cakes that arrived in cool Union Jack boxes. We ordered them the week before the wedding and put them out on a cardboard cake stand on the day.
Entertainment
We wanted to create a great party atmosphere not just in the night so we hired a DJ for the entire day. We chose him because he also played at my friend's wedding and we know he could get people on the dance floor. We would have loved to get a Mexican Mariachi band, but our budget wouldn't stretch that far sadly.  Andy, the DJ, was great though and said we could give him a list of MUST PLAY and DO NOT PLAY songs!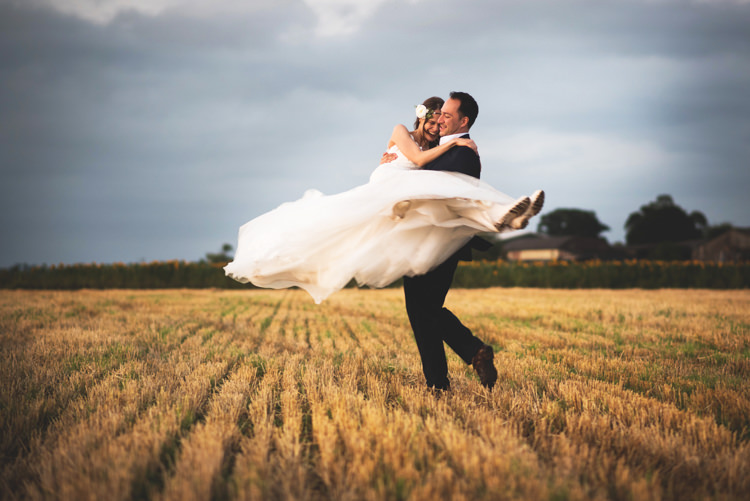 Stationery
As we did all the invites from China it was impossible to post things out all over the world. So we did everything online. Leo created an amazing wedding website via WordPress to give all the details; and we set up a private hotmail email for the RSVP's. We designed a PDF invite and sent everything via email. It saved us a tonne of money. Our guest book was a scrap book from Paperchase and we supplied a Polaroid camera for guests to snap a photo to stick in the book with a note.
Special Moments or Highlights
We'll never forget sitting in the church looking out at our family and friends gathered together. It was still very overwhelming and humbling.
I thought I'd be nervous walking into the church with so many people looking, but I was immediately at ease as soon as I saw Leo standing at the bottom of the alter.
Living so far away from home it was a wonderful time being with my parents, sister and other family and friends. It was lovely to also see them so happy and having a good time. And it was a privilege to get married in the same place that they did –to carry on that tradition.
A special moment for me was that my grandma lent me a gold broach that she wore on her wedding day, in the same church 65 years ago. As my other grandma was too ill to join us in the church, I also stitched a pendant that she had given into my garter. It was important to have both with me.
My father's speech was lovely, and he offered some reassuring words to Leo and I.
Advice for Other Couples
Set a budget and stick to it! It's so easy to get carried away.
Don't get too hung up on the hair, makeup and dress – on the actual day I totally zoned out from all of that because there is so much going on.
I know everyone always says this but, try to step aside and take it all in. After the service on the way to the reception party we popped into the local pub for a pint. The landlord looked a little shocked though as perhaps he thought he might have forgotten he had a wedding party coming in! But it was really nice to take a second to say – holy moly; we're married!
We both said that we regret not spending more time slowly going round each table and having a proper chat with everyone. It's so hard when you're getting pulled in a lot of directions and we felt bad that we didn't get a huge amount of time with each person, but I guess on days like this it's hard. We love having the video and photographs to look back on though – they're worth every penny.
Biggest Surprise
Leo was surprised that I wasn't later than I already was to the church (!). For me, it was how remarkably calm I was on the morning of the wedding! It was possibly the most stressed I had ever been the day and night before, but I woke up on the morning like not even a thunderstorm could get in the way.
 Supplier Shout OUts
Church: St Botolphs Church Shepshed www.shepshedandoaks.co.uk
Venue: Cattows Farm www.cattowsfarmweddings.co.uk
Photographer: Martin Makowski www.makowskiphotography.co.uk
Videographer: Jason Lynch Weddings www.jasonlynchweddings.co.uk
Caterers: Saffron www.saffronoutsidecatering.co.uk
DJ: Andy Taylor at Taylor Taylor discos taylortaylordiscos.com
Dress: Sandrina by SotteroMidgley, from Bradgate Brides (custom made sleeves in Shanghai) www.bradgatebrides.co.uk
Florist: S Webster and Son (01509 502220, 194 Ashby Rd West, Shepshed, Loughborough, Leicestershire, LE12 9EF)
Flower Crowns:Lulu In The Sky www.etsy.com/uk/shop/SHOPLULUINTHESKY
Cakes: www.sponge.co.uk
Bus hire (to take guests from the church to the farm): Abbey Travel (

[email protected]

)
Alcohol: Wine from Waitrose online, bottled bear Tesco online, Prosecco from Ocado.com, beer keg from Steamin' Billy brewery www.steamin-billy.co.uk, all soft drinks and mixers from Tesco Multi Store.
Hairdresser: Sam Atkin at Smith and Smith hairdressers in Loughborough smithandsmith.co.uk
Mr and Mrs signs on the back of the chairs:  LoveLiWed on Esty
For more information on Martin's work go to: 
www.makowskiphotography.co.uk / www.makowskiphotography.co.uk/blog / [email protected] / 07858164022 / I: @makowskiphotography