We head off to South Leicestershire today for a gorgeous countryside wedding, courtesy of Adam from Viva Wedding Photography . The wedding is full of countryside charm  and takes place on the bride's families land. It has a relaxed, laid back feeling to it and some wonderful pops of colour with the fresh lemon and lime theme. My favourite part of the wedding is the amazing table plan as well as the couples dog George as he took pride of place in the church!
'It was a perfect sunny day with all our family and friends. It felt just like a big picnic in the countryside, only with everyone wearing posh frocks and suits!'
Caroline and Simon who were married on 31st August at The village of Shangton, South Leicestershire. 'Caroline decided that it was time to get married. We used the grounds of one of Caroline's family, we had 100 guests and it took about a year to plan.'
How they met
We met in Simon's front room after a mutual friend invited Caroline to Bristol. A ten year love affair (going on eleven).
The proposal
The proposal happened on holiday in Thailand. Simon had been behaving slightly unusually all day. Rather than his cool, calm exterior, he seemed slightly distant. After a trip to the beach for an afternoon swim Simon bent down on one knee in the sea and asked. Caroline took an eternity to reply, Simon's memory, and looked shocked then agreed.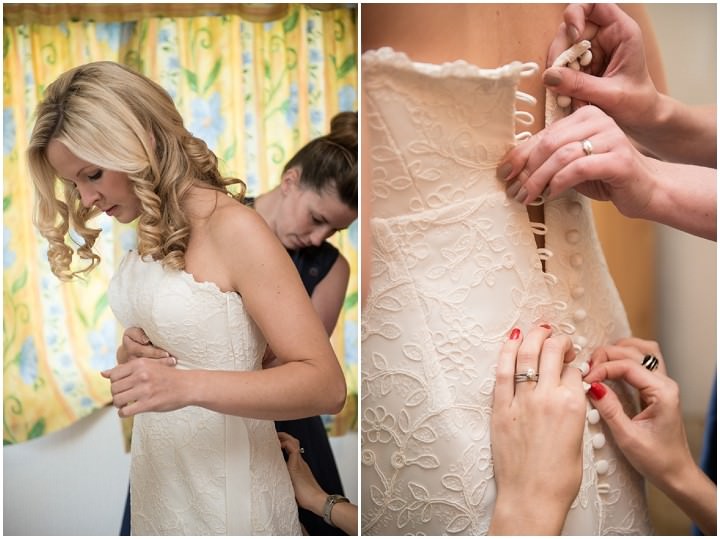 Dress
Dress was by British designer Lyn Ashworth, shoes by Dunne, accessories were family jewellery.
The suit and bridesmaids
Simon's suit was from a small boutique outfit linked to Caroline's family in Nottingham, Paul Smith. And the shoes from Jeffrey West in Northampton (both pairs)!
Bridesmaid's dresses were bought from the first shop we visited, Coast.
Why did you choose your photographer?
Caroline decided on a style of photography that she liked for the wedding, then after much research Simon met up with Adam from Viva Wedding Photography. Our aim was to feel relaxed with the photographer and Adam put us at ease from the get go. All of our guests said how much fun he was on the day and we couldn't be happier with the images. We wanted something a bit more creative and fun, and we just love the photos that Adam gave us.
Food
Lovely food from Pieminister. Great quality pie, mash, peas and 'groovy'.
Entertainment
Outdoor games for the children. Lots of balls for George, the dog.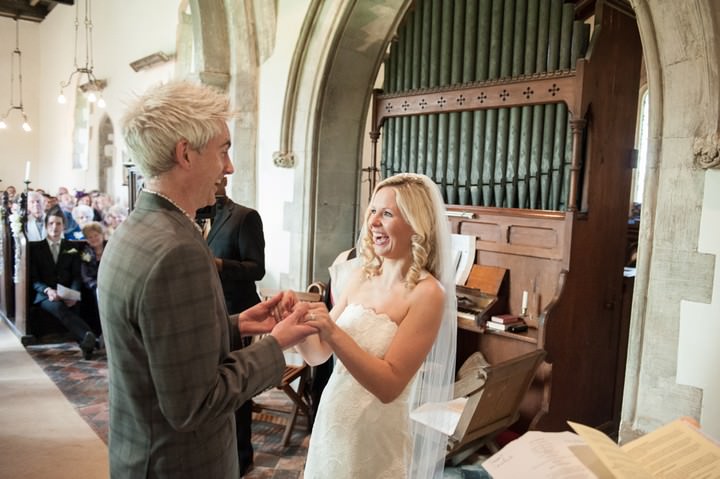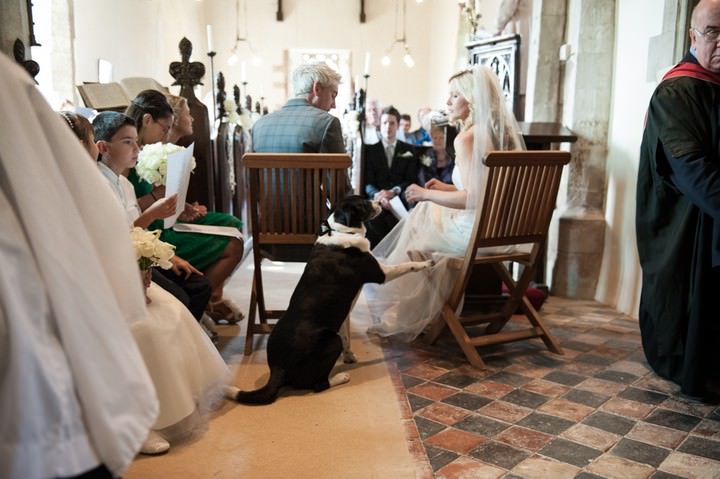 Theme or colour scheme
Everything was lemon and/or lime.
Flowers and Decoration
We had lillies as flowers and striped fabric was used for our 'Photo Booth'. Caroline identified the lit coloured balls for the ceiling. Simon designed the table planner.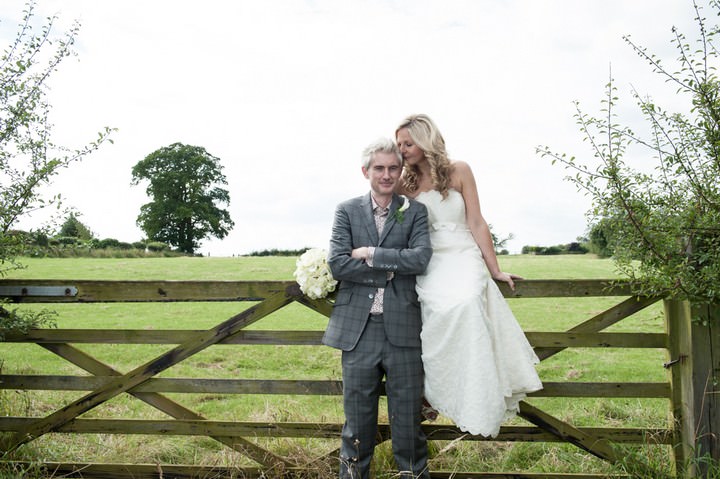 Personal / DIY touches
• Both of us wanted a special wedding cake, free of the usual features, and free of sponge. So thank goodness we got introduced to Lis, our cake 'guru'. One sitting around her kitchen table later and hey presto our cake arrived. I'm sure it was more involved than that in reality.
• Simon designed and made the table planner. This was more involved than he imagined. And took much longer than he imagined.
• Desert was wedding cake and ice cream, from the ice cream van that was welcomed by all our guests. Unfortunately we only saw the van in photographs.
Special moments
It rained for three days leading up to our wedding day. On our wedding day the weather was glorious.
Our dog George ambushed Caroline walking down the aisle.
The photo's Adam took were great. Those on the gate and the 'Photo Booth' were particularly wonderful.
Advice
Certainly do something individual that means something to you both. Choose good food and get a great cake.
Biggest surprise
Caroline was the one that was late for the first time in our relationship.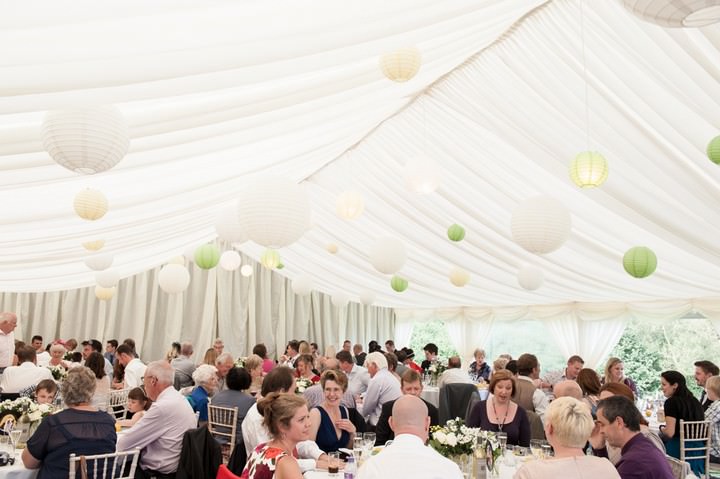 Supplier Shout Outs  
For more information on Adams work go to
www.vivaweddingphotography.com
www.vivaweddingphotography.com/blog 
[email protected]
FACEBOOK
@AdamBronkhorst