Happy Monday everyone and welcome to another fabulous week on the blog. I hope you all had a wonderful weekend? Mine was spent in Chester visiting my oldest friend from school and her gorgeous family. We had a wonderful time and I hope you did to!
This week we have some more amazing weddings to share with you and some fabulous wedding features, starting off with this rainy day tipi wedding from Oliver McGivern. Rosalie and Sam were lucky enough to hold their reception in their parents garden, allowing them to hold the relaxed tipi celebration that they wanted. Mixing in bright and colourful decoration and flowers, 1000 paper cranes, and the most gorgeous Temperley London dress, this wedding is brimming with Boho goodness and is the perfect way to kick-start the week.
Bright and colourful wedding bursting with bohemian features and classic vintage vibes.
Rosalie and Sam were married on 9th September 2017 in Loddington, Leicestershire. 'While I've never been one to plan my ideal wedding in advance of getting engaged, once it happened it was a no brainer to get married at my parent's local church and have the reception in their garden. It felt so relaxed and personal having everything at our family home. We got engaged in August 2016 but planned to have the wedding in September the following year as we wanted it to be dark when the dancing started at the wedding and for many of our friends and myself who are doctors, to have long enough to request leave/weekend swaps if needed to be able to make it. We had 100 guests.'
How they met
We met many moons ago at the pub on New Years Eve. We've been together for 9 years.
The Proposal
I actually had no idea that Sam was planning to propose. In the end he got down on one knee in the rain on Hampstead Heath and of course I said yes.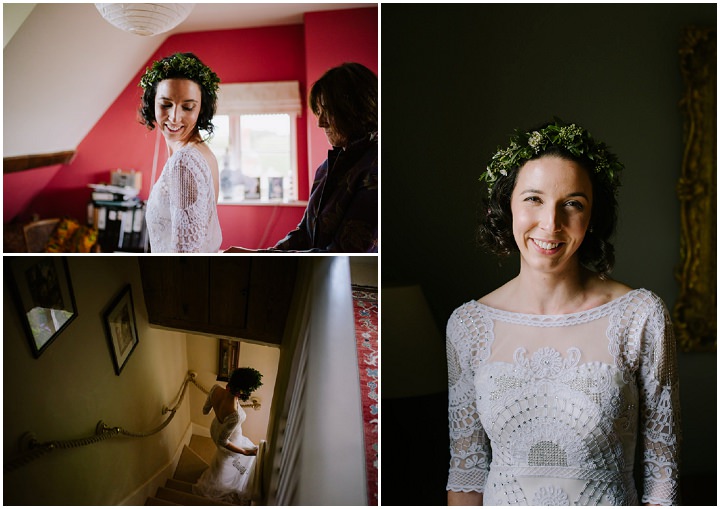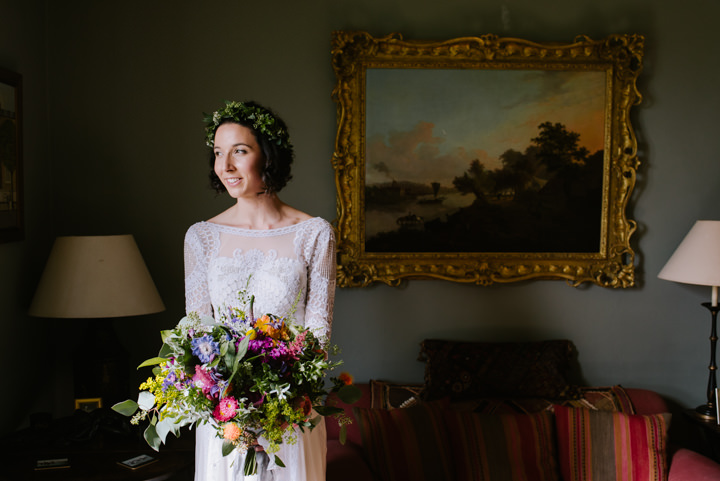 How did you allocate your budget?
The food, drink and the tipis were the main priorities closely followed by the band.
Where did you splurge and how did you save?
It was 100% worth splashing out on the food – there's nothing worse than being hungry at a wedding. The decorations were almost all homemade – we were lucky to have some old roof slates for signs for example.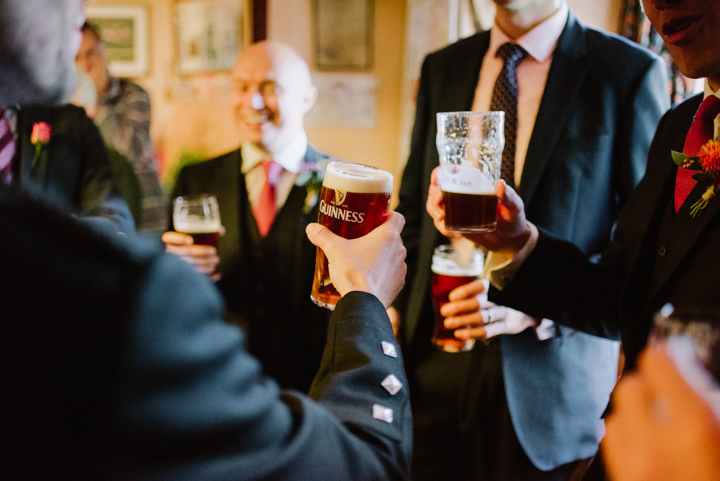 Why did you choose your photographer?
A friend had been to a wedding where Oliver had taken the photos and showed me how good they were. Looking at his portfolio, I loved how he captures light and does clever things with shadow. I sometimes feel that wedding pictures can have an artificial yellow glow to them and his were some of the only ones I'd seen that looked beautiful yet real.
The Dress
Temperley London – my dress was actually the first one I tried on! I couldn't believe it could be that easy so I dragged my mum round most dress shops in London, then obviously ended up back at the first shop! It was perfect for me. I didn't feel overdressed for a field, which was one of my main concerns, and I could dance all night!
The Suit and the Bridesmaids
The wedding was a great excuse for Sam to get a suit that he loves and will wear again. As he's so slim, many off the peg options don't fit him, so he took the opportunity to get something made to measure from 40 Savile Row. The bridesmaids dresses were from twobirds.
Theme or colour scheme
No theme – we just wanted it relaxed, colourful, bright and beautiful. Also half of having seasonal British flowers was that we couldn't be too fussy about colours!
Flowers
Mrs Umbel's is a brilliant, talented florist who sources flowers from her own cutting patch behind her flower shed only an hour or so away from my parents house. The brief was seasonal and colourful and the only specific requests were to have some craspedia and astilbe in the mix. The bouquets and button holes turned out better than we could have hoped and she even made little mini button holes for the page boys!  The table flowers were from the cutting patch and put together by my mum and mother-in-law the day before the wedding. We were amazed at what they managed to do! My Granny and a friend of hers also did all the church flowers themselves using a mix of Mrs Umbel's flowers and flowers from their garden – I cannot believe how great it looked – they did an AMAZING job.
Decoration
We made 1000 paper cranes with help from friends and family and hung them in two of the giant tipi hats. Overall, in addition to the hope this brings good luck, the aim was to build a relaxed and colourful vibe. The cranes ended up looking awesome and bobbing around in the wind (although trying to put them up was a source of some minor stress as it was so windy when we were doing it!).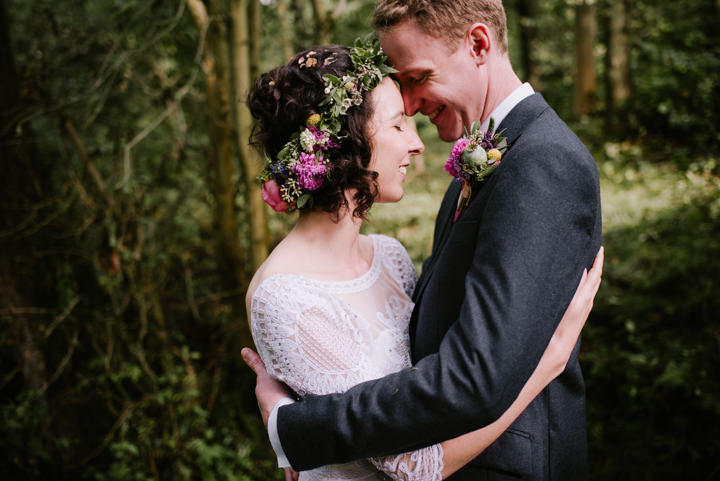 Food
Venison Wellington – It was enormous and delicious!
Wedding Cake
Chocolate Guinness Cake – enough said really We had it for pudding as otherwise no one really eats the cake!
What did you have as entertainment?
We had plans to have lawn games out but due to inclement weather this didn't happen. Everyone flooded into my parent's house when it rained and we'd set up a kid's zone with our rocking horse and teddy collections to keep them happy. In the evening we had sparklers and marshmallows out by the fire pits and the most brilliant band – Great Scott. I would highly recommend them as they kept everyone on the dance floor all night and carried on playing when we had a power cut even though they were due to finish – you could say they saved the night! My brother's friend DJ'd a disco set afterwards, which was fab.
Who supplied the stationery?
I made all the stationary, orders of service and my bridesmaid Charlotte made lots of pompoms to go in fillable letters I got from hobbycraft. We were also lucky that my parents had a load of roof slates left over from re-roofing the house, with which we made road signs and a Mr and Mrs sign for our chairs with paint pens.
Did you have any personal touches? Or things that you did yourself?
Lots! We had so much DIY.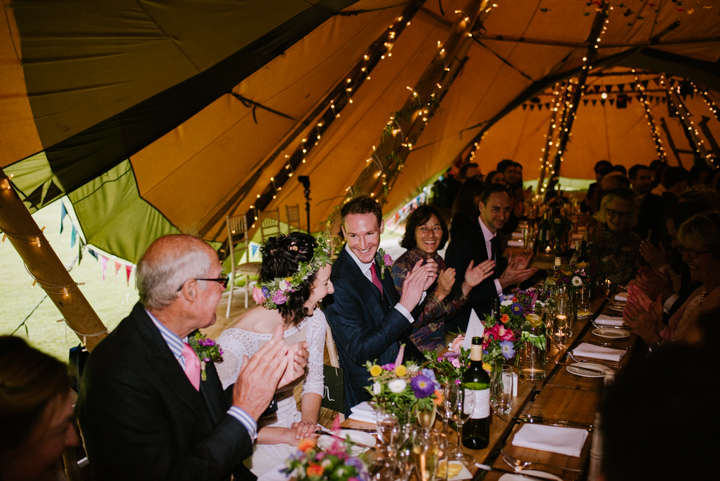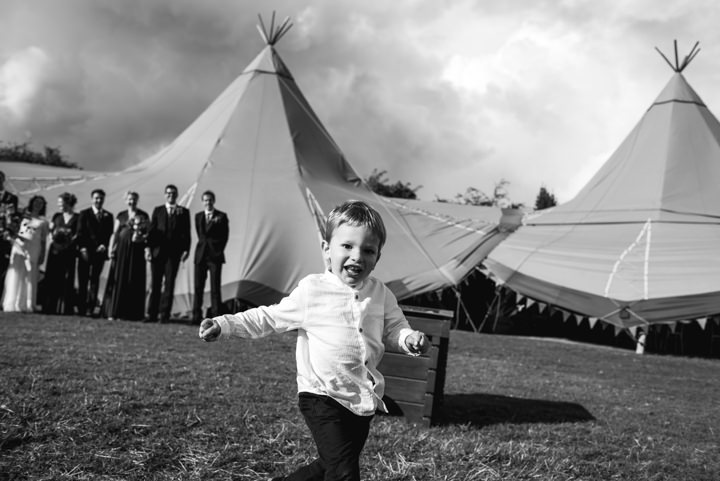 Special Moments
The ceremony. It really felt personal and full of happiness. To be honest though, we loved every second.
Advice for other couples
Don't sweat the small stuff. It doesn't matter. I'm so glad I did a bride's speech – never again will I speak in front of a room of people who are all hoping to laugh at my jokes and want me to do well! With hindsight, it might have been a good idea to label the crab apple vodka my mum made as favours – several people had hangovers from hell after thinking it was pudding wine!
Biggest Surprise
Two major surprises: The weather held long enough for us to get to and from the church on a horse and cart. Secondly when one of the circuits on the generator cut out just as the band was finishing and the whole tipi was plunged into darkness. Everyone must have been having a good time as the party just carried on and we brought out a load more candles!

Supplier shout Outs
For more information on Olivers work go to 
www.mcgivernphotography.com /  www.mcgivernphotography.com/blog /  [email protected]/ +44 (0)7825 912285 / FACEBOOK / INSTAGRAM /
I am a London-based UK & Destination Wedding Photographer, with a creative and modern style that focuses on the fun and emotion of the best day of our clients' lives. Originally from the West Country, I love shooting a wide variety of different weddings, both in the city but also getting back to my roots in the beautiful green landscape of the British countryside.
.