Hello Monday, I hope you all had a wonderful weekend? What did you get up to? Anything wedding related? As I may have mentioned before (LOL) it's my birthday this week, Thursday to be exact! So this weekend I went up to Leeds for a night out with Nik and a few friends. We had a great time, eating, drinking but most of all dancing. I felt suitably rubbish yesterday after a very late night, but all back to normal today and looking forward to more celebrations on Thursday.
Today, Vicky and Zachary are sharing their awesome farm wedding with us. The wedding has been submitted by Michelle Amy Weddings, their wedding planner. The farm actually belongs to Vicky's parents, so it seemed like the obvious choice for their celebrations. Vicky did a lot of the decoration and was helped out by friends and family. Kate Gray Photography was there to capture the day and I'm sure you will agree the whole day looks amazing! I am just loving the macrame ceremony backdrop and Vicky's outfit really is something special.
Vicky and Zachary were married on 28th July 2018 at Priestly Fold Farm, Rossendale, Lancashire, which is Vicky's Parents Farm. 'We knew we wanted a laid-back wedding outdoors with lots of music so Vicky's parent's farm made the ideal venue. As a child, before her parent's bought the farm, Vicky used to play in the woods with her friends, so it was quite sweet to end up getting married in them. We had 75 guests in the day and around 200 for the evening. It took around 18 months to plan, with it taking place on the farm rather than a recognised venue we had to source and book everything individually.'
How they met
We met in our local indie bar one Saturday in June 2014, it's strange that we didn't meet before as we'd both been going to that bar weekly since we were teenagers. Vicky had lost her friends during the night and approached Zac to ask him if he would keep her company until she found them, soon we forgot about finding my friends and moved onto another bar together. We had our first holiday abroad together 5 weeks later where we said our first 'I love you's. At that time Vicky was in the process of buying my first house and asked Zac if he wanted to move in once it went through, which he did.
The proposal
We were on holiday in Italy in August 2016, we had already been to Naples, Sorrento and Rome. It was Vicky's birthday the day we arrived in Lake Garda and we had a table booked at an amazing restaurant in an old fort that has been built into the side of a cliff.
The hotel we stayed in was incredible, so after checking in we kicked off the celebrations with a bottle of champagne and started to get ready for our dinner reservation. When we were nearly ready we needed to nip to the shop, we went out and walked along the lake, while I was in a hurry to get to the shop so I could finish getting ready Zac made me walk to a particularly scenic spot saying he wanted to take a photo. I was looking out of the lake and Zac went down on one knee behind me, I turned around to him asking me to marry him.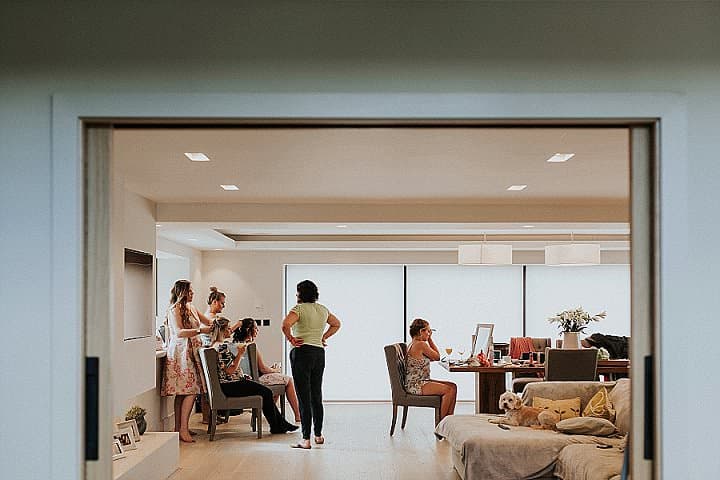 How did you allocate your budget?
We decided on what was important to us and we wouldn't compromise on; the food, music and bar. Once we had prices for those, we decided what other services and supplies we would need and allotted rough estimated costs against them.
Where did you splurge and where did you save?
We splurged on our photographer and videographer, originally, we didn't plan on having a videographer but then it seemed silly to spend so much money on a wedding and not have a video to look back on. I saved on the décor and flowers, some décor I made and some I bought and resold afterwards. We didn't have a florist, I bought the greenery from an online flower auction and arranged it myself.
How did you choose your photographer?
I really struggled to find a photographer with a style I liked, neither myself or Zac are big fans of being in front of the camera so we didn't like the idea of having to stand and pose for shots. We wanted a laid back photographer who would capture photos of ourselves and our guests just enjoying the day. I came across Kate's website and really liked her style, however she was based really far away from where we live but luckily that wasn't an issue for her. We decided to visit Windsor where she is based for our pre-shoot where we wandered around town while Kate captured our photos, we had a really good weekend and she really put us at ease.
The dress
The dress was Yolan Cris; I came across a photo of it online but there was no other information with it, so it proved tricky to track it down! Once I had located it there were no samples of it in the UK for me to try on so I had to have a sample flown in from Barcelona. With the dress being so detailed I didn't want to detract from it with accessories so I teamed it with some gold stacking rings from Asos. My shoes were handmade sandals from Greece.
The suit and bridesmaids
The bridesmaid dresses came from Needle & Thread which we managed to get in the sale. We decided not to match the grooms and best man's suits to the grooms men's suits so we had the groom and best man in brown tweed suits from a local outlet mill and the grooms men in blue suits from Slaters.
Theme or colour 
There was no specific theme or colour scheme, we just kept things quite neutral and rustic.
Flowers 
One of the ways we saved a bit of money was by not having a florist. I bought foliage on an online flower auction to decorate the tables and ordered my bridal flowers and button holes from Grace and Thorn. They arrived the day before the wedding, fully assembled and perfect.
Decoration 
Our decoration was neutral and varied with me making a lot of it myself. The tables I decorated with mixed foliage stems in a circle around centre pieces of terrariums which we filled with moss. Dotted around the table we had a mix of succulents, tea lights, candle sticks and mini photo frames with mine and Zac's childhood photos in them. The table numbers and place cards I made using slices of agate and copper paint.
Food
During the drinks reception guests were served canapes: Mini Beef Wellingtons, Sticky Pigs in Blankets and Smoked Salmon Blinis. For our starter we had a 'picnic' from a local farm shop which included fresh bread, scotch eggs, pork pies and home made pate. The main course was a buffet of stonebaked pizza and our dessert was a cake station with cakes made from a local bakery; chocolate fudge cake, carrot cake, lemon meringue pie and baked lemon and vanilla cheese cake. We wanted the food to be a laid back sharing style with our favourite things rather than a formal sit down dinner.
Wedding cake
We bought a cheese wedding cake from M&S and dressed it up with fresh figs and grapes.
Entertainment
We wanted a music festival as our entertainment so we had 5 live bands booked with the last being a banderoke! However in the days leading up to the wedding we had two of the bands drop out but we managed to reshuffle the bands and had the singer from the banderoke do an acoustic set to make it up.
Who supplied the stationery?
One of Zac's friends is a graphic designer, so he designed and printed our wedding invites as his wedding gift to us. Other items like the menus, place cards and signage I made myself.
Personal touches
There were a lot of personal touches, I'd sourced and made all the décor myself and had dressed the tipis myself the day before with help from my friends and family. My favourite thing was the menus which I had lettered on slices of clear acrylic with a gold paint pen. A family friend also made the wooden arch for us to get married under which hadn't been planned but ended up looking really good.
Special moments 
I think the highlight of the day was when the heaven's opened, but the guests just carried on dancing outside to the bands in the rain. It really encompassed everything we wanted from the day and they are our favourite photos now to look at.
Advice for other couples
Don't try to do everything yourself. I tried and a few months before the wedding I realised I wouldn't be able to do everything I planned and still enjoy the wedding day. Luckily I managed to find Michelle, who carried out on-the-day Wedding Coordination for us so that on the day we could just relax and enjoy it.
Biggest surprise 
The woodland where the ceremony was held was a surprise on the day, we had planned to set it up the day before but we couldn't due to the weather so Michelle and some friends set it up the morning of the wedding. One of our family friends had put up a wooden arch that he'd made which we hadn't known about prior, it looked really beautiful.
Supplier Shout Outs