Today we head of to Lancashire for a very wet and rainy farm wedding, brought to us courtesy of the fabulous sassy from Asssassynation. The wedding is a small and intimate wedding of 35 but they make good use of the farm, managing to include a tractor ride and some farm animals! the brides dress is completely ruined by the end of the day due to the rain and the mud, but as she says she is only intending to wear it once!
The lovely couple are Alison and Adam who were married on Friday 13th July the Ceremony was held at St Mary's Church, Lancashire and then the reception at Alison's parents' farm. 'Originally we were going to get married in Scotland in a gorgeous 12th century chapel but we couldn't decide what to do afterwards, everywhere we looked at you had to use their caterers, you can only do this, you can only do that etc. We kept saying "If you could ANYTHING what would you do" and we both agreed we'd have a chilled-out BBQ so we decided to just have an informal do at Alison's parents' farm after the ceremony. We had 35 guests'
'A fun, relaxed, and very rainy farm wedding!'
How they met
Alison went to do a work placement in Australia in 2004 for 3 months and then ended up getting offered a job there. We got together after about 6 months so had been together about 7 ½ years at the time of the wedding.
The Planning
Well we were engaged for 3 years but only decided on having it at the farm 5 months before the wedding. Adam just started a new job in January so we didn't have much time to think about it, it came round so fast and it was pretty disorganised to be honest! Alison's parents kept saying they didn't know what was happening and what did they need to know for getting the farm ready and we were like "We don't know what's happening either – but it will all be fine!"
Why did you choose your photographer?
Adam and I both enjoy good photos so our photographer was important for us and our biggest splurge on the wedding. Well, it is the only thing from the day you get to keep forever. We met one photographer and he was nice and photos were fine, but they weren't AMAZING! Then we saw Sassy from Assassynation on the internet, her work was amazing, she had done farm weddings before and when we looked at her portfolio it was exactly what we wanted. She just "got" our wedding – we just wanted it to be chilled out, relaxed and fun. I spoke to Sassy a couple of times on the phone and she was great and we met her for the first time on the day.
One of my favourite moments was sitting in the barn with my bridesmaid and her husband pointed out of the window saying "Is that the photographer?" as Sassy drove past the window on my Dad's old tractor – Hilarious!
The Dress
Betsy by Charlotte Balbier – I bought it from ebay but it was brand new – I loved it, it's gorgeous and was so comfy, but it got absolutely wrecked because of the weather! Oh well – it's not like I am planning on wearing it again!
I didn't actually buy any new shoes for the wedding as I already had a pair of white shoes and I figured I was only going to wear them for the ceremony anyway and you couldn't see them under the dress. I bought some wellies "just in case it was wet" – hmm that was probably the best decision I made given how the weather turned out! I put them on within 10 minutes of getting to the farm and never took them off!
The suit and bridesmaids
Adam wore a kilt, hired from House of Henderson in Stirling (where we currently live) and the bridesmaid dress was from Coast at Debenhams.
Food
The plan was to have an English Garden Party (Alison is English) with scones, cupcakes and Pimms and an Australian BBQ (Adam is an Aussie) later in the evening. Adam made Anzac biscuits (an Australian biscuit) for the garden party as well. We ended up having the tea party in the barn because it was raining but the BBQ went ahead in the rain! We also had lots of salad and some friends made salads and desserts as well.
The cake was from the local bakery and was made to look like a suitcase – it had labels attached of an Australian flag, a kangaroo road sign, a British flag, and a sign saying Keep Calm It's Only a Wedding.
Entertainment
The plan was for Garden Party games (croquet, lawn bowls, throw the welly etc) but that went out of the window with the rain – Alison ended up putting together a music playlist for the afternoon on the morning of the wedding so goodness knows what we were all listening to!!
Flowers
Gerberas – we got them from a wholesaler at the local market. We could order whatever colours and numbers we wanted and they were so much cheaper than the florist. However when we picked them up the day before the wedding the "bright pink" we ordered were actually a light dusky pink so didn't go with the bridesmaid dress at all!! So Alison nearly ended up with a red bouquet until we managed to find some big gerberas the right colour at the florist for the bouquet and then bought a bouquet from the supermarket that had a small gerbera the same colour for Adam's buttonhole! Adam's mum made the bouquets the day before the wedding.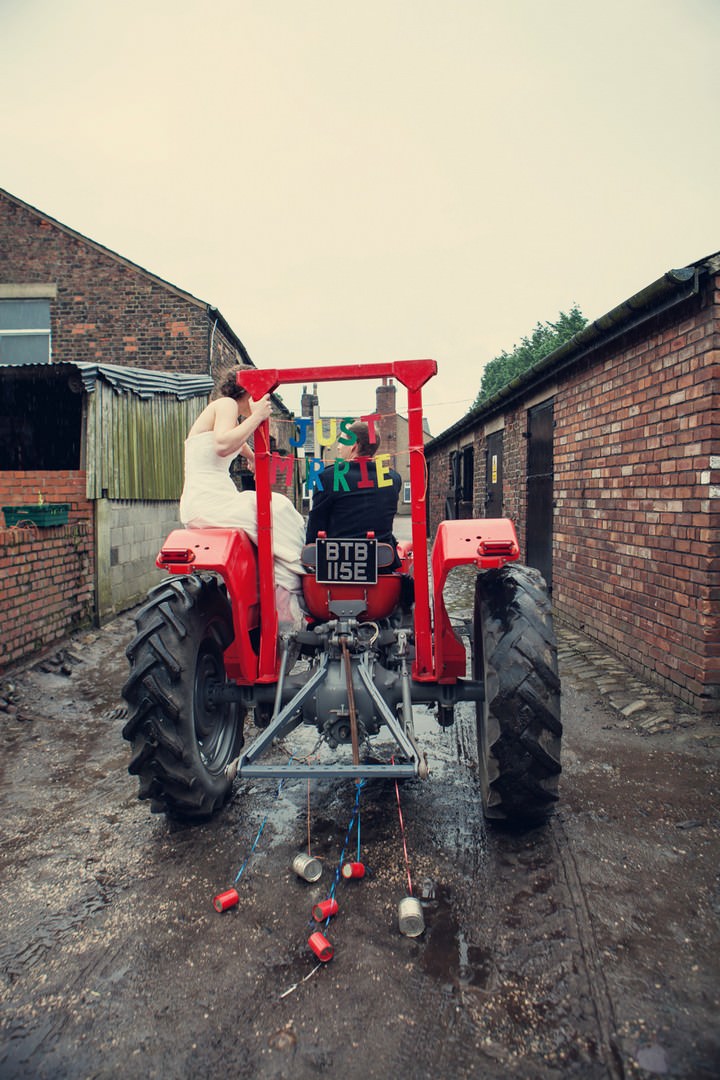 Decoration
Alison's mum did all the gardens around the yard and they looked amazing. Alison's dad did up all the old farm machinery (ploughs, cart wheels etc), and we had old lanterns in the barn. We had photos of us growing up, and our family and friends from around the world who were unable to be with us on the day. Flowers were put in old bottles and there were fairy lights hanging around the old beams in the barn. Seats were straw bales with tartan blankets on each one and we had some British and Australian flag bunting in the front garden, although we never ended up going there because of the weather! My best mate Claire (my bridesmaid) and her husband came round on the morning of the wedding with lots of helium balloons including a bride and groom, a champagne bottle, a monkey (?!) and a sun (because it was raining so at least we did see the sun on the day!)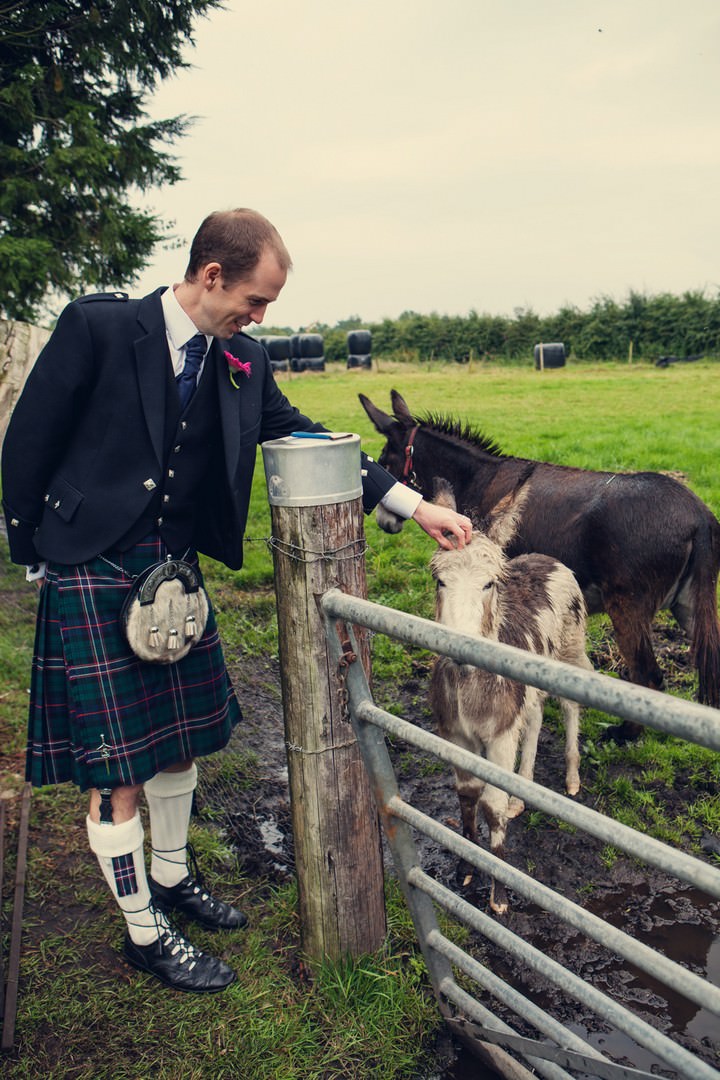 Personal touches
The whole thing was a DIY wedding
we had lots of help from family and friends helping to tidy the barn, getting the gardens, flowers and decorations looking amazing, making food for the day, lending us the marquee, etc etc!
• We made all our own Invitations and Order of Services
• All the decorations were either already on the farm or we did ourselves
• We made a road sign showing guests where things were including Donkey Rides, and Australia (17,000 km away)
• We decorated Alison's dad's old tractor with a Just Married sign, ribbons and cans
• Adam's mum made the bouquets and did the flowers
• We borrowed a marquee off a friend to keep all the food in (and away from the dog!!)
• The wedding car belonged to a friend of Alison's dad who was best man at Alison's parents' wedding
Special moments
One of the funniest parts of the day was that the car broke down on the way back from the church! One of Alison's dad's best friends has an old vintage car so he drove us back from the wedding and as we turned in the drive to the farm, the engine died! We thought he was joking but he couldn't get it to start again so he pushed us about 50 m back to the farm! We offered to get out and help push but he wouldn't let us!
I probably should have been more suspicious when he dropped off his other car in the morning "just in case of any problems" – I thought he was being super organised but turns out the wedding car had been in the garage a few days earlier!! Unfortunately none of us had a camera so we didn't get any pictures of him pushing us down the drive but there are some pretty funny ones of all the guys looking under the bonnet! And we are pleased to say that he got it working again and did drive home in it!
We decorated Alison's dad's old tractor with a "Just Married" sign and some cans and ribbons. Later in the day all the guests were driving around the farm in it having tractor rides!
Advice
Rain really won't ruin your day – yes we would have absolutely loved to have the garden party and yes even looking back we are gutted we couldn't, but in a lot of ways the rain made it so much more fun!
Supplier Shout Outs
Photographer – Assassynation – Sassy is bloomin' awesome and everybody that gets married should book her for their wedding – FACT!
Hair – Toni & Guy Ormskirk – the managers are family friends and they are the best hairdressers – EVER!
Cake – Greenhalghs bakery
We didn't really have any others, we did it all ourselves!
For more information on Sassy's work go to:
www.assassynation.co.uk
[email protected]
Sassy on FACEBOOK
Sassy on TWITTER
07968948114
 ♥  You can see more Real Weddings featured on the Blog HERE  ♥