Today we are heading to Lancashire for the gorgeous wedding of Kalbir and Peter, a lovely laid back day that is charming and oh so pretty. The couple decided that they didn't want to break the bank when it came to organising their big day, so instead spent a lot of time researching suppliers and really doing their home work when costs were concerned. They bought instead of hired, then sold on their wedding items straight after the wedding to save their cash. The result is gorgeous. Kalbir was an avid reader of the blog when she was planning her big day, so managed to pick up lots of handy hints and tips. With a vintage chic theme mixed with accents of yellow, this wedding is bright, cheery and full of rustic goodness. Thanks to Katie and James from Fairclough Photography for the images.
'Our wedding day was simply beautiful and it was everything we had envisioned, jam packed with the nuances that make us who we are as a couple'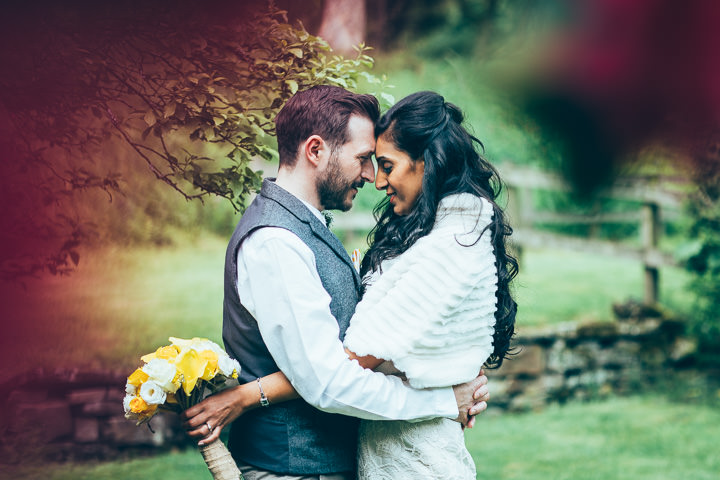 Kalbir and Peter were married on 30th May 2015 (which also happens to be the Kalbir's birthday!) at Wolfen Mill, Chipping, Lancashire, a beautiful cluster of cottages overlooking the forest of Bowland. 'After looking at the entire European continent we decided to have a look at the options closer to home. I found Wolfen Mill on a list of venues with wedding licences on the West Lancs Borough Council website of all places!!! As soon as I saw it I knew it was perfect but Kalbir needed some convincing!
We went to see it a week or so later as soon as we stepped into the courtyard we knew it was the one. Wolfen Mill is simply stunning, the lakes and grounds were perfect for photos and the cottages made it possible to have a wedding weekend as originally planned. Spain was coming to Wolfen Mill! We had 50 guests for the day and a further 15 who joined us for the evening, just close friends and family. Perfect. I started my research as soon as we got engaged. I mean hours in front of that laptop just being inspired! It's crazy that we have been asked to feature as I went onto to Boho weddings at the very beginning and knew instantly what I wanted. We wanted an outdoorsy-vintage feel and boy did Boho have bundles of inspiration. We set the date Sept 2014 and then it was pretty much plotting and planning right through to May 2015′

How they met
We both had the guts to step into the online dating world…..Match.com. We met one summer evening for a drink and 6 years later we are saying "I DO"
The Proposal
Totally cheesy but it's our proposal so it will always be special to us! We had been together just over 3 years and our lives were a little muddled as Pete had become a student again and financially we were a little strapped, I was thinking hmmm that proposal isn't coming anytime soon!
So Christmas day 2012 arrives and Pete loves an audience so in true Cross style, I pull a Christmas cracker and a ring made from Guitar string (Pete plays a guitar) along with a note where the joke should have been "will you marry me" Of course it was a YES along with tears from me and Pete's mum but the thing that always sticks out from that proposal is how Pete's Dad just didn't sense what was happening and asked "surely the joke isn't that bad"!!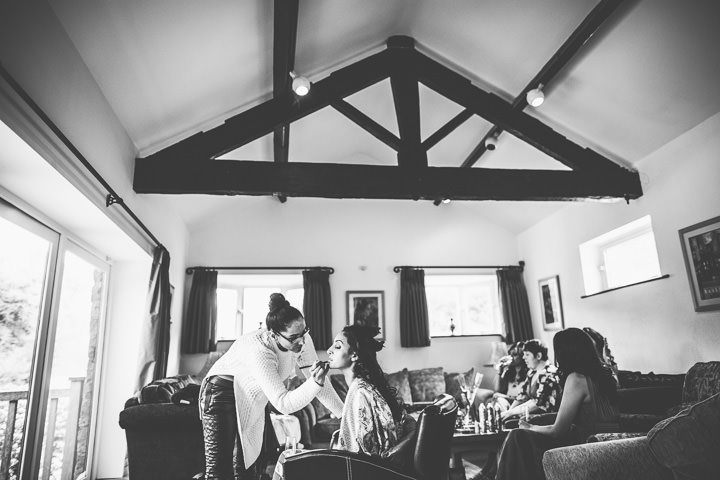 How did you allocate your budget
We set a budget early on thinking we could do it on REALLY limited cash and I think overall we did pretty well, the venue was pretty cost effective as we basically booked all the rooms and then rented them (at a discount) to select guests. we looked high and low for the perfect caterers, band, flowers, cake and attire and did a lot of the leg work ourselves including decorating the venue and making the table settings etc.
You have to be organised, you will have so many deposits on the go and those final payments come in thick and fast. Try and pay for things every month on pay day, we had a spreedsheet and that helped us keep on track.
Where did you splurge and where did you save
Honestly, we really didn't splurge, some things such as the dress, food, venue and flowers do just cost more and we knew we would be save in other areas and SAVING is what we were good at! We tried to buy as much as possible and hire as little as possible! We purchased the welcome drink flutes, kilner decanters, milk bottles, everything decorative, so jars, vases, chalkboards, lanterns, easels, outdoor/indoor fairy lights. We purchased all the table cloths, napkins and hessian runners which was genius as we sold them on eBay straight after.
Lucky for us my mother-in-law is a dab hand at sewing and made our amazing bunting. Thank you Val.
How did you choose your photographer
The Fairclough's are the bee's knees! We approached 2 photographers who were unavailable and they both recommended Katie and James. Looking at their website we instantly knew they would be perfect and luckily for us they were free! Their style of photography was perfect, we wanted a documentary style approach and that's exactly what we got.
The Dress
My beautiful dress was a Charlotte Balbier and my accessories and shoes were both Jenny Packham. I only started looking for a dress in Dec 2014 and I was faced with complete horror on assistant's faces when I would go in for browse.
Luckily I had an appointment at Belle's Bridal Boutique late Jan in Liverpool and well the rest is history, From the moment I walked in I was made to feel relaxed with a cup of tea and homemade cake. I tried on a few dresses but I knew the Marnie dress was for me. Geraldine added to the fab moment by confirming there was plenty of time and my dress would be custom made and not off the rail!!!
Deposit paid and off I trotted, returning in early May for a fitting. Ladies if you want a stress free, enjoyable experience go see Geraldine!
The Suit and Bridesmaids
We didn't have suits as such as my theme was folky 'Mumford & Sons' type dress code so Me, my Dad and Brother (Best Man) wore Hammond & Co Grandad Shirts, Waste Coats and Skinny turned-up Chino's accompanied with some awesome 'Mocks' on our feet with a strict no socks rule to finish the look.
Bridesmaids and close friends were asked to wear any shade of green, I was against a set dress theme because I can appreciate every lady is a different shape and I just wanted my girls to be comfortable.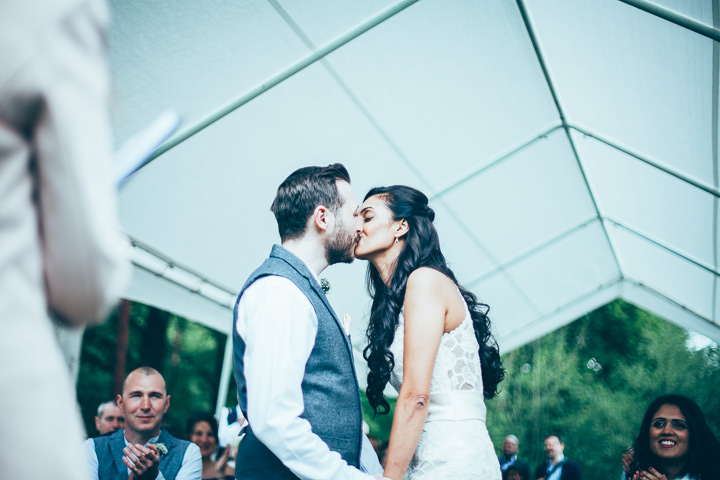 Theme or Colour Scheme
The colour theme was yellow and our theme was vintage chic.
Flowers
Brides bouquet was a hand tied posy style with yellow roses, yellow calla lilies, white roses, crespidia, and white orchids. 
The bridesmaid's bouquet was smaller version of brides using large cream roses, double lizzyanthus, and freesia.
The Buttonholes were Gypsophila wrapped in hessian 
Table centre pieces were a mixed country look using gypsophila, yellow Dille, Matricaria, yellow achillea, roses.
All beautifully advised and arranged by the Secret Garden.
Decoration
It was always about hessian for me, from the invite through to the look and smell inside the venue, the natural roughness coupled with the delicateness of the lace was a natural way to grab the vintage feel so we utilised it wherever we could.
Food
We wanted the food to compliment the theme and vibe so we went for a relaxed Mediterranean vibe; we had sharing boards of falafel, warm breads, baba ganoosh, tzatziki, olives and dipping oils. For the main we had slow roasted lamb with minted potatoes and vegetarian paella. The dessert was our favourite, afternoon tea.
Wedding Cake
We both dislike fondant icing and we knew exactly what we wanted, no fuss. Our cake was simplistic and tasty. The bottom layer was vanilla sponge and the top layer was lemon sponge both covered with buttercream and for decoration a hessian ribbon.
Perfect. Thank you so much Tracey
Entertainment
The band we booked where somewhat of an unknown as I found them through a band database and not via a standard wedding booking site. Being in a band that plays weddings I was very particular about what I wanted and got a great vibe as soon as I heard their demos but in real life they were even better. The Furious Styles based in Burnley are the single greatest live band in the North…fact! Check them out yourself at And in particular have a listen to their Will Smith medley…it's the bomb!
The Stationery
I did (Groom)…I'm a branding and marketing consultant so I designed and painstakingly made every invite, map, RSVP, venue blackboard and even a website to keep people informed! It was a true labour of love but the results even surprised me!!!
Personal or Handmade Touches
Pretty much everything was done by us apart from the cooking on the day, between us we made the invites, designed the decorations, planned the table settings, sourced the plates and cutlery, designed the aisle, cooked the Friday night supper on and lettered the blackboards and at the event itself we had a lot of help setting things from our brilliant family and friends.

Special Moments
Obviously seeing Kalbir walking down the aisle first and foremost and then the speeches as the best man speech and the father of the bride speech (done by Kalbir's best friend Pamela) were absolutely awesome.
Having my friends and family sing Happy Birthday to me [Bride], I was so caught up in wedding zone I hadn't paid any attention to it also being my Birthday. My girls were not going to allow that!
Advice to other couples
Do it yourself and for the fellas…get involved, don't just hire someone to do it for you or book a venue where everything is included. Everyone knew it was personal and that made the whole day that bit more special. Wedding Day co-ordinator: YOU NEED ONE! This is one thing you cannot do on a DIY wedding is be everywhere, especially not on your wedding day.
Biggest surprise
The band took the party by storm and we weren't expecting them to do our first dance song (Candy by Paolo Nutini) live so when they started to play it I got a little emotional because it was even better than the original!!!
Supplier Shout Outs
For more information on Katie and James' work please go to:
www.faircloughphotography.co.uk / www.faircloughphotography.co.uk/blog / @FaircloughPhoto / I: faircloughphotography / FACEBOOK
We are a husband and wife wedding photography team based in Lytham St Annes, Lancashire, and travel throughout the UK and from this year, internationally. We are all about the emotion of the wedding day, and getting involved in the action. We capture authentic photojournalistic stories of wedding days from the perspective of the bride and groom's dearest family and friends.