I may have mentioned it a few times already this month, but January and February are the busiest times of the year when it comes to wedding planning! If you are recently engaged, the chances are you are super excited but a little lost as to where to start! That's why our in-house wedding planner Lisa from Carmela weddings  is here to guide you along the first stages of your wedding planning. Wedding planning doesn't need to be daunting or overwhelming, you just need to learn to take one stage at a time and you'll do great!
You're Engaged! Now What? 
If you're starting this year staring repeatedly at your left hand and the way it suddenly sparkles a whole lot more than it did, congratulations! Welcome to the wonderful world of wedding planning.
Chances are, you haven't planned an all-singing, all-dancing event for your entire family and all your friends before, so it's not surprising if you're feeling a little overwhelmed alongside all the excitement. Don't worry though, I'm sharing my top tips right here on the first things to do once you've got that ring twinkling away on your finger.
Lists will be your new best friend over the coming months, so I'm going to keep this one short and sweet to keep that overwhelm at bay. Here are my five top tips to help get you started on your wedding planning journey.
Planning your wedding – five first steps
Take a breath
You might want to immediately shout about your engagement from the rooftops, but pause before you splash your news all over social media. You'll find as you move through your wedding planning that almost everyone you've ever met has an opinion about one thing or another – from your colour scheme to your guest list. Although you might be exploding with excitement, take a day or two to celebrate in your happy engaged bubble with your partner before sharing it with the world.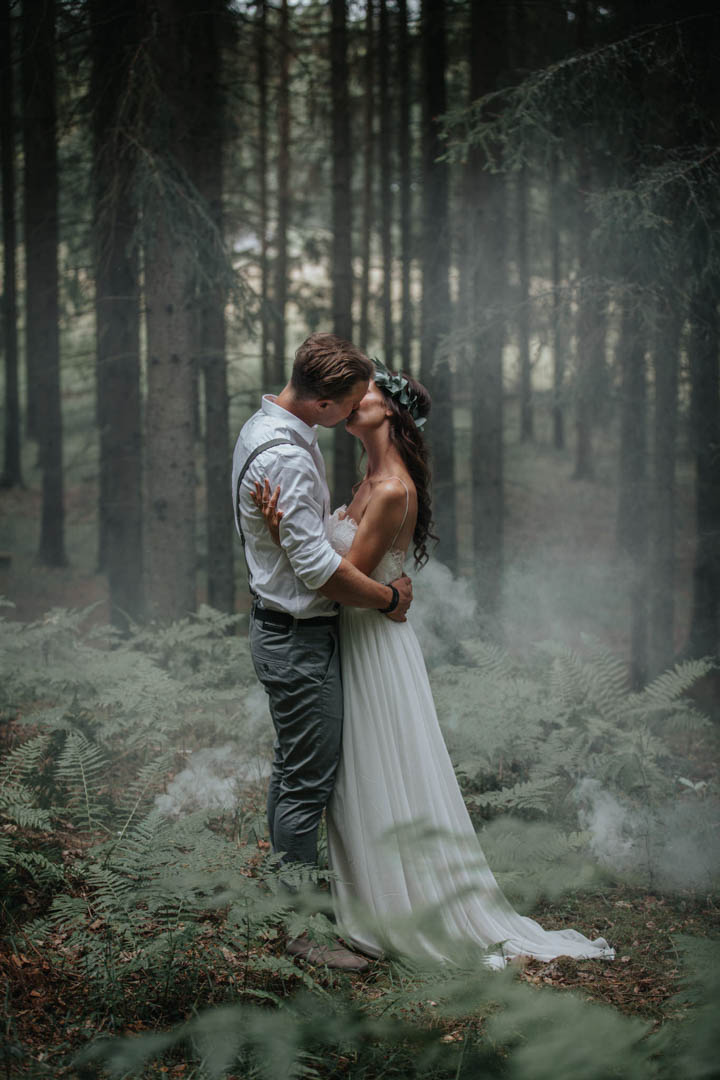 Finances first
This one's hard, but it's the most important. Before you do anything else, before you dive headfirst into the pretty stuff, you need to make sure your finances are in place. Spreadsheet before Pinterest. Repeat this to yourself like a mantra! Sit down with your partner and crunch those numbers. You need to know exactly what your budget for this wedding will be, and once you've got it thrashed out, you need to stick to it. Do not be tempted to over reach and start this marriage in debt.
Put things in order
Then it's time to look at your non-negotiables. Before you get in deep with the details, you need to think about the big ticket items, and whether or not they have an effect on your overall planning timeline. Are you dreaming of a winter wedding amid frosted trees, or do you want guaranteed sunshine and blossoms on your big day? Venues can get booked up months and sometimes years in advance, particularly for Saturdays during the peak wedding season of May-September. So, if you've got your heart set on any aspect of your day, whether a particular date or location, you might need to be prepared to wait a year or so to snare it. 
Keep an open mind
Now you can unleash the Pinterest obsession that's been lurking under the surface! Don't underestimate the magic of wildcards. Even if you've been dreaming about your wedding since you were seven years old, keep an open mind and be prepared to consider lots of different styles. You might well find that what jumps out at you as 'the one' is totally different to what you'd been imagining, and this is as true for dress styles as it is for venues, and pretty much everything in between!
Remember you're in charge
Weddings are steeped in tradition, but that doesn't mean you have to stick to them if you don't want to. Your wedding is an expression of your love for each other, and you can make it as unique as you two are. Don't like the idea of getting married in white? Want dinner served from a food truck instead of a sit down meal and a live rockband for your first dance? Do it! Traditions are wonderful if they're meaningful, but don't feel beholden to them if they're not adding anything to your day.
So there you have it. My top tips to start you off with your wedding planning. If you're reading this and feeling the overwhelm snapping at your heels, then don't worry. Consider hiring a wedding planner who can help with anything causing you stress – from sourcing suppliers and organizing your timelines, to styling and co-ordination on the day itself allowing you to relax and enjoy.
TO FIND OUT MORE ABOUT CARMELA WEDDINGS
www.carmelaweddings.co.uk / FACEBOOK / @carmelaweddings / PINTEREST / I:carmelaweddings
Lisa and Sam create contemporary stylish weddings for modern, fashion-forward couples in the UK and Malta. They love an urban wedding and know how to put on a fabulous party! They've also been married for two years and love travelling.