Todays wedding comes from my home town of Cornwall, and it's brought to you byMichael Marker Photography of 29 gallery. The wedding is a propper Cornish wedding set in a local vilage hall with losts of DIY and hand nade elements. I just love the old bus that King Harry Coaches supplied, it really brings that old country elemet to the wedding!
Full names
Steven Buckley and Ele Buckley (nee Ramsey)
How did you meet?
We've been together nearly 4 years. How we got together? Well it's a long story involving a protest march, a visit to Bangladesh, and a Mexican restaurant. We'd been working at the same organisation for some time but 'discovered each other' in Autumn 2007.
Date of wedding
4th June
Location
St Kea Church, Truro, Cornwall
What made you decide to get married where you did?
We were always going to get married in Cornwall at St Kea church. It was where Ele grew up, her family still attend the church… and it's a gorgeous location! We were worried about asking most of our guests to travel a long way to be with us – but they enjoyed Cornwall when they made it down!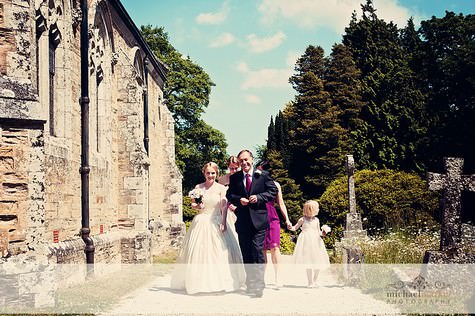 Who was your dress by
I found my dress squeezed into the backroom of a Sale store in Feltham, South West London. It turned out to be by the British designer Dizzie Lizzie Couture and I loved it – and can't understand how it had spent so long ignored by other brides. It was about three sizes too big so I spent as much on getting it altered as I did buying it in the first place, but it was worth every penny.
And the suite?
Very boring I'm afraid – a simple navy number from M&S! Nice shoes by Loake though.
How would you sum up your day?
Lots of our guests said it was the most relaxed wedding they'd ever been to. We wanted the children to enjoy themselves and chose to ignore all the annoying traditions and included what we wanted.
Did you have a theme or colour scheme?
A sort of berry-purple range of colours popped up throughout the day. I just chose colours I liked for dresses, flowers and decor and was relieved that on the day they all worked well together!
Did you have any personal touches? Or things that you did yourself?
Yes, we were really keen that it was our designs and our ideas that came through so we designed and produced the invites and order of service. Ele chose all the decorations for the hall and the flowers were grown by the market gardener 'up the road. Ele's bridesmaid Rachel slaved over a boiling pan to produce Cornish fudge which we packaged up for each guests with a tag as their place setting.
How many guests?
100 friends and family
What were your special moments/highlights?
The sun shining was a great result! Too many highlights to mention really, but Steven's children doing a great job of being best men, our friend Abbie's incredible rendition of 'You've got the Love' in church, a wonderful saffron-infused wedding cake by Ele's friend Nadia (the cake even has its own blog which includes a history of wedding cakes and video demonstrations!!), the amazing Cornish buffet, heading over to the reception in a vintage bus with our guests, and, of course, most important of all, a wonderful and inclusive wedding ceremony led by Charlie Peer the vicar of St Kea Church.
Is there anything you would do differently?
Try not to time it so you're exchanging on your first house the week before the wedding. We pulled it off but it was a bit too much pressure!
What advice would you give any other couples?
We took a few days off prior to the wedding to finish last minute planning and to get the venue ready. We don't know how we'd have done it otherwise.
What was your biggest surprise of the day?
Our wonderful friend, Hannah Stephenson, wrote and performed a love song for us – we had no idea she'd done it and she even presented us with a CD and the sheet music for the song which we plan to frame. You can listen to the song, Have and to Hold on this site – http://vibedeck.com/hannahstephenson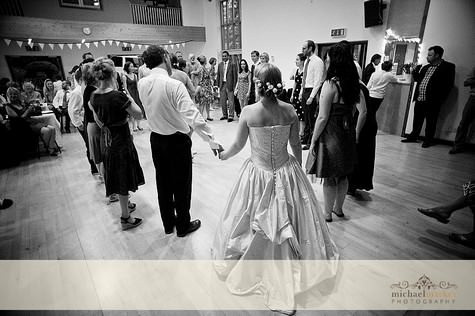 Suppliers invloved in the wedding:
Photographer: Michael Marker Photography – www.29gallery.co.uk  (Michael was really smiley and supportive, working to a documentary brief, the results were more than we could have hoped for)
Church: St Kea Church, Truro – www.stkea.org.uk/welcome.htm
Reception Venue: Chacewater Village Hall – www.chacewater.net/villagehall
Dress shop: Always & Forever Sale Store, Feltham – www.alwaysandforeverbridal.co.uk/shops.html
Florist: Celtic Flowers, Truro – www.celticflowers.org.uk
Caterer: Ann Curtis Catering, Newquay – www.cornwall-info.co.uk/details.asp?listid=1042
Ceilidh Band: The Tinners – www.thetinners.co.uk (ditto, one of the funnest Ceildh's we've been to)
Transport: King Harry Coaches – http://www.kingharryscornwall.co.uk/thingstodo/get_about/king_harry_coaches
For more information about Micaels photography services go to:
www.29gallery.co.uk
[email protected]
07955373355 / 01822 870608
TWITTER
Due to an email issue if you have emailed me between the 2nd & 9th of December, please resend it.
X