There is no getting away from the new wave of dessert and cake tables at weddings, well not even weddings they are a great idea for Christenings, baby namings, birthdays, or any party….I mean who dosn't like cake? I see them all the time now, in magazines, on other blogs even at my own weddings! I Have the best brides and more and more often now they are asking to have a cake table or a dessert table at their weddings!
For this reason I thought it was about time I put a post together on this very subject and pull together some examples of the best of the cake and dessert tables out there. So I have called on some of the best wedding suppliers in the business to send me their pictures, as well as sourcing some of the best I have found on the Internet!
If your not hungry then you will be buy the time you have looked at all of these as there are some amazing options for you!……..Enjoy!!
The Boutique Baking Compnay  (www.boutiquebaking.co.uk/)
Parisian chic – Photo By Emma Case
Cinderella  – Phot by Alex Beadon
Elegance  – Photo by Alison Barton
Prom Table  – Photo by Joanna Brown
Images found from  Engaged and Inspired
Genni Cup Cakes (www.genii-cupcakes.co.uk/)
Macaron tower by Genii cupcakes    other parts of the dessert table by The Four Seasons   Flowers by Emma Lappin  wedding by Temple Gregory  
Cakes By Sugar  (www.cakebysugar.com/)
Photo by Wild Weddings
Amy Atlas Events  (http://amyatlas.com/) – Found on Decor 8
Cakes By Beth (http://www.cakesbybeth.co.uk/) More information on Beth's cakes can be seen HERE with a discount for all Boho readers
Tempting Tables by Tempting Cake (http://www.temptingcake.com/) Photos by Liesl Cheney
Moroccan Tempting Table
Some more from the internet:
Crumbs Couture CupCakes (http://www.cupcakeslondon.com/)
Photographed by Exhibit Emotions Styled by Bow Occasions
And to end this rather tasty collection of Dessert and cake tables, I thought I would share with you two of my own brides creations! Both Harrogate Brides!
Jenna and Tony – all of these cakes, even the wedding cake were made my her and her wedding guest so a real home made DIY effort! see the whole wedding HERE
Photos by Paul Webb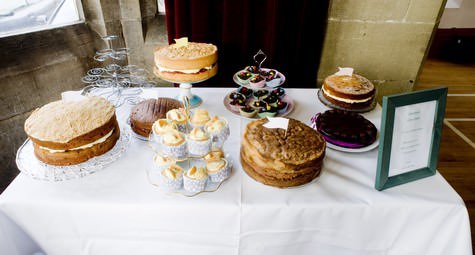 Rachel and Kevin– They went for a very country style wedding with a village fete theme. the cake table was set out as a cake competition with personalied rosettes!  Full Blog post to come, but see more photos HERE
So I hope you liked my selection? hungry yet?? If you have any other companies you would like to recommend then please feel free to lave a comment! I'd also love to know which is your favourite!
Kelly xxx