So it's Friday already! How did that happen? bank Holidays sure do make the weeks go faster than normal! To end this super fast week, I have a cute Cornish wedding for you sent to me by Sarah Falugo of Green Photographic.  Having been brought up in Cornwall and living there  till I was 18 years old I do love receiving weddings from Cornwall and each one makes me feel just a little bit home sick!
It's the wedding of Rebeca and Tom who were married on 3rd September, the ceremony was at Truro Registration Office, with the reception at Bedruthan Steps Hotel, with a total of 50 guests. It's such a relaxed day, with such beautiful shots taken on the Mawgan Porth beach near Newquay.
Rebeca and Tom describe their day as 'The day was amazing and relaxed, we had our family and friends close while eating beautiful food, drinking great wine, dancing to funky music and with the beach in our sight.'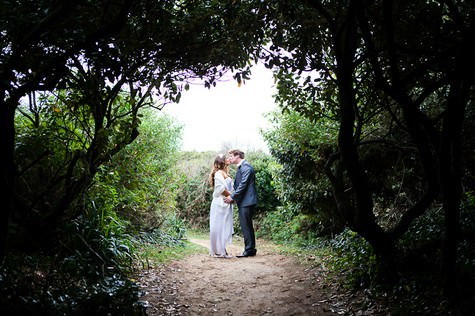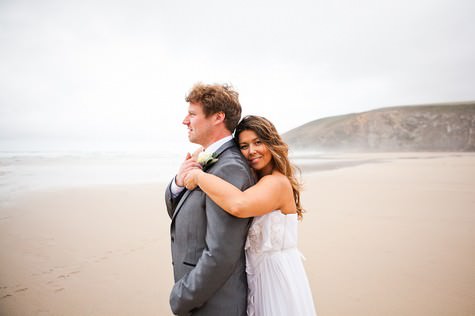 How they met
We met in NE Brazil, in a mountain town called Lencois in bahia on October 2009. We think destiny was playing a huge part in getting us together as we met in the middle of one of the biggest national parks in brazil. We met on the 25th of October 2009 when we both took part in a 3 day trek, into the jungle, tom was travelling through south America for a year and Rebeca was on vacation from work by herself. The first day of the trek was heavily rained off, and our guide, flor came to our separate hostels and said we would go the next day. There would be 5 of us. The other 3 French guys never showed and it was just us to trek. We spent 3 wonderful days together. After that Tom travelled to sao Paulo, Rebecca's city, to spend time with her and see what would happen. Tom came back one more time for Christmas and new year and 2 years later we were married.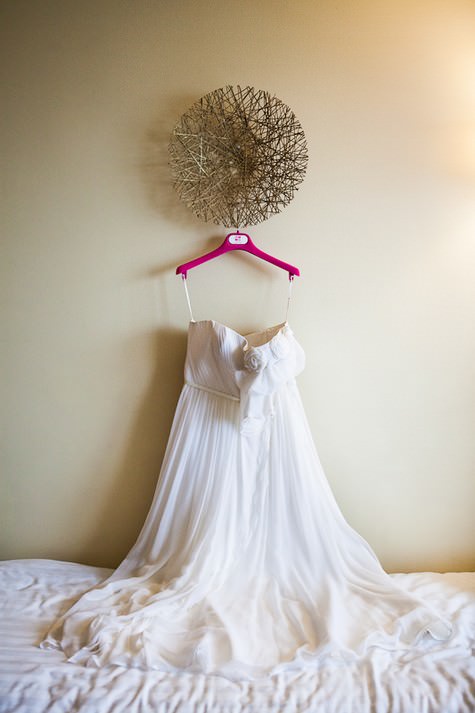 The proposal
I came to spend Christmas in the UK and meet Tom's friends and family. Tom had learnt a song on guitar, me and you by Dave Matthews band to play to me and he proposed on the waterline at Constantine beach with a 2p gummy sweet ring in a ring box, as a playful gesture and took her to choose a ring in Truro.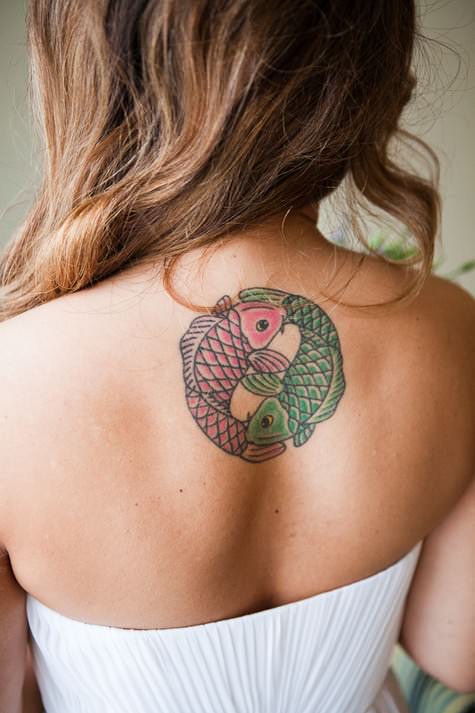 Wedding Planning
It only took 2 months to plan! I came to the UK on beginning of July and we were super-efficient on selecting the venue, flowers, cake, photographer, music, etc. We worked as a team and my mother in law was great giving suggestions since I had no idea about suppliers here in Cornwall!
Dress
I am known for being relaxed and an example of anti-bridezilla… Well, I went to London and met 2 of my best friends there to find a dress, but after 3 stores all I wanted was to sit down to have a drink and talk with them. I tried a dress at Fraser Jones (1st store) that I really liked, so I came home and ordered online!
I bought my hair piece at Accessorize and my shoes at John Lewis. The earrings were from my mom.
The suit and bridesmaids
Tom found a great suit on a Next catalogue, so we went to a store and bought everything (shoes, tie, shirt and even the socks!). I didn't have bridesmaids….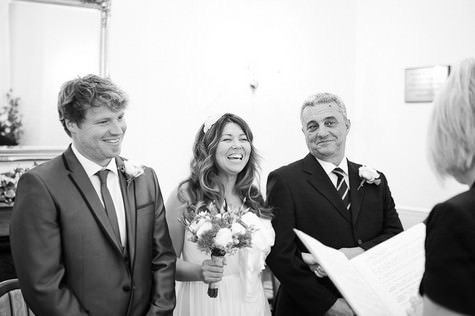 Theme
Lavender, green and white, we were searching for very fresh, simple natural country colours , we didn't want to much colour going on as we had the ocean and beach, both of our soul places as the main focal beauty. We used a lot of candles from St Eval candle factory, a local producer, with whom tom once worked, to set a cosy intimate mood.
Food
BedRuthan Chef, Ben, suggested many options from a wide range of dishes, all produced or sourced within 20 miles of the hotel therefore we only used the freshest of ingredients. We aimed for a Mediterranean feel with very light foods and picky bits trying to cover the Brazilian and British palate.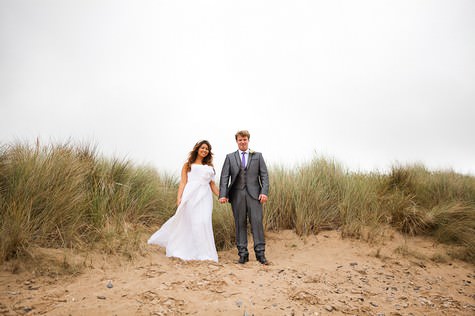 Entertainment
We built playlists for the different moments of the party, but our main entertainment was a friend of ours, a very talented guitarist with a Congo drum player, Billy Harrigan, he played a 2 hour set and had everyone dancing and vibing. They were truly magnificent.
Flowers
We researched many florists from the region, and we decided to hire Roses and Rascals from Padstow. They did the bouquet, table arrangements, corsage and button holes and beautiful mirror vases and supports with country flowers.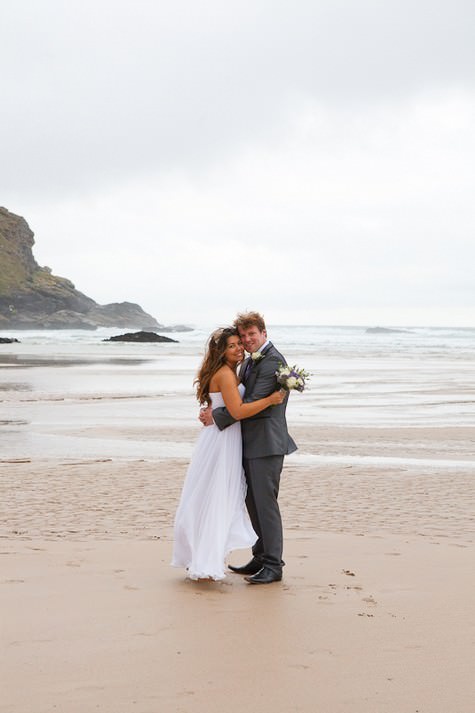 Personal touches
• We also made a cd with our favourite songs for the guests and each
• Woman got a candle from the St Eval candle Factory.
• My mom brought a pair of Hawaianas flip flops for every guest to dance freely at the dance floor!
• Sarah Falugo (our photographer) provided a photo booth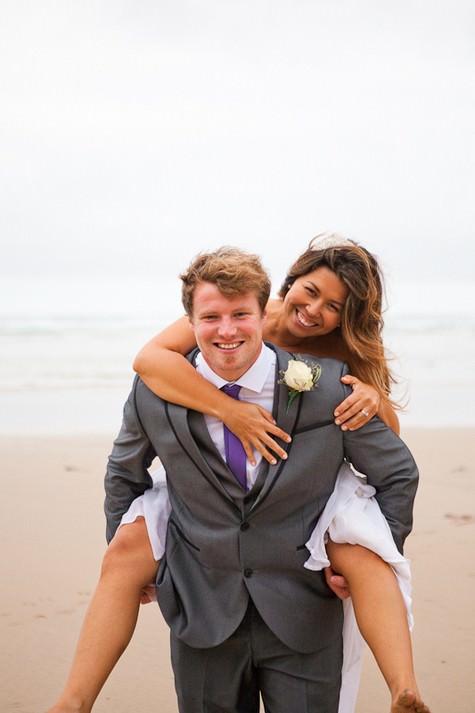 Special moments 
Just as we were about to head out to the registry office one of the best men realizes that the shop he bought his suit in had left the security tag, and it looked terrible. He rang hotel reception to see if they could remove it, and the shop if we had time. Things were looking bad but the hotel managed to get it off.
Rebecas friends from Brazil that couldn't make it sent a DVD with all of their best wishes messages; it was very emotional and beautiful to have "them" (even for a while) in the party.
Tom read a speech in Portuguese which made Rebeca's mum cry and some Brazilian friends laughed.
Advice
Don't think too much about what people expect or what is seen as an appropriate wedding. Do it your way, make it wacky, personal and don't be afraid to do something a little different and keep a sense of humour whilst planning so you don't lose all your hair.
Biggest Surprise
That Tom and I were relaxed! No stress at all!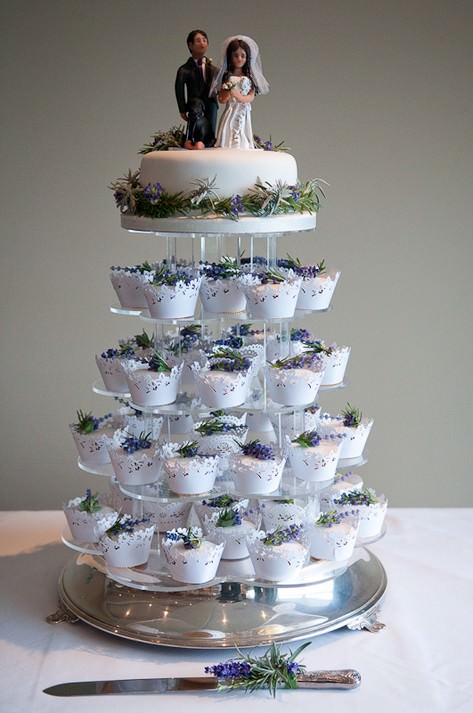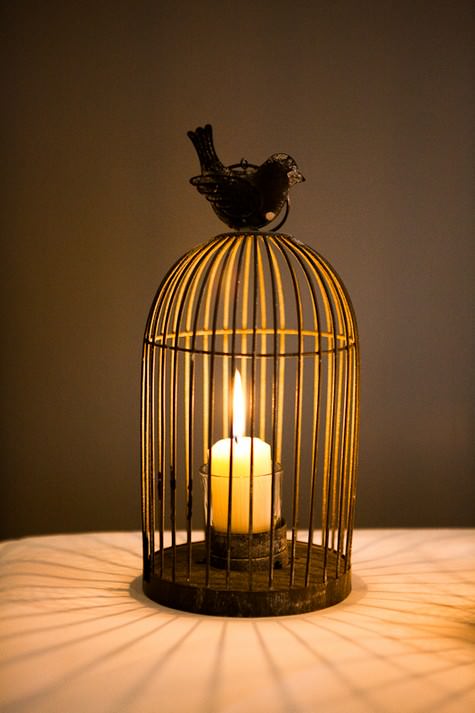 Supplier Shout Outs
Sarah Falugo: www.greenphotographic.com
Bedruthan Steps Hotel: www.bedruthan.com
Roses of Padstow: www.floristpadstow.co.uk
Jackie's Cakes: www.jackiescakes.co.uk
For more information on Sarah's work go to
www.greenphotographic.co.uk
[email protected]
FACEBOOK
TWITTER
07966613086
Green Photographic is a small company based in Cornwall. Lead photographer Sarah Falugo specialises in creative wedding photography. We offer disc packages and we operate as an eco-friendly company"