Today we are heading off to stunning Italy for this most beautiful wedding of Barbara and Ronny. With Barbara being half Italian and half Dutch it was important that both nationalities were represented accordingly. So they mixed in the draw dropping Italian backdrop and amazing Italian food with a Dutch celebrant who they flew in, as well as all of their Dutch guests. With a vintage inspired, shabby chic theme the wedding, although full of elegant touches, is totally laid back and full of so much fun. Antonio Patta has captured the day perfectly, with some beautiful photography. A truly wonderful day, I'm sure you will agree.
It was truly one of the best days of our lives filled with good memories made by our family and best friends. We are blessed with all those good and happy memories. 
Barbara and Ronny were married in the 23rd September 2016 at Alghero Sardegna (Villa Barbarina). 'We knew right away that we wanted to get married in Alghero, Sardegna in Italy. A laid back summer wedding day at a beautiful location. The villa was the first location there we saw and it was just perfect. Beautiful olive trees for the ceremony and a wide open view with nothing else than nature and sun. I am a half Italian half dutch girl. My father and family are living in Alghero. We are living in Amsterdam. With all our dutch guests who joined us in Italy it was the perfect combination. We had a dutch minister at a beautiful Italian location. Just perfect. We had 80 guests and It took me (Barbara) about a year to plan everything. We took 3 trips to Alghero before the wedding and a few months of communication through email. Also I sent all of the decoration and toys for the children in boxes from here to Italy.'
How they met
We known each other for about 12 years because our families are really close and we been together now for 5.5 years. I took us some time to take the first step and after everybody was already waiting for it we finally took the plunge. Our first kiss was at the beach in the Netherlands (Bloemendaal) and then when we walked at the beach again a few years later with our little girl he suddenly proposed. I couldn't be any happier!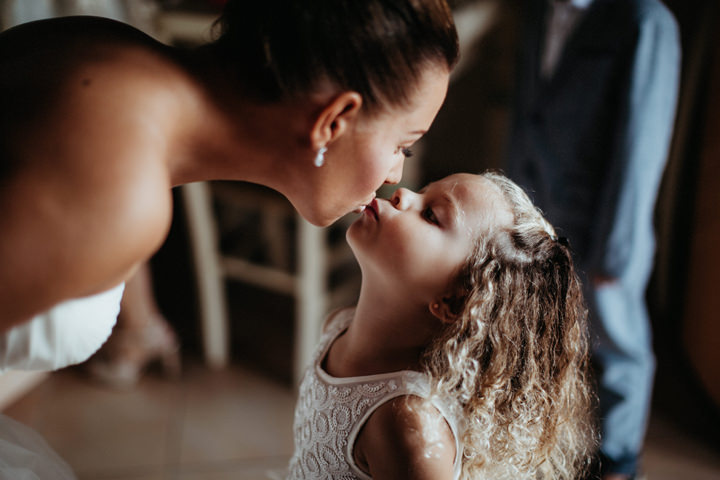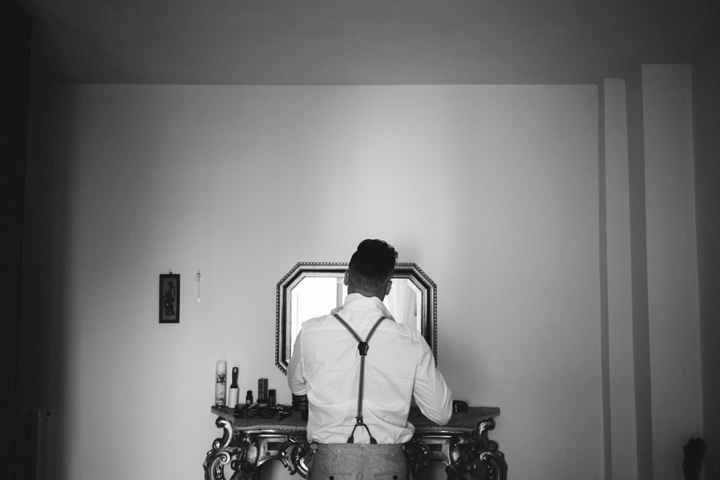 How did you allocate your budget?
We had different boxes of each item to fill so we saved money for about 1.5 years to pay for everything at one at the end plus we bought some things like the decorations every month and posted it to Alghero.  We saved on decorations because i made everything myself and mailed it to Alghero. My friend Heidi Riekerk designed a couple of things that we printed and my mother helped with all the fabrics.
We splurged at all the rest, of course we spend a lot/most on food and drinks because we wanted that typical Italian mood. The food was really delicious, our friends and family were amazed by the taste and of course the amount! We had the best Photographer and videographer of Sardegna. We flew in a really great dutch minister for the ceremony so there was also a Dutch touch to the day, a well known band Camberra from Sardegna to play and a world famous DJ from Amsterdam. Rings from the best jeweller there is when it comes to diamonds Gassan Diamonds. And our suit and dress was exactly what we always wanted and dreamed of. I wanted to get my dress made from scratch but when I saw this one at Covers Couture it was even better.
How did you choose your Photographer?
My Italian cousin recommended our photographer and we just fell in love with his pictures straight away. Such a different touch to each picture. He is really an artist.
The Dress
My dress was from a Spanish brand Pronovias and my shoes and accessories I just bought in a little shop.
The Suit and Bridesmaids
No bridesmaids! Just the 3 of us like it is always been. Christiana was a part of the wedding the whole time. Even hit the hammer (dutch custom) of the minister to sealed the deal and make it official. Christiana's dress was by H&M and looked a lot of my dress. Just a little princess.
Ronny's suit was by Suit Supply Amsterdam. He always wanted a trendy laid back suit but with suspenders and they had the perfect one. With some espadrilles from his work trip to the Olympics in Rio it looked really pretty.

Theme or Colour Scheme
We loved the vintage, shabby chic theme a lot with all the light colors and summer feeling. Laid back and just chill and enjoy the day with all of our friends and family. We wanted everybody to be in a holiday mood the whole day and it worked!
Flowers
My bouquet was all with baby's breath flowers and they where also all over the ceremony and dinner tables. Just very calm and relax.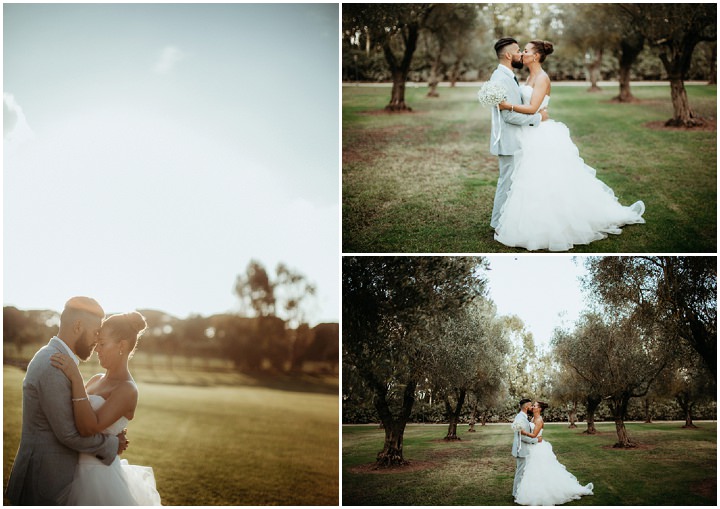 Decoration
We actually didn't have much decoration. The venue was so beautiful, there really wasn't need to do much decoration.
At the ceremony I had small cans with white breath flowers , A 16 meters burlap and lace carpet. A white fabric between 2 olive trees behind the minister. On all the chairs we had made our own fans. I had made our own picture/guestbook table. A old fashion suitcase decorated with our engagement photo's and full with cards to fill in by our guests. 2 wooden/burlap frames full with small tickets with everybody's names to take and replace with a new Polaroid photo.
We had a couple of long dinner tables decorated with burlap and lace again and many small little vases. We had made everyone a little card on their dinner plate. We had 2 big tables with all the toys/games you can think of for the children. And for the give away's we had small pots with local honey with a little card that said " thank you for bee-ing there"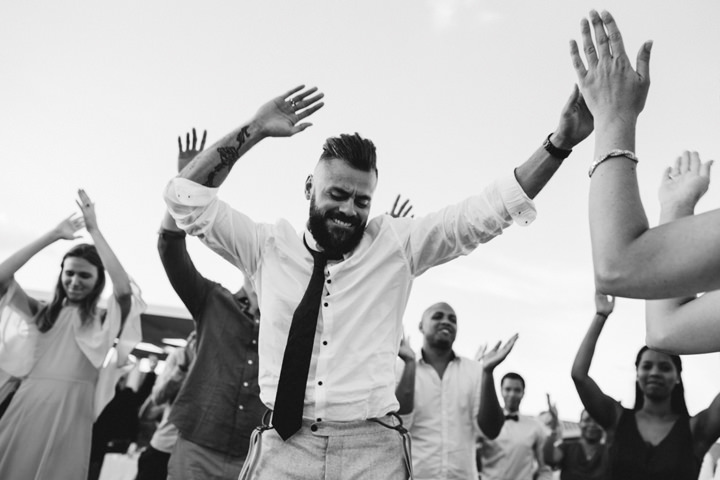 Food
We had a lot of food! Typical Italian style.  We had a lot of small appetizers at the poolside when the band played.  Then after that during dinner we started with some antipasti of cheese, sausage, calamari and a salad with fish. Then a seafood risotto and ravioli with fresh basil and tomato. Then some grilled pork, chicken and shrimps with vegetables and potatoes. A sorbet, coffee and liqueur to end the dinner. After the dinner we had a DJ to play some music and we drunk a lot of typical liqueur from Sardegna the MIRTO.
Wedding Cake
The wedding cake was all white from a little bakery called Etoille. Different layers with sponge cake and chocolate and strawberry filling. We brought our own cake topper from Amsterdam. A couple in love with the woman holding a balloon just like one of our engagement pictures. All in the details.
Special Moments or Highlights
At the ceremony when my father and i walked down the aisle my brother in law was singing a beautiful song. It was such a personal touch. Loved it!  In the afternoon after the ceremony we had a famous band from Alghero called Camberra. They played outside near the pool where we had some food, drinks and danced in the sun.  In the evening after dinner we had a world famous DJ Flava from Amsterdam that we flew in playing some nice tunes so we could dance during a couple of drinks of Italian wine and mirto.
Personal Touches
I did all the decorations myself with help from my mother.  It was really the way we dreamed of. One of my dearest friend Patricia was my witness next to my sister Irene, a other friend Nina did my hair/make up, a other friend Heidi helped to design everything. My friend Cyanne was the one who drove the car to the tree-yard when the ceremony began. Me laying flat in her car so funny! It was really so special to have  a couple of dear friends to helped me on our big dag. Christiana got her own little ring from her dad so priceless. Because all of our friends and family flew in from Holland to Italy the whole day was just special and perfect. It was just the best of both worlds. We made our Save the Date and wedding invitations ourselves. Designed by myself and Heidi Riekerk.
Advice for Other Couples
On the day of the wedding just ENJOY!! It goes by so fast!! Like everybody says. And don't be afraid to maybe save up just a bit longer but then you have it just they way you dreamed of.
The biggest surprise
How happy and laid back everyone was. It was for the dutch guests a long trip to Italy and we wanted it to be worth while for everyone. We wanted a relaxed laid back summer holiday wedding but you are always a bit of afraid that your guests aren't going to like it or have some complaints but we only heard a lot of compliment and still do!! Everybody had a blast and so did we.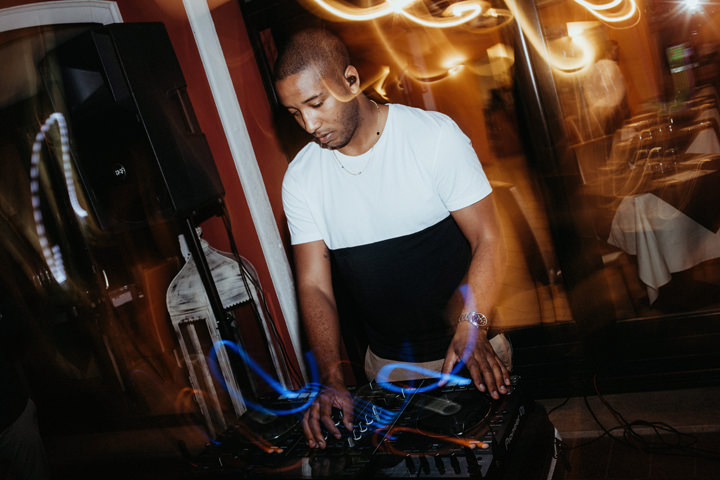 Supplier Shout Outs
For more information on Antonio's work go to:
www.antoniopatta.com / [email protected] / +393669395600 / FACEBOOK / T: @pattafotografia / I :@sardiniawedding / PINTEREST
I'm Antonio, I'm based in Italy and I'm an Art Lover, Food Lover, Run Lover, Music Lover, Beer Lover, Design Lover. I focus my work on emotions, I believe emotions are a very important part of a wedding and I want to give back to my couples natural and candid images that will remember them how happy was that day.