Good afternoon everyone, I hope your Monday has started well? This afternoon Kelly and I are very pleased to introduce you to another wonderful Boho wedding supplier. Today we welcome Cate Darcy Stationery to Boho to tell you all about her gorgeous stationery business. Full of whimsy and charm, these beautiful collections are perfect for a classic English wedding, Boho celebrations and rustic events, and we know that our readers will love the pretty styling and personal touches.
Cate Darcy offers beautiful design-led stationery that is centered around the informal and unconventional nature of boho. 'I love all things shabby chic and rustic and this is definitely portrayed in my designs.'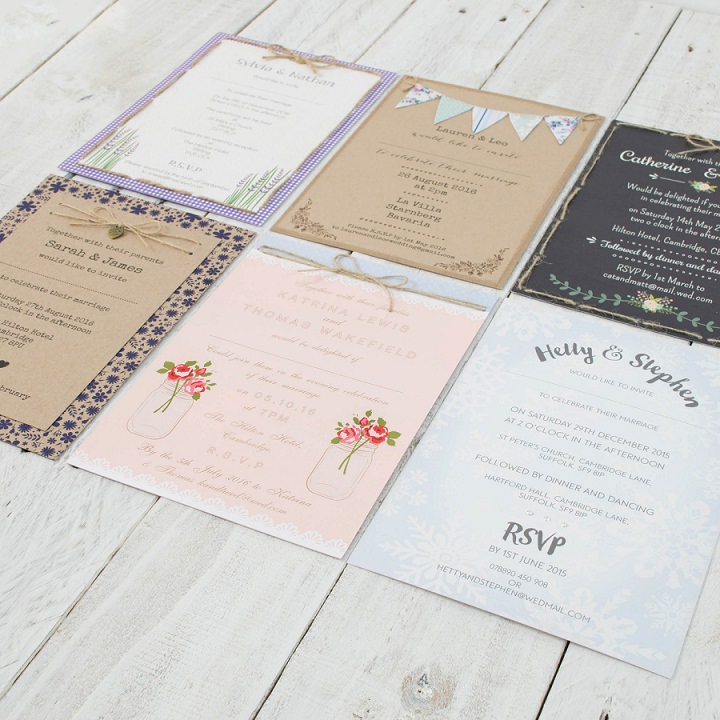 I am really excited to have now launched a collection of 6 different ranges of rustic inspired stationery for couples who are looking for a less formal, more fun and unique invitation for their wedding day. I adore the whimsical, endearing style of shabby chic and vintage interiors. And although some may say it's overdone, I am still a big lover of the rustic style of mason jars filled with wild flowers! This is where I find a lot of my inspiration and I will continue to incorporate this casual style into my designs.
What made you start your business?
After working for almost 10 years in various finance roles, I always wished I had followed my dream of a design career. In 2014, after graduating as a mature student with a degree in Business and Management, I decided it's never too late to do what you love, so Cate Darcy was born! Officially as a business in 2014, but I have always designed wedding stationery for friends and family, or made greeting cards for people on their birthdays. At the end of 2014 my friend eloped to San Francisco, when she came back she asked me to design her reception party invitations with a rustic theme, I think you could say this was when I developed my true brand and style. Commissions then started to follow through word of mouth and it is only now I have been able to launch a house collection of wedding stationery.
Where are you based?
I am based in a lovely rural town in Cambridgeshire, not too far from the city of Cambridge and currently work out of my spare room…..and the dining room…..and the kitchen!!
Which areas do you cover?
At the moment 100% of my customers contact me via email or through various selling platforms, so I am able to cover a worldwide geographical area which is great.
What were you doing before?
I still work in finance, but I have also worked in HR and Bid Management which have been quite useful in setting up a business.
How would you describe your style?
My style is definitely rustic, I love to incorporate twine into my work and I love the simple, laid-back, informal feel that represents bohemian and I keep this at the core of my work.
Your biggest achievement so far
My biggest achievement so far is getting my 6 house collections together and ready to launch! I am such a perfectionist, you wouldn't believe how many designs I spent days and weeks (and possibly even months) working on but they didn't quite make the cut! Some designs I actually loved but they didn't quite fit with my brand so I couldn't use them.
What makes you different to your competitors
I think it would have to be my style, I very much focus on the rustic, boho wedding when creating my designs and I like to use twine as a border which is a unique twist that I haven't seen before.
What do you love most about your job
I love it when I am asked to create a bespoke design for a couple. It's great to be given a brief and make it into a reality! A happy couple makes me so happy and it's such a priviledge to play a little part of their special day.
What kind of couples do you think you attract
I attract couples who are looking for more of an informal invitation and/or stationery item for their special day. Couples tend to want more of a relaxed 'party' type design than a formal style. The venue often plays a big part in their choice of stationery too, and it is usually country barn weddings or old vintage style buildings, so my stationery sets the scene for what their guests can expect of the day.
What would be your ideal wedding?
That's a good question! I think a lovely 1950's tea party wedding would be a lot of fun to design some stationery for!
Can you please give our Boho Readers some information on your pricing structure
This is actually really important to me, from the start I have always felt that prices need to be completely visible, easy to find and calculate so there are no surprises for my customers. I have created a wedding guide and price list to make ordering my stationery as easy as possible. Prices for personalised A5 house collections start at £2.00 and discounts are added for larger scale orders.
What is your ideal way to spend a day off
Because I still have my day job, my days off are spent designing and glueing mini bunting to wedding invitations – but I absolutely love it so it is kinda my ideal way to spend a day! But if I'm not designing or making something then I love going to London with friends, having afternoon tea and then seeing a show.
What could you never leave the house without
It has to be my iPhone, I just can't seem to function without it!
Who would be your ideal guests to dinner?
Judy Garland, Gene Kelly, Sam Cooke, Jonny Depp and Paul Hollywood.
If you weren't running your business what would you be doing
Sleeping a lot more!
For more information about Cate Darcy Stationery go to:
www.catedarcy.com / [email protected] / 07429 534 731 / FACEBOOK / I: @catedarcydesigns / T: @CateDarcyDesign / PINTEREST
this is a sponsored post