Happy Monday everyone and welcome to you all, I do hope you had a lovely weekend? I am starting off the week with a beautiful Italian destination wedding with the most stunning photography and wedding film. Tanya and Daniel chose Sorrento because of its amazing views and wonderful scenery and looking at these photos it's no surprise why, it's a beautiful place. With lots of portrait shots around the area they certainly soaked up the atmosphere of this super sunny August day. What a beauty of a wedding. Big thanks to Jon Aleksander from Happy Wedding Films for sending in the wedding and to Dragan Zlatanovic for the amazing photography.
A once in a lifetime opportunity where we had all our family and close friends together in one amazing place!!!
Tanya and Daniel were married in front of 50 friends and family on 23rd August at the Villa Antiche Mura in Sorrento, Italy. "We just love everything about Italy – it's an amazing country with beautiful cities, music, food, wine, gelato and many, many more. When we visited Sorrento and saw the view and scenery we fell in love straight away!"
How they met.
We met on South beach in Miami while on holidays there in 2007.
The proposal.
It was very romantic. Dan brought me to Donegal as a surprise for my birthday. We stayed in a small country cottage in the middle of nowhere. In the morning of my birthday I woke up to a birthday cake; when I was blowing the candles I saw the sparkle in the centre of the cake. And then Dan asked if I would marry him… I said "Yes!!!"
How did you allocate your budget?
We didn't have a specific budget. We just went with the flow hoping it wouldn't bankrupt us and that everything would work out somehow!
How did you choose your photographer?
While looking for the best photographer we checked about 100 websites. We were looking for a specific style and when we came across Dragan's portfolios we were just blown away with his talent and we knew right away that he would have to be our photographer!
How did you choose your videographer?
It took us ages to find the right videographer – again we always knew what style of video we wanted to have but we couldn't find exactly what we were looking for. I mentioned to Dragan that we were struggling to find a videographer who could make a beautiful, fun, relaxed and very personalised video. Our photographer recommended Jon. Dan and I checked the website and knew we need not look for a videographer anymore. We found exactly what we wanted!
The dress and accessories.
My dress was from Ian Stuart. Shoes were from Benjamin Adams and accessories by Glitzy Secrets.
The suit and bridesmaids?
Daniel's suit was Boggi Milano. I had only one bridesmaid – my sister, and I let her pick her own dress. She got it from a boutique in Moscow.
The theme.
We wouldn't say we had a specific theme, but we tried to keep everything romantic and a little bit of shabby chic style.
The flowers
Our centrepieces were white roses and the bouquet was baby pink roses with white peonies.
The decoration
We had white paper pom-poms, white hearts and some candles hanging from the trees.
The cake
We had a lemon sponge with raspberry Chantilly cream Italian wedding cake which was made by the chef of the villa and was very delicious!
The entertainment.
We had an amazing Italian folk band "Domo Emigrantes" playing at our wedding. They travelled all the way from Milan to perform and they were just fantastic! Also there was free entertainment from some of our guests on the dance floor!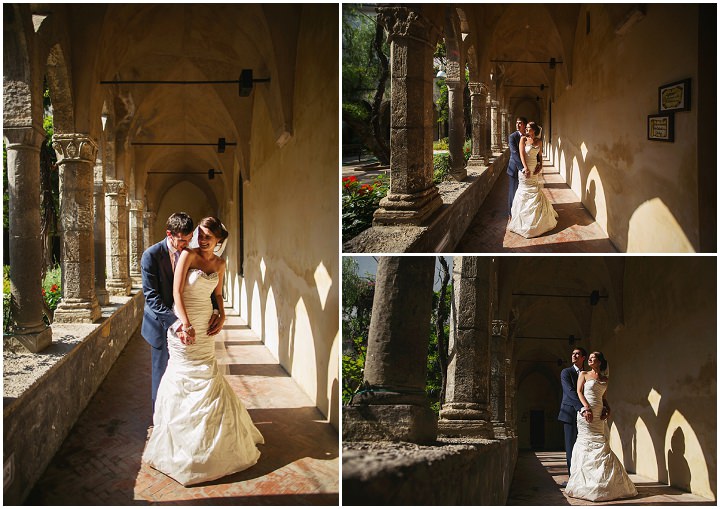 Buy or DIY your stationery?
We bought the place cards and our friend wrote the names on them (in better hand writing than ours!)
Personal or handmade touches.
As a gift for our guests we had tiny Russian dolls and small bottles with Lemoncello with our names and the date of the wedding on it. We also asked our wedding planner to put halves of lemons in the vases with roses as Sorrento is famous for its lemon gardens.
When Dan and I were coming back to the venue from out photo-shoot in town our mums greeted us with freshly baked bread and some salt – it's a Russian tradition. We had to feed each other with the bread with salt and whoever fed the biggest piece is the boss for the marriage (I think Dan nearly choked me with the piece he pulled off!)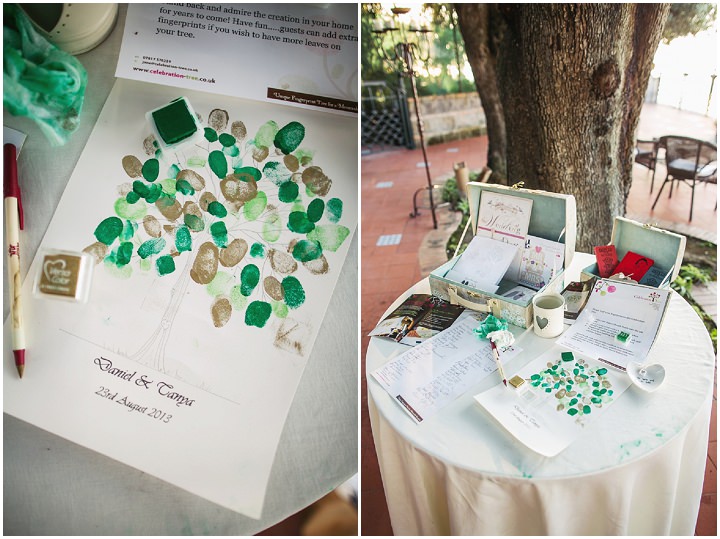 Special moments.
The whole wedding day was special to us. One of my most favourite moments was when my dad was walking me down the aisle to the Italian song I always loved – 'Caruso'. The view from the villa was breath-taking, the sun was shining and my groom was there waiting for me to become his wife.
Advice to other couples.
– First of all I would recommend to make sure the bride is getting ready in a large room where there is plenty of room for the photographer and videographer.
– The second very important thing which you should not forget to do – is be present in the moment of your own wedding. The wedding day does fly past very quickly. Just don't forget to enjoy every moment of your wedding day – don't worry about anything just chill out and enjoy!
– For the bride – buy a new perfume. This smell will always bring you both back to that special day and happy memories.
Biggest surprise
That the groom turned up on time and appropriately dressed!
Tanya + Daniel // Amalfi Coast, Italy from Happy Wedding Films on Vimeo.
Supplier Shout Outs:
For more information on Jon's and Dragan's work, please go to:
Happy Wedding Films by Jon Aleksander
happyweddingfilms.com
happyweddingfilms.com/journal
FACEBOOK
vimeo.com/happyweddingfilms
instagram.com/jonaleksander
[email protected]
We are destination wedding videographers based in Slovenia. We love filming and crafting unique, creative, fine art wedding films for  those getting hitched and those who value a highly visual and emotional motion and image products. Emotions, music, moments, him and her, as true as possible – this is what we love to capture and what we in the long run, edit and blend together into a beautiful, organic wedding film, a motion piece that tells the spontaneous story of your day, coupled by stunning shots and visuals that will be there years to come, not just for you, but also your children and your grandchildren, so you can show them how your big day happened. What makes our task really special is that we get to work closely with you, we get to know you and get a glimpse of your life and personalities and use this when editing your film, which makes each of our films unique and tailored to the couple and the mood of the wedding we film.
Photography by Dragan Zlatanovic
draganzlatanovic.com
draganzlatanovic.com/journal