Today we are taking you to my home town of Sheffield for this lovely intimate wedding. Philly and Jonathan decided to hold a fuss free wedding that concentrated on their love instead of the details and decorations and the result is this beautiful, warm and loving wedding with lots of smiles and so much love. Philly and Jonathan held their wedding ceremony at Sheffield town hall, in the same room we held Dexter's naming ceremony, so it brings back lovely memories for me. They then had drinks at a local hotel, followed by an evening reception at Tamper Coffee shop. Big thanks to Maytree Photography for the lovely images.
Our wedding was this beautiful blue October day celebrating love in the heart of Sheffield with our dear friends and family, a face achingly happy day!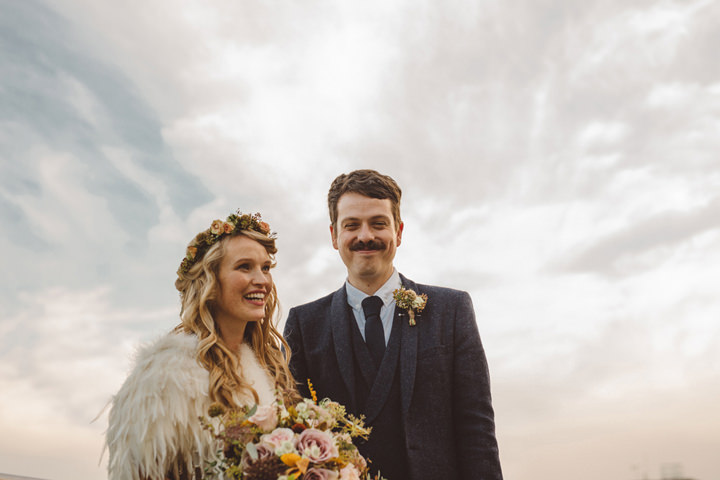 Philly and Jonathan were married on the 15th October 2016 in a ceremony in The Hallam Room inside Sheffield Town Hall. They had post-ceremony drinks at St Paul's Mercure Hotel Yard lounge and a reception at Tamper, Sellers Wheel, Sheffield. 'We both totally love Sheffield, it is where we fell in love and set up our home together. Sheffield city has the best vibes and such lovely places hidden all over. We loved the simplicity of the town hall which is a rather handsome building and we loved how we could easily personalise the ceremony there. It was also really close by to our other chosen venues. Tamper is basically what we want our home to look like and does the loveliest food in Sheffield. The two combined could only be described as an instagrammers dream. The space is aesthetically pleasing and interesting with gorgeous curves in the red bricked ceiling. The atmosphere is so warm and relaxed,  dimmed lights, candles, quite raw industrialish feels with hanging plants and succulents dotted around. There is a private courtyard laced with soft twinkling festoons. Total perfection in our eyes! We had 40 adults and 8 kids  – our closest family and friends, and the wedding took 7 months to plan'. 
How they met
We both swiped right on Tinder, two and a half years ago and here we are! Who knew!
The Proposal
Jonathan arranged a weekend away in a cute little cottage in the middle of nowhere in wild and beautiful Scotland. On our journey up he had planned a picnic on Bamburgh beach in Northumberland which is a favourite of ours that we had discovered together the year before. The beach goes on for miles with sand dunes long grass and a castle in the distance. We packed a hamper and got wrapped up and as we walked down to the beach I thought nothing of it as he did a good job of just acting normal! Then he got down on one knee and totally asked me to marry him! Not to give the game away he had opted to bring a flask of Yorkshire tea and an egg custard for us to celebrate rather than a tell tale bottle of fizz! We spent the rest of the weekend smiling our faces off!
How did you allocate your budget?
We didn't want our wedding to break the bank as such so tried to keep it as focused on our love as possible! Luckily we both preferred the idea of having a small intimate wedding and not having to conform to traditional expectations of a big lavish day so we just tailored it to be exactly what we wanted-a cosy meaningful ceremony followed by drinks merriment and a tasty meal with our loved ones in a magical place!
Where did you splurge and where did you save?
I suppose the biggest splurge was the post ceremony drinks reception which our parents so generously came to our rescue with. Our ceremony was at 16:00 and we couldnt get into Tamper until 7pm due to their daytime opening so we needed an in-between place not too far away from the town hall. St Paul's is right behind the town hall and the Yard lounge there overlooks the stunning winter gardens so it turned out to be the perfect solution!
I think we saved the most on music. My brother kindly played his guitar and sang during the ceremony which was such a personal and touching gift to us both. Jonathan and I created two playlists for the reception-One for dinner and the other for dancing which for the size of the venue worked really well. It was lovely to hear our song choices throughout the night.
How did you choose your photographer?
I've known Danni for years and think she is such an awesome lady! I knew of her photography as I have followed and admired her work on social media over the years and always thought what an amazing style and creative eye she had. Me and Jonathan thought she would capture our day perfectly and we couldn't have been happier with what she did. Just amazing. We were thrilled! (And still are!)
The Dress
I spent a good few hours in bridal shops trying on loads of different dresses but nothing felt like me. I ended up in House of Fraser with my mum looking for her Mother Of Bride outfit and stumbled across this quite plain champagne coloured dress by Biba. I tried it on and knew it had to be the one! It was the only one I had felt comfortable in and I loved how it hung. I was a bit worried it was too plain so bought a feathery shrug by Biba and a beaded one by Jenny Packham. About 3 days before the big day I ordered an extra beaded bit from Crystal and Pearl online which Jonathan's mum expertly sewed on for me. Billie-Mo at Laundry salon in Sheffield did my hair and Victoria Russell did my make up.
The Suit and Bridesmaids
Jonathan got his Suit from Hart Hollywood- a navy three piece wool fleck beauty of a suit which he teamed with his tan brogues.
My three bridesmaids are all stunningly beautiful so they could have worn bin bags and looked good-but to match the navy of Jonathan's suit that's what we looked for. We came across these sequinned navy glitzy dresses which I thought would look awesome on them and thankfully they agreed!  They were also from House of Fraser, a brand called lace and bead.

Theme or Colour Scheme
We just wanted a beautiful natural feel that would enhance the October feels!
Flowers
The most beautiful flowers I have ever seen by the incredible 'Swallows and Damsons' a gorgeous little flower shop on Abbeydale road in Sheffield. Made even more special as I used to go to ballet with the lovely girl who did my flowers! They made me a special flower garland to wear in my hair which wowed the socks of everyone!
Decoration
Tamper is so gorgeous as it is that it didn't really need any decoration at all so I just made table decorations by putting single ivory roses and white chrysanthemums in little glass milk bottles dotted along the tables. We made place names with polaroids of each guest and their name. For favours we gave all the girls a little copper bucket with a succulent plant in it and all the guys got a bottle of Hendersons relish- a local delight made in Sheffield. We made goody bags for all the kids with sweets, chalk boards to doodle and hand puppets to play with which kept them busy!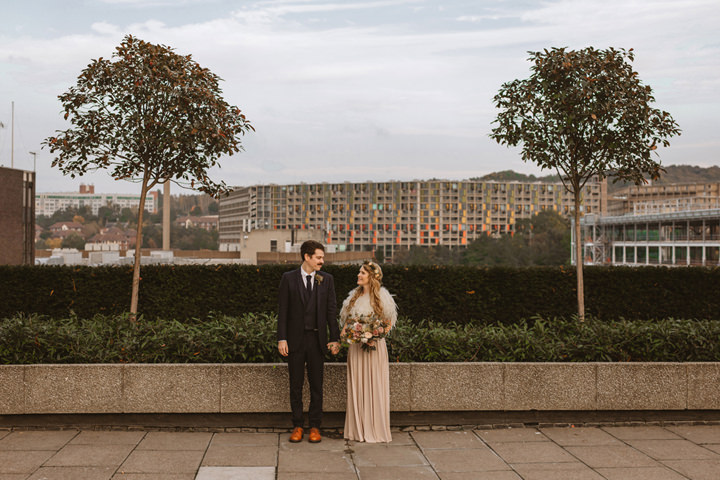 Food
Goats cheese and caramelised red onion tarts, chicken with seasonal root veg and loads of hunks of good bread from the local bakery Depot who are based in Kelham Island. We had a selection of tray bake style puds also made by Depot.
Wedding Cake
'Twas a donut cake- donuts stacked up in the shape of a cake. 3 different fillings. Decorated with pretty flowers.
Entertainment
The 8 kids running around like lunatics were pretty entertaining!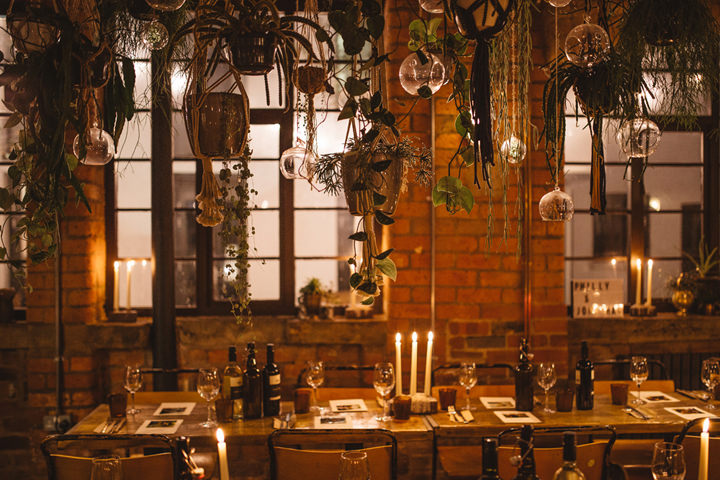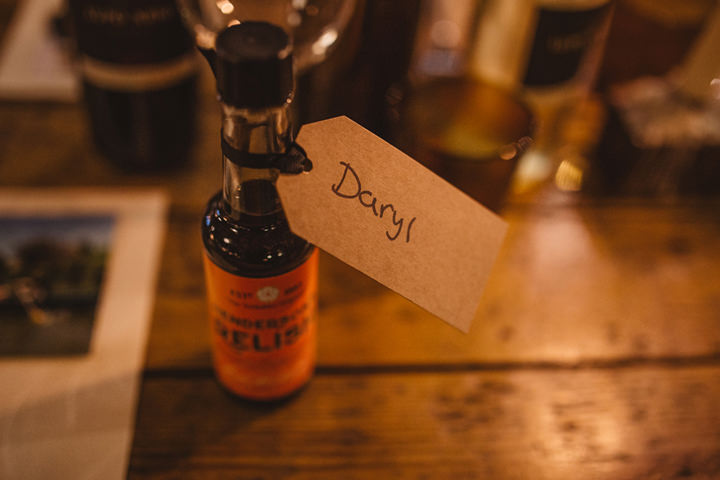 Stationery
We made our own place names, labels etc.
Personal Touches
My three dear friends who I've known since school did a reading during the ceremony which had me welling up! It meant the world to both of us especially as one of them had given birth to her baby literally 2 days before the wedding. We didnt know what The reading would be as they had prepared it in secret and It felt so special. We broke the traditional speech format so just the bride and Father of Bride did a speech.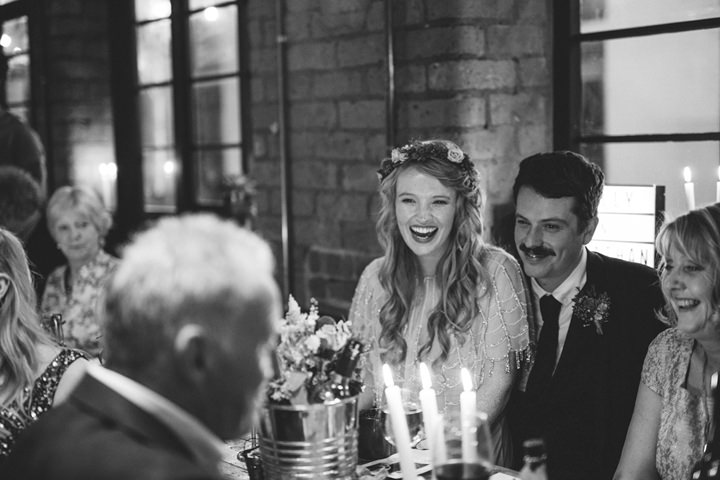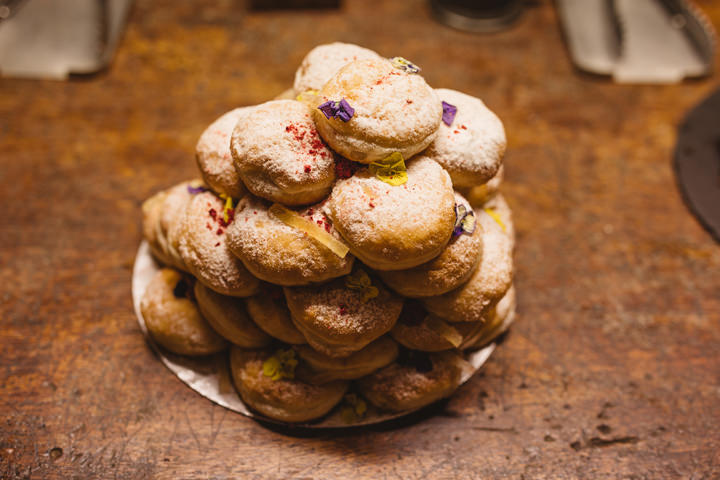 Special Moments or Highlights
It was actually my birthday on our wedding day which made it extra special! Jonathan had organised a cake with candles and everyone sang happy birthday which was so sweet! Just being in the presence of all our family and friends felt so precious and marrying each other was beautiful we both really loved the ceremony. The whole day was dreamy and we can treasure that feeling and those memories forever.
Advice for Other Couples
Make it your day and think about what is important to you both! Be as open minded as you can and don't try to do it all at once!
Biggest Surprise
The whole day was full of little surprises everywhere! We loved when Danni whisked us away after the ceremony for some special photos and she took us to an amazing secret garden complete with fig tree right in the middle of Sheffield city centre that we had no idea existed! Amazing!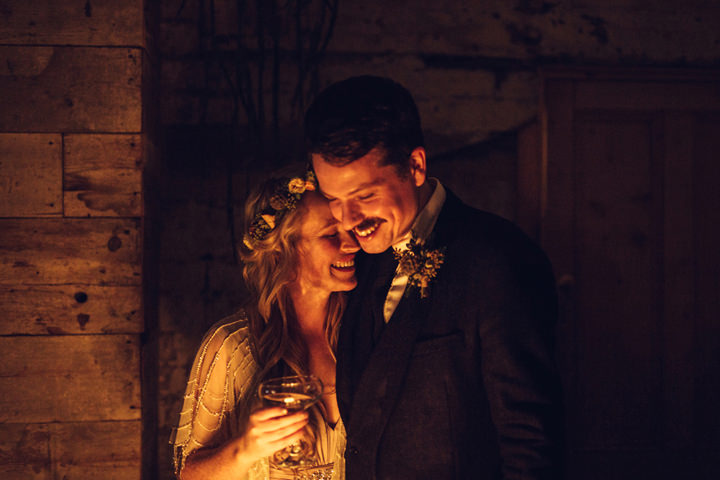 Supplier Shout Outs
For more information on Danni's work go to:
www.maytreephotography.co.uk / [email protected] / 07730604236 / FACEBOOK / I: @Danni_maytree_photography /