Todays wedding has a special place in my heart, not only because it is set in the heart of Sheffield but because the ceremony room is the very same room we used for Dexter's naming ceremony back in June of this year! Corinne and Neil chose an intimate pub venue for the reception, not ony did they visit this pub frequently but this is where Corinne's parent met! (how sweet!) They also enlisted the help of many friends and family to help supply many of the wedding elements from the flowers to the cake, the decorations to the stationery. It really was all hands on deck for this wedding and the results are fantastic. Big thanks to Ellie Grace Photography for the images.
'Relaxed DIY wedding, with great food, friends and family. Our happiest day'
Corinne and Neil were married on 7th August 2015 at Sheffield Town Hall and the reception was held at The Broadfield Pub. 'We knew we wanted a small, Sheffield-based wedding and were finding it difficult to find the right place for us. We were having tea at the Broadfield pub, which we do quite often, and thought we'd have a look at the function room upstairs even though we'd previously discounted it for being too small. However, when we actually saw it we loved it. The room, along with the fact that the food is amazing, made us choose that venue. The fact that my parents met there was a nice little coincidence too! There were 26 guests in the day. Around another 20 or 25 people joined us in the evening and it took 6 months to plan.
How they met
We met on a night out at Christmas-time in Sheffield three and a half years ago
The Proposal
Before we met, I used to live in Austria. One of my favourite places was the Christmas market in front of the town hall in Vienna. We'd wanted to go for a few years but last year was the first year we were able to get time off work on the right dates. Around the Christmas market are some trees that have lights strung through them. Neil proposed under one of the trees and it was a complete surprise for me! We celebrated by eating Kaiserschmarrn (a kind of shredded pancake and my absolute favourite Austrian food!) at the Christmas market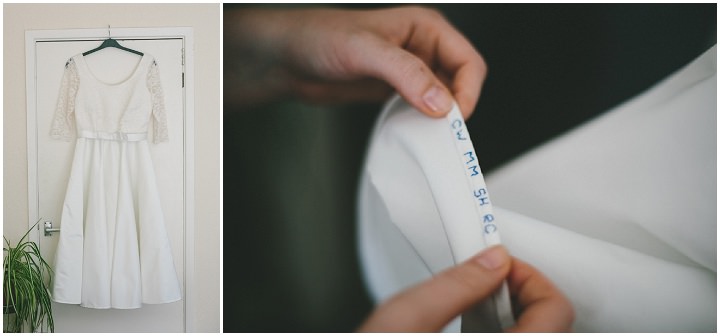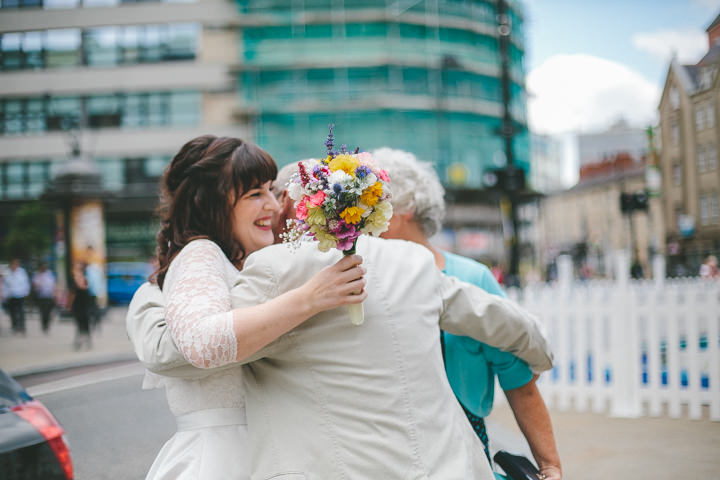 How did you allocate your budget
Our biggest spends were food, drink and photography. We saved money by making as much as we could ourselves.
Where did you splurge and where did you save
The photography, food and drink were the things we didn't try and save money on particularly. I really wanted good photos and we are so happy that we didn't try and save on that because I really think we would have missed out. Probably the biggest saving was by doing so much of it ourselves.
How did you choose your photographer
Ellie is a member of the same W.I as me in Sheffield, and happened to be sitting next to a friend when I was telling her about the proposal! I took a business card, had a nosey around her website and booked her at the next Seven Hills W.I meeting! We couldn't be happier with the photos and so many guests commented on how well she fit in and how friendly she was.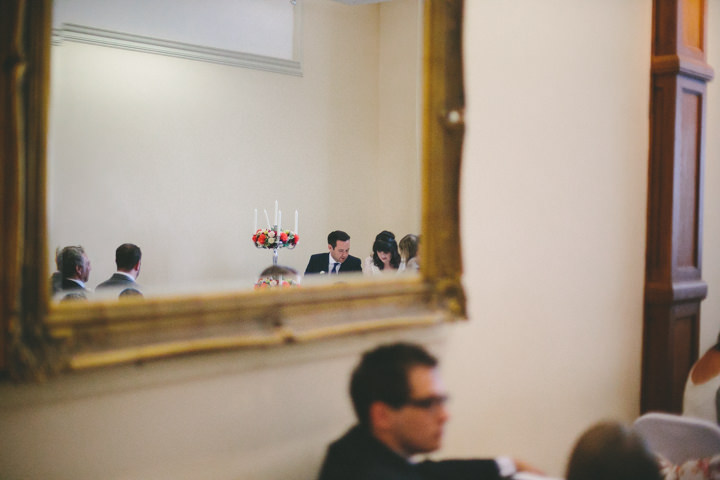 The Dress
I made my own dress. I enjoy sewing my own dresses anyway and knew that by making it myself I could get it just how I wanted it. Plus it was significantly cheaper to make my own! I actually bought most of the fabric on holiday in New York so it already had some lovely memories attached to it.
I had some help from my mum, my aunty and my friend Ruth who very patiently helped me pin a huge length of hem ready to be hand-stitched! One of my "something blue" things was the initials of the people who helped make the dress embroidered into my hem.
I made my veil by hand-sewing the scallop of the lace around the edge of the tulle and then re-creating a much smaller bow from the front of the dress to put over the clip of the veil. My Dad had given me a silver sixpence and explained that the "something old, something new" rhyme finished with "a silver sixpence in her shoe." I couldn't quite figure out how to attach it to my shoe and I wanted it to be visible so I put it on my veil.
I had bought my bag years ago from a vintage shop near where we live. The blue shoes were from Clarks.
The Suit and Bridesmaids
The suit was from Marks & Spencers. Neil joked about getting me to make the suit but that was never going to happen!
Our bridesmaid/flower girl was Neil's niece. His mum made her dress and hat and she looked lovely!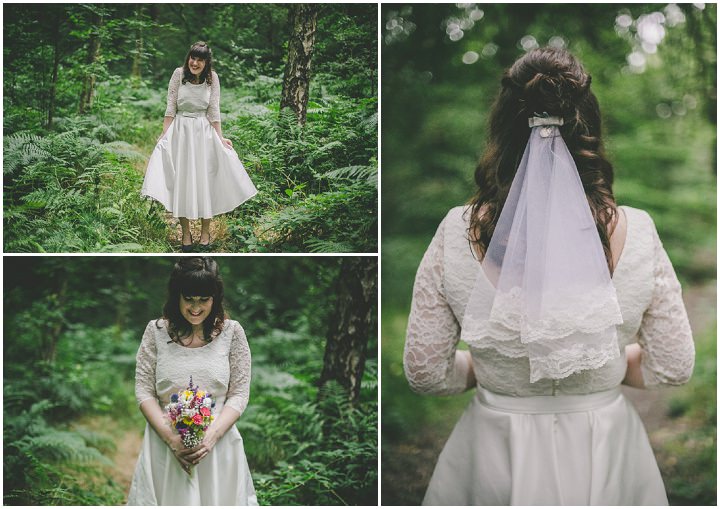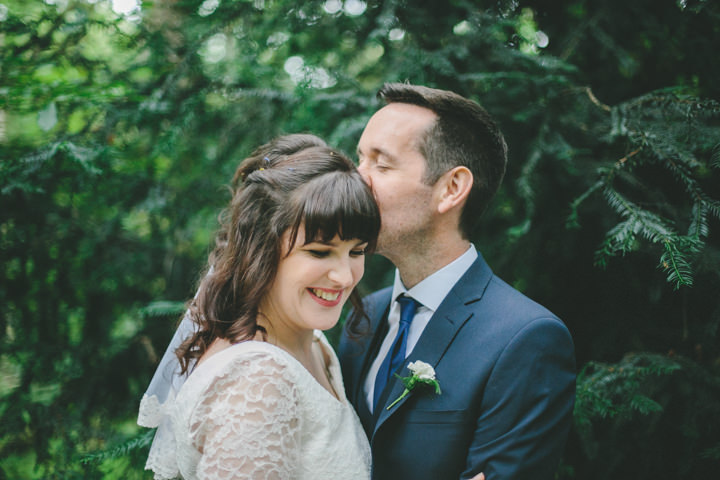 Theme or Colour Scheme
Neil's suit was navy blue so I chose my shoes and the sash on our bridesmaid's dress to match that. Other than that we just chose things we liked or that we thought would go well in a pub room, like the pub quiz and 'fondest memory' beer mats.
Flowers
My parents grew all of the flowers, including the ones in my bouquet, the button-holes, all the flowers to decorate the room and even the dried petal confetti. The day before the wedding my Dad cut all the flowers and we all spent a long time arranging them. I'm so glad we did as it was a really lovely morning and my bouquet was perfect to me.
Decoration
We had made a big canvas with photographs of us and our friends and family on. My mum made our "Mr & Mrs" bunting which hung over it. The flowers were in jars that we had tied lace and ribbon around and they looked and smelled lovely. My Dad had made a frame with lots of wooden hearts that people could write messages on and post in to the frame. I'm a primary teacher and the card made by my class was also up on display!
Food
We ate pie, of course! The Broadfield pub is very well-known for their amazing pies and most of the guests chose that for their main course! We had either white chocolate cheesecake, honey cake with Bradwell's ice-cream, or cookies with strawberries & cream for dessert. After all that, feeling very full, we went downstairs to relax and chat in the beer garden while the fantastic staff re-arranged the room for us and put out a buffet for the evening.
Wedding Cake
Our wedding cake was made by Neil's mum! There was a layer of lemon, a layer of madeira and a huge layer of chocolate cake at the bottom. It was absolutely delicious and we loved all of the colour on it.
Entertainment
We had made some little pub quizzes about us for people to answer while we were waiting for food. We had beer mats with 'fondest memories' for the bride & groom on the tables. In the evening we had just made a huge Spotify playlist.
The Stationery
Neil's mum made the invitations. For the place setting for each guest we chose a photo of them with one or both of us and made it in to a Polaroid style picture using a template I found online. We wrote their name or nick-name underneath.
Personal or Handmade Touches
It felt like a lot of it was done ourselves but for us that added to our day and made it more personal. Our ring-holders were made by my aunty with some fabric that was very sentimental to our family and I plagiarised a poem found online to personalise the reading that my brother did for us in our ceremony! And then there was the dress, veil, bridesmaid dress, confetti, wedding cake, bunting, photo canvas, place settings, wooden heart frame, invitations, pub quizzes, button-holes, flowers and bouquet! Looking back on it, I'm not sure how we fit it all in but I loved being creative or knowing that a family member was making something for us.
Special Moments
We both actually really enjoyed the little trip to the woods we took with Ellie, our photographer! It was nice to have a little bit of time together. I also liked the fact that I had chance to sit for a few minutes in a quiet room with my Dad before the registrar arrived and the ceremony began. Neil's special moments included seeing my dress for the first time when I came into the room, which he says was quite emotional. He also enjoyed the evening when he felt like he could relax with our friends and family.
Advice to other couples
The only thing we would change would have been to try and worry a bit less so I suppose that would be the advice we would pass on.
Biggest surprise
For Neil it was seeing my dress. I don't feel like there were too many surprises, which I was quite happy about!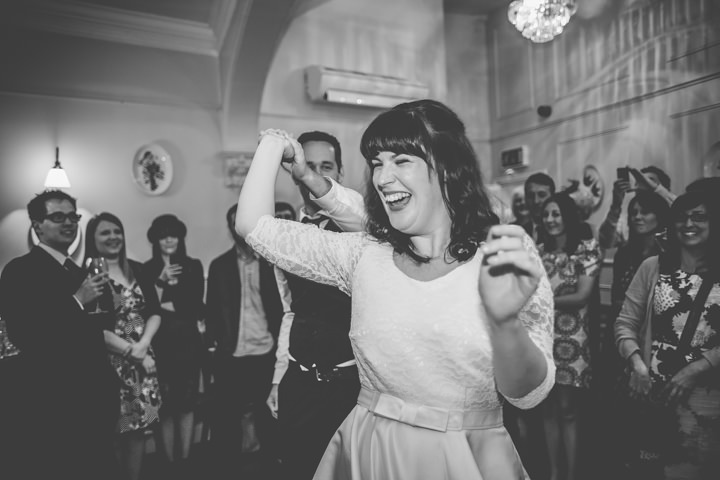 Supplier Shout Outs
For more information on Ellie Grace's work please go to:
www.elliegracephotography.co.uk /  [email protected] 07969 762 939 FACEBOOK T: EG_Photographer