Today I am delighted to feature my good friend Shelly from Toast of Leeds as the first Real Wedding on the Blog for 2013, and what a wedding it is! A Same Sex wedding which takes place in my home town of Sheffield, and with a Robot theme!
'We came together on a crisp late October day with our closest friends and family, and made a commitment of love to one another in a beautiful ceremony. This was followed by lovely food, fun, singing and dancing. Bliss!'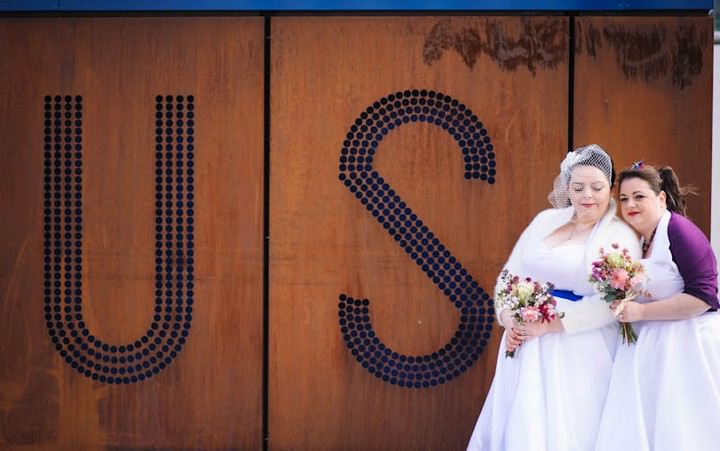 The lovely couple are Sandra and Claire who were married on 27th October. The ceremony was held at Sheffield Register Office with the reception at the Workstation, Paternoster Row. 'We liked the room at The Workstation. When we spoke to the event manager Mark he completely got what we wanted and allowed to customise the day to our needs. The chef there is great and came up with a delicious menu for us with lots of ideas for veggie food which was important to us. We had 60 guests in the day and 100 at night. It took 6 months to plan.'
How they met
At our LGBT choir, Out Aloud in the soprano section! We have been together for 3 years.
The proposal
There wasn't one! We just decided to get married organically as it were.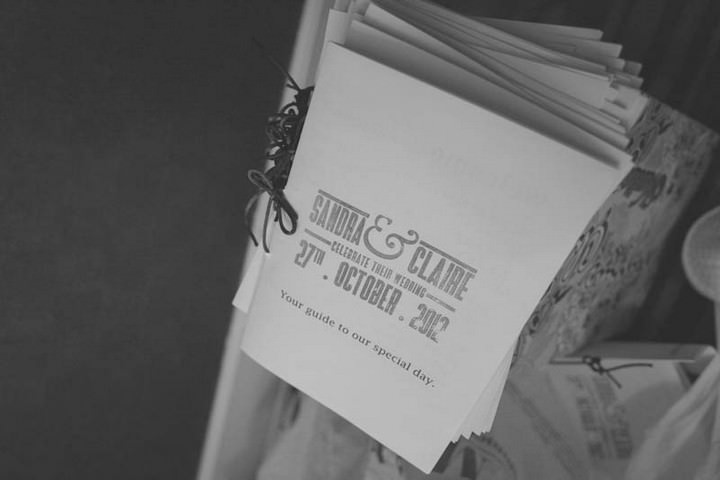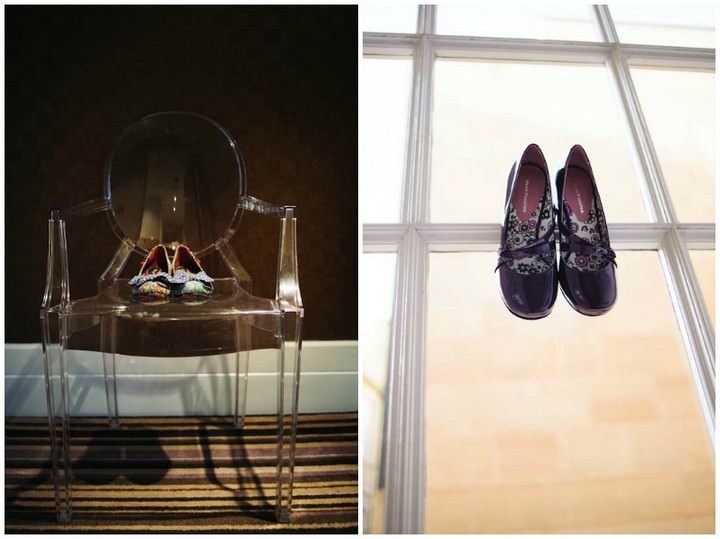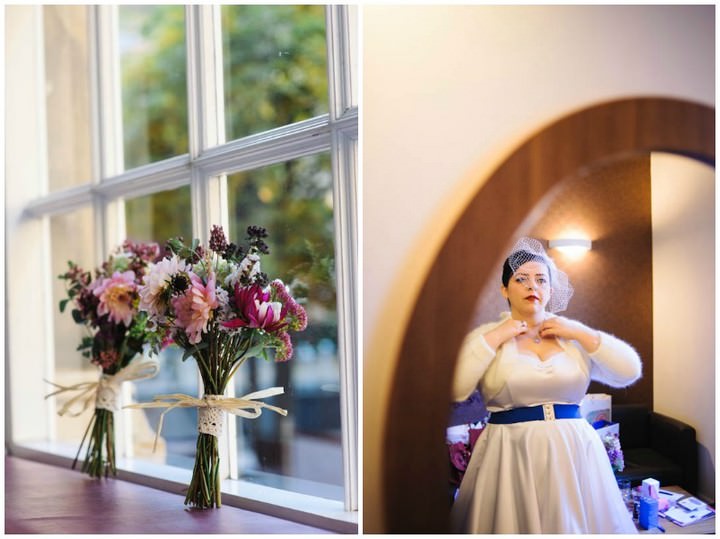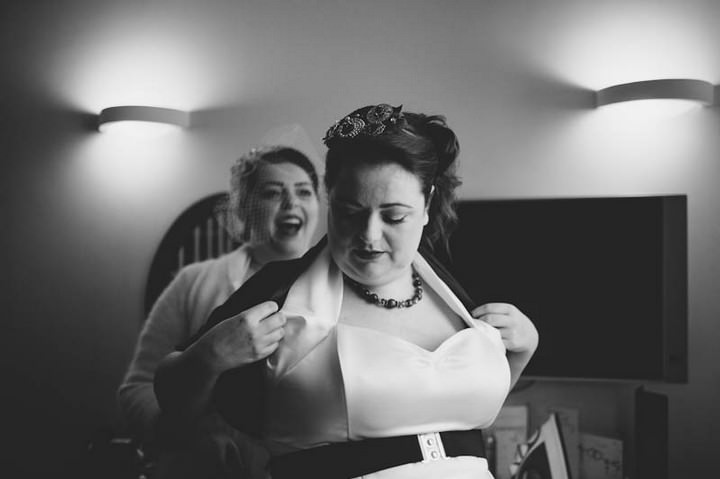 How did you choose your photographer?
We first saw Shelly at a wedding fair in Leeds that we hadn't planned to go to. Then many months later when we were looking for a photographer, we remembered Shelly's flyer and looked her up again. We're so glad we did as we clicked with her straight away, and her photos are amazing so we knew we were in safe hands.
The dresses
Vivien of Holloway. Once we tried the dresses on we knew straight away they were perfect! And your accessories and shoes? I made my head accessory with vintage brooches, and Claire bought hers from Pronuptia. Claire's shoes were Irregular Choice and mine are Hush Puppies.
The Wedding Party
We didn't prescribe any particular dress to the wedding party, only a colour scheme. The girls bought dresses based on the colours of blue, purple or pink. With the boys we just told them to wear a grey suit and bought a combination of ties in these colours. I won't deny I lost sleep about whether it would work but on the day it all came together and everyone looked fantastic!
Theme
We had a theme and a colour scheme! The colours as previously mentioned were Plum purple, royal blue and hot pink. We spent waaaay too long on Pinterest putting mood boards together to get the colours right. In the end we relaxed about it all and it came together really well. The overall theme was ROBOTS!!! We are both a sucker for a cute robot, and we had several around the house already. There were so many robots to choose from, but we decided to have one robot for each table. We tried to have a model for each robot but for some this wasn't possible so we made an info sheet about the robot for each table. Etsy was great for finding cute robot stuff; we found some robot stamps which we had made with an 'S' and 'C' and this is where we found our lovely robot cake toppers too, which again we had personalised to the colours we were wearing.
Food
Starters: Butternut squash and honey soup / Confit of Belly Pork, Black Pudding Lollipop, Apple Puree and Crisp
Mains: Lentil and Quinoa Wellington / Confit of Chicken Leg, Chicken Breast Ballotine and potato puree
Desserts: Creme Cotta in puff pastry with french black cherries and rum / Local Cheeseboard, breads, butter, chutney, grapes and celery … I'm getting hungry just thinking about it. The food was AMAZING and our guests have talked of little else since.
Entertainment
We made a conscious effort to use a venue that would allow us to play our own music (a harder task than it sounds as many hotels and venues force an 'in house' DJ on you). Odd though it sounds we used Spotify as our DJ, with a pre chosen playlist. We projected the playlist onto the wall where everyone could see it and make a request or two.
As Claire and I sing and met in Sheffield's LGBT choir Out Aloud, we invited all our fellow choir members for the evening party and sang a few numbers for everyone which was really special. We sang Feeling Good (made famous by Nina Simone), I Stand Tall by Gitika Partington and Can't Get you Out of My Head by Kylie.
Flowers
We wanted ethically sourced flowers. We considered using a local flower farm, and found one here in Sheffield called Hollow Meadow Farm. We contacted the owner Rachel and she offered to arrange the bouquets, buttonholes and corsages for us. The flowers were beautiful and combined some dried flowers with fresh. We were so impressed and I couldn't believe they had come from just down the road! Everything was kept within the colour scheme which is impressive given the flowers available at that time of year.
Decoration
We kept it pretty simple with the décor. The room we had the reception in was fairly plain, so we added colour to the ceiling with some paper lanterns and bunting that my sister made for us. We also got some LED lanterns which we turned on for the evening do. On the tables we had robots aplenty! I made some DIY cardboard ones from a set and we had some from around the house and extra ones we had bought such as the Russian doll robots. The flowers from Hollow Meadow Farm were displayed in some jam jars I had been collecting and had decorated with ribbon and buttons.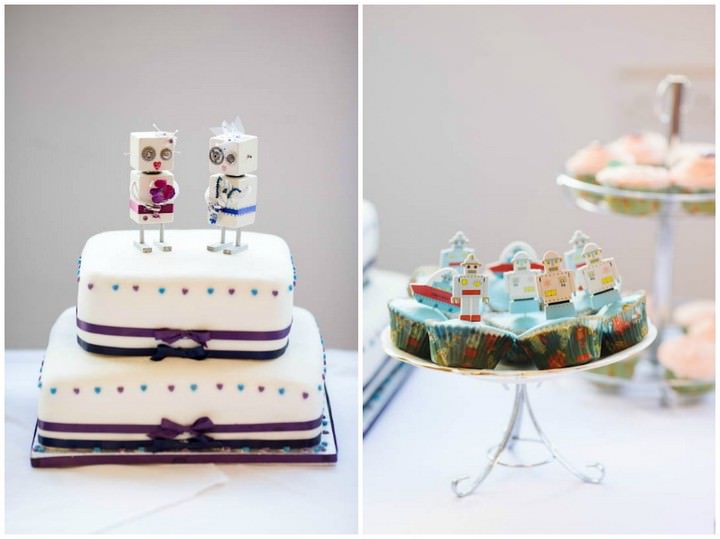 Personal touches
Yes, lots!
• We had a stamp made that said 'Sandra &Claire celebrate their wedding 27th October 2012' and we used this wherever we could, but especially on the evening invites which we made by hand with paper bunting.
• We put a quiz about us on the tables which we made quite tough and made some of our more competitive guests very happy.
• For wedding favours we put together a CD of some of our favourite love songs, including the songs we had during the ceremony.
• Once again we used the conferencing facilities to good effect by having a slideshow of pictures of us both on a loop during the day.
• As an activity for the guests we provided a craft table with a typewriter, card, pens, glitter and pretty much any other crafting bits and bobs we could find. We asked them to create us a message card instead of having a guest book, and peg them to a washing line. We were very impressed with the results, people really enjoyed making them and we have some lovely cards to keep forever.
• We did quite a few things ourselves which I have mentioned above; making evening invites,
• my sister made the bunting,
• we made some little gifts for the wedding party as a formal invite using some upcycled Graze boxes. We included chocolate buttons from Cocoa Wonderland, tea bags, colour swatches and pictures of the type of outfits we wanted them to wear.
• As mentioned above I decorated the jars for the flowers.
• We also created a sweetie buffet with various jars and cake stands and filled them with lots of sweets; blue bon bons and millions, purple blue and pink Jolly Ranchers, buns, grapevines and jelly beans.
• We designed and printed our own wedding programs,
• and finally my amazing Mum made our cake for us. It was the first time she'd done a full wedding cake, and she made the sponge cake in marbled pink, purple and blue which made for an exciting cake cutting!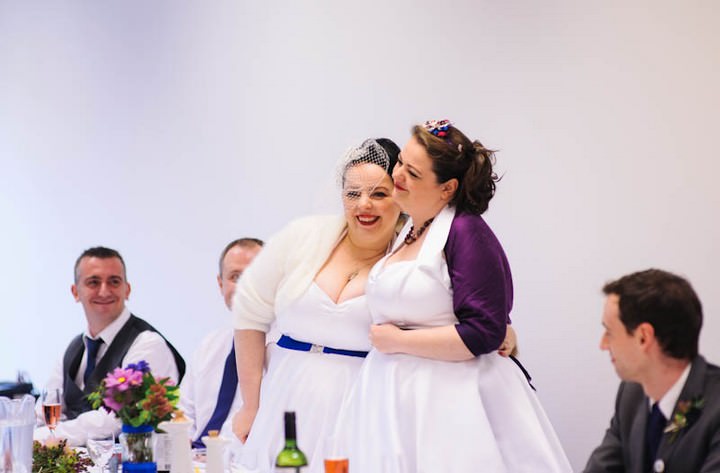 Advice
It's much easier said than done, but try to remain calm and in control and remember it's just one day! So many wedding mags put pressure on women about the wedding day and I know a lot of people can get completely wound up over small things. Not that we didn't stress out, we very much did but it helps to have ways of consciously keeping things in check and making sure you don't lose it in the month before.
Biggest surprise
Our friend Mark Barton had painted us a beautiful picture which we weren't expecting. It was inspired by our pre wedding shoot with Shelly in which we wore our 50s style dresses. He put us in an image from the last scene of the Japanese animated film Ponyo. We were blown away!
Supplier Shout Outs
For more info on Shelly's work go to:
www.toastofleeds.co.uk
http://toastofleeds.com
TWITTER
FACEBOOK
[email protected]
0113 3560157