Happy Monday everyone, I hope you all had a wonderful weekend and are now rested and ready for the week ahead of us. We have some cracking weddings for you this week, starting off with this beautiful barn wedding, courtesy of Maytree Photography. I absolutely love this photography, crisp clear and Danni really gets the feel for the day and the stunning barn perfectly. Sarah and Lee wanted an informal relaxed day and this they created with lots of homemade elements and an abundance of beautiful flowers and amazing decoration ideas. I just adore the look of the barn, they really have done an amazing job making it their own and creating a totally gorgeous soft and colourful look. They topped off the celebrations by surprising their guests with the amazing New York Brass Band, who kept the dance floor filled all night.
Our wedding reflected our personality and relationship perfectly: relaxed, fun and colourful. It was such a happy day and the perfect way to start married life.
Sarah and Lee were married on the 17th April 2017 at Stepney Hill Farm in Scarborough. 'We chose to get married at Stepney Hill because it was informal, rustic and relaxed and it reflected our personalities perfectly. The barn allowed us to be creative and make every element of the wedding exactly what we wanted – it was perfect! We had 58 guests for the full day with no extra people joining us at night. We decided quite early on that we didn't want a huge wedding and that people would be invited for the full day, especially because the venue is 2 hours away from where most of our friends and family live. This number of guests was perfect for us as everyone was able to spend time with each other. We were also very lucky that all 58 people were on the dance floor and wanted to join us in having the most fun day. It took us 7 months to plan the wedding and we really enjoyed all the elements of wedding planning!'
How they met
Quite unromantically we met on a drunken night out when we were both studying our degrees in Leeds. We have been together for 10 years and so it was about time we tied the knot.
The Proposal
Lee proposed whilst we were on holiday in Italy. I asked Lee to sort out the accommodation for the Florence leg of the trip and he booked an amazing cottage in the grounds of an old private house. He proposed on the balcony overlooking the gardens on my Birthday… then we enjoyed the rest of the holiday being engaged before we told everyone when we got back. The general feeling from people was "about time".
How did you allocate your budget?
We allocated our budget to the things that mattered to us most and didn't bother at all with some things. Once we had chosen Stepney Hill Farm we knew that we could make most of the decorations ourselves and so could afford get the food and entertainment that we wanted, things that we really valued.
Where did you splurge and where did you save?
The one main splurge was the band but ohhhh boy are we glad that we splurged. They are one of the most memorable aspects of the wedding for so many reasons. Our main savings came from the decorations and our flowers, which cost 50% less as we used blooms that were grown in someone's garden 1 mile from the venue.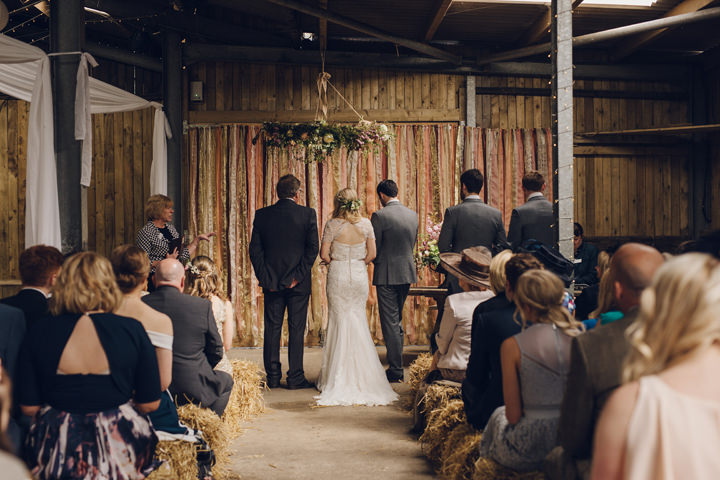 How did you choose your photographer?
Danni was fantastic and all our guests commented on how lovely she was. She made our guests feel comfortable and blended in the whole day. We wanted relaxed and documentary photos and Danni's style fitted in perfectly with the feel of the day. She also uses light wonderfully and in a barn we felt that was really important. We love our photos and the few little extras she delivered after the wedding!
The Dress
My dress was a pain to find as I had no idea what I wanted. I loved the dress I finally chose which was by True Bride and was a subtle light blush colour with ivory lace. The train picked up half of the barn floor by the end of the day but I felt amazing.  I wore Jenny Packham shoes and earrings that I already had owned. My dress was really detailed and so I didn't want too much extra fuss.
The Suit and Bridesmaids
The suits were all from French Connection and the bridesmaids wore gold dresses by Frock and Frill at ASOS. Lee added a waistcoat from Reiss and a handmade tie. Unfortunately Lee's trousers didn't make it to the end of the night in one piece… slight malfunction on the seams due to some serious high kicks.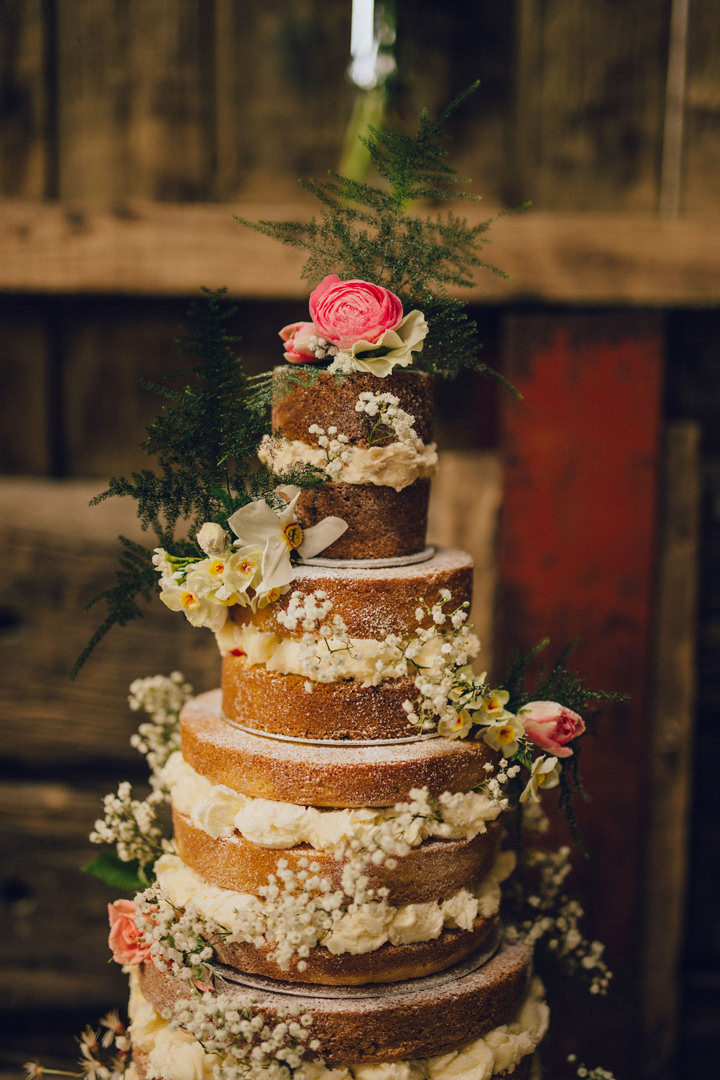 Theme or Colour Scheme
We didn't really have a colour scheme as we didn't know what flowers we would be receiving until the day before the wedding. Our ribbon wall was made up of pinks and gold and the bridesmaids dresses unintentionally matched really well. We wanted a colourful wedding but for all the colours to be muted and not too bright.
Decoration
Our barn was a blank canvas which was perfect for us as we love getting creative. The only decorations we outsourced were the drapes, lanterns and fairy lights as the ceiling was so high. We did everything else ourselves. The things that took the most time were the hanging roses and sourcing the ribbon wall. We displayed a collection of mirrors behind the top table as we liked the idea of light bouncing around the barn, we collected these from charity shops a few months leading up to the wedding.  We tried to keep our decorations personal, for example, we cut the place names from conifers in our back garden and burnt the names by hand. We got our family involved in drying roses and that resulted in the hanging roses and lots of natural confetti. We also tried to zone the barn by having a hay sofa – there was hay everywhere!
Flowers
We absolutely love flowers and wanted to have a bit of fun with how we used them. We watched a documentary on how in Britain we import most of our cut flowers and although they are lovely in appearance, they have no scent. Flowers without scent… no thanks! After lots of research we found Jill at Binnington Blooms and it was one of the best decisions of the wedding. Jill lives in Scarborough and grows lovely flowers in her garden; we loved the idea of having seasonal local flowers. She works with Jo Purdy at Hearts and Flowers and together they do 'buckets and bouquets'. We ordered 4 buckets of flowers from Jill's garden and arranged these ourselves in milk bottles the day before the wedding, which was so easy to do when the flowers are so beautiful and fresh. However, there was no way that we wanted to attempt to do bouquets and button holes, that's where Jo came in… she took Jill's flowers and made the more formal pieces, including an incredible flower hoop, flower crown and display for the ceremony table. The flowers made the venue look so colorful and it was so lovely to work with two women that have a passion for local flowers.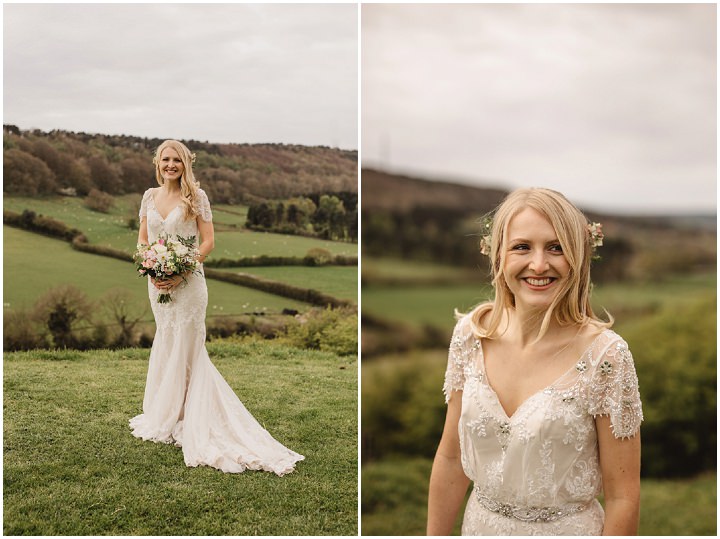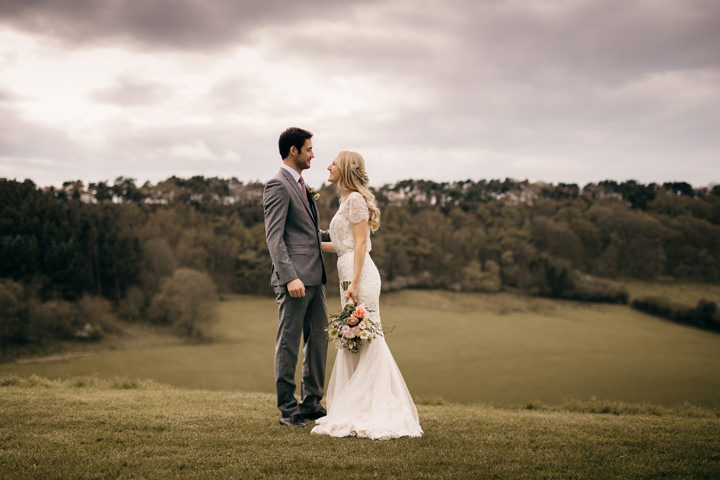 Food
We wanted our food to be interactive so that it created a nice atmosphere in the room. To start we had sharing boards of meats and cheeses, something we eat a lot when we holiday with friends. For our main course we had a joint of sirloin beef for each table, with vegetables and Yorkshire puddings. We asked a guest from each table to carve the beef and it was great fun. For dessert guests could have brownie and apple Tarte Tatin. The food was delicious and all the beef was cooked in the barn on the hog roaster… the venue did so well and most of the food was directly from the farm.
Wedding Cake
We have my Aunty Susan to thank for our amazing wedding cake. We originally decided not to have a cake but Aunty Susan offered to make one and we quickly accepted. She did such a good job and not only did it fit in with the venue perfectly and looked stunning. We had no idea what it would look like but we were so pleased that we trusted her as we couldn't have asked for better.
Entertainment
We tried to integrate an element of entertainment into each section of the day. At the ceremony Lee's friend sang and it was a lovely personal touch for us. The band provided the main source of entertainment for the evening, along with the groom's dancing! The ceremony table turned into a props station and guests all night were swapping accessories and outfits – great to get the party going! Our amazing DJ then took over from the band to keep the party going until we got kicked out.

Stationery
We didn't use any stationery at all throughout the entire wedding. We designed a wedding website which guests could RSVP through and skipped paper invitations. We didn't have any traditional printed seating plan or other signs at the wedding and any that we did have were made from old floorboards we found in our house.
Personal Touches
It was very important that we created lots of personal touches. We did the flowers ourselves, made all the name places (which are now displayed in most guests homes), Sarah's grandads briefcase as the card box, our props table, the ribbon wall, made the table plan, Sarah did the bridesmaids and her own hair. We kept back a few surprises for guests and we are so glad we did – we didn't tell anyone about the band and their surprise entrance (even our parents), Lee's friend sang beautifully whilst we signed the register and we didn't tell anyone what they would be eating until it was placed in front of them.
Special Moments or Highlights
Apart from the ceremony and the speeches which were beautiful, our main highlight was when the band crashed the first dance. It was one of those moments when we just thought "YES, we nailed that".
Advice for Other Couples
If the wedding that you organise is exactly what you want, rather than what it should be, then every single element is enjoyable and exciting to plan. Our advice would be to pick a few key elements to focus on and make these a focal point. We didn't have table presents, invitations or table clothes and no one noticed they weren't there. However, they do remember the surprise band, the personal decorations, the moment our friend sang and "that amazing beef".
Biggest Surprise
The biggest surprise of the day was how relaxed we were – Lee was wandering around with a coffee before the ceremony and I pretty much ran down the aisle with no nerves. The other surprise was how much people are still talking about the wedding 2 months later, a sign of a good wedding we hope.
Supplier Shout Outs
FOR MORE INFORMATION ON DANNI'S WORK GO TO:
www.maytreephotography.co.uk / [email protected] / 07730604236 / FACEBOOK / I: @maytreephoto /
 Danni at Maytree Photography has a blended style of creative portrait and documentary photography. Her images are heartfelt and vibrant using natural lighting and a bit of flash to capture the energy on the the dance floor. She focuses on creating a narrative of the day, and processes the images so they have a rich and  timeless quality.