It's all getting rather festive around here and whilst Kelly and I are frantically doing last minute shopping, wrapping and wondering just how big a turkey you can possibly need, we have some tips from Molly Jones at Pink Paradox London on winter wonderland wedding styling. From festive cheer all the way to a snowy Narnia, there are many options for winter weddings, but one thing is for certain – there's more sparkles, more fairy lights and more glamour. Get your best party frocks and dancing shoes on and prepare for some seriously high spirits.
Creating a Chruistmas Winter Wonderland Wedding
Planning a December wedding? There are so many ways you can introduce magic and sparkle to create a truly spectacular Christmas winter wonderland themed wedding.
Decorations
Your overall colour scheme should be quite simple for a winter wonderland theme, the general colours are white, silver, gold (and red and green if you are incorporating Christmas). Though, feel free to add a touch of personality with other colours such as blush pink, or blue (which still sticks to a wintery theme). With that in mind see the below suggestions and ideas that will fit all budgets: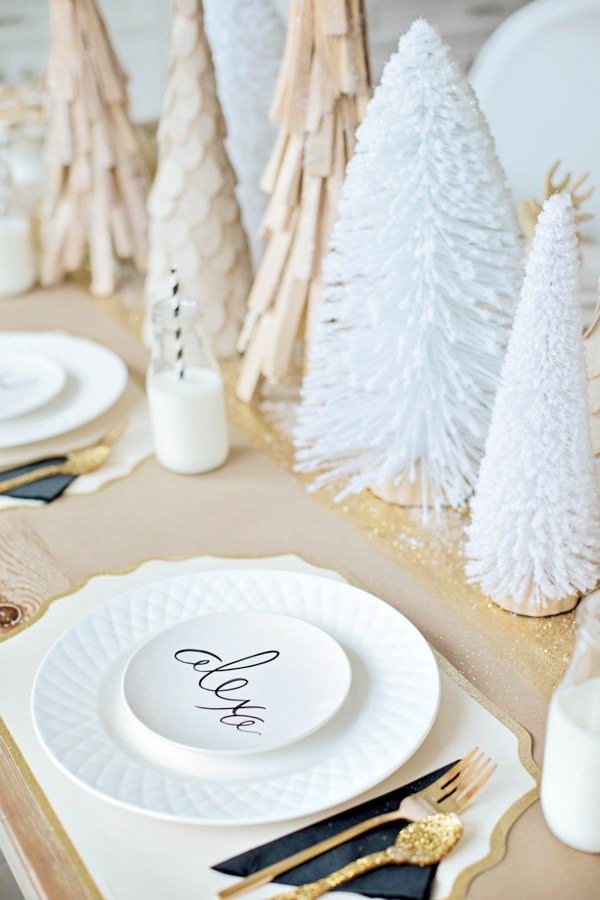 Small touches
Sometimes it's the small things that can really create the feel you're looking for, and can be quite inexpensive. Think silver table cloths and big silver, glittery bows on the back of chairs. Embellish your flowers! A good wintery bouquet could be the classic white rose with sparkly embellishments found inside. Add mistletoe to doorways or above yourself and your partner during the ceremony. Have Christmas trees as part of the flower scheme, you could even have small ones on each table.
Serve hot chocolate or have a hot chocolate station complete with whipped cream and marshmallows. You could even make your own hot chocolate favours with small jars of hot chocolate powder, sugar and mini marshmallows as a ready-to-go hot chocolate kit. Fairy lights in mason jars are a cheap way of creating a beautiful, wintery decoration. Serve a full roast dinner to guests with mulled wine or mulled cider.
Big ideas
Your wedding day should be one of the most special and celebrated days of your life, so if you have a big budget and the aim to wow try some (or all!) of the below ideas.
Think big spectacular ice sculptures! You could even invest in a Vodka Luge for your reception.
You can go mad with your venue, think Silver banners and miles of fairy lights hanging from the ceiling and walls. Why not introduce a snow machine during the reception?
Cover your venue in white roses, wrap them round any beams or pillars and have them as centre pieces on every table. You could even create an archway of roses for guests to enter your venue under.
Arrive on a horse drawn sleigh (or reindeer if you really want to pull out all the stops) adorned with red blankets for a real Christmas entrance.
Fashion: The Bride
A classic white dress will fit perfectly with a winter wedding. An embellished dress will add to the magical theme you are putting together, but if that's not your thing try adding sparkly embellishments to your wedding shoes. (or both!)
The bridesmaids
Bridesmaids could join you in white or can stand out in silver. You can even add to their wintery look with winter stoles or shawls.
The Groom
A white suit is always an option, but if not to your taste stick to small touches such as a silver tie or even a sparkly waistcoat.
Beauty
For a winter wonderland wedding you can go mad with glitter eyeshadow and don't be afraid to introduce sparkle to your hair! Crown braids can be made to look even more beautiful with diamond hair embellishments. You could add to your style with glittery finger nails, or even Christmas nails with reindeers and snowflake designs.
More about Pink Paradox
Pink Paradox London is a global brand supplying high quality, comfortable wedding shoes suitable for all seasons. Starting as a family run business over 30 years ago, today Pink is an award winning brand and regarded as one of the leading bridal footwear providers in the world.
www.pinkparadoxshoes.com /  T: @pinkparadoxln / FACEBOOK
This is a sponsored post