Today we are in my home town of Sheffield as we bring you another fabulous wedding from my good friend John at S6 Photography. Aimee and John wanted to keep their wedding day simple and low-key, and to use venues that meant something to them and they did so by choosing 3 fabulous venues for their Sheffield wedding. They kept the whole day simple and down to earth by not getting caught up in the whole wedding rollercoaster and the results are a classic, stylish city centre wedding.
A relaxed and eclectic occasion drawing on various elements from both our lives.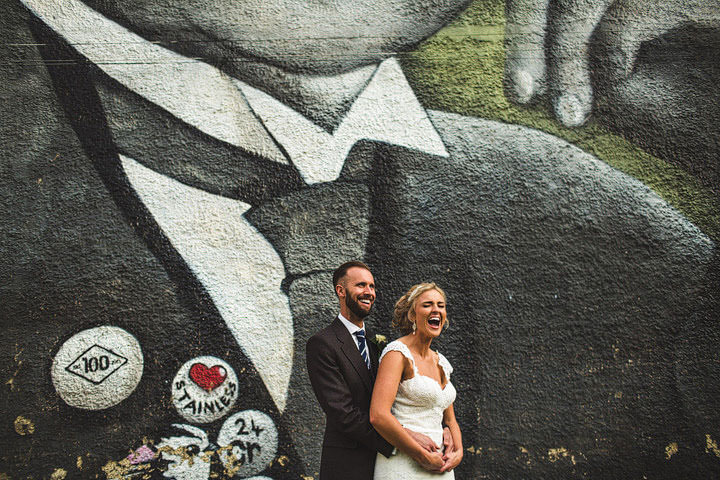 Aimee and John were married on the 8th of October 2015 in Sheffield. 'We had three central Sheffield locations for our big day. Our ceremony was Sheffield Town Hall and our afternoon reception was Silversmiths Restaurant, followed by an evening reception at Tamper, Sellers Wheel. We wanted our wedding to be held at venues that meant something to us and were a part of our lives rather than hiring an outlandish hall and pretending to be royalty for the day. We wanted our venues to reflect us, our interests and our lifestyle. We both liked the idea of a formal/traditional feel for the ceremony which is why we chose the Town Hall, Silversmiths is our favourite Sheffield restaurant and we love their food and Tamper (great coffee) but also it's a kiwi establishment and Aimee grew up in New Zealand and Johns a Yorkshire lad so it seemed to represent both of us. We had 60 guests during the day and about 110 in the evening. We got engaged and married in the space of 10 months.'
How they met
We met through mutual friends in 2012, and have been together since.
The Proposal
John got down on one knee on Christmas day 2014, it was just the two of us, private and meaningful – Aimee wouldn't have wanted anything big or in public.
How did you allocate your budget?
We didn't really have a set budget but we made a point of not being sucked into anything that was unnecessary or over embellished within the wedding industry. We wanted to be reasonable throughout with spending and focus on what was important to us, our priorities were to provide great food and to document the day well – photography and video was important.
How did you choose your photographer?
Funnily enough Aimee saw his work on this blog at another wedding held at Silversmiths a few years prior and loved the way he captured the atmosphere/environment and emotion.
The Dress
My dress was by Essence of Australia, earrings were an Etsy purchase and I honestly can't remember where the shoes and accessories came from.
The Suit
John has his suit custom-made by a local tailors in Sheffield, Ted Williams.
Theme or Colour Scheme
Navy blue and coral, we worked towards a pretty classic/vintage theme but it was all kept relatively simple.
Decoration
All three of our venues were very beautiful buildings rich in architectural features and character so decoration was kept to a minimum, just jars of flowers and a couple of metallic "A" "&" "J" balloons.
Food
We ate Yorkshire puddings and pies at Silversmiths, we wanted everyone to have a hearty 'proper' meal – we wanted to be down-to-earth with our meal choices.
Wedding Cake
Really simple white iced sponge with a lace look, two sponge tiers (one vanilla and one lemon) and the top one was the traditional fruitcake. We knew this was something we wouldn't focus much on during the day so didn't want to go overboard.
Entertainment
We took an old-fashioned approach to entertainment and relied on our guests' ability to interact, talk and be sociable amongst themselves without modern distractions.
Stationery
Aimee is a graphic designer so she did all the stationery herself.
Personal touches
Aimee designed all the stationery and we asked family and friends to save us their jam jars throughout the year which were what we used for our flowers for the reception.

Special moments or highlights
John – How good Aimee looked
Aimee – The whole day was brilliant, loved it all. The most touching bit was definitely my Dads speech, it blew me away.
Advice for other couples
Just do what YOU guys wanna do. Focus on what's important to you and don't feel like you need to fit into a cliché wedding scene or worry about what your mates are doing. If you're wanting to stick to a tight budget we'd say think outside the box in terms of venues, suppliers and even the day of the week you get married – those that love you and want to be there will be there whatever the day of the week.
Biggest surprise
How amazing the father of the brides speech was, he's a very shy man and not one to be the centre of attention so no one knew how he would be on the day but he absolutely nailed it and had the room in a roar of laughter for the majority of his speech.
Supplier Shout Outs
Photographer – S6 Photography www.s6photography.co.uk
Wedding Videographer – Eden Film www.edenfilm.co.uk
Afternoon Reception  – Silversmiths Restaurant www.silversmiths-restaurant.com
Evening Reception – Tamper tampercoffee.co.uk
Bus was from South Yorkshire Transport Museum www.sytm.co.uk
FOR MORE INFORMATION ON JON'S WORK PLEASE GO TO:
www.s6photography.co.uk / www.s6photography.co.uk/blog / FACEBOOK / T:@s6photography I:@s6photography