It's really beginning to look like winter outside now, so today I am taking you back to the heart of summer in very sunny Cornwall for this full of fun, Cornish Garden Party wedding. Becky and Matt wanted to keep their celebrations laid back, informal and lots of fun, so they created a garden party style wedding in the best mans field. Bringing in Mexican street food made the celebrations more relaxed and then lots of garden games, including the best looking sack race, kept the fun levels to an all time high! These gorgeous photos from Mark Shaw really tell the story of the wedding perfectly and really reflect the beautiful summers day and the huge amount of fun that everyone is having. What a wonderful way to brighten up a damp Thursday.
Fun, relaxed and everything we hoped it would be and more. Our perfect day, which was completely us, spent with everybody we love.
Becky and Matt were married on the 13th August 2016 in a ceremony at St Erth Church and followed by a marquee reception near Fraddam in Cornwall. 'We live in St Erth and are a few minutes away from the church. We love living in the village and the church is beautiful, the vicar also kindly agreed to let Betty our pooch come along. We wanted a very relaxed wedding and wanted to everybody to enjoy themselves. We had a marque in Matt's best mans field, it was the perfect wedding venue for us! We had 100 guests in the day and around 150 in the evening. It took around 7 months to plan and I absolutely loved planning it all.'
How they met
I've always known Matt as he was in the year above me at school, but I didn't know him well back then I just thought he was hot…! We've been together over 7 years and I met him properly over 7 years ago at a friends fancy dress party, I was dressed batgirl! I always thought he was gorgeous, but what I learnt very quickly was how funny, thoughtful and kind he was. We became inseparable and 7 years on he continually makes me laugh and I feel lucky every day to share a life with the loveliest person I know.
The Proposal
Even though we've been together a long time, have a house and a dog together getting married wasn't something we ever really spoke about, so when he proposed on Christmas morning I was completely shocked. As he said those four little words with my beautiful ring, the first thing out of my mouth was, 'Are you being serious?' swiftly followed by a YES! So happy and couldn't wait to tell my family, unbeknown to me my mum and dad already knew his plans. How my mum kept it a secret for almost a week I'll never know!
How did you allocate your budget?
We were both of completely the same mindset, although it's one of the most amazing days of your life, we both also though it is just one day of lives and we very practically did not want to spend a crazy amount. Our top three priorities were 1. Get married! 2. Good food and plenty of fizz 3. Good music and my fourth was an amazing photographer – which we had.
Where did you splurge and where did you save?
Our marquee was lovely and we hired posh loos, but I really don't think we splurged at all. Apart from hiring the marque, the loos, the band and obviously booking the church we did everything else ourselves. We had the best day of our lives and we put so much of ourselves into the day. Matts best men were amazing on the day and in the lead up, Gary, Stephen and Matt got the field ready. The marque went up on the Wednesday and we spent Thursday and Friday decorating it all and getting it ready with the help of my amazing bridesmaids and our friends.
Why did you choose your photographer?
I was recommended Mark by another photographer. Getting amazing photos was a top priority for me but I also wanted candid photos that were a little bit different. Matt dislikes having his photo taken so I knew he'd be happy with this as well. As soon as I saw Marks photos I fell in love with them. I love his style and how he captures all the beautiful little details along with the roller coaster emotions of the day. He was amazing in the lead up and on the day, dream photographer! When we received the photos we were completely blown away. Every moment has been captured so incredibly beautifully. Just stunning, he is crazy talented! We will treasure them forever and look back on the best day of our lives so far…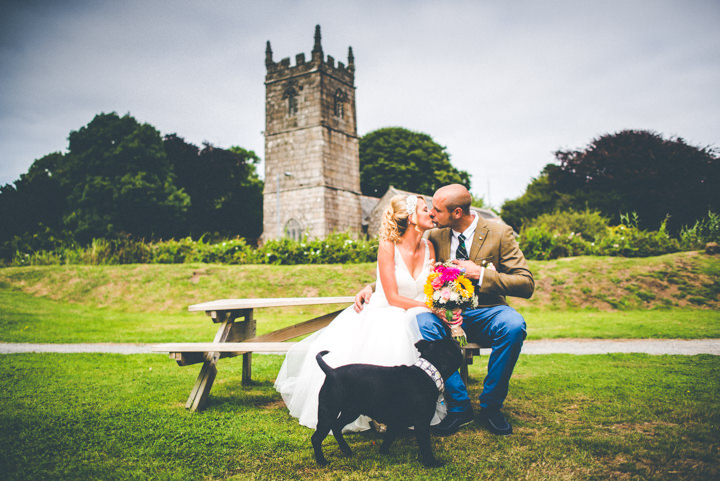 The Dress
I can't actually remember the make but I bought it from Lavender Rose in Penryn. They were so lovely in there and genuinely wanted me to find 'the one.' I'd already been to four other lovely bridal shops and I had long beaded lacey in my head but when  tried these on I just didn't feel comfortable. The first one I tried on at Lavender Rose was like this and I could appreciate how beautiful it was but I'm pretty indecisive, she was so helpful and asked me, 'Are you excited in this dress?' to which I answered no, she then said it's not the one for me then, next! So helpful. When I tried the fourth dress on, I began to well up and got all hot and EXCITED. It was that feeling that everybody had been talking about, fell in love with it and didn't want to take it off. It felt amazing. I also had the thumbs up from my two nephews who were with me, winner! My shoes were irregular choice and I also blinged up some converse trainers for some evening disco dancing. I made my own hair band as I knew I wanted something big and a little different. My friend Alice did an incredible job of my hair. I did my own make up and my friend Lacey did my eyelashes the day before.
The Suit and Bridesmaids
found my bridesmaids dresses first on ASOS, they were in the sale and I just loved them! Had to order them! The bridesmaids hadn't even seen them. However when thry tried them on they all loved them. They looked gorgeous! My flower girls dresses were from H&M, my nieces came shopping with me to get them and they loved them. So pretty! For my pages boys, I ordered tartan bow ties and braces online and got their shirts, shoes and trousers from Truro. We didn't have matching suits, but we did have matching ties. Matt got a gorgeous suit jacket, then separate trousers and a shirt. He looked lovely and completely himself!
Theme or Colour Scheme
We didn't really have a theme. Although I knew I wanted it to be floral, vintage, with garden party type theme with lots of colour! Decorating and all the little details, along with making presents and all the accessories was so exciting. I love sewing, crafting and creating so I enjoyed the lead up and planning so much. I love a carboot wander on a Sunday morning with Betty, so many a Sunday was spent browsing for pretty vases, candle holders, frames, trays, baskets and anything else that took my fancy! Our spare room was full!
The Flowers
My mum made gorgeous bouquets for my bridesmaids with false flowers and pretty windmills for the flower girls. She saw my bridesmaids dresses then whipped them up, she's so clever. I made my bouquet the day before the wedding with a mix of fresh flowers I'd chosen from flower time, the fruit and veg shop and Lidl! I also filled the vases on the tables with these fresh flowers the day before the wedding. So pretty!
Decoration
Lots of pretty vintage vases, books, singer sewing machines, blankets, cushions, candles, frames and paper hearts. Beautiful poms poms, lanterns, bunting, tea cups and many other little pretty touches. I was a little nervous of how it would all come together as I didn't really have a matching theme as such I just bought and made anything I looked the look of, but I was over the moon with how it all came together. It was exactly as I'd imagine and hoped. Puffing poms poms wasn't even tedious because I very fortunately had lovely bridesmaids and friends on hand to puff them up in the sunshine, while Gary did tea runs on his bike!
The Food
The food was incredible! We didn't want a formal three course meal, we didn't really want anything to be formal. I started looking at street food, food vans and I came across Harry Bartlet Home Street Food. I contacted him and he arranged for Matt and I to have a taster. So delicious! He was so helpful and amazing on the day. So many people commented on how great the food was. Mexican beef tostado or pulled pork with all the trimmings and amazing Cornish potatoes. Along with sauces and the most incredible bean dip for the tables, which went with our loaves of chilli bread. Matt bought these from John the bread man at St Erth farmers market that morning. In the evening we had hot pasties from Pellows bakery, delish.
The Wedding Cake
My beautiful bridesmaid Tara made our wedding cake for us as our wedding present. Bottom layer chocolate fudge, middle layer lemon cake and the top one carrot, covered in butter icing and decorate with fresh flowers. It tasted as a amazing as it looked. Matt and I made the cake stand, he carved the heart out of a trunk of wood and I burnt in our names and date. It now takes pride of place in our garden as a plant stand.
Entertainment
We had Slap Dash Trio as our band, they were amazing and got everybody on their feet. Before and after that Matt set up our home speakers and we made playlists of our favourite music and our guests song choices. We also had games dotted around outside, the sack race was hugely popular/competitive and the boys loved the football. The fire in the evening was also lovely….oh and the boys had rockets…thanks Deen.
Stationery
I made all of our stationary.
Special Moments or Highlights
Too many to list, the whole day was just incredible from start to finish and we feel so lucky to be surrounded by the most beautiful people. So kind and everybody made the day what it was, just perfect! We had the best day of our lives and I married the man who was made for me. We got in at 3.30 in the morning ridiculously happy and I did not want to ever take my dress off. Although of course I did.
Advice for other couples
Be yourselves and don't be afraid to do it all your own way. It's your special day and it should be everything the two of you want.
Biggest Surprise
My amazing surprise wedding car Matt arranged, a beautiful bracelet from my dad, delicious breakfast and present from my bridesmaids and getting through the ceremony without hysterically crying (in a good way of course)
For more information on Mark's work go to:
www.markshawphotography.co.uk / [email protected]  / 07738418846 / FACEBOOK / T: @markshawphotos / I: @markshawphotos

[jprel]