Today's wedding takes us to my home county of Cornwall! Having lived in Cornwall for 18 years as a child I love all weddings sent to me from this area and it's a real pleasure to feature this one sent into me by the incredibly talented Helen Lisk. Holly and Mark were able to hold their entire wedding, ceremony and reception at their parents farm by getting the farm house and garden licensed which made for a truly personal day. They used locally sourced products and Holly and her family helped with all the DIY projects and decorations. A beautiful wedding, set in a gorgeous marquee with a stunning couple!  
Our wedding day was just as we wanted it to be, we had all our family and friends there to celebrate with us. It was so special to be married in the walled garden at my parent's farm, and as my sister and brother were married here too, it makes it a family tradition!
Holly and Mark were married on the 14th September, at Trethurffe Manor, Ladock, Cornwall. The ceremony was in the Walled Garden and the reception in a marquee in the field behind the farm. 'We always thought we'd have the reception at my parent's farm at Ladock, but didn't know where to have our ceremony. We both love the outdoors, and looked at a few outdoor type venues in our local area. We then decided with my parents that we would get the farm house and garden licensed for weddings. We thought this would make the wedding simple by having everything in one place, and also it was so lovely to be able to get married outside. It gave us lots of freedom to decide what we wanted to do, it made if very personal for us and our family. We had 120 guests and it took about a year to plan.'
How they met
We were housemates in Exeter, he was the first person to move into my house. That was 6 years ago, and now we are married.
The proposal
I had just turned 30 and he kept hinting that it might happen soon… He took me away for a tipi weekend in Wales as he wanted to propose on a mountain. However, the ring hadn't arrived in time and he didn't propose then, but I knew something was going on?! A few weeks later, we went out for a drink at our local and walked back along the river and he proposed in the dark. It was lovely, but quite funny as I was driving him mad about it and think he thought he'd better do it soon before I actually went mad! Its so weird now how nutty you can get about things?!
How did you choose your photographer?
I didn't think I would be that fussy about a photographer, but once I started looking I realised how different wedding photographers were. I looked up a few and we went through their gallery's and found Helen Lisk's website. Helen's photos were so natural and not forced, as other photographer's photos of wedding looked quite forced and not very original. We also liked the way she took natural photos of family members not just the bride and groom, and we knew we'd like this as it's so nice to capture other people emotions on the day. I called Helen to discuss booking her for our wedding, and she was so friendly and easy to talk to I knew she would be relaxing and fun on the wedding day.
The dress
My dress was from Justin Alexander, my ring was my grandmothers gold ring and my earrings were from Ruth Tomlinson.
The suit and bridesmaids
Mark's suit was actually from Next – a bargain! The bridesmaids dresses was made from Liberty fabric and made by 'Oh my Honey'; a 50s dress maker based in Brighton.
Theme or colour scheme
I love flowers and gardens, and bright colours so based the colours on orange, yellow and pink. We also wanted it to use local products from where we are from, so used lots of food and drink from Cornwall, Devon and Somerset. It was always going to be 'rustic' as this made it relaxed and fun.
Decoration
I tried to think of something different to bunting, and so made all the ribbons that hung in the marquee and attached these on bamboo to add colour to the walled garden for the ceremony. There wasn't much else for decoration, mainly flowers and the natural surroundings of the garden and house.
Flowers
I used freesias, as they came in the colours I wanted and actually smell and look really lovely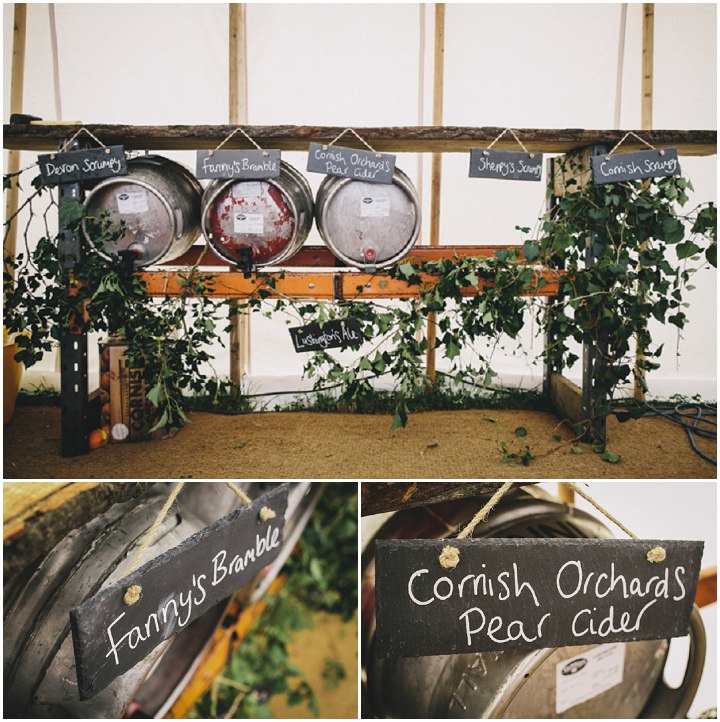 Food
We asked out caterer to make all the things we wanted, and she was happy to make up our ideas. Lots of canapés to soak up the bubbly; pieces of fish with pea dip, ham & cheese mini ploughman's, and mini scones. Main course was steak and ale pie to share between a table – guests seemed to love serving the pie and helped them all get to know each other!
Entertainment
A band – Area 51who are based in Cornwall. Then played our favourite music on a play list 'til late!
Personal and handmade touches
I made quite a lot; all the ribbons for decoration, flags in the field, all the table runners (which were 16ft long!), and my mum and sister found all the ivy on the woods to put around the ceremony area and we put it up the poles in the marquee. We also made all the signs which was quite fun! My dad made the coconut shy and the fire barrels, which was amazing really as he doesn't really do DIY and everyone loved them!
Special moments
Seeing everyone in the Walled Garden for the ceremony, as it was so overwhelming having all our family and friends in one place. It was also a really special time in the run up to the wedding and having so much help from our family and close friends, those are the memories I have. It was a bit stressful at times, but so amazing that everyone was helping us out – I was so overwhelmed by everyone helped and that was what made it such a wonderful day.
Biggest surprise
Standing in dog poo before the ceremony! It was funny and actually calmed me down, although being ½ hour late for the ceremony wasn't so relaxing for Mark.
Advice for other couples
Don't over think about things and don't worry about things matching, keep it simple. We just did the things we loved and it seemed to look good once it was all together. Keeping it simple seemed to make it fun for us and everyone else.
Supplier Shout Outs:
For more information on Helen's work go to:
www.helenliskphotography.co.uk
[email protected]
FACEBOOK
@HelenLiskPhoto