Todays wedding takes me back to my home of Cornwall. I always love featuring Cornish weddings as I love looking at the beautiful scenery, the rolling hills, the sea views and all that open space. I have lived away from Cornwall longer than I lived there now, so I'm not necessary home sick, just reminiscent of a great time in my life, 18 years of amazing memories. So today's wedding has evoked some lovely feelings for me personally and I hope the amazing scenery does the same for you. Rachael and Oliver chose Cornwall as it meant a lot to them and they created a totally relaxed and romantic day filled with rustic details, great food, and lots of fun. Thanks to Lucy Turnbull for the images.
'Sharing our favourite place and things with our favourite people: food, wine, relaxed fun amongst our favourite family and friends, in our little corner of heaven in Cornwall.'
Rachael & Oliver were married on the 7th of September at St. Gerrans Church & Tregassick House, Portscatho, Cornwall. 'We wanted a relaxed and picturesque setting close to the sea, and somewhere that meant something to us, and set a tradition for our future family. Once we had looked at all the venues, with all the compromises, we wanted the flexibility to choose our food, wine and music – and somewhere with an amazing view. By chance we found Tregassick House though the Roseland Online website. We booked the field initially – at the time the accommodation (The Cowshed and The Dairy) were still an old cowshed, yet the owners, Martin and Naomi Williams had an amazing vision and we could see the potential . We had 80 guests and we choose the venue in October 2012 so planning took close to 12 months – with peaks and troughs throughout.'
How they met
We met in the Hunter Valley, Sydney in 2008. We've been together for five years. I (Oliver had just returned from Afghanistan) and Rachael was a friend of his brother's. We spent two years enjoying the ultimate long distance and romantic relationship with long holidays in France and a rendezvous in San Francisco. Rachael moved back to the UK as I returned from Afghanistan for the second time in 2011 and the rest is history.
The Proposal
One of Rachael's favourite books is 'A Room with a View' and Florence is one of the favourite places, when I back packed before attending University. I knew of a beautiful hillside town called Fiesole in the hills north of Florence, overlooking the city. We booked a holiday in a house stay in the hills, and on our first evening there, with not a cloud in the sky and at sunset we went to a panoramic view point where I popped the question on one knee. The ring was created by 'Topset Jewellery' – I would have never found the exact one Rachael wanted, so designing from scratch was definitely the way to go.
How did you allocate your budget?
Food was our priority as was wine and the location, so the budget was spent first and foremost against a list of our priority 'must haves' and compromise accepted on things that were less important to us towards the end.
How did you choose your photographer?
We both hate posing for photos and have some of the best pictures with friends taken opportunistically – often capturing priceless laughter and fun. Lucy Turnbull, inspired us from her blog and website because she obviously took photos in the way we liked. She blew us away at our engagement shoot with her pictures, attitude, hard work and enthusiasm – and when we saw the pictures we would have probably paid anything to make sure she did the wedding as well!
The Dress
Dress was by Lisa Gowing of Sydney, Shoes by Rainbow. The belt was by Alan Hannah.
The Suit and Bridesmaids
Oliver's suit was from T.M.Lewin. The bridesmaid dresses are from the Jim Hjelm Occasions collection from Lavender and Jude in Stradbroke, Suffolk.
Theme or colour scheme?
I didn't have a particular colour but the theme I was working towards was a rustic, romantic and relaxed setting.
Decoration
A mixture of ivory, white and latte coloured paper lanterns with LED lights inside, hessian and lace bunting, straw bales with old pieces of lace material covering the top and twig hearts. Lots of jam jars filled with tea lights. Again, these were all collected by friends and family and decorated with hessian, twine and lace but ourselves.
Flowers
A mixture of flowers – all garden grown.
Food
Just like the photographer we wanted to choose great food. We have such great memories amongst friends sharing good food. Jamie Beetham, is just something else. From the minute you walk into his kitchen, you'll feel like family and the first piece of food you eat will blow you away. We could choose our favourites of anything, and he cooked it all with such pride to perfection! So many of our guests frequent many locations in London and could not believe what Jamie's team produced.
We had reception drinks and canapés after the ceremony. Our sit down wedding breakfast consisted of: A sharing platter to start, including cured meats, scallops with chorizo, fresh bread and dips. Main course was a choice of lamb cutlets, sea bass or roasted vegetable stack. Desert was a duo of chocolate torte and saffron bread and butter pudding – this proved very popular and family members were trading weekends in holiday homes to get more of what they really liked!
Wedding Cake
Made by a family friend in Suffolk.
Entertainment
We had a live band from the local area. Ryan Jones, an amazing singer song writer who forms the core of a group called 'Kola' – check them out on You Tube. They invited some other 'guest' musicians. Above and beyond doesn't do justice to what they did for us. Their set list is comprehensive, but they also learnt over 10 of our favourite tracks just for the wedding, intended to play 2x 45 minute sets, but played 2x 1 hour 20 min sets, and were still playing well in to the night and for as long as the dance floor was full. They made the evening – no one wanted them to leave! Book them and you won't be disappointed!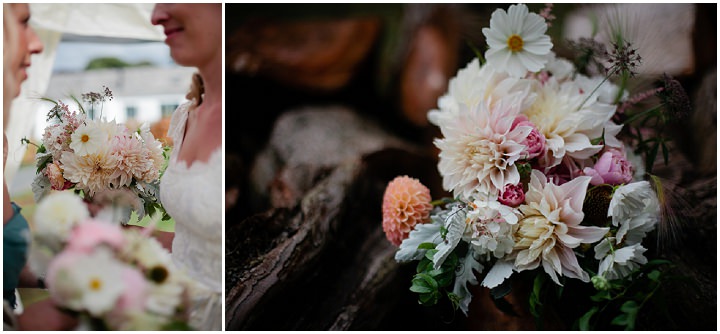 Buy or DIY your Stationery?
Our Save the Date was DIY and the invitations and order of service were made by The Hummingbird Card Company. Table Numbers and Place Settings were from La Pomme et La Pipe, Etsy
Personal or handmade touches
• Hessian bunting (handmade by members of my family – we had a girls day with cocktails!)
• Table plan was an old frame we had and we uses spray blackboard paint and then listed the table numbers and guests names with chalkboard pen – so easy, cheap and simple to do and quite effective!
Special moments or highlights
• Susanne arriving with my flowers in the morning, I nearly cried – they were perfect. To some people flowers aren't important but for me they are – the flowers finished off the marquee perfectly. The colours and style complimented my dress and the relaxed, romantic feel we wanted for the day.
• Walking on Portcurnik Beach with the sun shining.
• Watching our friends and family have an amazing time, eating, drinking, smiling and dancing the night away – no one wanted to leave!
• The band were phenomenal, the music was a huge highlight of our day, they were so much more than a wedding band, it all felt very personal with authentic musicians doing the thing they love.
• Saying 'I will' to each other. Feeling like it was right without any nerves all day, just a beaming smile.
Biggest Surprise
That all our guests loved our choices so much – everyone really did have a wonderful time!
I was surprised at how relaxed I was during the morning and throughout the whole day. I normally worry about the little things but on the day, none of it mattered.
Advice for other couples
Consider the venue and what feel you are after, smaller venues with limited rooms create atmosphere. People are quickly diluted even over one or two extra rooms. Choose the things that are important to you, spend the pennies on those things. Don't succumb to pressure for other people's wishes and don't feel guilty for what you think are tough decisions – you can't please everyone. If you try to, you'll disappoint yourself.
Take a moment to watch others laughing and having fun, cherish those special moments as the day passes you by so quickly.
Supplier Shout Outs:
For more information on Lucy's work go to:
www.lucyturnbull.co.uk
www.lucyturnbull.co.uk/blog
FACEBOOK
@lucytphoto
Due to an email issue if you have emailed me between the 2nd & 9th of December, please resend it.
X