To end the week I am taking you off to Sheffield, my home town for this fun, family friendly, DIY wedding. Hannah and Matt chose to get married at a place that meant a lot to them, full of traditional Sheffield heritage and lots of history. Kelham Island Museum was the perfect backdrop for their industrial loving wedding, with lots of activities for the children and a blank canvas so they could get to work with all of their DIY ideas. I love featuring weddings from Sheffield as I like to show you all how diverse our city is. Big thanks to Mr and Mrs Photography for the wonderful images.
It sounds cheesy but it was a day full of friends, family, laughing, dancing, drinking and eating. Just awesome!
Hannah and Matt were married on the 21st May 2016 at Kelham Island Museum, Sheffield. 'We knew about the museum because Kelham Island was the first place Matt and I lived together. So it ended up becoming a natural choice as neither of us felt comfortable getting married in a stately home. We wanted a place where everyone would feel relaxed and comfortable but would be suitable for the kids, particularly our son, Fred. (also there's a brilliant soft play area there!). We had 95 guests during the day and an extra 20 for the evening. I'd say it took 18 months on and off to plan, only because we needed to start collecting the brooches for the bouquets!'
How they met
We've been together 5 and a half years. We met back in our home town of Chesterfield on a night out after I'd moved back from Uni. I recognised him from an old rock bar we all used to go to every weekend growing up, so went over to talk to him. I asked "Did you go to the Green Room? Do you work at Tescos?" He looked at me blankly and asked "Do you want to go to Subway?" needless to say we may be married but I'm still waiting for my Subway!
The Proposal
We got engaged in September 2014. It was our first holiday since having Fred in the January and we had gone away glamping at Jollydays Holidays, just outside of York, for my birthday. It was the first night of the holiday, Fred was in bed and we were sitting down to a candle lit, romantic meal of tinned hot dogs and Champagne in the middle of a forest. Matt had done a playlist for us but kept skipping through, then Dock of the Bay by Otis Redding (my all time number 1 song EVER) came on. He handed me a rectangular box (my initial thought was "this is the wrong shape!") but when I opened it there was a "Bowdler" name necklace (I wear a "Dwyer" necklace everyday). I still didn't get it though. It wasn't until he walked round to my side of the picnic bench and got down on one knee with the ring, that I realised this was happening and I blurted out "Of course, but did you ask my Dad?!"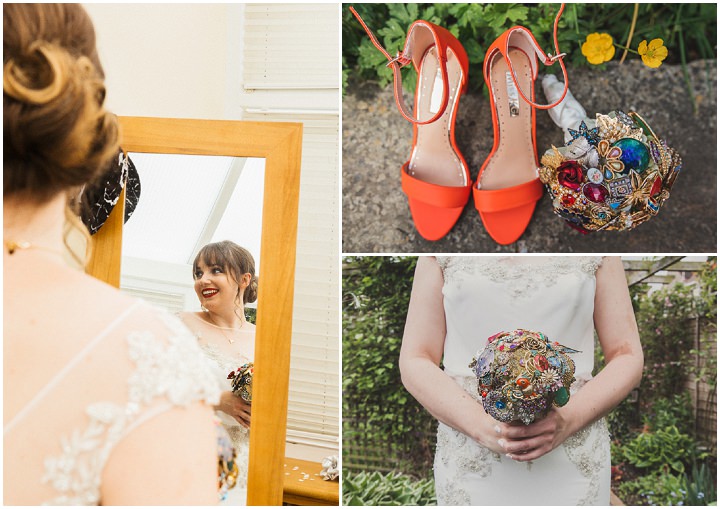 How did you allocate your budget?
I didn't want a wedding that would cost the ends of the earth. So tried to be as practical as possible when working out what we needed and wanted on the day. I went to the high street for a lot of the decorations and outfits for the wedding party. Overall, the venue ended up being most important to us because we wanted something that would relevant to us, so that took the majority of our budget.
Where did you splurge and where did you save? 
I knew there was a lot we could do ourselves so that definitely helped with saving money. We did our own playlist because neither of us trusted a DJ to do our evening justice and the quotes we were getting back where just so huge, we felt confident in our CD collection! We also didn't do favours because again for nearly 100 people, this was something that could take a good chunk of the budget. Also in my mind, we were already giving them a full days entertainment, 2 meals and free alcohol (tight I know!).  We had a lot of children, who in my planning took priority because of Fred and I know what it's like taking young ones to events like this. I wanted all the parents to be able to enjoy the day as much as possible, so we got each of the kids a magazine to help entertain them. Although they aren't the cheapest, they seemed to go down really well and kept them quiet, at least through the speeches!!
How did you choose your photographer?
I found Mr and Mrs early on in the wedding planning. Craig's photography was really different from others I'd seen, he seemed to capture the day in a truly personal way. Then when we met him, he was so easy to get on with, we knew he'd fit in with everyone at the wedding.
The Dress
My dress was Harlem by Blue Enzoani, it was so comfortable! Literally just a zip at the back but was so supportive. I found it in Emily Bridal in Sheffield, they are actually the nicest people I've met. Not pushy and really listened to what you said about dresses to come up with other options. They also have the most beautiful selection of designers and dresses! My shoes were from Kurt Geiger. I'm not into wedding shoes and wanted something I could wear again afterwards. I was actually looking for yellow shoes to match the flower girls but then fell in love with these ones.
The Suit and Bridesmaids
Matt was adamant he didn't want top and tails. He chose a jacket and trousers from Ted Baker with a blue knitted tie. All the bridesmaids dresses were from different places off the high street: Red- Wallis; Blue – Asos; Green – Asos; Purple – Ted Baker. The girls are all so different and I wanted them to be comfortable so left the main decisions up to them! I'd seen other weddings where the bridesmaids were in different pastel colours but I'm not a pastel person and as I couldn't decide on just one colour it had to be all bold. The Flower girls dresses were found in the M&S sale, together I think they cost about £17!
Theme or colour scheme
I didn't set out with a theme; the industrial/Sheffield theme just happened based on the venue. And I couldn't think of what one single colour I wanted to represent the day, so thought as it was my wedding, why couldn't I have every colour?!
Flowers
Mine and the bridesmaids bouquets were all made from jewellery and brooches old and new. These were from charity shops, sales, friends and family donations. As each of the bridesmaids were a different colour, their bouquets reflected their colour. The only flowers we had were a £5.00 bunch of yellow roses from Morrisons I picked up the day before.
Decoration
The museum provided us with a brilliant backdrop for a chilled out day! In the reception room, we went for balloons and fairy lights. It was such a big room to fill; I just wanted consistent decoration that wouldn't take away from the room. All the table centres where relevant to our industrial setting, but they all belonged to family already and the wedding just caused them to be dragged out of garages and sheds and cleaned up. As the planning went on, the decoration developed. I had no idea what it would actually look like until 5pm the day before, when we had finished!
Food
Keeping it traditional to Sheffield, we had steak and ale pie with mash and Hendos. The pie was incredible, it was FULL of steak!! Followed by a dessert buffet, with a choice of 5 different puddings. It was a Sheffield company, Hazels Catering, who work a lot with the museum so know the deal with set up and serving. That was great as it made dealing with more than one supplier so simple.
Wedding Cake
One of Matt's best friends, Alissha Pendragon, (actually her real name!), made the cake for us as our wedding present. It was a simple vanilla sponge with just jam in the middle. Thin white butter cream and lots of sprinkles. She does occasion cakes by trade and had seen her do a one tired one like this about a year before the wedding, so originally asked her as a normal cake order. Then for tray bakes, I asked one of my best friends, Judy Toberty, who is a killer baker if she would do these. I wanted to give people the choice of flavours…people loved the choice because they all went!
Entertainment
The kids were sorted with the soft play centre in the main museum, and then we also set up a mini space of cushions, games and tunnels for them in the main party room. We did our own playlists on itunes, so just hired a PA system and let the adults go crazy!
Stationery
I did all the stationery myself and by doing this I ended up developing an idea of how I wanted the day to look…colourful!
Personal Touches
We tried to make the day as relevant to Matt, Fred and I as possible, as to us it was about the 3 of us becoming a family. All our save the dates and invites were from the 3 of us and the cake topper, Fred was included as well. We asked all the guests to fingerprint our wedding tree, which included a cute line up and Matt, Fred and I! As mentioned before, I did do a lot of the day by hand. My mum and I did all the brooch bouquets. Then I did the stationary, table numbers, planner and sorted the balloons and fairy lights. The table numbers related to the gigs Matt and I have been to, so were the date and gig, rather than going 1, 2, 3. About 80% of the table centres are from previous family members, which was really cool to dig them out!
Special Moments or Highlights
During the ceremony, Fred was at the front with us throughout the whole thing. He became fascinated by my lipstick, because it wasn't something I wore daily. So he kept pointing at it and saying "Mummy's got toothpaste round her mouth."
Advice for other couples
Planning wise, Pinterest was literally best thing ever. For ideas, budgeting tips, tutorials on how to do things and links to wedding bloggers. To be honest, I've been building my wedding board since I first got pinterest about 5 years ago but I was able to incorporate some on my original pins, which I still loved. On the day, I say just go with it. When things go wrong, it just adds to the story of your day. Also, at the very end of the night, when all the guests have gone and it is just you two, take the time to have one last night cap. Matt and I went to our hotel bar, just us, for a cheeky cocktail and we just talked about how our days were because we just hadn't seen each other. When I look back, that always makes me smile.
Biggest surprise
A couple of friends of mine live in Canada, so couldn't make it across for the day. However they had sorted out Facetime through another friend, so they could watch the ceremony! It makes me cry every time I think about that.
Supplier Shout Outs 
For more information on Mr & Mrs Photography go to:
 www.mr-and-mrs-wedding-photography.co.uk / [email protected] / 07970299089 / FACEBOOK / PINTEREST / I: @mr_and_mrs_wedding_photography
Based in Saltaire, West Yorkshire we create artistic, creative wedding photography but with a friendly, laid back, natural approach that lets couples enjoy their day and spend time with their guests. Using a mix of digital, 35mm and a love of vintage lenses and all types of photography. We also love creating wedding films using digital and 8mm.