How are you all today? Surviving the heat wave? I have to say I'm not a fan, I know us brits complain when it's too cold, but my little ginger head really can't take the heat! It's been unbearable, lets hope that today is a little more comfortable, lets not frighten the sun away, but a breeze would be most welcome. I have a fabulous wedding for you today, it comes from my home town of Sheffield and is set in the wonderful Kelham Island area, in fact my brother-in-law is getting married here in 3 weeks time on my recommendation! It's a fantastic wedding that covers a few different venues and is both rustic and urban at the same time. An eclectic mix of decoration, great food and a wonderful couple. Big thanks to Paul from Roar Photography for the fab images.
'It was a really relaxed day, full of lots of laughter and love. Not forgetting to mention lots of delicious food and plenty of gin'
Rosie and Ritchie were married on 23rd May 2015 at Kelham Island Museum in Sheffield, then a few drinks at the Fat Cat pub, before going on to the reception at Hagglers Corner. 'We wanted to get married in Sheffield because this is where we met and now live. Kelham Island seemed perfect for the ceremony as it was a bit different, and we wanted to show all of our visiting relatives a little bit of Sheffield. A colleague at work suggested Haggler's Corner and so we went down to have a look – it has such a relaxed vibe and the owners, Sarah and David, were so friendly and enthusiastic about helping to plan the reception, so we knew it would be perfect for us. We had 110 guests in total. We got engaged in April 2014, so about a year to plan.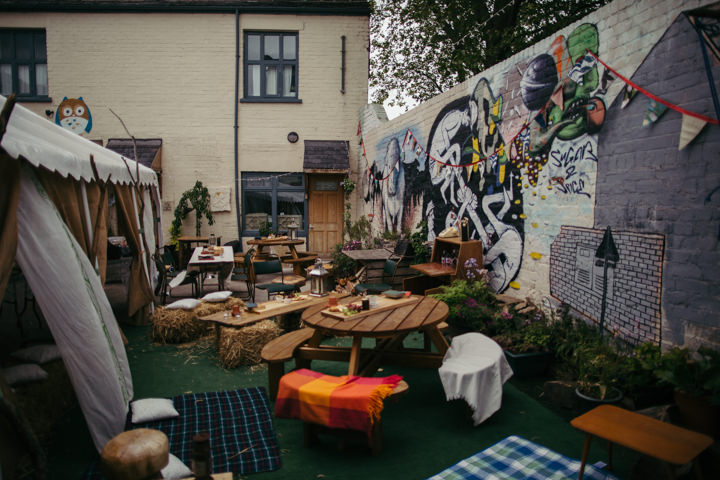 How they met
We'd been together for about 4 and a half years by the time the wedding came around. We met at university, where we were both training to become speech and language therapists.
The Proposal
I proposed to Rosie while on holiday in Edinburgh. It was halfway up Arthur's Seat, while we were sat on a ledge looking out over the city
How did you allocate your budget
We used a range of different wedding planning checklists from various websites to work out what we wanted/needed, then allocated budget based on how much we prioritised different things. We made a spreadsheet with all the budget information in which was so helpful for tracking everything
How did you choose your photographer
We came across Paul featured on a few different blogs online. He'd recently shot a wedding at Kelham Island Museum which caught our eye, and we loved the way he shot it in a natural style. Neither of us are particularly good at posing for photos, and so we really liked the way he captures moments as they happen rather than setting up lots and lots of formal shots. He also includes an engagement shoot as part of his package, which really helped us to feel more comfortable in front of the camera too.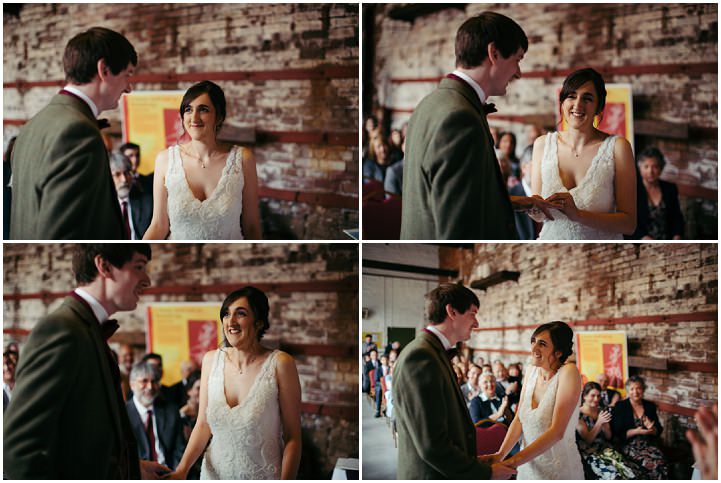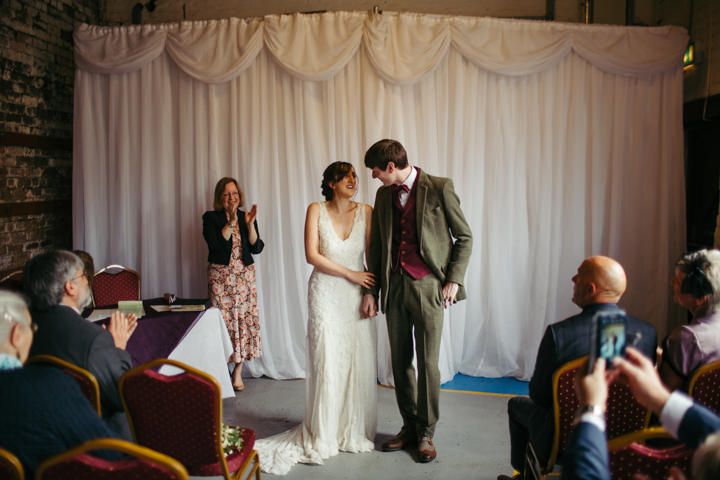 The Dress
My dress was from Phase Eight, my shoes were from Amazon, and my accessories from F.Hind.
The Suit and Bridesmaids
The suit was made to measure from Victor Valentine – Richie has wanted a tweed suit for years and a wedding is a pretty good excuse to splash out! Emily, my maid of honour, got her dress from Asos

Theme or Colour Scheme
We never really worried about a colour scheme, although I did ask all my best female friends to wear a bit of blue – that way they were my 'something blue' and they all looked fab on the day.
Flowers
My flowers were from Moss & Clover – it was just a normal bunch of flowers rather than a bridal bouquet. I love the way they use lots of wildflowers to create really rustic looking arrangements
Decoration
At Kelham Island Museum we let the exhibits do the decorating on their own. Sarah at Hagglers Corner was great about sitting with us to come up with decoration ideas – we just gave her a list of things we like, like bunting, fairy lights, books etc, and Sarah did all the hard work. We had one main request – gin and tonic in teapots (G&T-pots!) instead of champagne for when everyone arrived at Hagglers. Sarah made the venue look absolutely beautiful, we were so thrilled
Food
We had picnicky food when we first arrived at Hagglers Corner – a 4 tiered cheese 'wedding cake', a 3 tiered pork pie 'wedding cake', with lots of crackers and homemade chutneys and salads. Then later on we had a barbecue, with steaks and sausages for the meat eaters and halloumi and stuffed mushrooms for the veggies, along with lots more delicious salads. All the food was locally sourced, with the meats and cheeses all provided by Mr Pickles. We also had local ale for guests to drink, from the Kelham Island Brewery
Wedding Cake
Because we had the cheese and pork pie 'wedding cakes', and because we aren't big fans of fruit cake, we chose not to have a traditional wedding cake. Instead, the staff at Hagglers Corner made a variety of different tasty cakes which were laid out on a cake table for our guests to help themselves to.
Entertainment
We mainly let the guests entertain themselves. The kids particularly enjoyed pulling apart a hay bale and taking it in turns to jump on it! We did put together a wedding playlist for the evening, courtesy of Spotify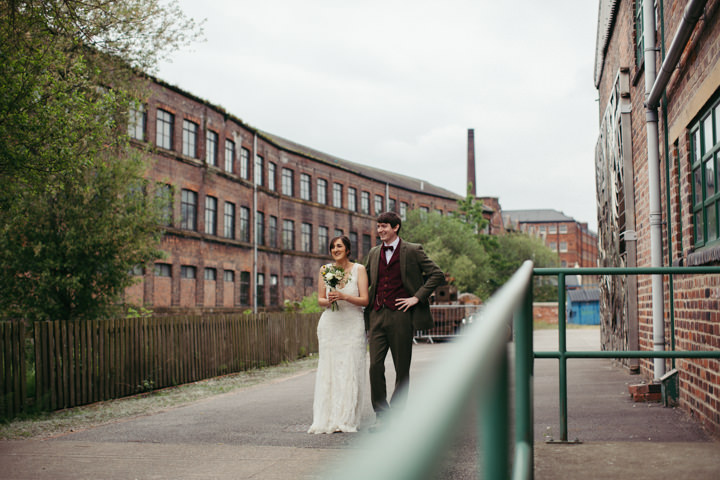 Buy or DIY your Stationery
We DIYed the Save the Dates and the invitations. I think that might have put us off a bit though, because we've ordered our thank you cards off the internet instead
Personal or Handmade Touches
Although we didn't do too many personal touches ourselves, Sarah at Hagglers Corner did an amazing job of listening to what we wanted and creating the perfect relaxed environment with lots of little touches like books on the tables and the G&T-pots!

Special Moments
It's hard to pick any one special moment – it was just amazing to have all our family and friends in one place to celebrate with us all day. One thing that does come to mind is when the staff at Hagglers Corner pulled out sparklers for everyone and we all went out onto the roadside to light them – it was lovely looking around at everyone helping each other and sharing the moment. The huge dance circle later on in the evening was also pretty spectacular
Advice to other couples
I think the main thing I would say is to try as much as possible to relax and enjoy the whole process – getting married should really fun and exciting, not stressful!
Biggest surprise
At the end of the night, just as we were saying goodbye to the last few guests, we heard a solitary snore from the corner of the courtyard – when we checked, we found a friend fast asleep in the hammock.
Supplier Shout Outs
For more information on Roar Photography work please go to:
www.roarphotography.co.uk
[email protected]
FACEBOOK
TWITTER
Phone: 0789 1178779
I'm based in Ripley Derbyshire but shoot weddings nationwide 
Due to an email issue if you have emailed me between the 2nd & 9th of December, please resend it.
X