We feature many new dress collections here on Boho in our Bridal Style feature, and arguably the next big sartorial decision a bride needs to make is how to accessorise! Today, therefore, I am thrilled to share Rocks for Frocks' new collection with you. The headpieces and vines are so pretty and delicate – just perfect for subtle sparkle and our boho brides. They are based in the iconic 'Wedding House' in Liverpool, a store I have noticed every time I visit family there. A stand-alone one-stop shop for all wedding shopping I imagine many a bride and groom spending an entire day there ticking their planning boxes! Many thanks to Herve Photography for the images.
The new collection is softer, more flexible and adaptable.  It features vines, hand beaded pieces, soft golds, nudes and blush.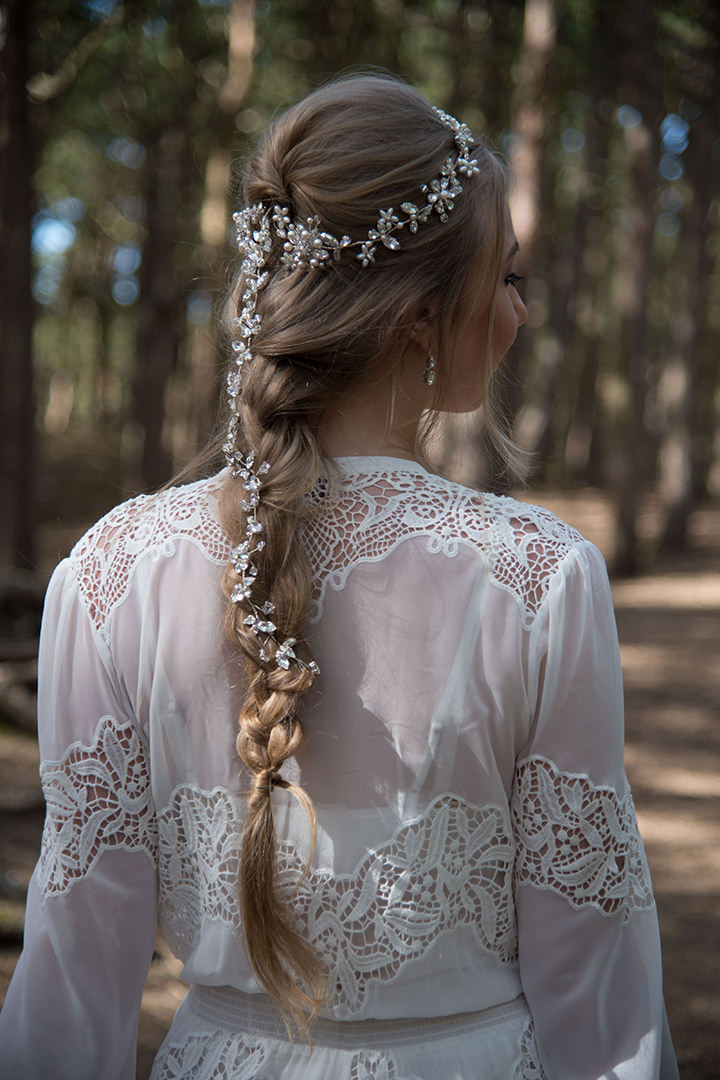 More About Rocks for Frocks and the new collection
The main influences for the Enchanted Forest Collection were the colours in the new dress collections – nudes and blush and brides having more relaxed and informal weddings
We are a small company of myself and two assistants, each piece is handmade in our Liverpool store, we work each day in the shop and customers can see us making pieces.  I work on the designs for new pieces starting about 6-12 months before launching to collection.  I look at dress collections, read wedding blogs and try to understand what customers are wanting.  I also listen to customers in my store and take parts of bespoke pieces and make them into main pieces.  I also like to go to the trade shows in London and Harrogate to watch the catwalk shows and get some inspiration.  Hand beading is a key feature in our pieces, learning new techniques is a great source of inspiration for me.
Much like the ritual of selecting the dream dress, venue and flowers, designing the perfect accessories is all part of the bridal experience. At our initial meeting, we will take on board your vision and brainstorm ideas, before bringing your creation to life by hand. This means our accessories are unique to you and your special day. We are nationally renowned for creating bespoke tiaras, head-dresses and jewellery to match your outfit, wedding dress, or any special occasion. We use only the finest materials – from Swarovski crystals to freshwater pearls, non-tarnish silver to gold wire – so you can be assured that you'll look a million dollars in a quality product that will last. What sets us apart is the love and attention to detail we put into each piece. Creating beautiful jewellery is our passion, and we treat every piece as if it were our own. Rocks for Frocks allows us to unleash our creativity every day, and produce unique pieces which can be passed from generation to generation
We have a store in the Iconic Wedding House in Liverpool, where we have been for 7 years and also an online shop at www.rocksforfrocks.co.uk. Our pieces range from £2 for a single pearl pin to upwards of £250 for some bespoke pieces
The Team that made the shoot possible: 
For more information on Rocks for Frocks go to:
www.rocksforfrocks.co.uk / blog.rocksforfrocks.co.uk / FACEBOOK / T: @rocksforfrocks / I: @rocksforfrocks / The Wedding House, 3-4 Great George Place, Liverpool L1 7AG