Today I am delighted to share with you the gorgeous wedding of Louise and Chris. You may remember Louise and Chris as they were one of my wonderful Boho couples who wrote for Diary of a Boho Bride. They talked us through their wedding planning on a monthly basis and I loved hearing all about their plans for their Sheffield Wedding. They chose an amazing Sheffield landmark for their big day called Kelham Island Museum, an industrial city centre location that was perfect for both of them, mixing in their love of beer as well as all things Sheffield. With a host of local suppliers and some amazing DIY projects, Louise and Chris really have created a magical day that really reflects their personalities. My brother in law is getting married at Kelham Island this summer and seeing these photos taken by India Hobson Weddings has made me even more excited for the day.
'A laughter-filled, happy and fun- filled day with family and friends; just how we wanted.'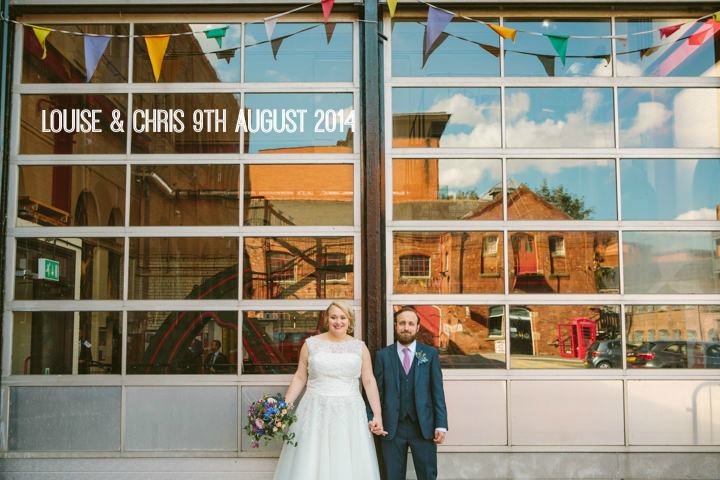 Louise and Chris were married on 9th August 2014 at Kelham Island Museum. 'We chose Kelham Island because we wanted to get married in Sheffield, it's where we met and it holds a fond place in our hearts. We knew we definitely didn't want a religious ceremony nor did we want to get married in a hotel. We're definitely a bit more 'city dwellers' than country lovers, whilst barn-style weddings are gorgeous we felt that it wasn't really us. We don't live far away from the museum, are partial to a good beer (which the area of Kelham Island is renowned for) and quite like finding out about the history of our city – Kelham Island was perfect. When we got there on our first visit we just kept looking at each other and nodding our heads – we knew it was perfect for us. It took us about 14 months to plan the wedding, getting engaged in April 2013. Though admittedly, post the flurry of activity in the first few months, I have to be honest and say that the planning didn't kick in, in earnest til May 2014!'
How they met
We met in the Old House in Sheffield city centre and had been together 5 and a half years when we got married.
The Proposal
Chris proposed in his typically understated Chris-like way and just casually dropped it into conversation after we'd been for a meal and were having a couple of drinks in the flat – 'shall we get you a ring then?' were his words. As soon as I double-checked that he meant what I thought he meant, it all got a bit emotional! We ended up getting my engagement ( and wedding) ring made by Michael Spencer who is based in Orchard Square in Sheffield and Chris didn't want us to announce the engagement until we had a ring so I had a very tight- lipped ( and pinterest-filled) 6 weeks until the ring was ready to collect!
How did you allocate your budget
We began planning the wedding by discussing what was important to us, what we definitely wanted on the day and what we would have if money were no object. We did get a spreadsheet together and wrote down what we thought our maximum spend would be on everything – naturally this became very moveable and we were very lucky to have talented friends to help us out with some things that would have cost a fortune like Andy, who designed the invitations and designed and produced the brilliant half pint tankards for our wedding favours and Hannah, who baked the masterpiece that was the absolutely gorgeous victoria sponge – I sprung it on her a month before the wedding as we'd originally planned not to have a cake! We did save money each month towards the wedding and think we may have ended up a tad over budget but we had allowed for this.
How did you choose your photographer
We booked India, our photographer, very early on. In the 6 weeks of silence, I'd been scouring websites and looking at wedding blogs. I can't remember where I came across India but we spent ages looking back through the archives of her blog, the images she shared were how we imagined our day; not all focused on the bride and groom and not all kind of forced lovey-dovey, which some people may love but it's really not our thing. We wanted to see parts of the day which we wouldn't be involved in. The one thing that struck us about India's work is that she'll find something beautiful in the most normal of things – which gave us hope at least. India is based in Sheffield and the city, its environs and its people feature a lot in her work, which also appealed to us. India was a calming influence throughout wedding planning, we met up with her a few times before the wedding and she just has a brilliant attitude towards it all. Calm and collected and really loves what she does; just what we needed. We could not be happier with the photos, they sum up the day brilliantly. You can see my intense nervousness whilst getting ready and then the elation when I see Chris and all of our friends and family. I really wanted India to document the boys getting ready in our flat because that's something the bride never sees and the pictures are fab; I just knew they'd get up to mischief!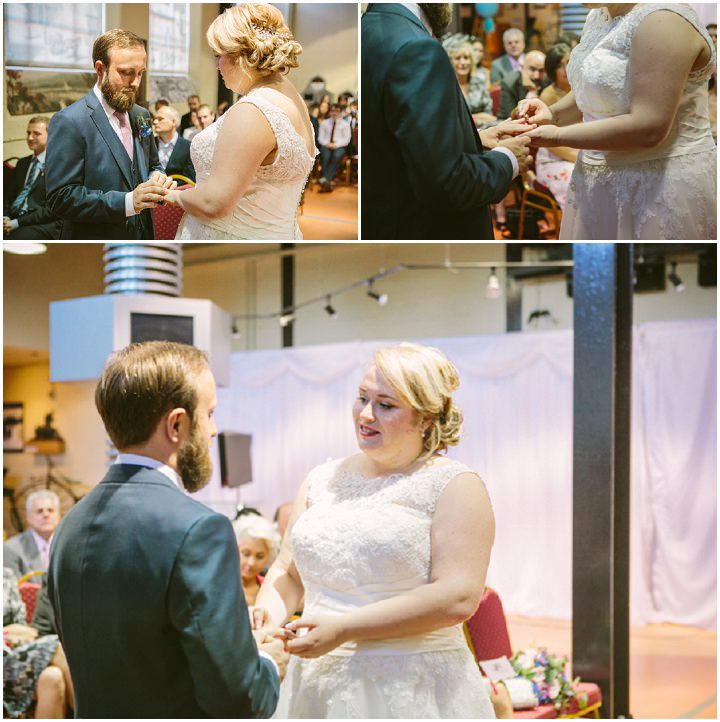 The Dress
I had a bit of a disaster with my dress, the first shop I ordered from went bust and I ended up travelling to Liverpool to get the dress with just a three month lead time. I ended up having my final fitting only the Monday before the wedding. We didn't lose any money but it was a super stressful few days when we heard. It was a ballerina length Justin Alexander dress and I loved it. I think I'd always known that I would get that style of dress and I am pretty decisive so I don't think the style was a shock to everyone. I felt so comfortable in the dress and felt very like me, I did insist to people that it 'wasn't a big dress' – 9 underskirts later, I changed my mind! I'm a massive shoe fiend so the shoes were important to me. Early on in planning the wedding, I said that expensive shoes weren't important but following a bonus from work I decided to bite the bullet and get a pair of Jimmy Choos – I didn't want a high heel so I opted for the Isabel Glittered Peep-Toe – they were super glamorous and I will definitely be wearing again but I did have to change half way through the day – to a just as sparkly pair.
My hair and make-up was done by Jenn Edwards who I think I found through this very blog. Jenn and Natalie were a great team – not only making me, my mum, my sister and my bridesmaid all look glam but the make up and hair lasted all day. Jenn and Natalie were like old friends on the morning of the wedding and Jenn officially has the fastest fingers in the west, doing my dress up in seconds! I was quite happy to put myself in Jenn and Natalie's hands telling them what I'd like but also going with what they thought would work best. The style of make-up and hair went perfectly with my dress and personal style. Biggest compliment of the day though, Chris's Aunt has booked Jenn for her wedding next year.
The Suit and Bridesmaids
I had one bridesmaid, my niece. We bought her dress before mine – it was from the Jenny Packham range in Debenhams and was a complete steal. We thought we were getting a good deal at £80 in the sale but when we got to the till in scanned in at £40 – think it was the bargain of the wedding! She wore multi-coloured glittery toms with her dress and danced the night away! We bought her a matching heart-shaped necklace and bracelet from Hibiscus Days on Etsy.
Chris wore a navy three piece suit by Cerruti . And he absolutely loved it. By the end of the night he was comparing himself to Roger Sterling from Mad Men! (We're lucky it wasn't Don Draper!) He also invested in a very smart pair of tan brogues by Loake and looked handsome all day long. His three best men all wore their own suits and looked super dapper for us. We gave them all a pewter hipflask from Mamnick, a small company based in Sheffield as a a gift
Theme or Colour Scheme
We had no colour scheme in mind – in fact I was anti-colour scheme! As the bridesmaid's dress was a light blue – we did go towards the pastel and blue side of things – as evidenced in the shimmer curtain and the feature hydrangea in our bouquets but in the end we just used colours we liked!
Flowers
I got my flowers from Swallows and Damsons in Sheffield – they did the bouquets and buttonholes for us as well as supplying the gyp for our table settings. They also, at the last minute filled the little swans with flowers. The swans were a last minute purchase from a blog sale and we just had to have them on display. The bouquets had antike romantic roses, blue hydrangeas, astrantia, dark delphiniums and there were some steelberries and eucalyptus thrown in too. The bouquets were gorgeous – it was quite nerve wracking going to collect them as I just couldn't envisage what they would look like but Swallows and Damsons never fails to disappoint and I was so pleased with how they were.
Decoration
Decoration – this was my bête-noire! We didn't have much decoration for the ceremony as this took place in the main museum and there was plenty going on. We did have a couple of round balloons and signage made by Lorna Dunn ( Lesser Than Three) unfortunately Lorna is now based in Melbourne so UK brides have missed out! I was going to do some blackboard signs myself but as the wedding got closer, I decided to let a professional take over! We borrowed some bunting from our friends to hang in Little Mesters Lane for our walk through and it looked great. For the main room upstairs where we had the reception, this was our blank canvas. And possibly my biggest DIY project ever! There is a 32 metre partition going down the length of the room and I was determined to make a shimmer curtain to cover this up. I cannot tell you how much crepe paper I cut up in August! I bought silver shimmer curtains in 3ft lengths already made up – you know the kind you get on cheesy karaoke nights?! Glued this to strips of balsa wood and then added separate strips of coloured crepe paper. It was a big job and took a long time but I could not be happier with how it turned out! We used a few candles strategically placed in the room; big church candles in each of the 3 windows and pillar candles on all of the tables, and lantern type candles guiding guests in. We put the gyp in gin, beer and lemonade bottles that we'd collected throughout the year on each table. We named the tables after our favourite pubs – we were on The Old House, of course. And I made the table plan myself with help from Andy. We had a few poms- poms bought from Ikea and M&S and hung them from the roof beams. I must admit I did steal an idea from another real wedding and with the help of friends made some little flags at the last minute saying 'Yay!' for our guests to wave in lieu of confetti which was not allowed at the venue – these flags went down incredibly well and the enthusiasm of our guests really made us smile. I have to say that I don't think we could have managed it all without the help of Laura from The Mrs Makes. Laura helped us to style and dress the venue on the day before the wedding. She was also at the end of an email during the planning stages. She definitely motivated us all in getting the venue ready and keeping us on track – well I say us, we couldn't have done it without the help of our friends, Beky and Rich!
Food
Our catering was done by Little Mesters, who are based just opposite the museum. We opted for a hot fork buffet for our main meal – guests could choose from lamb or pork or butternut squash risotto for the few veggies we had. This was served with seasonal salads. It was delicious and we even had guests queuing for seconds. This was finished off with a lemon tart and pistachio ice cream. For the evening buffet, we opted for a ploughmans lunch style buffet – with four tier cheese cake plus crackers, chutneys and pork pies. The cheese cake was definitely a hit with our guests and even after the DJ had finished people were still munching away!
Wedding Cake
As said earlier, our super talented friend Hannah kindly baked our tiered victoria sponge as a wedding gift to us.
Entertainment
We just opted for the traditional wedding DJ – we went for Bliss Wedding DJ – who had a great online request system for both Chris and I as well as for the guests. David then gave us a call the week before to discuss the final details. The music was really important to us as we wanted people dancing all night and we couldn't have asked for a better night. Even David commented on how many guests kept the dance floor busy. Many of our requests were played but David quickly gauged the crowd and played some crackers to get the dance floor filled even more!


Special Moments
A massive highlight of the day for me was Chris's speech, I knew that he was so nervous about it in the run up but it was a beautiful, touching, from the heart speech and it was delivered perfectly. It made me swoon all over again! One of the highlights for us both was seeing everyone so happy and excited for us; hearing the whoops and yays when we were just married added to all it and made us both so happy.
Advice to other couples
I think it has to be go with your gut and do what you want. We were lucky enough not to come under pressure from family/friends about our day. I can honestly say that I would not change a single thing about how the day turned out – it was just how we wanted it. So many people have said that the wedding was very us and to be honest, that's the biggest compliment ever. We did what we wanted to do without paying too much heed to convention; Chris had 3 best men, my mum gave me away, I did a speech and we had our guests join us for a portion of the first dance and it was just fantastic! Also, don't worry about things that you can't control on the day – just enjoy the moment and don't worry about it – it seems easier said than done, but hopefully you'll be having such an ace time so it won't even cross your mind! Also, if friends/family want to help out – accept their offers gratefully – you will definitely need it! One thing I would say is allow for some time off before the wedding – I concentrated on booking leave for after the wedding but the week before was genuinely a knackering experience, so if you are DIY'ing a lot – factor some time beforehand to get stuff ready!
I could not have enjoyed my wedding day any more than I did and I am so jealous of anyone who is planning to get married! Savour it and enjoy it!
Supplier Shout Outs
For more information on India's work please go to:
www.indiahobsonweddings.co.uk
www.indiahobsonweddings.co.uk/blog
FACEBOOK
INSTAGRAM