Todays wedding is full of personality and charm, lots of wonderful decoration ideas and a whole lot of fun. Katrina and James chose a retro theme for their village fete wedding which was held in the village that they both grew up in, which added another cute personal element to their fab day. They kept costs down by creating lots of DIY projects and making lots of gorgeous decoration. I especially love the way they displayed the cake, all the village fete games and the beautifully decorated marquee. The red white and blue colour scheme really worked with their retro theme and added a cool 50s vibe to the whole day. A fun, laid back wedding full of character, captured perfectly by Tom Halliday.
'Fun, happy and full of love. It was a day where everyone felt the love. We sung, danced and smiled all day. It was the day we dreamed off, relaxed and chilled with a happy atmosphere'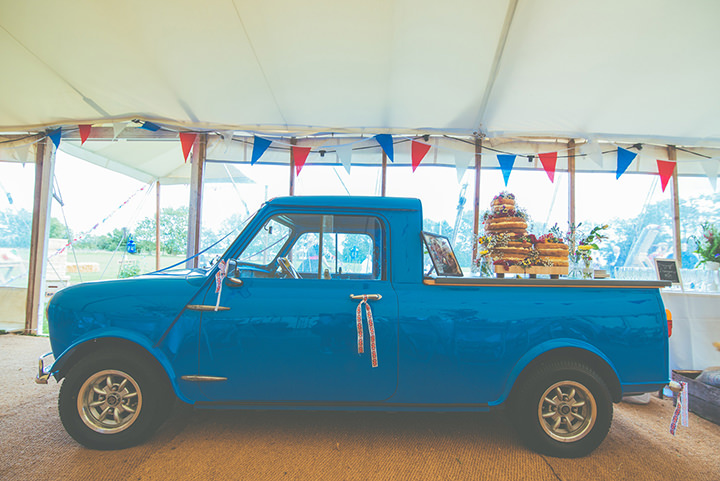 Katrina and James were married on 12th Sept 2015. The Ceremony was at Castle Camps All Saints Church in Cambridgeshire, reception was at Mill Green Cricket Pavilion. ' James' mum and dad got married in the church, we were also both christened there. We both grew up in the village so there was no question it would be there! Guest wise we had 90 in the day …. about another 60 joined later. The wedding took 18 months to plan.
How they met
Both growing up in the same village we knew each other for some time, we got to know each other well when I started working at the local pub where James used to drink. We were together 6 years when we got married, and had been living together 3.5 years
The Proposal
I went to pick up a parcel from the post office… what I thought was earrings for my sister, opening the package in the hairdressers I saw a business card for a 'bespoke ring designer' needless to say it wasn't the earrings! I told James (felt gutted for him). He said he would just do it when he planned… that evening I cooked him a lovely meal, he insisted we have peas with it! When I opened the freezer the inner door fell out (a job I had been asking James to fix for months) it had the ring box stuck to it with a note saying 'will you marry me'! It was a romantic twist on a very annoying freezer issue!! Funnily enough it was Friday 13th!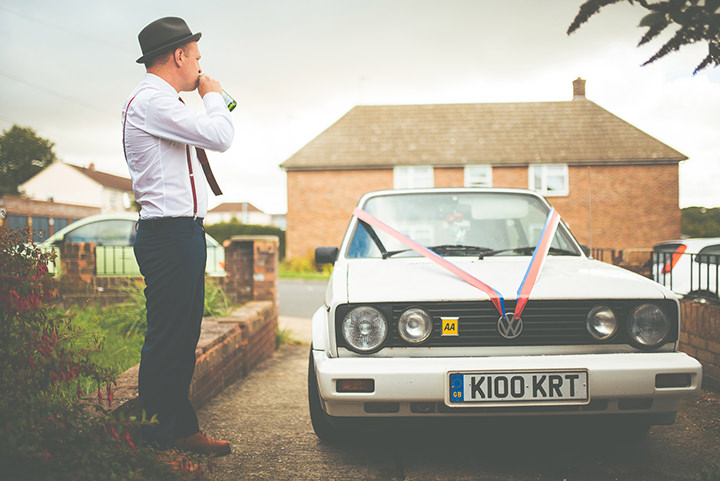 How did you allocate your budget
We were careful and made a rough guide as to how much things would be, sticking to it as closely as we could
Where did you splurge and where did you save
The marquee was a big feature and we wanted it to be just how we imagined.
How did you choose your photographer
We wanted a photographer that would reflect our day…. we didn't want to be taken off away from our guests for hours either. We liked natural pics and more quirky/different shots. Not to much slush! We were recommended Tom from a colleague at work…. he was spot on! And we really felt he 'got us'
The Dress
I spent forever finding a dress…. I knew I wanted something a little 'different' I got it from Clare Bridal in Suffolk, It is by Villais. I instantly felt comfortable in it I loved the lace and the 'boho' feel.
My shoes were Irregular choice….. red white and blue union jacks to fit it! I had a flower crown of fresh flowers made by my florist. My bouquet was big and 'wild' with a charm of my late special grandad attatched.
The Suit and Bridesmaids
James suit was from Jump the gun, A mod shop in Brighton lanes, it is a 60s style suit. He wore accessories all from there, and the shoes were Dr Marten Boots (only shoes/boots he wears!) The bridesmaids wore 50s style dresses from Vivien of Holloway in London, the all choose their own shoes and wore what ever jewellery etc they wanted. Their bouquet was a smaller version of mine, they all had a charm of me and them attached, which they loved.
Theme or Colour Scheme
Out colour scheme was 'red white and blue'.
It has several themes,… very British summer fete feeling, with a retro/vintage feel, quite relaxed, rustic and boho!!
Flowers
Full of 'wild looking meadow flowers'
Decoration
We had lots! Me and my nan sewed meters and meters of bunting that went all around the marquee and outside. I collected hundreds of jam jars that we filled with garden, field and fresh flowers.
Food
It was from the 'fat pig company' We had a relaxed meal, hog roast stuffing, cracking salad, potatoes etc with eton mess for pudding. In the evening was a bbq.
Wedding Cake
The cake was made by James mum! It was a beautiful 3 tire naked victoria sponge cake covered in berries and flowers. She even made the strawberry jam filling!
Entertainment
We had 'fete games' in the day to play with. We had a playlist that myself and my maid of honour chrissy put together. This played all day until 9pm we had a live band. My bridesmaid also sang 'you make lovin fun' in the evening. We also had a photo booth in the evening, full of vintage themed props we collected from carboot sales and charity shops.
The Stationery
We made it all ourselves…. Sue, Jame's mum is wonderful at drawing, so designed our invitations & order of services. We got it all printed on rustic recycled brown card
Personal or Handmade Touches
We did lots ourselves! James and his dad are carpenters so helped a lot. We made out own elderflower champagne that we had for toasts. Fete games (splat the rat, jenger, ball in the bucket and hoopla) we made a signpost with labels, our living room door was our table plan, we made a big free standing LOVE sign that light up, the invited and order of services, we made plant boxes with our names on, a big free standing frame to hang photos, toiletry boxes for the loos, the bar, the cake!

Special Moments
Every second! It was amazing! Everyone on the dancefloor at the end of the day was amazing, unusually my maid of honour made a speech with was lovely and funny! But we cant think of one thing over the other.
Advice to other couples
Enjoy every second of the day. Don't plan to do anything for the following few days after, cause all we did was sleep! The personal touches are lovely and really well noticed making it a real personal and close nit wedding, try and do as much early as you can… cause if you are decorating it yourself its all in the last couple of days.
Biggest surprise
Luckily there was none!
Supplier Shout Outs
For more information on Tom's work please go to:
www.tomhalliday.com / https://tomhphoto.exposure.co/ / [email protected] / 07921 995964 / FACEBOOK / @tomhphoto / I:tomhphoto