Happy Friday everyone and thank goodness the weekend is nearly with us! It's been a week of highs and lows for me. It's totally true what people say that house buying and selling is one of the most stressful things you will do! We have already lost one house and found another dream house. I'm just hoping we can hang onto this one, and sell ours quickly. All positive house vibes sent my way would be greatly appreciated!
Enough of my wows though, it's Friday which means I have one last wonderful wedding to share with you before the week is done. This time it's a village fete themed wedding from Frankee Victoria Photography. A day that was planned on a budget but one that doesn't lose any of the couples personality A real family affair, full of smiles, love and a very happy couple.
'The best day EVER, everything just came together and the world was on our side to make it so. It exceeded our expectations and everyone just had so much fun'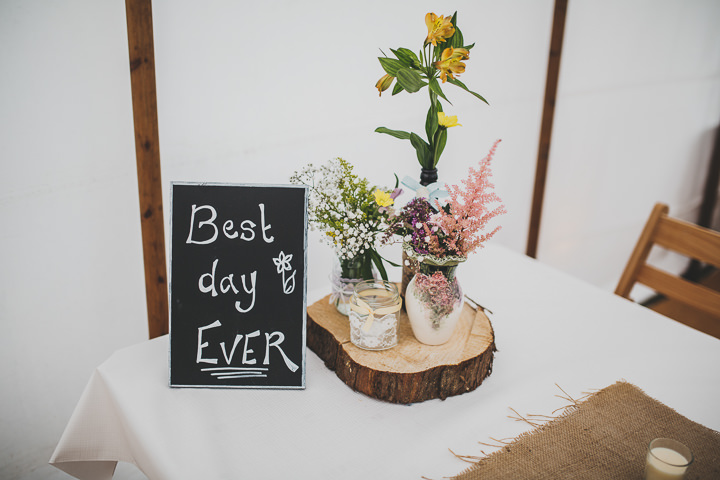 Olivia and Joseph were married on 25th July 2015 at The Most Holy Trinity, Hinton-in-the-Hedges. The reception was held in the field next door to the church. 'Olivia's parents live in the village and we used to take our children to the field to walk the dogs. The field was owned by a man who donated it to the villagers as a playing field for the children to use. There is a little park there, basketball court and a football pitch and we always said when we got married that is where we would do it, we have two children and there are a lot of children in the family, so it just seemed like a great idea to have a wedding that was centred around playing and having fun. All we had to do was ask the villagers permission and they were so pleased for us to have a wedding there as no one had done it before. The field overlooks the church and we just thought it would be perfect to walk out of the church with all of our guests and straight into the reception venue. We chose a traditional marquee to compliment the theme and the village feel. At one end of the marquee we had a fantastic white bouncy castle and at the other end the guests could look out on to a field of horses. It was just perfect. There were 100 guest in the church, we would have had everyone if there was enough room. We then had another 50 odd people attend the reception as soon as we walked out of the church, it took approximately 8 months to plan. It was one of those things that just got planned as we went along, people were asking us what we had done 2 months before and it always felt like we hadn't actually done anything, I think we panicked people, but it came together so well in the end. We took laid back to a whole new level I think.'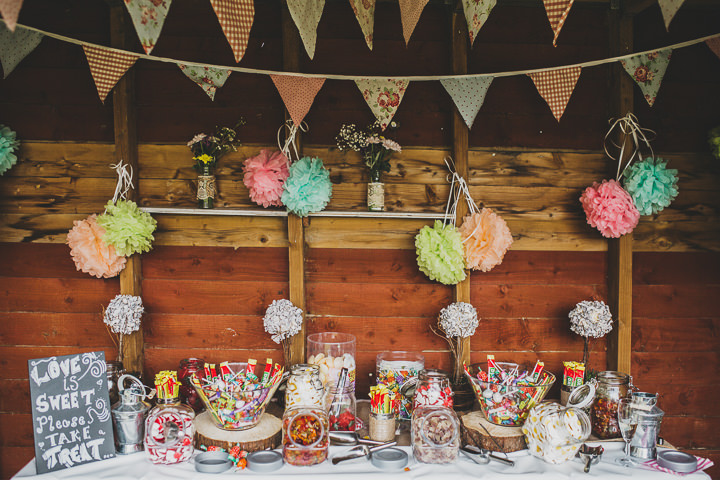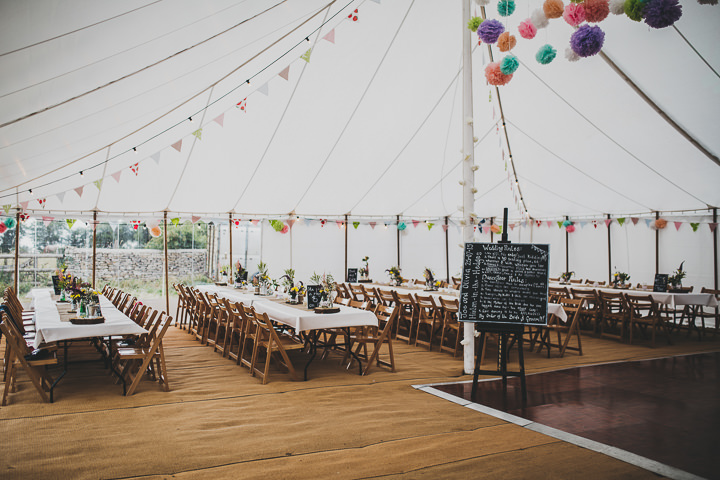 How they met
Joe went to school with my older sister so we'd always heard of each other over the years but had never actually met. Then one day I walked into a local pub and we both clocked each other across the dancefloor and were finally introduced. That was 6 years ago, we have two beautiful boys and it was the last box to tick for us….well unless we try for a baby girl!! Ha! Ha!
The Proposal
Olivia's Dad turned 60 last November, Olivia helped her Mum plan a big surprise birthday bash and so when her Dad got on the Mic to thank everyone he called her up on stage. She thought he was just saying a special thank you for her efforts and then I came up to make the proposal in front 150 members of her friends and family….luckily she said YES!!!
How did you allocate your budget
To put it bluntly we didn't!!! Olivia is a massive bargain hunter and was keen to do everything herself. We literally had the wedding of our dreams for a pretty low budget (well as far as wedding budgets go these days)
Where did you splurge and where did you save
50% of our budget was spent on the marquee. We saved lots of money by not lining the marquee, using local suppliers and making pretty much everything ourselves. We bought the marquee flowers in bulk from the florist and arranged them in the jam jars ourselves. We filled the sweet table with sweets from the cash and carry and bought the jars from Ikea. The farm across the road lent us the straw bales. Joe made all the chalk boards himself and I wrote on them. The village pub did the BBQ for an amazing price and it was delicious. There are so many ways to save when you DIY.
How did you choose your photographer
Olivia is a keen photographer herself and runs a small business. She spent hours trawling through websites and portfolios. When she found Frankee she just knew she was perfect, her style fitted our theme so well. She booked her without even telling me and I'm so glad she did….Frankee was amazing and we are so pleased with her photos.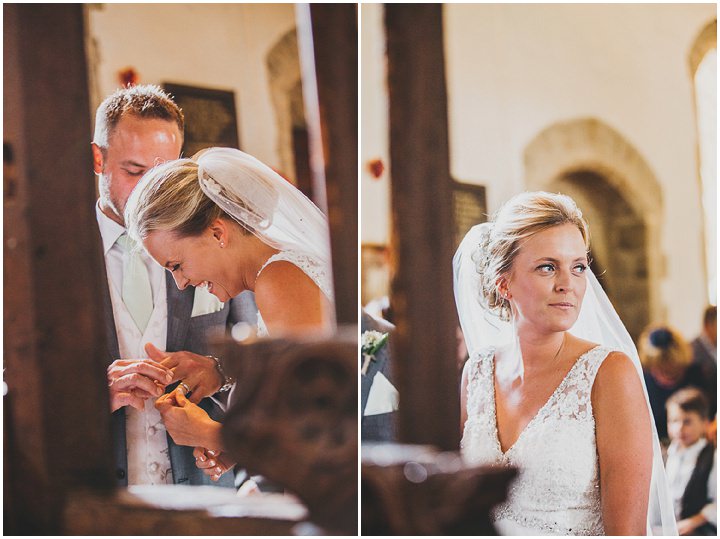 The Dress
My dress was by Mori Lee and purchased from a local bridal shop along with my veil and hair vine. The shoes were by Pinks, I knew I needed wedges with the reception being in a field and they were the only bridal ones I could find but they had been discontinued….luckily enough I typed the designer and style into ebay and I found them brand new at an incredible price.
The Suit and Bridesmaids
The suits were hired from a company in Windsor. The bridesmaids dresses were imported from China (that was another amazing money saver!!)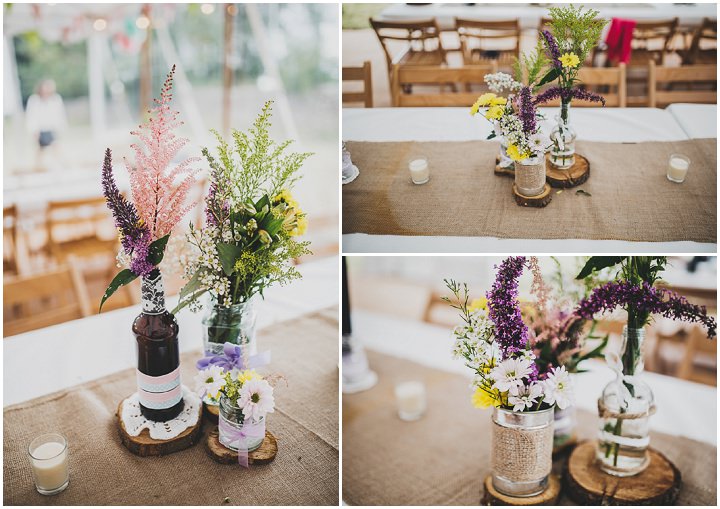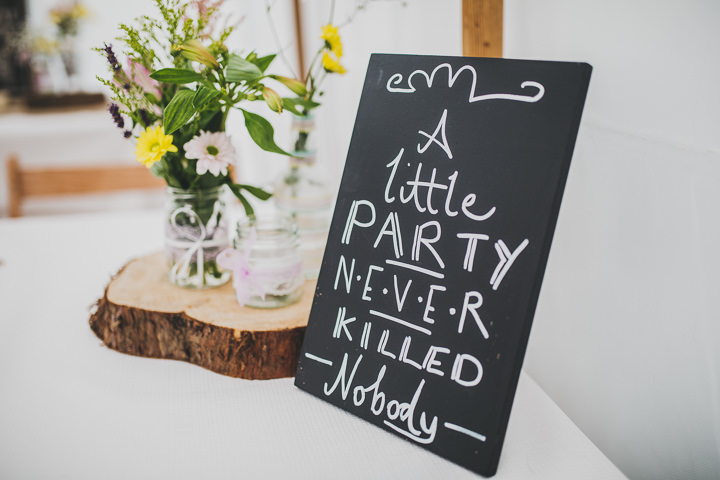 Theme or Colour Scheme
My theme was rustic meets village fete. I wanted all the decorations to be pastel colours and the bridesmaids to wear mint green.
Flowers
The bridal bouquet was sunflowers, bridesmaids and buttonholes were Gyp wrapped in twine and the flowers in the marquee were wild and rustic.
Decoration
Olivia made 200m of bunting herself with fabric bought from Ikea, she also made 100s of pom poms to hang from the marquee and hessian table runs cut rough from a role my Dad supplied, luckily for us he's an upholsterer. We had laced jam jars filled with a mixture of flowers and candles on doilies and sliced logs. We had lots of quirky quotes on chalk boards and straw bale seating outside for everyone to enjoy the sunshine.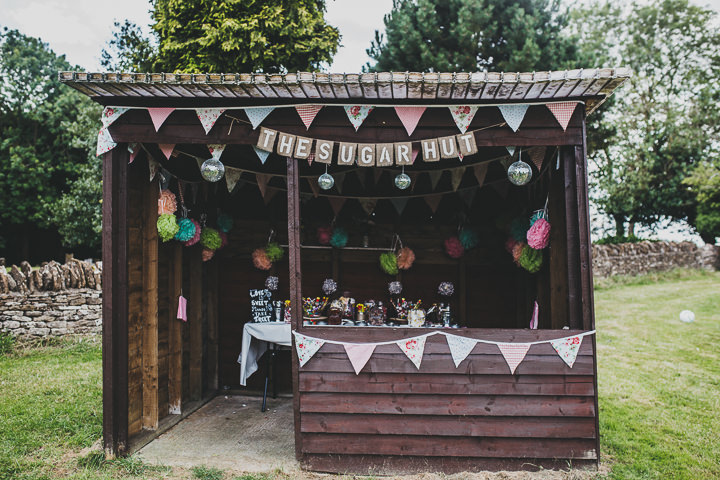 Food
We had the village pub from just across the road cater for us. They went above and beyond and cooked the most delicious BBQ over several hours for our guests to help themselves. They used the local butcher who even gave them his chilled van to fill with meat so they could just keep cooking more and more all day long. It was incredible to say the least. They made cheesecake for dessert and we also had a farmer's wife from the village make us homemade ice cream with the dairy from her farm. Dinner was served on palm leaf plates which really suited the theme…and they were biodegradable which is always a plus!!
Wedding Cake
Following the local supplier trend of the day, we used a local artisan baker to make us a naked victoria sponge cake. He quoted us a quarter of the price of any local wedding cake supplier and it was delicious.
Entertainment
A family friend is a DJ and so we had him come for the duration of the day. In the afternoon he played chill out tracks and as the evening kicked in he moved onto our old school playlist! It was a great party!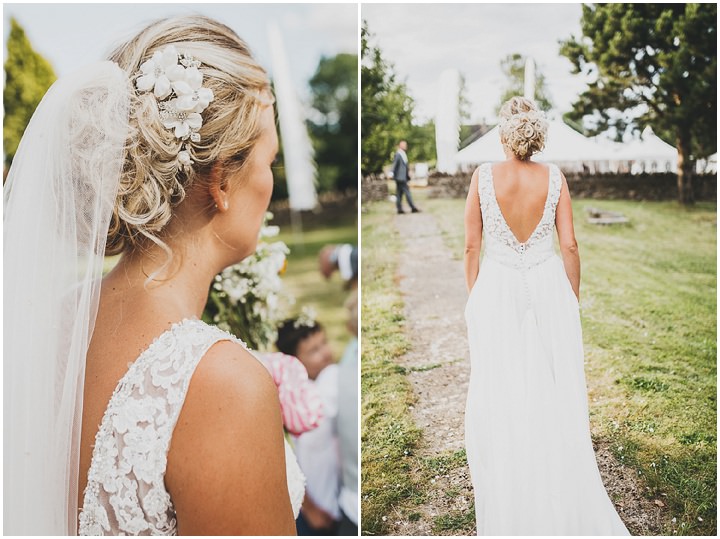 The Stationery
Olivia made all the invitations herself. The theme was Kraft card, twine lace and ribbons with sunflowers….they were so unique and rustic.
Personal or Handmade Touches
As previously mentioned…bunting, pom poms, hessian table runners, jam jars….pretty much everything. Olivia also designed and printed the order of services herself to fit the same theme as the invitations, she was adamant she wanted a sketch of the church on the front and couldn't find one anywhere, so as you do she drew one herself, she took DIY wedding to a whole new level.
Special Moments
One of the best things of the whole day was watching the children play in the park and on the bouncy castle all day long. The bridesmaids were playing basketball, the ushers were playing football and the bride was on the bouncy castle. It was just a really fun filled day!!!
Advice to other couples
Don't take anything too seriously, if you go for a rustic DIY theme it just can't go wrong, there are no dos and don'ts because everything just looks good thrown together. The more you make yourself the more money there is to be saved. Sit back, get the sewing machine out and enjoy making things together.
Biggest surprise
The sunshine!! It poured with rain for the days setting up the marquee. We put the bunting up the day before in the rain and we took it down the next day in even more rain. With our theme being centred around using the most of the outdoor space and the children playing outside, a rainy day would have really been a disappointment…. But the morning of our wedding the sun beamed, from sunrise until the last drink was drunk there was glorious sunshine. Someone was definitely watching over us that day.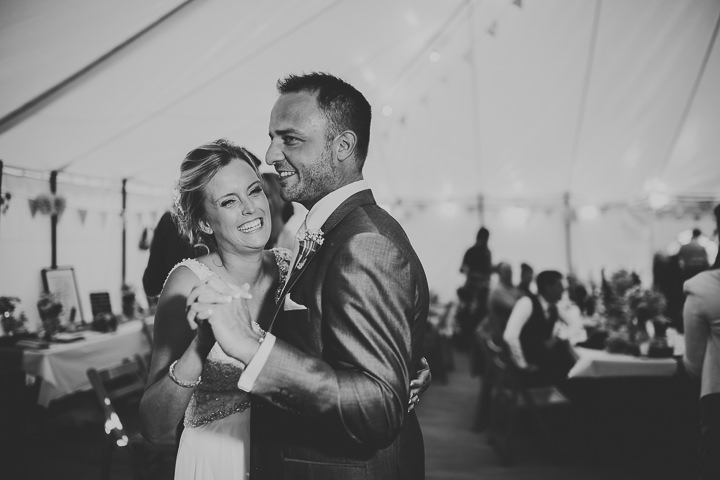 Supplier Shout Outs
For more information on Frankee's work please go to:
www.frankee-victoria.co.uk / FACEBOOK / I-frankeevictoriaphotography / PINTEREST

[jprel]