Todays wedding is a cracker, a fun-filled day FULL of amazing DIY projects, an abundance of super cute details and of course a gorgeous bride and groom. Laura and Clive chose a DIY wedding and with it created a day that was truly personal to them. A bright and bold colour scheme of red and duck egg blue, gave it a modern and fun look, along with lots of super cute signage made by the groom. From the food to the wedding cake, flowers to the seaside cutout, so many friends and family pitched in and helped put together their amazing day. Big thanks to Kristian from Kristian Leven Photography for the wonderful images.
'We're not very traditional so we wanted a really relaxed DIY wedding with a village fete and seaside theme. Our brief was tons of fun, with lots of food, loads of games and plenty of personal touches'
Laura and Clive were married on 4th October 2014 at The Church of our Lady Immaculate, Withermarsh Green, Stoke-By Nayland, Suffolk. 'As soon as we got engaged we knew exactly where we would marry. Six months earlier we'd spent a week in a beautiful little village in Stoke By Nayland, Suffolk. We all shared a couple of cottages next door to each other. The owner of the houses invited us over to his home one evening for drinks and a tour of his very grand house and he told us he owned a private chapel just down the road. Moments later we were hurtling round country lanes at speed in the back of the Major's black cab. The 19th century church was intimate and so full of charm. We loved it. Over the course of the week the Major kept pulling Clive to one side, suggesting how to propose and insisting we marry in his church. We laughed it off at the time but when we got engaged we realized it was the perfect place to marry. It was a beautiful private chapel that we had fond memories of and it was surrounded by rolling fields where we could put a Marquee for the days celebrations, we booked the venue and the date was set. We had around 105 guests to the wedding. We didn't want a long engagement. Clive's Dad was sick and it was really important to us both he was at the wedding. We worked together as a team and planned the big day in ten months.'
How they met
We met 9 years ago, at work and it was love at first sight for me, Laura would eventually warm to the idea! Laura was in a relationship at the time so we remained best friends for 6 years but 3 years ago we both realised a best friend is the most you can hope to have in a partner and we went for it!
The Proposal
On our first anniversary we decided to head down to the Christmas Market on the South Bank and before long found ourselves on Waterloo bridge – my favourite place in London. Clive waited until there was no one around and started telling me I'd make a wonderful wife and how he hoped to make a great husband. Totally oblivious I replied 'Thanks, that's nice' and continued checking out the view! The next thing I knew he was on his knee with a stunning sapphire! I was in shock but said yes straight away. After the excited phone calls to our family, we headed to the Savoy for cocktails and a delicious meal – Clive had booked the restaurant in advance for every Saturday in December just in case he didn't find the ring in time – luckily though, he found it in time to make our first anniversary very special. We now visit the Savoy every year on our anniversary to mark the special day.
How did you allocate your budget
Our priorities were food and fun! On reflection DIY weddings can be really expensive because you have to pay for everything from the generator to the toilets, but once the essentials were covered, we focused on catering. The rest of the budget was spent on booze, the band, a bouncy castle, table games and a photo booth – which proved a huge hit. With Clive's negotiation skills we were good at keeping costs to the absolute minimum but my mum did point out that the slushy machine cost more than my wedding ring! Because we wanted fun to be at the heart of everything we planned we often joked, that we were like children planning a wedding.
How did you choose your photographer
We stumbled upon Kristian after seeing the photos for a friend's wedding. They were fantastic and it was exactly the style of photography we was looked for – reportage. Neither of us enjoy posing for photos so we wanted to capture real moments and emotions when our guests were enjoying themselves, which was another reason for making sure there were lots of games for everyone to play
The Dress
I thought I'd love dress shopping but I found the whole experience really difficult. I'd never really imagined my perfect dress so felt totally lost in the shops. I went away and googled every designer but the one I kept going back to was Justin Alexander. I booked an appointment at Leonie Claire in Brighton, and from the second I met my consultant the whole experience was amazing. My dress wasn't what I expected to wear on the day – I think I wanted to wear something completely out of my comfort zone because it was such a one-off experience – but when I tried on my dress it was just 'me'. I was trying to fight the comfort zone when I should have just embraced it. My Mum paid for the dress, my Auntie Debbie bought me a beautiful veil and my best friend, Richard, paid for my belt. They all wanted me to feel like they were with me walking down the aisle. Mum also bought me some beautiful pearl earrings and the most gorgeous, glass-heeled shoes by my favourite designer, Irregular Choice.
The Suit and Bridesmaids
I didn't want anything too formal so I wore a three-piece tailor-made suit from Debenhams and the groomsman wore their own suits with a candy stripe tie. Laura had 8 bridesmaids so we couldn't afford traditional dresses and didn't want them anyway – the brief was that they had to work on the bouncy castle! She ended up finding red dresses, which suited everyone's style, in H&M! Laura loves shoes so she wanted each girl to wear different shoes – so they had a little of their own personality in their outfit
Theme or Colour Scheme
The theme was village fete and the colours were a combination of Laura's favourite, duck egg and my favourite colour, red.
Flowers
Our bouquets were made by an incredible florist called Alice of Dovecote Flowers. I didn't have a clue about flowers but Alice guided me and we selected for the big day white avalanche roses, bouvardia and lots of foliage to bulk It out with and give it a rustic feel. The table flowers were fresh cut wild flowers and in the Chapel we used vine to decorate the archways with the help of Laura's mum. We wanted to give our mums a nice souvenir of the day, so instead of a bouquet of flowers we gave each of them a bay tree which we had used on the day to decorate the entrance to the venue.
Decoration
I was keen for an abundance of bunting and fairy lights. I'd never made bunting but thought it would prove cost effective to make it, and wouldn't prove difficult. I couldn't be more wrong! However, with my mums help we made over 500 metres of bunting which added something really special to the day. Clive made lots of lovely signs, which included our favourite movie quotes, as we're both big film fans. We asked our creative, and super talented, friend Sonia to make us a seaside cutout. We gave her the brief 6 weeks before the day and when she unveiled it the night before the wedding, we were blown away. It was absolutely amazing and we were touched by the incredible effort and sentiment. Clive's cousin, Melissa, who is also very talented with a paint brush, made us a fantastic post box for cards and a lovely painting for our guests to add their thumbprints to.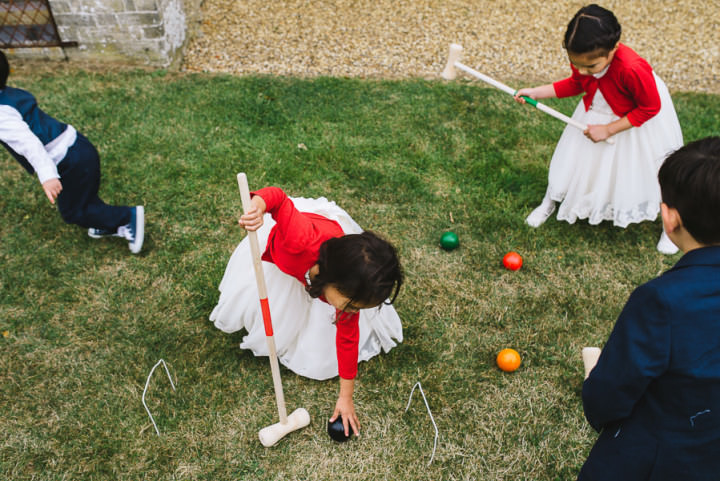 Food
It was really important to us that no one went hungry on the day so, as a coffee lover, I wanted a coffee van & pastries to greet guests as they arrived. Before the speeches we served samosas and patties, made lovingly by my mum – a fantastic chef. My Dad has always been known for his amazing BBQ's so we had to have one on the day in his honour – a gourmet BBQ, complete with hog roast. After our guests had eaten, the ice-cream van arrived and served up 99s, then in the evening as a nod to Laura's seaside roots, we served chips in newspaper cones.
Wedding Cake
To save money I was going to make my own cake but Jo, one of my wonderful bridesmaids, offered to take on the stress and make it for us. It was an incredible naked three-tiered sponge cake, with flavoured icing. So delicious and it looked beautiful. My Auntie Fran also made us a tasty traditional wedding cake, using my late grandmothers recipe.
Entertainment
We made lots of spotify playlists for the day. We bought lots of games for each of the tables and had tons of outdoor games too. We had a badminton net up, space hoppers, croquet, a table football, coconut shy and a bouncy castle. Did we mention that only five of the guests were children!
We hired a band (The Cassettes) for the evening, because we knew it would bring a different kind of energy to the proceedings versus a DJ. They performed three 40 minute sets and helped create a really lively evening. We also hired a Photo Booth which was a brilliant last minute idea that added so much fun. Some of the photos we got from the booth were fantastic and will definitely make it into our Wedding photo album – also we had them to immediately so was able to enjoy looking through them all the morning after the wedding.
Clive made a video slideshow for the day and it included lots of photos of me and him over the years but also us with each of the guests at the wedding. Everyone was included in it. We projected it in the evening on a big screen to distract guests while the band set up and whilst we had initially intended for it to be on in the background while guests milled around, what actually happened was everyone took a seat and sat and watched the entire 45 minute show. It was well received and gave everyone a bit of time to relax before the dancing began
Buy or DIY your Stationery
We DIY'ed all the stationary. Clive designed the invites, the order of services and all the frames that we used to decorate the venue. We sourced all the card online and used a printing company outside of London as they were more reasonably priced.
Personal or Handmade Touches
Bunting, Signs, Paper Hearts to decorate the entrance path, Ivy and flower arrangements for all the tables , Seaside cutout, Postbox, Thumb painting, Cake, Coconut shy, Slideshow.
Special Moments
Other than the ceremony…!
Clive: Watching Laura stand up and ad-lib an entire speech on the spot. She had always wanted to say something on the day, but had run out of time and had not got round to actually writing a speech. Instead she decided to just stand up and say a few words and in that moment I was the proudest husband. It was the funniest, sweetest and most poetic speech that I had heard and I think that with all the time in the world, I could never have written anything as good. I was also touched when my dad came onto the dance floor in his wheelchair to share a dance with Laura and me.
Another special moment for me was when my friend Dan made the impossible possible – the bouncy castle had been rained on during the day and was completely drenched and so we hadn't had a chance to use it. Dan, took off his shoes, rolled up his trousers and swept all the rain off and dried it with towels so we could all enjoy a late night bounce.It was a touching gesture of friendship.
Laura: I loved every second but while the band was on I had a moment where I stopped and just looked around me at everyone singing, busting crazy moves and having fun on the dancefloor. Our aim was to have everyone we loved around us, sharing and enjoying the day and I think we pulled it off.
Advice to other couples
Ask a couple of friends to take pictures on their phones. It's likely that you will have to wait a few weeks to see the official photographs but you will be desperate to see photos the next day. We'd also recommend waiting to take the honeymoon. We were shattered for the first week of ours and wanted to chat to everyone back home about the wedding day. In hindsight flying out a month later would have given us a bit more time to get really excited about going away.
If you plan to do a DIY wedding, research everything, because once you tell people it's for a wedding they will try to up-sell to you. Clive narrowly avoided hiring a generator that the man said would be perfect for our wedding, only to find out through some research that actually it would be perfect to power the O2!
Most importantly though, share the work! We loved our DIY wedding as everything had a personal touch, but it's more work than we ever imagined. Turn to friends and family for help – not only will it take some of the stress away but people want to help, and looking round the room at all the care and hard work, it's such a lovely reminder of how much love goes into a marriage.
Biggest surprise
Laura: We didn't care about the torrential rain we'd been dreading! It's the best day of your life so you'll enjoy it, whatever the weather!
Clive: I would agree with Laura. When the rain had stopped, I enjoyed a really special moment with my wife as we stood underneath the most amazing rainbow; a sign that it doesn't matter about the weather on your wedding day. Life isn't perfect, but you need to stop and appreciate the perfect moments.
Supplier Shout Outs
For more information on Kristin's work please go to:
www.kristianlevenphotography.co.uk
[email protected]
T: @kristianleven
FACEBOOK