This afternoon We are talking Wedding Photography in our Ask the Experts feature. Being a photographer myself I cannot stress enough the importance of having a great photographer on your wedding day. When the wedding is over you want to be able to cherish your wedding pictures forever, not feel disappointed that you made the wrong choice. However there are many things to think about and consider when looking into the options available to you. One of the questions you may ask is, When do you really need two wedding photographers? James & Lianne are a photography due from Leeds who have just joined the Blogs resident team of wedding experts. Today they are tackling the subject of weather you need one or two photographers at your wedding. Please make them feel welcome, I hope you find the information interesting and helpful.
When do you really need two photographers?
It's hard to be in two places at one time, even as a photographer who's done their due diligence and asked their couple to give them painstakingly detailed timings, things always come up to thwart a photographer's efforts to capture it all. Traffic is one of those major problems where the solo photographer ends up sat behind a tractor on a single track country road when they could be shooting amazing moments of your day that are just going un-captured. You might, as is sometimes the case, be getting ready two towns apart from your husband or wife to be and there's a physical impossibility in your photographer capturing both of your morning preparations and all the fun photos that come with it. A solo photographer may simply choose to capture the bride, as 'she's more important'. But what about when there are two brides, or two grooms, who takes precedence? And why should a groom just be left as second billing? It's as much about him as it is about the bride!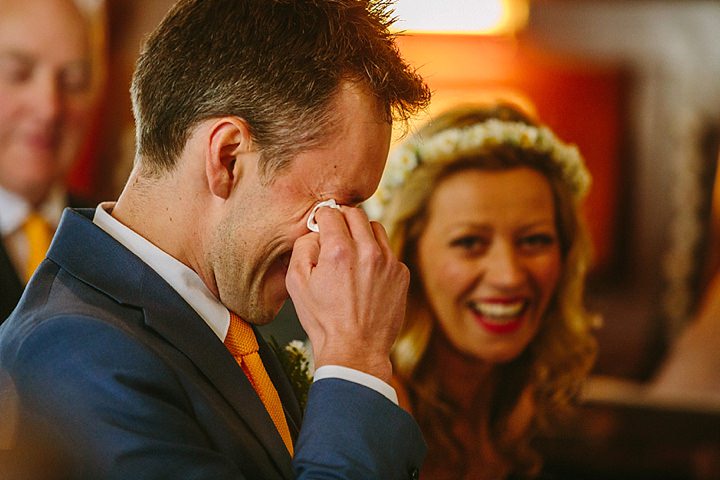 These problems can just disappear with two photographers. Two professionals who can split up and overcome those traffic problems, overcome who gets the bulk or preparation photos and take control of all the other times when one photographer may end up having to make difficult choices about what moments to capture from your special day.
We're of course not saying a solo photographer isn't enough, that's clearly ludicrous and there are hundreds of excellent solo photographers out there doing an amazing job every day. But there are times when having two makes things so much better for you and the photos you get back after your wedding.
Capturing both sides of the story.
As we said above, it's about two people, not one. It's amazing to see how two people come together on their wedding day and both of you deserve to be a part of that story.
Those hard to reach shots.
Sometimes, there are photos that you just expect your photographer to get that can end up being a nightmare for your photographer. The first kiss being one. It's a moment that's over in a flash, and all it takes is a vicar or registrar to take a step in the wrong direction and a photographer's view is completely obscured. No worries, two photographers equals two angles… that photo is in the bag!
Keeping it low key
Speeches are always a great time for getting a great range of emotional photos. There's always plenty of laughing, crying, cringing and love. What you don't want is a photographer wandering around in the middle of the room blocking your guests' views and being a general distraction. With two photographers, they'll be able to divide the room up and be much more discrete enabling them to capture more of the real emotion.
Things you never know happened
You might be chatting with your mum and your Great Aunt Norma who is 96 which makes for some gorgeous photos across the generations and you'll treasure them forever. But what you might also like capturing is your dad and your uncle having a rip-roaring time playing twister out the back! The thing is, you never knew that happened until you get your photos back and truly seeing where the value of that seconds photographer comes in.
Dependability
You want some photos of everyone on the vintage bus you hired to take everyone from the ceremony to the reception but your photographer drove to the ceremony so needs to drive to the reception. We don't need to tell you why two photographers makes sense anymore, do we!?
The benefits of having two photographers comes down to having the reassurance and faith in your photographers that everything you want capturing is going to be captured. Many solo photographers often advertise that they provide a 'second shooter' which will help cover all the moments and eventualities that may come up but it's always worth asking just who their second shooter is, how much experience they have and whether they're just a glorified bag carrier. Often with husband and wife/couple photography duos, they are each a 'main photographer' in themselves. Neither takes a backseat, each can take the lead of capturing your wedding and each brings their own wealth of experience with them. You may find these types of photography duos to be the best bang for your buck as well if two photographers is what you need as it's not an additional extra, it just comes as standard. They also come with that added reassurance that they'll shoot in the same style as each other (as opposed to a 'hired in' second shooter who may just have a similar style). This is a real bonus when considering what would happen if your solo photographer became ill/couldn't make it to your wedding; with a duo there's always someone who will produce the same style of photos you originally fell in love with when you booked them no matter what happens!
Of course, if your wedding is small or short, you only need one photographer. And if you have your heart set on a solo photographer you should absolutely go with your gut and book them! There are just some occasions when the extra assurance is worth more than what you paid for it!
For more information on James and Lianne's work please go to:
www.jamesandlianne.com / FACEBOOK / @jamesandlianne / PINTEREST / I: Jamesplester