Today I would like to introduce you to Beth from Cakes By Beth. Beth is one of my lovely sponsors and I had the pleasure of meeting her a few months back when I took a trip over to Manchester. I have tasted her amazing cakes first hand so I can tell you all how tasty they are! Beth also wrote this article for me a few months ago 'Designing your wedding cake'
Beth has been making cakes for a while now but more recently she has launched her new service of dessert tables….and who doesn't want a dessert table at their wedding??
Beth has been kind enough to offer you the Boho reader an fabulous offer on any of her dessert tables booked this year.
To celebrate the launch of my new line of dessert tables, I would like to offer all Boho readers 20% off dessert table packages ordered in 2011.  This can be for a wedding or event at any time, as long as you book before 31st December 2011.  Simply quote BOHO when ordering.
Beth goes onto say 'Dessert tables are big news in the US and the trend for having a dessert display at weddings, to compliment the cake and create a show stopping centrepiece, is definitely growing over here. I have been receiving a lot of requests for extra items to match the main cake but people are often unsure about how it should all be displayed.  I therefore decided to combine my cakes, cupcakes, edible wedding favours and love of all things baked, to launch my dessert table service, where the cake, custom desserts and tableware are all perfectly coordinated and create that wow factor display.  Dessert tables also a great way of catering for guests with specific dietary as desserts can be created to cater for their needs.  From cupcakes, cake pops and cookies to mini tartlets, French macaroons and coconut macaroons, the choice of flavours and styles means you can choose something to suit every taste.'
'Dessert tables don't have to be large.  I recently created a small display for an intimate wedding, where the bright, sunny wedding cake was perfectly complimented by mini fruit pavlovas and chocolate and banana meringue bites.'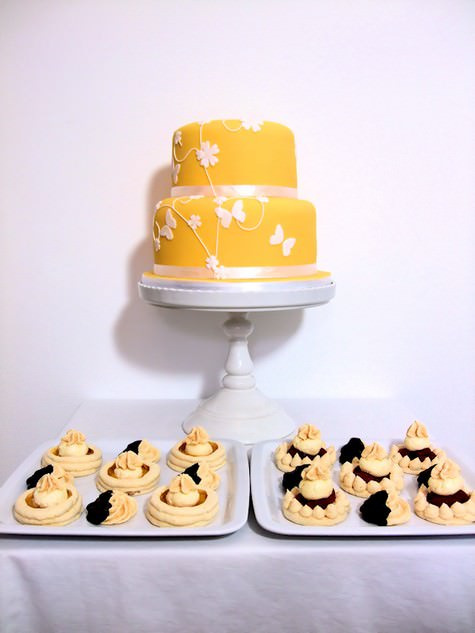 A bit more about Beth:
My company name says it all really. My name is Beth and I make cakes. I started out creating more and more elaborate novelty cakes for friends and family's birthdays and just absolutely loved the whole experience.  The reactions I got were amazing, which spurred me on to do something even more interesting, bigger and better next time.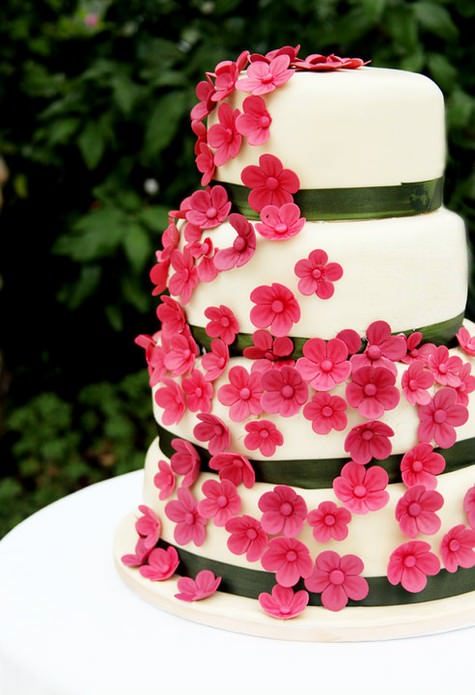 Then my friend asked me to make her wedding cake. I couldn't believe it, it was such an honour and an amazing challenge! I loved hearing about all the details of her wedding and planning how the cake would fit into it, bringing out the different colours, flowers and the overall atmosphere she wanted to create.  Afterwards, all I could think about was wedding cakes and so Cakes by Beth really began.
My tagline is "Beautiful, contemporary, delicious" because I feel that these are the three most important elements that represent my work.  My style is clean and contemporary with an interesting twist, either structural shapes, vintage detailing or an element that is unusual and a little bit quirky.  All of my cakes are bespoke, designed to match the exact personal requirements of each couple for their special day.
I love the design process as I get to meet with the bride and groom, find out about all the amazing details of their wedding and bring together the key ideas to design their perfect cake.  It's a really exciting process and no two consultations are ever the same. I love it!
Couples are looking for ways to make their cake stand out and be different, but not be over the top or look like a birthday or celebration.  I love working with bright or rich colours on details and as backgrounds behind silhouette patterns, whilst keeping the overall look very much a wedding cake.  The key is to know where to use colour and detail, and when to stop, which can make or break a design.
I always think of the famous quote by Coco Chanel about accessorizing: "Always take off the last item you put on", which I believe is true when designing wedding cakes as well.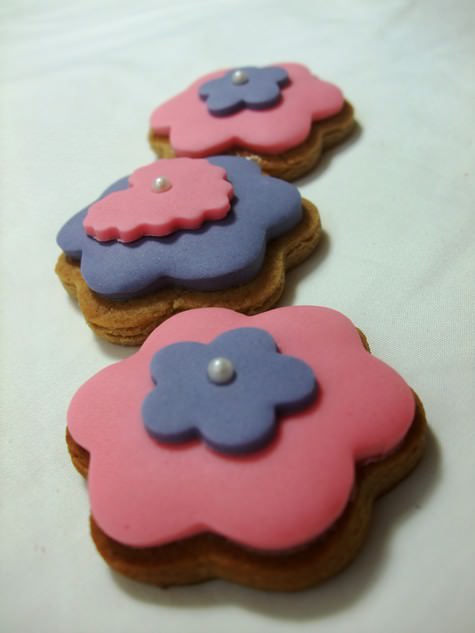 All of my ingredients are locally sourced and Fair Trade wherever possible. I use free range eggs, speciality jams and seasonal fruits, which ensures that everything tastes as good as it looks.  After all, a cake is for eating as well as for looking at!
I'd like to say a big thank you to Beth for this fabulous offer, you have to try one of her cakes they are as she says truly delicious! and to see a bit more of Beth pop over to her website and watch her video.
(Photo credits: Jenny Purdy Photography and Beth)
So don't forget 20% off dessert table packages ordered in 2011.  This can be for a wedding or event at any time, as long as you book before 31st December 2011.  Simply quote BOHO when ordering.
For more information  go to:
Website: www.cakesbybeth.co.uk
Blog: www.cakesbybeth.co.uk/cakeblog
Email: [email protected]
FACEBOOK
TWITTER
Tel: 07855 761782