Today's Boho Loves is all about cake….yep one of my favorite subjects! Beth Mottershead the lady behind Cakes by Beth is today celebrating the launch of her new 2012 cake collection.
Beth launched her cake business in the spring of 2011 and I was lucky enough to go over to Manchester to meet her and taste some of her amazing cakes. As Beth lives in Manchester she mainly covers Greater Manchester, Lancashire and Cheshire but is happy to travel further afield.
Cake Describes her and her cakes; 'Scientist turned cake designer, obsessed with all things cakes and weddings, and especially wedding cakes! I really like clean, simple lines, balanced designs and adding a bit of a twist. I'm calling it "Scientific chic"
Beth tells me more about what made her start the business
I have always loved drawing and creating things and I always loved making cakes and pastries with my mum. I used to relish the opportunity to create birthday cakes for friends and family, and during my PhD, cake decorating became a real passion as a form of release from all the science. I started making more and more cakes for people and then several friends asked me to create their wedding cakes for them. It all just grew from there.
I have had so many amazing opportunities and really exciting things have happened but I would say my biggest achievement has been to grow my business to where it is now. I had dreams for what I wanted to do in my first six months, my first year etc but they were just little lists that I hoped I might go some way towards achieving. I never expected to exceed them and by such a long way. It really has been an unbelievable year!
I love pretty much everything to do with my job. I love designing and making cakes (of course!) and I hold my hands up, I am completely obsessed with them, so being able to completely immerse myself in the world of cakes and weddings is amazing. I also love meeting couples and hearing about their wedding plans, and then distilling it all down into a cake design. Some of my favourite moments have been when a couple have had a rough idea of the kind of cake they like, but then I describe a design that is a little more "out there" (which can feel like a risk) and they say: "That's it! We would like THAT cake!" It's an amazing feeling to know that you have designed something that they will really love and are incredibly excited about. My other favourite bit is when once you have set up the wedding cake or dessert table, you stand back and see how beautifully it ties in with the rest of the wedding décor. It's a proud moment.
I asked Beth what made her different to other bakers
My Scientific Chic style,  I think my designs stand out as being something different and I would say that is the main reason couples tell me they chose me to make their wedding cake. I love using texture, splashes of colour, metallics and bold shapes and patterns on my cakes but keeping the whole look clean and modern.


Today is the official launch of my 2012 Collection, thanks so much Kelly for featuring me! I go around with 101 cake ideas in my head all the time so with this collection, I wanted to bring together my favorite ideas, showcase where I am with my design styles right now and also highlight some of what I think are key trends for the year. I have launched the collection in the form of a Look Book, where the main wedding cake is "accessorized" with coordinating desserts. These are great as favours or as part of one of my dessert table displays, which are proving as popular as ever for weddings this year.
The collection comprises six cakes, with three on the more feminine, romantic side and three more structural. I also wanted to have a nice mix of dark and sultry cakes with softer pastels. I think I know which is my favourite but I also keep changing my mind!
GOTHIC BIRDCAGE

My first design is the Gothic Birdcage. Anyone who knows me knows I love birds, especially those of the small and blue variety, and I have always wanted to create a birdcage cake. Bird-themed weddings are really popular, birdcage decorations, centerpieces and table plans. A lot are in white and pastel shades but I wanted to create something darker and more sultry. Someone even described this cake as sexy, which I am loving! I added a bit of glamour with copper highlights and teamed the cake with matching birdcage cookies, displayed on a bed of black rose petals. Black and ivory are such a great colour combination as it isn't as stark as black and white so the overall effect is much softer and more romantic.
TUMBLING HEARTS AND FLOWERS
In contrast, the Tumbling Hearts and Flowers cake is really fun and girlie. The off-white, vintage style broderie anglais lace and white blossoms really pop against the ivory background, and for a splash of colour, I added subtly shimmering textured hearts and the odd blush pink blossom. I didn't want the hearts to be too obvious so the blossoms pour over them in a textured cascade. I wanted to show how you can interpret elements of your wedding cake in different ways for the accessories, so here I have teamed the cake with heart-shaped tartlettes with strawberry filling and rosewater fondant. They are melt in the mouth and fruity with a gorgeous sweet scent.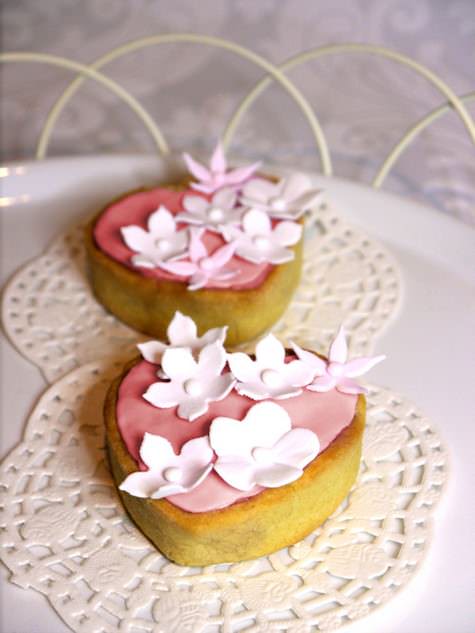 NAUTICAL LOVE
Nautical Love is based on a classic cake design but with a few twists. The stripes are softly draped around the cake so as not to look too harsh and the edible rope details are both fun and perfect for a wedding. I love the bow and charm detail, which is inspired by some cute little napkin ties that I bought from Out Of Love. I wanted the cupcakes to coordinate but not be too twee so I combined key elements and set them on a pure white background.
WOODLAND ROMANCE
I had the pleasure working with the very talented florist Jan from Rosa and Company in creating the Woodland Romance cake. When I first described my vision for this cake (a romantic stroll through woodland, gathering flowers), she got me straight away. Every image she sent of possible blooms was even better than the previous and I knew we were going to create something stunning! I wanted a soft and textured look for the flowers so Jan mixed veronica, phlox, trachelium and waxflower with pistache for greenery. Moss gave the arrangements depth and a greenish-yellow background, and twisted willow and some cute little pine cones added woody texture and height. In contrast, the cake is quite structured and formal, covered in white and ivory pleats. I didn't want it to be too plain but I also didn't want the details to overshadow the beautiful flower arrangements. I really love pleats at the moment, they are something a little different without being too bold and fabric-inspired cakes are going to be big this year. The matching cake pops are dipped in white chocolate for a lovely ivory finish and Sophie from Cards by Sophie created beautiful labels so that they can be used as favours or place settings for a tasty treat when guests find their seats.
SKETCHED ROSES
For my Sketched Roses cake, I wanted to show that you can have roses on a wedding cake but in a completely different way. Instead of 3D flowers, I hand-painted rose silhouettes and included some soft pink rose buds for added interest. The rose silhouettes were the perfect decoration for cookies and I also topped black fondant fancies with the rosebuds for a striking alternative to cupcakes.
JUST PEACHY
My final cake, Just Peachy, is very soft, feminine and glamorous. I created a white, ruffled cascade of flowers and blossoms with accents of antique gold, and spiraled them around a blush peach cake with contrasting hexagonal bottom tier. The hexagonal structure of the base is emphasized with antique gold and white flowers. I wanted to keep the coordinating desserts really simple and elegant so I chose these antique gold macarons with my signature ruffled filling in zingy lemon flavour. I absolutely love these vintage amber bowls as they create a really simple but striking display.
Pricing
Everything I do is completely bespoke so the actual cost of a cake or dessert display depends on the size and level of decoration. I have a basic set of prices that different cakes and desserts start from, and then I add-on the cost of different details to give an overall figure. There is pretty much a cake for most budgets so if couples want a certain look but have a budget that they can't go above, we work together to tweak the design until they are completely happy. My fee includes a complimentary design consultation and taster samples plus set up and delivery within 50 miles of my kitchen so the one price quoted covers everything. I don't believe in hidden extras.
For more information on Beth's cakes go to:
Website: www.cakesbybeth.co.uk
Email: [email protected]
FACEBOOK
TWITTER
Tel: 07855 761782