This afternoon we are talking jewellery, wedding and engagement rings to be exact! I don't often talk about jewellery on the blog, mainly because I think it's a very personal thing and also because I find a lot of the companies offering wedding jewellery are all pretty similar. However today I'd like to introduce you to Celtic Wedding Rings a wedding jewellery company offering you something  a bit different. They mix modern designs with celtic motifs and the results are beautiful and unique engagement rings and wedding bands. I'm sure you are going to love them.
'Vincent Byrne is the Managing Director of Celtic Rings Ltd. Vincent has over 25 years' experience in the Irish jewellery industry. He started off creating unique pieces of wedding jewellery by request, but it wasn't long before the requests increased and he decided to set up his own company. Celtic Rings Ltd was born. Vincent no longer works in the craft shop but was instrumental in passing on his knowledge and craft to the rest of our team'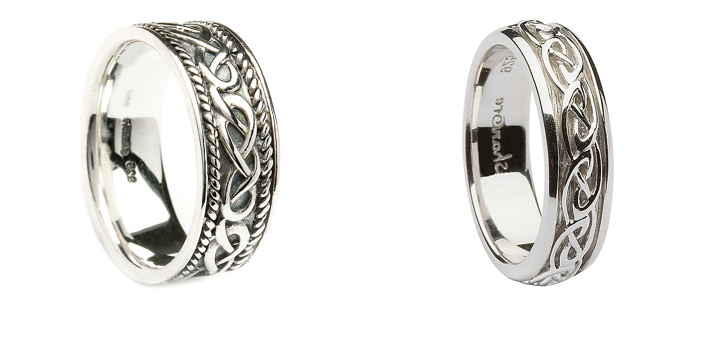 We asked Vincent Byrne to tell us more about his business
When did you start your business?
2002
Where are you based?
Offaly & Dublin, Ireland but we supply worldwide
How would you describe your style?
A marriage between classic Celtic motifs and modern jewellery design. Finding new ways of portraying ancient Celtic symbolism has always fascinated me. Always will.

What makes you different to your competitors?
Every ring is handmade in Ireland, each piece is then sent to the Dublin Assays Office where it is tested for quality and then stamped. This hallmark is your mark of authenticity and quality.
What do you enjoy most about your job?
The fact that there are literally thousands of happy couples around the world wearing jewellery we made to show their commitment and love for one another. It's inspiring.
Can you give me some information on your pricing structure?
Starting at around $70 for our sterling silver items, the max depends on the size and quality of the diamond one chooses for an engagement ring. This can vary wildly.
What is your ideal way to spend a day off?
Spending time with my lovely wife and overly energetic dog.
If you weren't running your business, what would you be doing?
I'd be back in the craft shop in a heartbeat!


To find out more about Vincent Byrne Celtic Rings go to:
www.celtic-weddingrings.com /  
www.celtic-weddingrings.com/blog / [email protected]
 / FACEBOOK /  @celticringsire / PINTEREST