This afternoon I am delighted to introduce you to a lovely lady who designs the most exquisite hand crafted Eco Friendly Engagement Rings and Wedding Jewellery. When her designs landed in my inbox I knew straight away that I had to share them with you. Taking her inspiration from Nature, Alice from Alice Stewart Jewellery creates the most beautiful, delicate and enchanting pieces of jewellery. Her stunning custom made engagement rings would be a true dream for any eco friendly bride. While her nature loving jewellery takes inspiration from the gorgeous countryside around her. Alice works in her studio in Stratford-Upon-Avon, taking commissions from people all around the county. Everything she uses from the packaging to the gems is recycled, sustainable and ethically sourced. If you care about the environment and want to support an inspiring independent business, then you really need to check out  Alice Stewart Jewellery.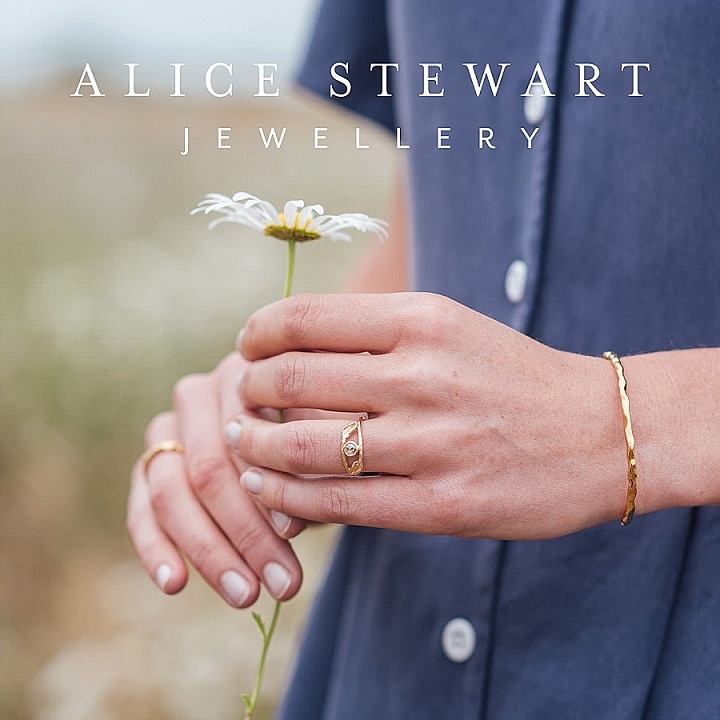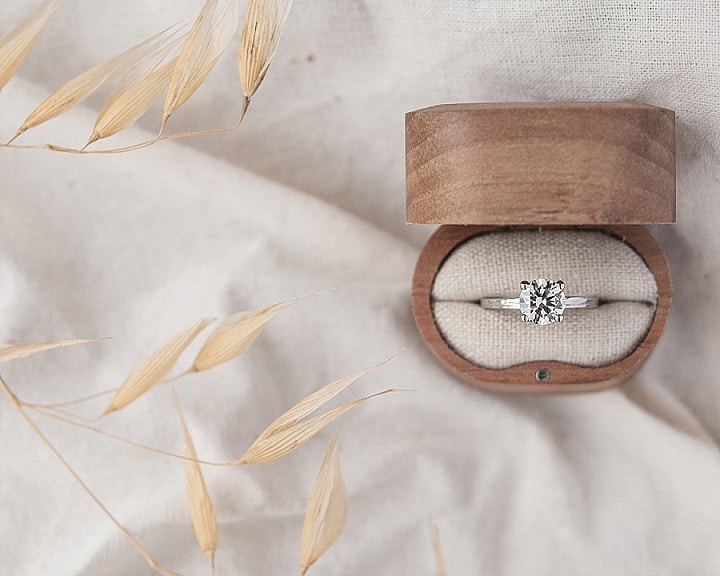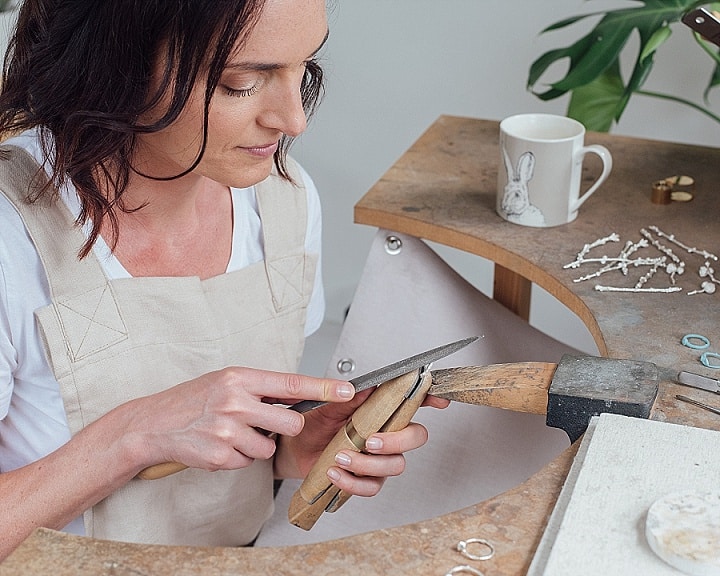 Alice designs and creates delicate nature-inspired jewellery, in her leafy garden studio in Stratford-Upon-Avon, in the UK. Fine craftsmanship and attention to detail come together to form a completely original collection, and one-of-a-kind engagements rings; made by hand to be treasured and kept.
Alice welcomes commissions for bespoke jewellery, using her creativity and insight to design unique, handmade, nature-inspired engagement rings and revive sentimental heirloom jewellery. Whether creating something entirely new or working with customers on a design they have in mind, she personally crafts each piece in collaboration with the customer.
Providing consultations via email as well as from her idyllic garden studio, Alice works with couples looking for an alternative to the 'ordinary' for their wedding bands; a more meaningful and personal way to symbolise their unique journey through life together. One of her biggest passions is creating meaningful handcrafted nature-inspired engagement rings and wedding jewellery for those who are drawn to the call of the wild.
What led you to start your business?
Growing up in the Cotswold countryside, my fondest memories of childhood were spent on outdoor adventures, where I'd collect small trinkets from nature to go in my treasure trove box of keepsakes. This was, without a doubt, what sparked my fascination with the intricate and the miniature, and where my lifelong love affair with the magic of nature began.
Surrounded by a world determined to be a slave to fast fashion, I had a strong desire to create something beautiful, designed to last forever. It was at university while studying Silversmithing and Jewellery in 2011 that my passion for nature and craftsmanship collided, and I began my journey creating Alice Stewart Jewellery.
Where are you based?
Surrounded by scenic fields and rolling hills, the landscape that stretches out from my garden studio in Stratford-Upon-Avon provides me with endless inspiration as one season gives way to the next. I consider myself very lucky to have a nature reserve on my doorstep, so throughout the year I spot all sorts of wildlife through my studio windows.
What sort of geographical area do you cover?
If there is one thing that lockdown has shown me, it's that the location of who I work with doesn't really matter. People travelled from all over the UK to visit my studio (before lockdown), but most often its customers local to Warwickshire and the Cotswolds who visit for in person consultations about their engagement or wedding rings. The location hasn't stopped couples working with me in the US and Europe too though, as I'm able to do all the design work digitally via videos of gemstones and 3D designs, so couples can really get a feel for what their unique nature inspired engagement and wedding rings are going to look like throughout the process.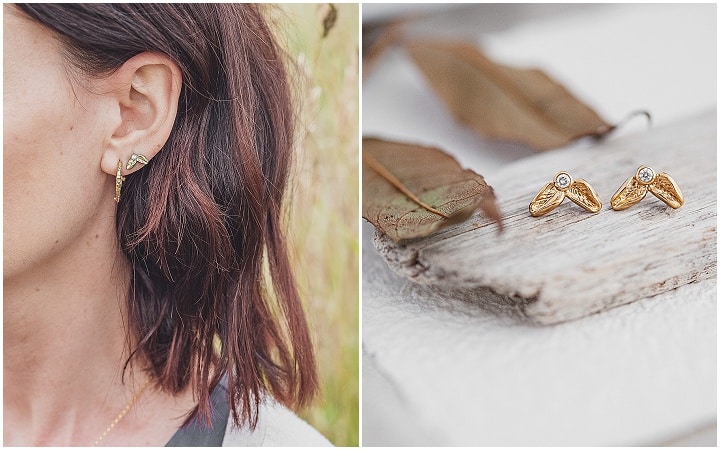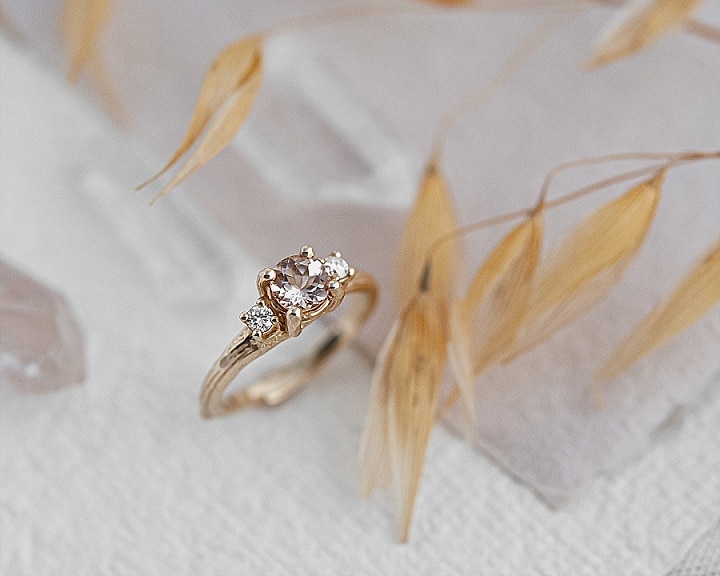 What sort of couple picks you for their wedding or engagement rings?
Generally, they're nature lovers, instinctively drawn to quality craftsmanship, and don't care for fast fashion – they have a sense of timelessness to their style and prefer to buy unusual, one-of-a-kind pieces from independent brands rather than the high street. The couples I work with tend to be down to earth souls, who treasure beautifully crafted jewellery that holds a great deal of sentimental value to them. They're likely to be environmentally aware, and support businesses who share these important values. Couples that find me are drawn to the call of the wild, and looking for an alternative to the ordinary for their wedding bands or engagement rings, and a meaningful and personal way to symbolise their unique journey through life together.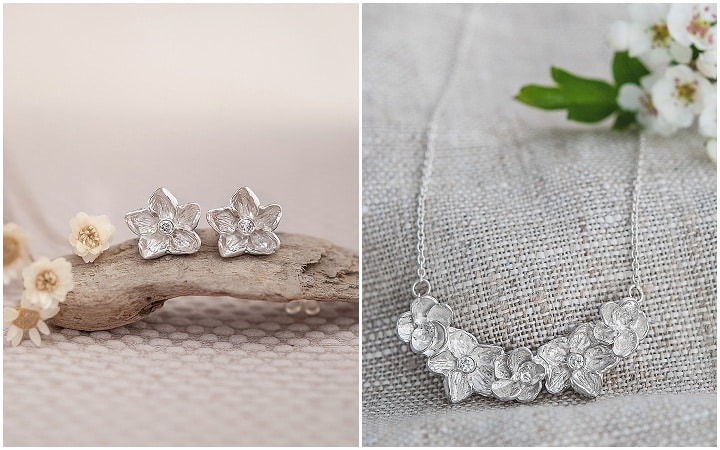 What is your favourite sort of work?
It would have to be working on one-of-a-kind engagement and wedding rings as it gives me the lovely opportunity to really get to know people; there's a special connection you have with someone when you're creating something that's so personal to them. My bespoke service offers a really unique experience for people – whether that involves reworking an heirloom piece that's been in the family sitting in a jewellery box gathering dust, into a ring they're really going to treasure; or maybe it involves using a special piece of nature a couple has found with a personal connection to them; we can work together to create something that's truly individual.
How would you describe your style?
I would describe my signature style as nature inspired with an attention to detail and completely timeless. I hope to bring people a little closer to nature – each piece a token of the seasons, that can be worn to help us feel connected with the rhythms of the natural world. Each piece has a story to tell. Created for those who find solace in nature, every Alice Stewart Jewellery piece helps lend originality and meaning to someone's own personal style.
Do you support any charities through your work?
Yes, I'm a supporter of the charity Trees For Life who are helping rebuild and re-wild one of the world's most precious woodland habitats, the Caledonian Forest in the Scottish Highlands. For each piece of jewellery bought including custom orders, I give a charitable donation to this brilliant charity. When deciding to support a charity through my work, it was really important to me to be able to give back to nature. So, I'm really proud that, together with my customers, we can help give back to the natural world that inspires me every day.
In what ways are you an environmentally friendly business?
I'm committed to Alice Stewart Jewellery being an eco-friendly, sustainable brand. From the precious stones in the engagement rings I create, to the recycled packaging each piece travels I'm in full control of how my pieces are made, and how materials are sourced.
I only use 100% natural untreated gemstones and diamonds from my reputable suppliers, and I've also built up a collection of unique vintage diamonds and gemstones over the years. Using these beautiful gemstones in new designs is one of the most sustainable and eco-friendly ways to incorporate natural gems into a new one-of-a-kind ring.
From the recycled cardboard postal boxes to the biodegradable tissue paper and natural ink, every part of the making process is as ethical, sustainable and eco-friendly as possible. As a business in today's consumer-driven society, I strongly believe it's so important to leave as small a footprint as possible on our planet.
What is your biggest achievement so far?
Achievements can mean so many different things to each of us. A lot of the time we think of big milestones, but for me it's building the slower lifestyle that I've always been so drawn to, that's been made possible by being my own boss and doing a job that allows me the freedom of creativity. I would be lying if I didn't also feel proud that I put myself forward for the Woman Who award in 2019 and go on to win the best solopreneur for product-based businesses, but it's the slower more intentional lifestyle that I live each day that means the most to me ultimately.
What is your ideal way to spend a day off?
I've recently really got into gardening and love the magic of seeing something grow from a tiny seed into a blossoming plant or flower, so if it's a sunny day you'll most likely find me pottering around in the garden. I also love walks in my local nature reserve which I feel so lucky to have on my doorstep. It's a little piece of wilderness tucked away at the edge of town, and my go too whenever I need to reconnect with the natural world and rekindle my inspiration.
If you weren't running your business, what would you be doing?
In all honesty I have no idea! Thinking back to when I was younger, I dreamt of being a wildlife conservationist, so maybe in another life had I not found my passion in jewellery design I would have gone down that path.
For more information on Alice Stewart Jewellery go to
www.alicestewartjewellery.com / [email protected] / FACEBOOK / INSTAGRAM / PINTEREST 
this is a sponsored post