Todays wedding is a super stylish day with some top-notch photography courtesy of Matt Parry Photography. Katie and Mark's London wedding is set in Islington (where I was born) and is a visual feast from start to finish. With giant balloons, amazing cakes, fantastic flowers and a super gorgeous bride and groom, this wedding is modern mixed with classic romance. I just love it.
'It was truly the best day of our lives so far – being able to share our commitment to one another with our friends and family was an incredible feeling'
Katie and Mark were married on 31st June 2015 at Islington Town Hall and The Dolls House. 'Islington is the borough where we live and bought our first home together. It felt right to get married 'at home' in a place that will always be special to us – plus the fact that Islington Town Hall is incredibly pretty! We had 100 guests in total and planning it took 6 months from engagement to the wedding.'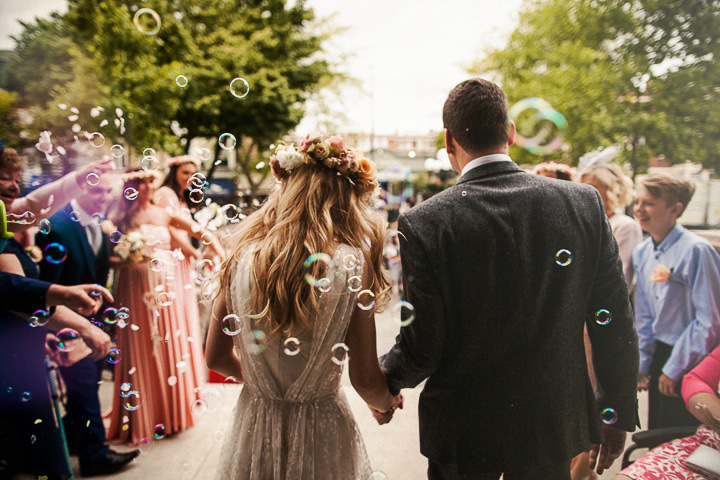 How they met
Secondary School – 13 years
The Proposal
Last year we decided to use our annual leave to visit different cities instead of a two-week 'sun' holiday – which is what we usually do, so we booked a few random weekend city breaks.
Often people would ask when we 'got together' and we never remembered the exact answer (as we were so young).  Katie decided to go back to her diaries and find out the exact date….
We found out we would have been together for 12 years, on 25th of September 2014, whilst we were on our city break to Venice.
Katie thought nothing more of it….
Mark started planning….
The traditional gift to be given on your 12th wedding anniversary is Silk or Linen. Mark decided to buy Venetian silk to represent their 12 years to present to Katie and tie loosely around her finger (until they could both choose the engagement ring together – knowing Katie has very specific
taste) On the way back to the apartment we were staying in, after sharing a meal together, Mark mustered the courage…..
Mark asked Katie to stop for a kiss. Katie replied 'No , because there are people around' (Katie has always been very private) Mark asked for a kiss for the second time on 'Ponte Marcello'. Katie obliged. Mark got down on one knee and asked Katie if she would be his wife, presenting her the small piece of silk. After a short pause, I'm not sure if shock or amazement from Katie – allowing a small group of people to congregate around a knelt Mark and silent Katie, Mark prompted Katie for an answer and thankfully she said yes. The strangers that had gathered then cheered the news.
How did you allocate your budget
I (Katie) don't really remember allocating a budget…. We both agreed that the photography was incredibly important to us, and so we used the largest proportion of our budget on that….. we kind of just decided to spend money where it was important to us and save on things we didn't!?
Where did you splurge/save
I (Katie) splurged on the Fayette over-dress after falling in LOVE with it…. and so I made sure I saved on the silk under dress, by getting it for a fraction of the price from a sample sale.
We also saved money because I (Katie) made all the invitations, stationary, gifts, favours etc We saved by negotiation… that's what I do for my job and so I used my talent for the wedding costs! Ha
How did you choose your photographer
Our sister recommended Matt after attending another wedding where he was the photographer. I stalked his Facebook, trawled his website and looked at all of his incredible images. We knew we wanted him to capture our day. Mark and I are both quite awkward when it comes to having photo taken and Mark particularly hates having his photo taken. Matt made us feel at ease from the get go.
The Dress
The over dress is the sequin Fayette form Charlie Brear, which I bought from The Bespoke Wardrobe in Ingatestone. The silk dress underneath I bought from a Temperley London sample sale.
Shoes are simple nude shoes from Banana Republic… I made them into my 'something blue' by asking my bridal party to sign the sole.
The Suit and Bridesmaids
Groom:  Ben Sherman – wearing the brand…. I ( Katie) work for Ben Sherman
Grooms men: Rented Ted Baker from Moss Bross
Theme or Colour Scheme
Grey and Peach
Flowers
Bride bouquet in Pearl avelanche, la belle and a few wild look roses, peach hypericum berry, tuberosa and grey senecio foliage Brides maids bouquets smaller version of the bridal bouquet but with a touch of white spray roses. 1 bridal crown solid to match the bridal bouquet Pearl avalanche, grey foliage and white wax flower button holes
Decoration
Circle balloons and flowers in tea cups.We didn't really have much decoration…The Dolls House interior is incredible enough! Katie made the cake toppers, bunting, games, guest book etc… which added to the decoration.
Food
We had a welcome snack of Nachos (which was a special pick by us, as Mark spilt Nachos in my hair on our first date!) The Nacho's kept our guests going, until the in-formal self-serve style dinner. Dinner was a selection of great food options from The Dolls House menu, which included grilled beef burgers,  halloumi and mushroom burgers, mac and cheese and lots more!
Wedding Cake
We had 3 cakes created by Eveey from Cake Stand and Crumb.  The main 'Naked' cake, plus the groom's carrot cake and bride's Oreo chocolate cake.
Entertainment
Live house band
The Stationery
All handmade by the bride
Personal or Handmade Touches
I made our wedding invitations, wedding gifts, instant photo guest book, guest games,
Special Moments
Seeing Katie for the 1st time as my bride and the speeches. The whole day was perfect. I particularly enjoyed having time with my husband, just us, to wonder our fond Islington – whilst Matt captured the moments in incredible images.
Advice to other couples
We think a wedding should be just what makes the bride and groom happy.
Plan your wedding for yourselves. It is the start of your marriage, make the beginning how you want it to be. Remember – you can't please everyone.
Biggest surprise
The biggest surprise was definitely releasing the two doves outside Islington Town Hall. The mother of the bride organised it – so it was a complete surprise to both Mark and I.
A great surprise! I think the look on Marks face in the photos says it all!
Supplier Shout Outs
Photographer – www.mattparryphotography.co.uk
Wedding cakes – www.cakestandandcrumb.co.uk
Balloons – www.bubblegumballoons.co.uk
Flowers – www.danskflowers.com 
Doves – www.thewhitedovecompany.co.uk  
Reception Venue – www.thedeaddollsclub.com/Islington
Wedding Dress – www.thebespokewardrobe.co.uk
Wedding Dress – www.temperleylondon.com/content/temperley-bridal-0
Grooms Suit – www.bensherman.com
Bridesmaid Dress – www.twobirdsbridesmaid.co.uk
Groomsmen Suit – www.moss.co.uk
For more information on Matt's work please go to:
www.mattparryphotography.co.uk / www.mattparryphotography.co.uk/blog / FACEBOOK / PINTEREST / I: mattparryphoto / T: mattparryphotos