Happy Tuesday everyone and how are you all today? Did you all enjoy the bank holiday or was it a bit of a wash out? Today is a very excitting day for us here at Boho HQ, as today we get to reveal the brand new look blog to you all. It will be a bit later on today though as my technical guy Mark is currently traveling back from Scotland, so do bare with us while we get everything ready for the big reveal. If in doubt pop back this time tomorrow and all will be in place.
One of the joys of this job is that I get to feature some of the best wedding venues out there and today's one of those days. We have all heard of River Cottage, due to the TV show with Hugh Fearnley-Whittingstall but did you know they also hold weddings? Todays real wedding not only features this wonderful venue, its beautiful setting and some fantastic looking food but also Heather the bride in a simply stunning bespoke blue wedding dress. A totally gorgeous wedding captured perfectly by Helen Lisk Photography.
'A truly awesome unforgettable day'
Heather and Mike were married on 6th June 2015. Their civil ceremony was held at the Guildhall in Lyme Regis with their families in attendance. They then had another Humanist Ceremony afterwards in the Kitchen Garden at River Cottage HQ in Axminster with both their families and friends. The reception was held in the long barn at River Cottage. 'We have always both loved River Cottage, we knew tht the location, staff and food would all be fantastic. We had 52 guests at River Cottage. From the engagement we spent about ten months planning everything.
How they met
We met on a Geology Field Trip to the south west of England. I was studying for my A-Levels and Mike was taking an evening class so we didn't meet until the trip. We didn't really talk much until the last day and then didn't get round to exchanging contact details. After we returned from the trip, Mike wrote me a letter which he asked our tutor to pass on. We met up for a date and have been together ever since. We celebrated 21 years together earlier this year.
The Proposal
To celebrate the 20th anniversary of our first date we went on a special holiday to the Maldives. One night we had a meal at the restaurant on the beach, at the end of the meal Mike left the table and came back with a box. I thought it contained chocolates but when I opened it inside was a note with a proposal together with a drawing of a bespoke designed engagement ring!
How did you allocate your budget
Almost half of the budget went on the reception at River Cottage
How did you choose your photographer
When we were researching weddings at River Cottage we came across photographs taken by Helen Lisk. We really liked her informal style and the way she captured the weddings. We had an engagement shoot with her at Forde Abbey and loved how enthusiastic she was. We cannot recommend her highly enough.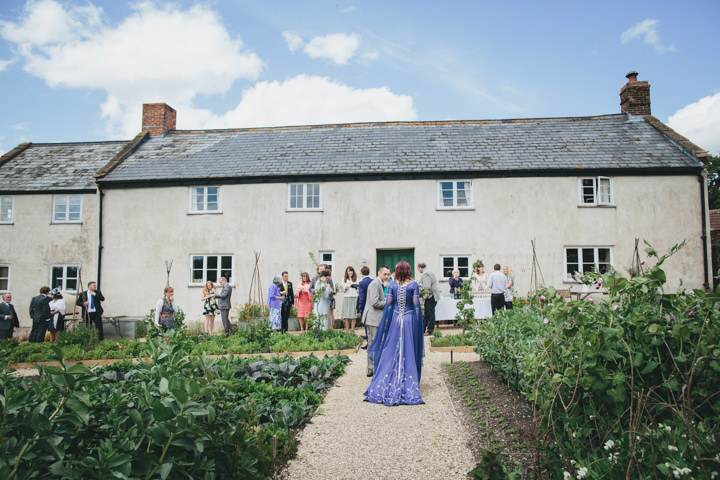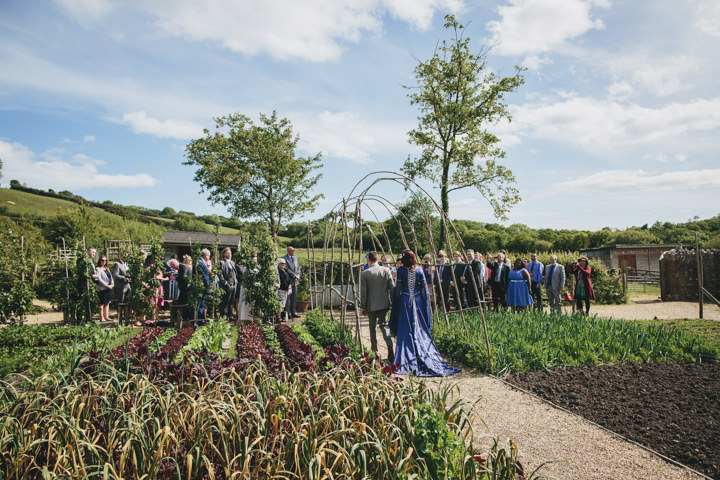 The Dress
The dress was made by Emily Jane at Rivendell Bridal. She designs and makes the most amazing medieval and Celtic inspired wedding dresses. I asked her if she could make me a dress that incorporated features from two of her designs in blue. I absolutely loved the result (and surprised a few people with the choice of style and colour too!). The shoes were made by Harriet Wilde and dyed to match the dress. The circlet and necklace both came from Medieval Bridal Fashions – a U.S. based Etsy shop.
The rings – The engagement ring was a bespoke design based on sketches I did, the wedding rings were also bespoke designed by us both.They were all made by Harriet Kelsall Jewellery, the final engagement ring design was done by Rebecca and Sarah, the wedding rings were done by Sarah.
The Suit and Bridesmaids
Mikes suit and shoes came from Gieves and Hawkes tailors, I made his cufflinks from silver clay moulded from a real ammonite fossil found in Lyme Regis. My bridesmaid Lucia had trouble finding a dress so ended up making one herself. The result was fabulous considering she had never made any clothing by hand before!
Theme or Colour Scheme
We both like wild flower meadows so went with this theme with table names being native wild flowers which lead to the predominantly Navy Blue and Ivory colour scheme.
Flowers
We were set on having flowers grown as locally as possible. Charlie Ryrie at the Real Cut Flower Garden near Bridport supplied all the bouquets & displays from her own garden, she specialises in slightly wild & country style arrangements which fitted perfectly with our theme
Decoration
We wanted to keep the table decorations simple without too much clutter, so we had simple hessian table runners with jam jars filled with flowers from River Cottage & Charlie Ryrie
Food
We visited River Cottage a couple of months before the wedding to plan the menu. Gelf, the head chef, told us what would be in season in June and we went with his recommendations with a couple of requests of our own. As it was River Cottage we had to have something a bit unusual so asked if we could have some squirrel as one of the canapes. They made up a squirrel pate – a lot of the guests were a bit taken aback but most enjoyed them with some asking for seconds. The starter consisted of a seasonal salad with asparagus, shaved goats cheese and a variety of edible flowers. The main course was lamb cooked three different ways served with roast potatoes cooked in lamb fat and new potatoes in a herb dressing. The choice of meat was partly dictated by the number of guests as there would have been too much left over if we'd gone with beef, which isn't the River Cottage way. The dessert was elderflower panacotta with rhubarb served different ways. The whole meal was absolutely fantastic & all the guests were very excited by the menu. Everything for the meal either came direct from River Cottage or from Trill Farm next door, it was very important to us that all the ingredients were sourced locally. The wine came from Kenton vineyard in Exeter and the sparkling wine (or Britagne as its been affectionately named) came from Coates & Sealey who's vineyards are near to where we live in Hampshire. We also bought kegs of real ale from Wild Weather Ales local to us and Otter Brewery near River Cottage. In the evening there was pizza, our guests could choose their own toppings and have it baked in the original farmhouse bread oven.
Wedding Cake
The cake was also made by the team at River Cottage. We didn't really want a fruit cake covered in fondant icing, so asked if they could make us a multi-tiered sponge cake with different flavoured creme fillings. They made a beautiful cake decorated with strawberries, raspberries and chocolate truffles, scattered with edible flowers – it was absolutely delicious
Entertainment
River Cottage organised a welly wanging competition which did get quite competitive! Our best man Lee managed to throw his welly the furthest and won the golden welly signed by Hugh Fearnly Whittingstall. There was also a coconut shy and a skittle alley. We had a Polaroid camera and a dressing up box (provided by Heathers brother Ian and partner Fiona) in the Yurt – resulting in some entertaining photos! Later on we had a live band – Jess Upton and the Guilty Pleasures. We first heard them at a members party at River Cottage a few years ago and really liked the mix of music they performed. They even learnt our first dance song – 'A Night Like This' by Caro Emerald which they performed perfectly.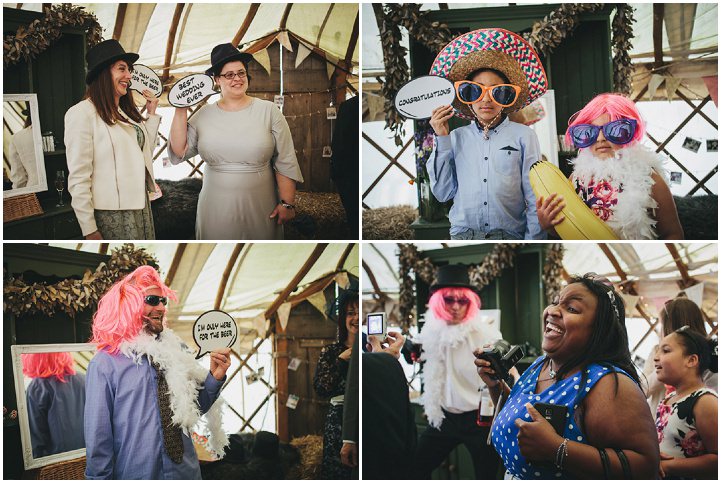 Buy or DIY your Stationery
We made all the wedding stationery. Mike made the 'Save the Date' invites as fridge magnets using glass cabochons. The invites were made from a combination of wildflower seed and petal paper and Ellie poo paper. We ran a competition with a prize for the best flower display but many guests didn't want to pull apart the invites to plant the paper
Personal or Handmade Touches
We tried to make as many things as possible by hand to make it more personal. As well as the wedding invites, we made all the wedding favours. There was a heart shaped iced shortbread biscuit for each guest with eat me labels, bottles of elderflower cordial with drink me labels and packets of wildflower seeds for bee's & butterflies with grow me labels. For the younger guests we had boxes containing ammonite fossils found locally with keep me labels. All of the labels & packaging was home made and followed the same colour theme. Mike spent weeks producing a family tree which went back twelve generations, we had photo bunting with pictures from our twenty one years together, wild flower table names in log place holders, an antique wooden step ladder with the table seating plan & willow decorations in our initials made by Heathers mum. At the civil reception we had photographs in frames of family members who unfortunately are no longer with us.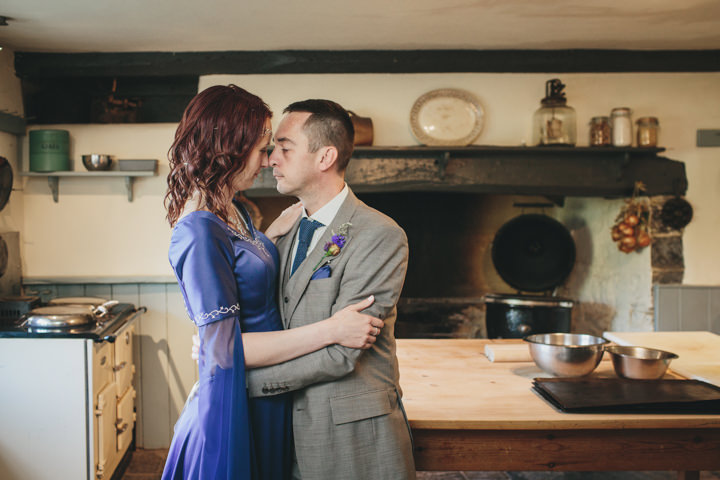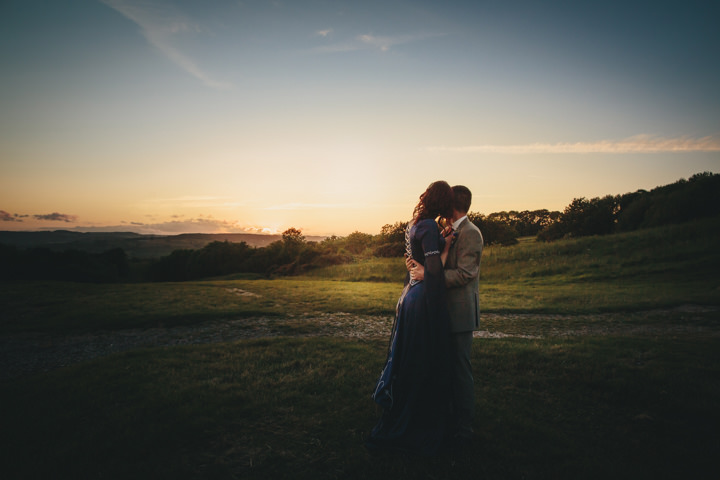 Special Moments
It is hard to choose as there were so many. One was waiting for the classic bus we had hired to take our party from the Guildhall to River Cottage – it caused a bit of a jam in the narrow streets of Lyme Regis! Having the Humanist ceremony in a vegetable patch in front of our family and friends was also very memorable – Alison Orchard (the celebrant) wrote a beautiful ceremony that was personal to us.
Advice to other couples
We tried to be as organised as possible when it came to planning the big day – we took a few days off a few months before the wedding and visited a different supplier each day to go through the various details. We also had a spreadsheet to track all the expenditure and when deposits/final balances were due.
Biggest surprise
Heather: we had kept our choice of readings and our handwritten vows secret from one another, I had chosen a poem as my reading but Mikes reading was a Bob Marley quote.
Mike: Heather's dress was the biggest surprise, she looked stunning. I knew she would have something different from the norm but I didnt expect to be standing next to a princess. The poem Heather had chosen & her vows were also very special
Supplier Shout Outs
For more information on Helen's work please go to:
www.helenliskphotography.co.uk / [email protected] / FACEBOOK / @HelenLiskPhoto