Happy Monday everyone and how are you all? How was your lockdown weekend? Mine was good. It was nice not to be rushing around getting places and actually taking our time as a family and enjoying being together. We went for a walk in the woods and then went to the park. Dexter's nana stayed with us this weekend, so we had a lovely meal, some wine and then played some games and did some baking. Altogether rather lovely! So on with today's wedding and it's the return of one of my favourite photographers Helen Lisk. Helen's work is so chilled and effortless, with such a lovely natural feel to it, and works perfectly with her couples. This can be seen in today's wedding of Christine and Rich. They wanted a laid back intimate wedding with just 18 guests. They chose River Cottage in Devon and the whole day is just wonderful. This wedding shows that you don't need 100s of guests at your wedding, micro weddings are cool because they are so intimate. The outdoor ceremony in the autumn sunshine is perfect and the yurt reception with melted marshmallows is a great way to end the celebrations.
Emotional, personal, relaxed, laid back and everything we hoped it would be…an added bonus was the beautiful weather we were blessed with, considering it was a mid October outdoor ceremony.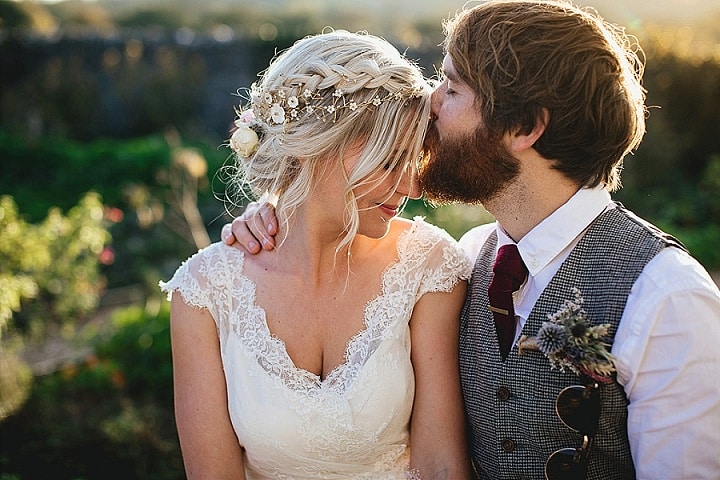 Christine and Rich were married on 21st October at River Cottage in Devon. 'We spent a long time looking at venues closer to home (we live in the Midlands) and after considering lots of options, we decided we really liked the idea of having a small, intimate ceremony and reception in a unique and super pretty location. We wanted somewhere where we could ideally have an outdoor ceremony and could feel relaxed and where our children could be themselves and didn't need to be overly formal. After much googling of small wedding venues and Luxury Cottages , we stumbled across River Cottage and it looked absolutely perfect! Beautiful location and scenery, a rustic and relaxed feel and a good excuse for a lovely break by the seaside too.  We often holiday in the Devon/Dorset area and have always been blown away by the beauty of the local region. We have 3 children and the added bonus of River Cottage was the tractor ride down to the ceremony – it made our little ones day!  We loved the rustic farmhouse at River Cottage and the stunning yurt where we had our evening celebrations – complete with pizza making, toasted marshmallows and mulled cider, it really was lovely. We had 18 guests in total, we booked the wedding in April, and got married in the October so 6 months to plan.'
How they met 
Before we got married, we had been together for 12 years.  #We met through mutual friends at our local grimy nightclub in Coventry.
The proposal
We had always spoken about eventually getting married and knew we would do in one day.  Rich surprised me on Christmas Eve 2016, by organising a nice dinner and asking me to go out into the garden in the pitch dark when we'd put the children to bed…when I went outside there was a beautiful setting of fairy lights set up on our 'memory tree' in the garden and Rich had made lots of little wooden love hearts with our favourite songs on which were all hanging on the tree. It was perfect.
How did you allocate your budget?
We kind of went with the flow and listed everything as we went through – by nature we are both quite thrifty.
Where did you splurge and where did you save?
We splurged on the food and drink but the quality of the food at River Cottage really is amazing, even though it was a small ceremony we also knew that we wanted our photos to be special and memorable so we didn't scrimp on this either.  We also treated ourselves to some lovely accommodation to stay in for the week (The Arched House, Lyme Regis)
We saved by:
Not having wedding cars (my brother drove me in our normal family car)
Having a small number of guests and then having a larger party at The Saxon Mill, Warwick for our wider group of family and friends a month after the wedding ceremony
Doing most of our own stationer
Buying suits from the high street
Pre-loved wedding dress
How did you choose your photographer?
Helen Lisk was highly recommended by River Cottage and we liked that she had photographed lots of weddings there before and knew the venue like the back of her hand – so all the great spots for photographs. It was helpful that she had a good relationship with the staff there too.
The dress
Dress by Amy Kuschel, San Francisco (bought preloved from Bridal Reloved)
Shoes – Debenhams
Hair vine – Debbie Carlisle (bought preloved from ebay)
The suit 
Grooms suit – ASOS
Childrens suits – John Lewis
Theme or colour scheme?
Not a colour scheme as such but we wanted a rustic kind of theme
Flowers 
Beautiful mixture of autumn roses from the Real Cut Flower Garden, Bridport, Dorset
Decoration 
Lots of fairy lights, flowers and bunting
Food 
Canapes – rustic sausage rolls, crumpets, …..
Starter – Lyme Bay Scallops
Main – Roast pork and all the trimmings, Gnocci for the vegetarians
Desert – Salted Caramel Wedding cake
Evening – Woodfired pizzas, miniature macaroons, caramel shortbread, toasted marshmallows, mulled cider
Wedding cake
The wedding cake was prepared by River Cottage and it looked and tasted absolutely beautiful  – Rich had requested his favourite, a salted caramel cake and it was delicious.  Instead of a pudding, we served the cake with fruit and cream.
Entertainment
With such a small number of guests it didn't feel like we really needed to put on entertainment as such, we made our own fun, we had our own playlist, we took games, did marshmallow toasting in the yurt and made our own woodfired pizzas in the evening.  The beauty of River Cottage is that there's lots of lovely spaces to roam so our guests were free to have a good look round and a wander at different parts of the day.
Who supplied the stationery?
Rich is fairly creative so he did a lot of this himself and then we got a few bits from ebay too.
Where did you go on your honeymoon?
We spent a week on the Devon/Dorset coast with our family which was really lovely and so relaxing after the stress of wedding planning.  We didn't go on a typical honeymoon as such but decided to have a full summer of adventure the following year with our boys and went touring around Spain and Ireland exploring.
Personal touches
It was really important to us to have a day that was very personal to us – so being able to put our own touches on the decorations, food choices, music, etc.
One of our favourite elements of the ceremony was the music, I walked down the aisle to 'Baby I'm Yours' by the Artic Monkeys, signed the register to Pete Doherty 'For Lovers' and Donavon 'Catch the Wind' and left as a married couple to confetti throwing and the Stone Roses, 'This is the One' – it was a really happy moment!
Special moments 
The ceremony itself was beautiful, because it was such a small and intimate gathering, it was lovely to be able to feel that our closest family played such a big part in our day. The boys also had jobs to do – our eldest son was best man, and the younger boys walked me down the aisle with my dad.
Predictably, we had a couple of moments where our youngest son, Oscar gave us some giggles…he tripped over walking down the aisle so I ended up carrying him and then was a reluctant poser for the more formal family photos too (hiding under tables, running away etc!)
Advice for other couples 
Do your own thing, it's completely your day!
Biggest surprise 
The weather!! It was sweltering – we'd had many sleepless nights in the run up stressing about whether we were bonkers for organising an outdoor ceremony in the middle of October but on the day itself, everyone was reaching for their sunglasses and suncream!
Supplier Shout Outs
For more information on Helen Lisk go to
www.helenliskphotography.co.uk / www.helenliskphotography.co.uk/blog / [email protected] /  FACEBOOK / INSTAGRAM / PINTEREST / TWITTER